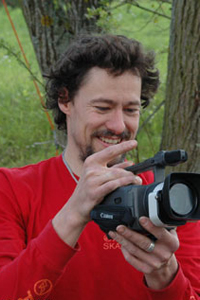 Chris Hart 06.03.1971

Place: Zürich(CH)
Job: Carpenter /Screenprinter
e-mail chris@airflow-skateboards.com

Background:


Mit Gründer und heutiger Besitzer von Airflow Skateboards.

1980 brachte mir mein Vater ein "Maccala Skateboard" von einer Messe mit. Seid her hat mich das Skaten nicht mehr los gelasen. "Ich produziere ein Produkt, das mir immer mehr Spass macht auch selber zu brauchen."

Airflow Skateboards steht für Spass und Performance, für Wettkampf und gemütliches Cruisen, für neueste Technologie und
back to the roots, immer jedoch für Begeisterung und fun

... feel the flow!