News

Around the World - Rio
and here it is:
the Airflow «Around the World - Rio Edition » a topmount longbord with smooth rockered 3D concave.
The «Around the World» is a topmount trick longboard with nose and tail. All you need to goof around! The standing platform is slightly dropped and features a smooth rockered 3D concave. No matter if your into tricks, freeriding or cruising, the «Around the World» gets you going...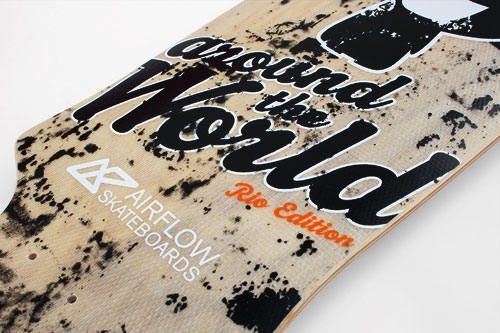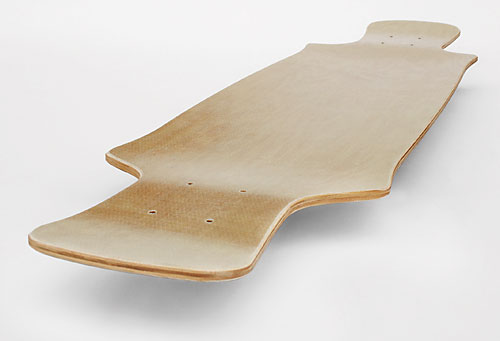 Mold design: Martin Siegrist
Shape: Chris Hart
Graphic: Pia Affolter
Fotos: Joël Giroud

Airflow Bracket
and here it is:
the Airflow topmount 3D deck BRACKET!!!





The «Bracket» is a topmount deck with deep wheelwells: CNC'ed for extra precision, these wheelswells enable freedom of lean on wheels sizes up to 83 mm.





Airflow teamrider Ramón Königshausen dominated the IGSA Maryhill Worldcup 2011 on a prototype «Bracket» and prove to be a tough contender on the Eurotour. «Greener Pastures» features the top of the top, amongst them Ramón with his «Bracket».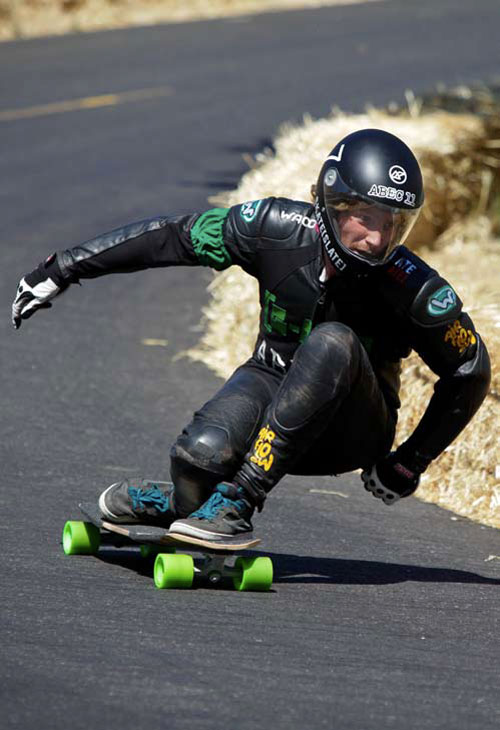 Foto: Scott Wippermann
Rider: Airflow Teamrider Ramón Königshausen

Ramon wins Maryhill
Ramon Konigshausen earned his first ever IGSA World Cup victory today at the Abec 11 Maryhill Festival of Speed. The tough final round featured a controversial last corner crash that resulted in the disqualification of second place finisher Martin Siegrist.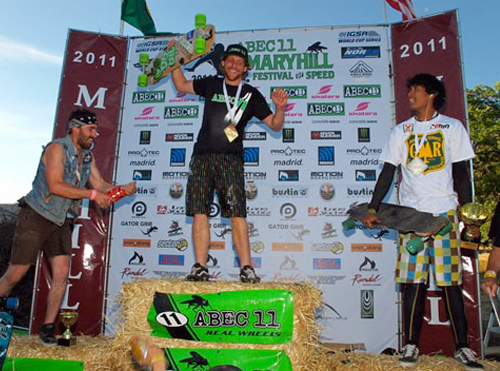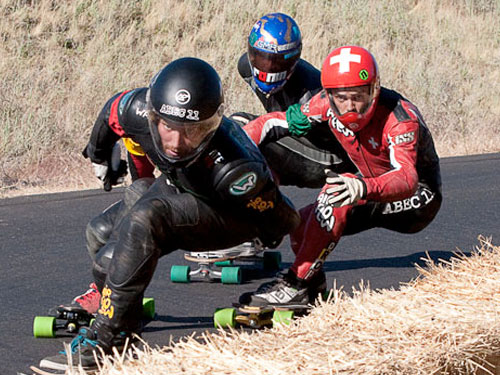 Airflow Fuse
On Airflow Skateboard's latest creation you always feel where your feet are; thanks to a unique 3D concave! The precisely molded, tub-like standing platform features slightly conical, 12° raised edges. A 5° footlock keeps your feet on board at any time.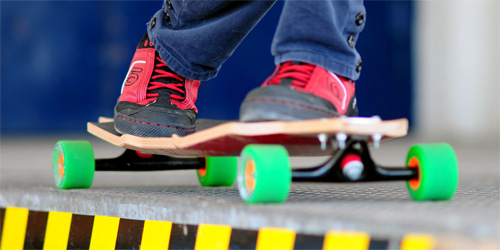 The «Fuse» is designed as a drop through board, yet works fine topmount. With a very low center of gravity, your ride will be stable even at high speeds. Thanks to twin tip you can ride it in both directions. The «Fuse» also feels really good going sideways!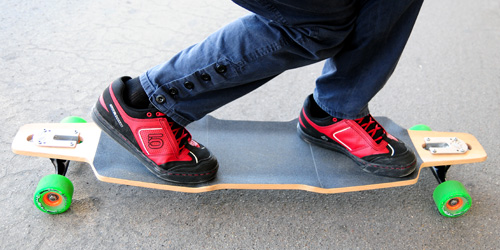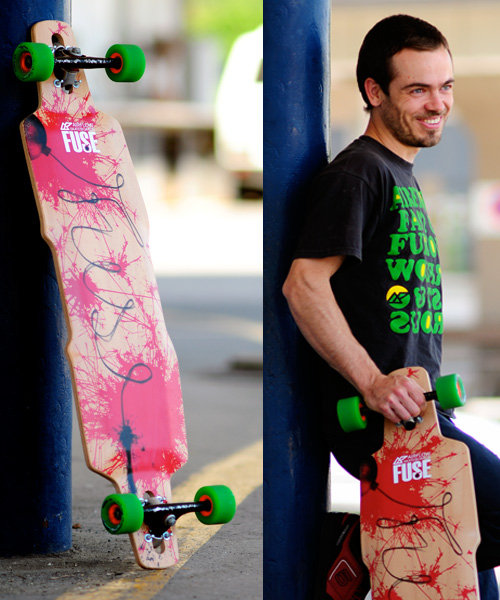 Results Slalombrunch
FULL RESULTS
Day 1 HS

A Group

1 Gustavs Gailitis
2 Chris Hart
3 Pascal Weber
4 Martin Siegrist (qualified first!)
5 Philipp Enzmann
6 Julian Coester
7 Andrea Just
8 Luca Jehle
9 Manuel Carusone
10 Lenz Oberle
11 Simon Feldmann
12 Marc Steinemann
13 Francesco Puligheddu
14 Igor Balzerini
15 Nils Ernst
16 Robin Birrer

B Group

1 Ross Baradoy
2 Mitch Enzmann
3 Linus Enzmann
4 Fabienne Schmid


Sunday Slalom

A Group

1 Gustavs Gailitis
2 Pascal Weber (best qualifier)
3 Chris Hart
4 Martin Siegrist
5 Michael Brönnimann
6 Andi Hofstetter
7 Jadranko Radovanovic
8 Simon Feldmann
9 Philipp Enzmann
10 Christian Schneebeli
11 Nastasja Wolfensberger
12 Marc Steinemann
13 Luca Jehle
14 Jan Lüscher
15 Andrea Just
16 Manuel Carusone

B Group

1 Julian Roth
2 Marcel Hug
3 Joy Spearing
4 Nils Ernst
5 Robin Birrer
6 Lenz Oberle
7 Igor Balzerini
8 Linus Enzmann
9 Mitch Enzmann
10 Fabienne Schmid


Greenskate
For Greenskate Zurich we did something out of the ordinary: Most people that attended expected us to go up and ride the local hill. Instead we followed a given route through the city and along the riverside, stopped at a shopping mall, and went to BBQ at the lake side. This is where people could see us with our longboards and green shirts, having fun on our "truely green means of transport".
Check out the photo gallery on Soulrider.com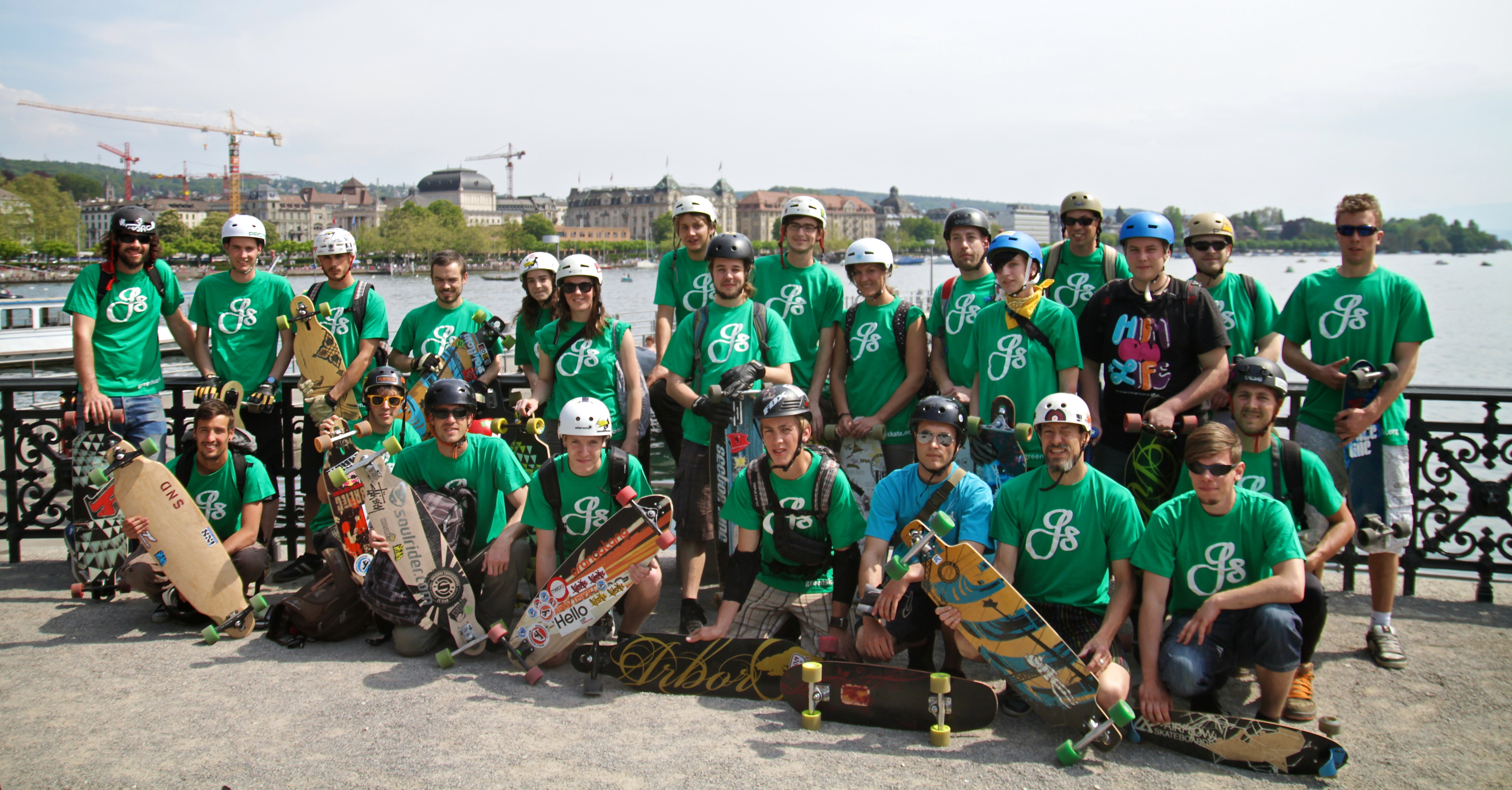 Pump Action
Ob als praktisches Fortbewegungsmittel in der Stadt, für den Einsatz bei urbanen Freeride-Sessions oder einfach um locker mal einen Trick auf Lager zu haben – Das Airflow Pump Action ist der perfekte Begleiter für den alltäglichen Gebrauch.

Das Board ist drop-through, ohne Vorspann und hat eine angenehme "lip-concave". Es wurde absichtlich auf Vorspann verzichtet um ein bessere Handling des Boards herauszuholen. Die "lip-concave" verleiht dem Deck einen natürlichen, surfigen Flex. Dank diesen Eigenschaften kann man auf dem Pump Action unbeschwert lange Distanzen zurücklegen. Zusätzlich haben wir die Nose und Tail verlängert, damit auch mal ein kleiner Trick oder das Überspringen kleiner Hindernisse kein Problem sein werden.

Das Pump Action ist in zwei Flexklassen erhältlich: Soft und Medium

Birthday Video
Quick edit by Ross Baradoy of Chris' birthday freeride last Sunday.

40 Years of passion
Am Sonntag 6. März 2011 wird Chris 40.
Wir treffen nicht wie auf dem Flyer ab 9Uhr sondern um 11 Uhr zum Birthday - Freeride am Rigiblick

Wer auch immer Lust hat dabei zu sein ist herzlich willkommen.

Dann hoffen wir doch auf trockene Strassen und Temperaturen wie wir sie Anfangs Februar hatten.

Gruss Puli




Facebook Event

DROP - My Life Downhill
«DROP - My Life Downhill»
A documentary about downhill skateboarding, starring Martin Siegrist, Mischo Erban, Erik Lundberg, Scott Smith and a few more of the worlds fastest downhill skateboarders. The Orangefiist movie is presented by Airflow Skateboards and 3-times world champion Martin Siegrist.
Wo: Hermetschloostrasse 70 in Zürich Altstetten. Wann: 21 Uhr
Watch the teaser!!!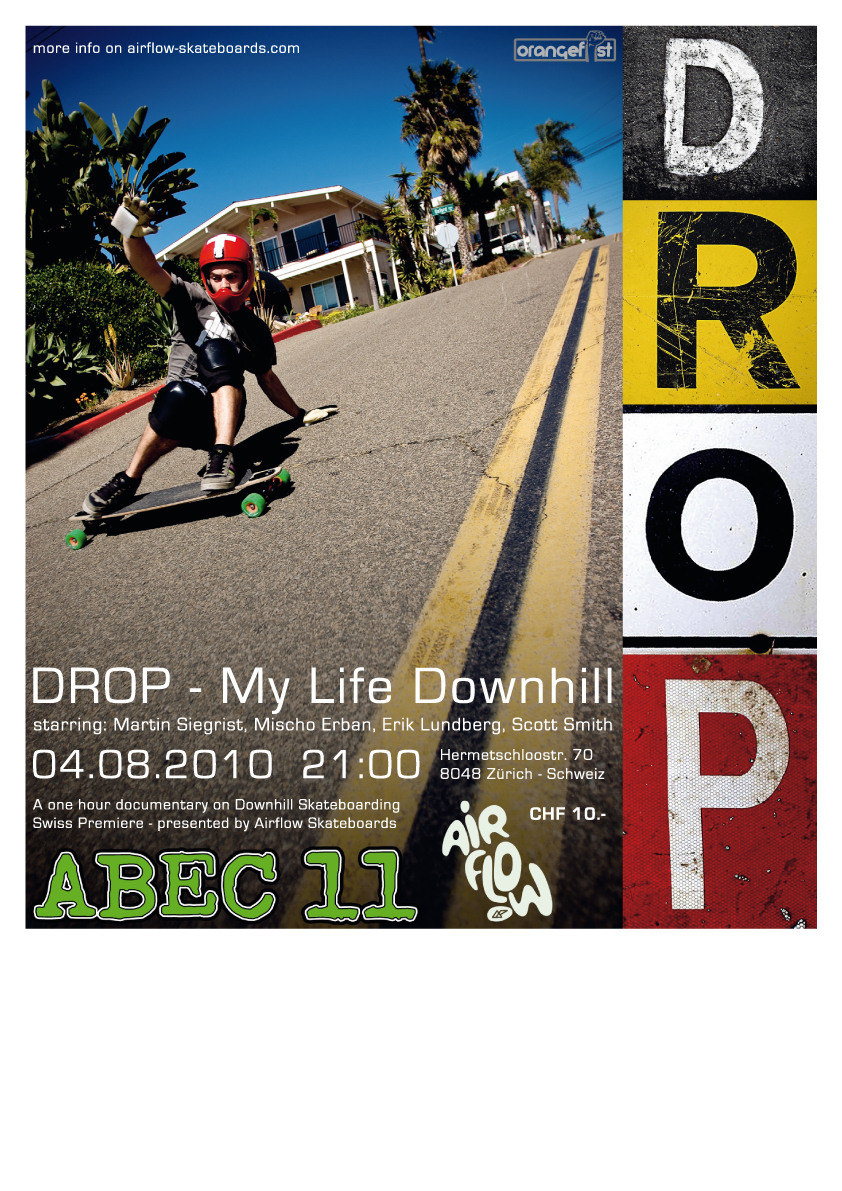 Ramón double Euro Champion 2010
Ramón Königshausen dominated the European Championships of Slalom Skateboarding in his hometown Richterswil. Only Dominik Kowalski was able to keep up with him and was able to take the overall title to Germany.

Airflow Martin Siegrist 2010
Airflow has redesigned the Martin Siegrist wood version: The board now features a super direct concave, same as Martin's racemachine, yet on the whole length of the standing platform! Orders can be placed now...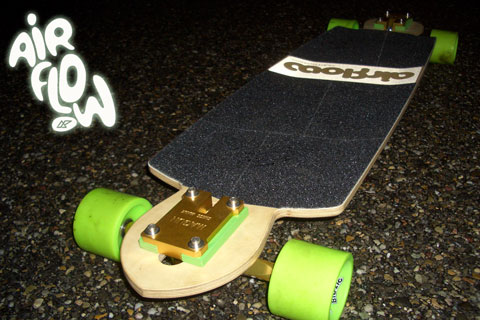 Fiesch 2009
Ein bewegtes Fiesch Lager 2009, geleited von Profi Skatern wie Ramon Königshausen, Betina Luginbühl und Andy Hofstetter zeichneten die Ferien Woche der Zürcher Kids. Meist schönes Wetter und motivierte Teilnehmer machten diese Zeit unvergesslich. Besten Dank auch an alle Kinder fürs mitmachen, an Eva fürs organisieren, und überhaupt....... Bis nächstes Jahr.....Feel he flow....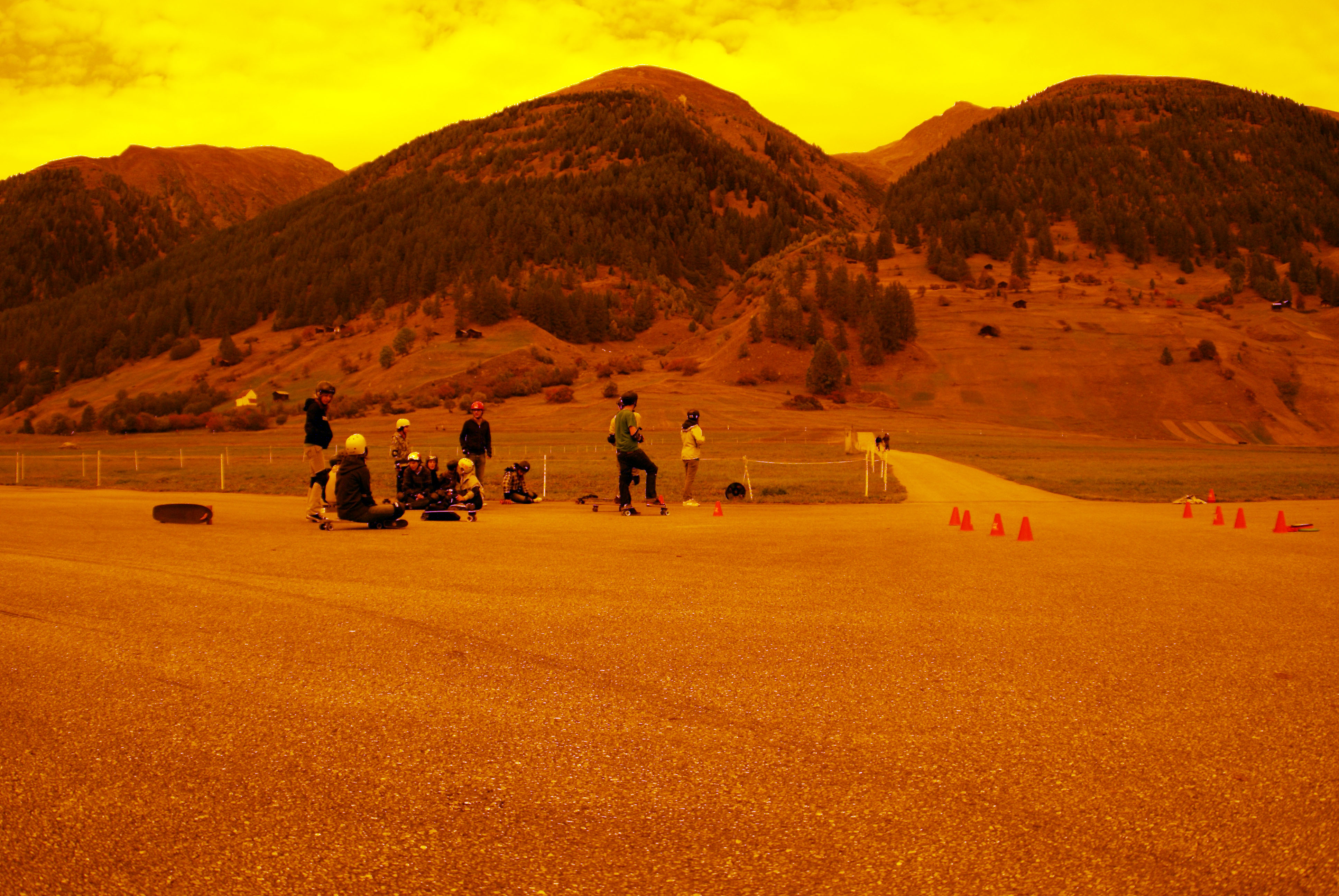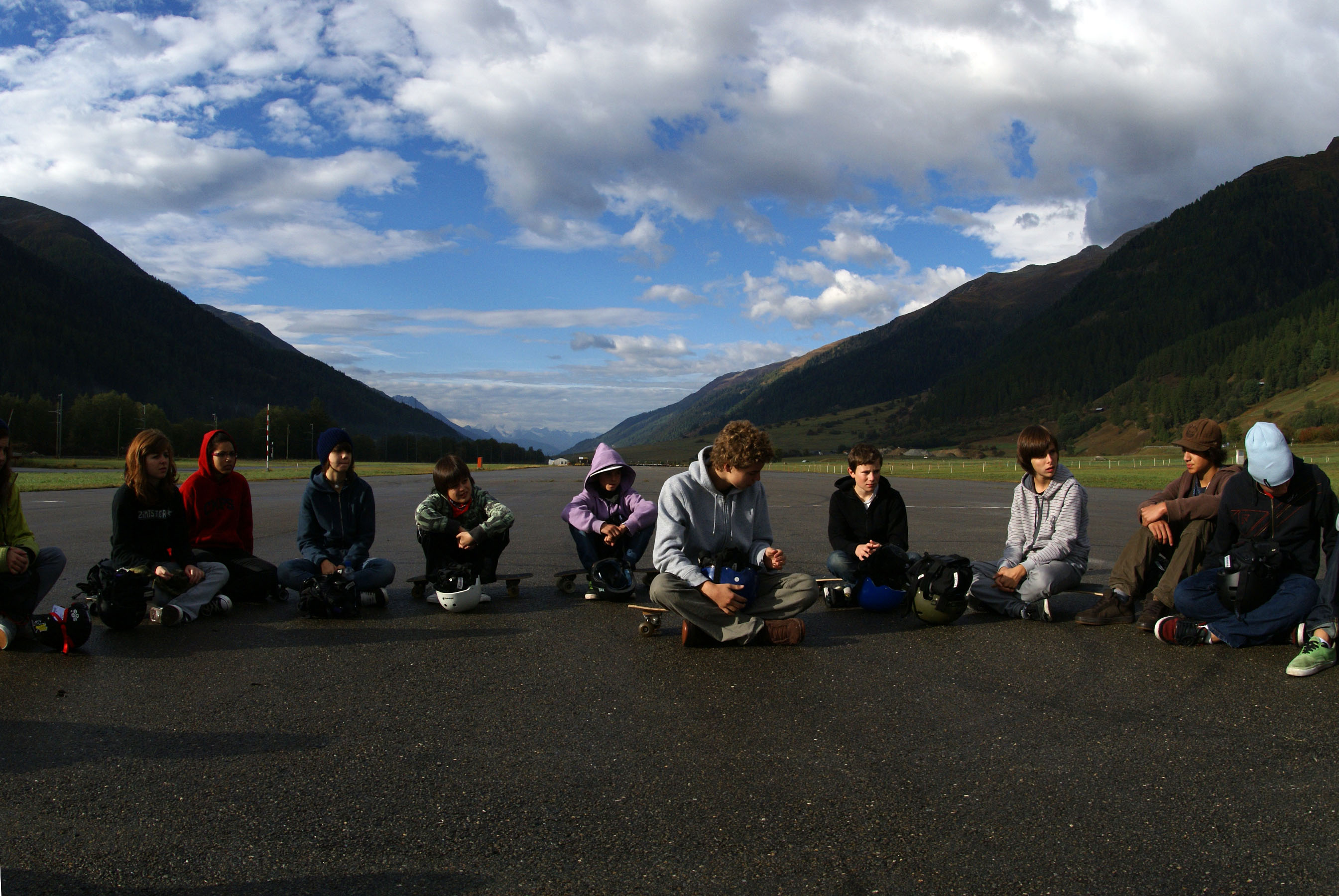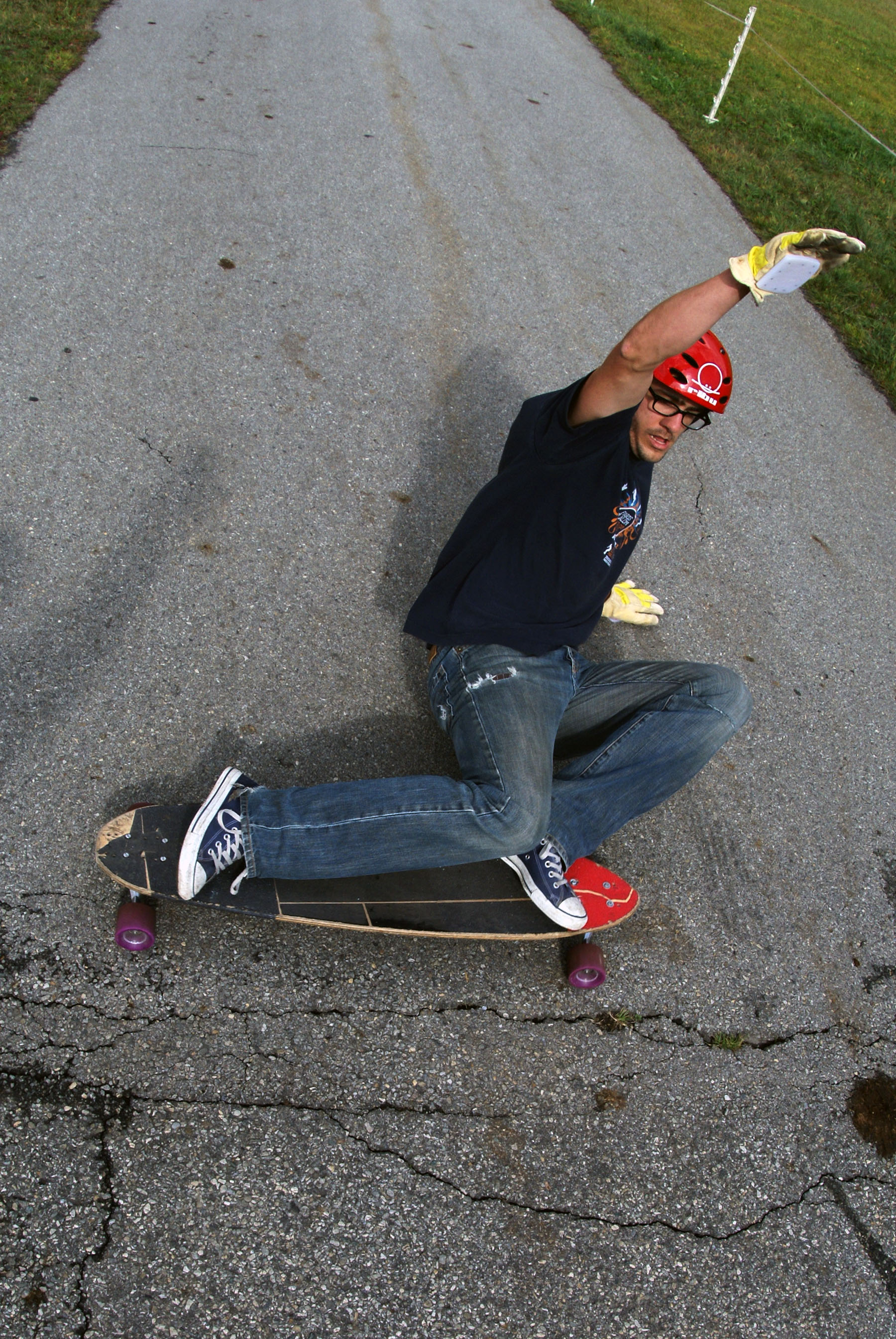 Report NZZ 24. Sept. 2009
Für Freunde des feinen Asphalts.
Skateboards sind mehr als Spielzeug – Airflow und Indiana zeigen «Rennmaschinen» aus Fiberglas, Schaumkern und Epoxidharz Skateboards sind leistungsfähige Fahrzeuge und hochentwickelte Sportgeräte. Zürcher Hersteller fallen mit innovativen Produkten international auf.
Bericht NZZ vom 24. Sept. 2009 Seite 64 von Stefan Betschon >>lesen!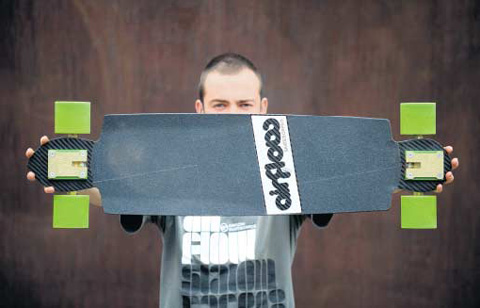 Bild: NZZ / Matthias Wäckerlin

Junior Slalomskateboard Championsphip
this sunnday (20th sept 2009) in zurich Örlikon at the Andreasstreet

Hart gets 2nd in BX
Chris Hart ist zurück! Nach einigen harten Heats (wie im Bild mit Teamrider Ramón Königshausen) traf Chris auf Lukas Axmann, den Favoriten aus Deutschland. Axmann machte das Rennen und konnte sich den Sieg sichern.
Teamrider Marco Henriquez belegte den 5. Platz, vor Ramón.

Victory for Martin and Dasha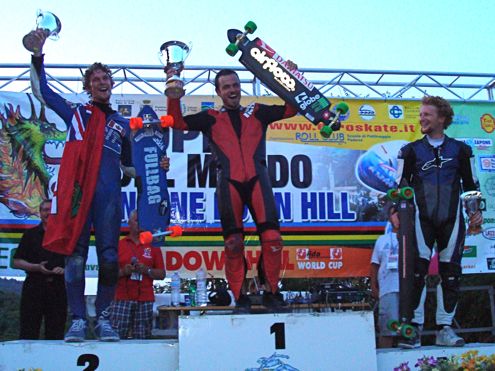 Another victory in the history of Martin Siegrist and Airflow Skateboards. Last weekend the best downhill skateboarders met up in Teolo for the third stop of the IGSA world cup circuit. After the first qualifying run James Kelly (USA) had the lead over Louis Pilloni (USA) and Mischo Erban (CAN). Martin Siegrist was on 6th. On day two and after the second qualifying run, Martin had the fastest time being the only one to beat 1:59.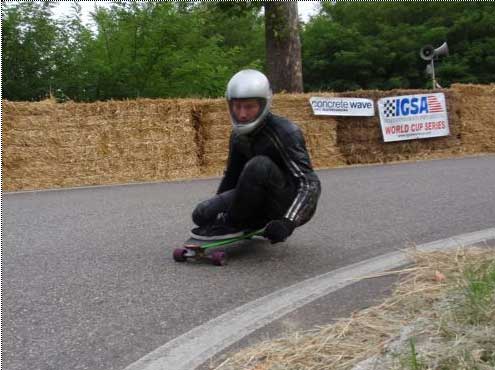 Ramón Königshausen cam in 3rd getting a good starting position for race day.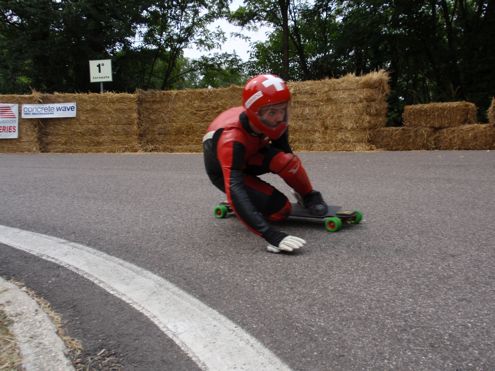 Martin also dominated the finaly and won the Padova Grand Prix in front of Patrick Switzer (CAN) and Stefan Rüefli (SUI). Ramón ended up 7th beating Mischo Erban (CAN), Christoph Batt (SUI) and Jackson Shapiera (AUS)
(Four Swiss riders in the top 10!)
Team rider Dasha Kornienko dominated the women's category and got 1st, beating Karin Feldbaum (GER) and Uta Hang (GER).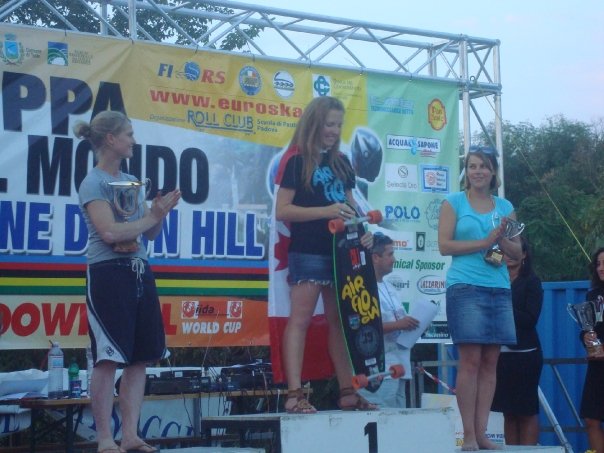 Padova Grand Prix

Downhill Skateboarding Top Ten

1. Martin Siegrist, Switzerland
2. Patrick Switzer, Canada
3. Stefan Ruefli, Switzerland
4. Erik Lundberg, Sweden
5. Scoot Smith, Canada
6. Louis Pilloni, United States
7. Ramón Konigshausen, Switzerland
8. Mischo Erban, Canada
9. Christoph Batt, Switzerland
10. Jackson Shapiera, Australia
SPEEDWING FOAM CORE
Nun endlich also da.....Speedwing 39 Foam core. Nach erfolgreichen Testes produzierte Airflow eine erste kleine Stückzahl an High-end decks aus Schaumstoff, Abs Seitenwangen, Fiberglas und Carbon. Gerade ferig gestellt sind sie nun also schon unterwegs zu den ersten IGSA Downhill Races in Europa. Team Fahrerin Dasha aus Canada, so wie Ramon, werden Ihre ersten Renn erfahrungen schon bald mitteilen. Airflow drückt die Daumen!!
Bei interesse: Martin Siegrist hat diese schönen Teile im Auto mit dabei und zeigt sie jederzeit gerne....(Preis: 333Euro oder 500CHF)
oder directes mail an : chris@airflow-skateboards.com
Abmessungen:
Radstand:
72cm/28⅜"
Länge:
99cm/39"
Breite:
26cm/10¼"
Gewicht:
1200g
Wer seine Meinung darüber abgeben will kann das im Teamrider Blog von Ramón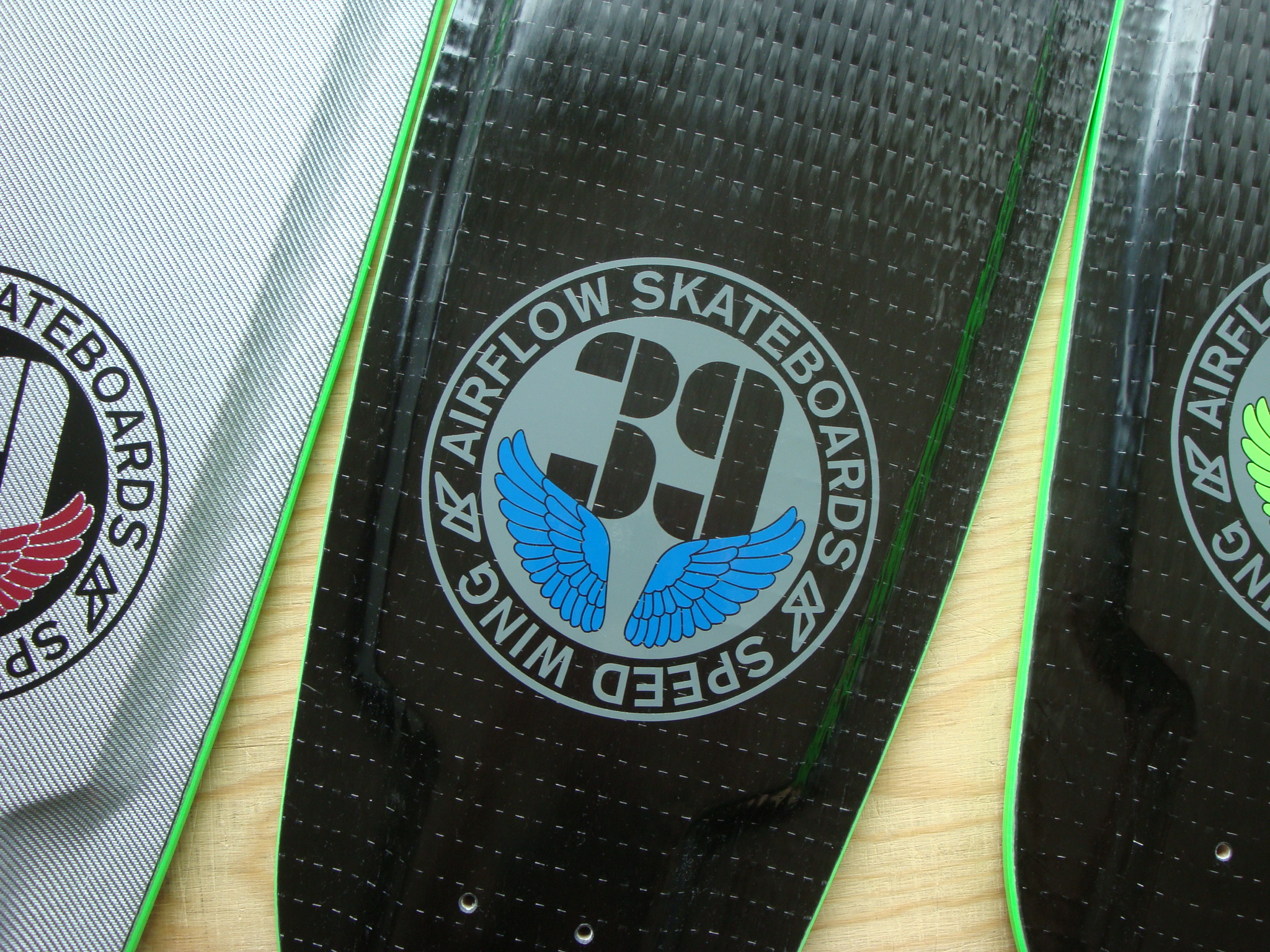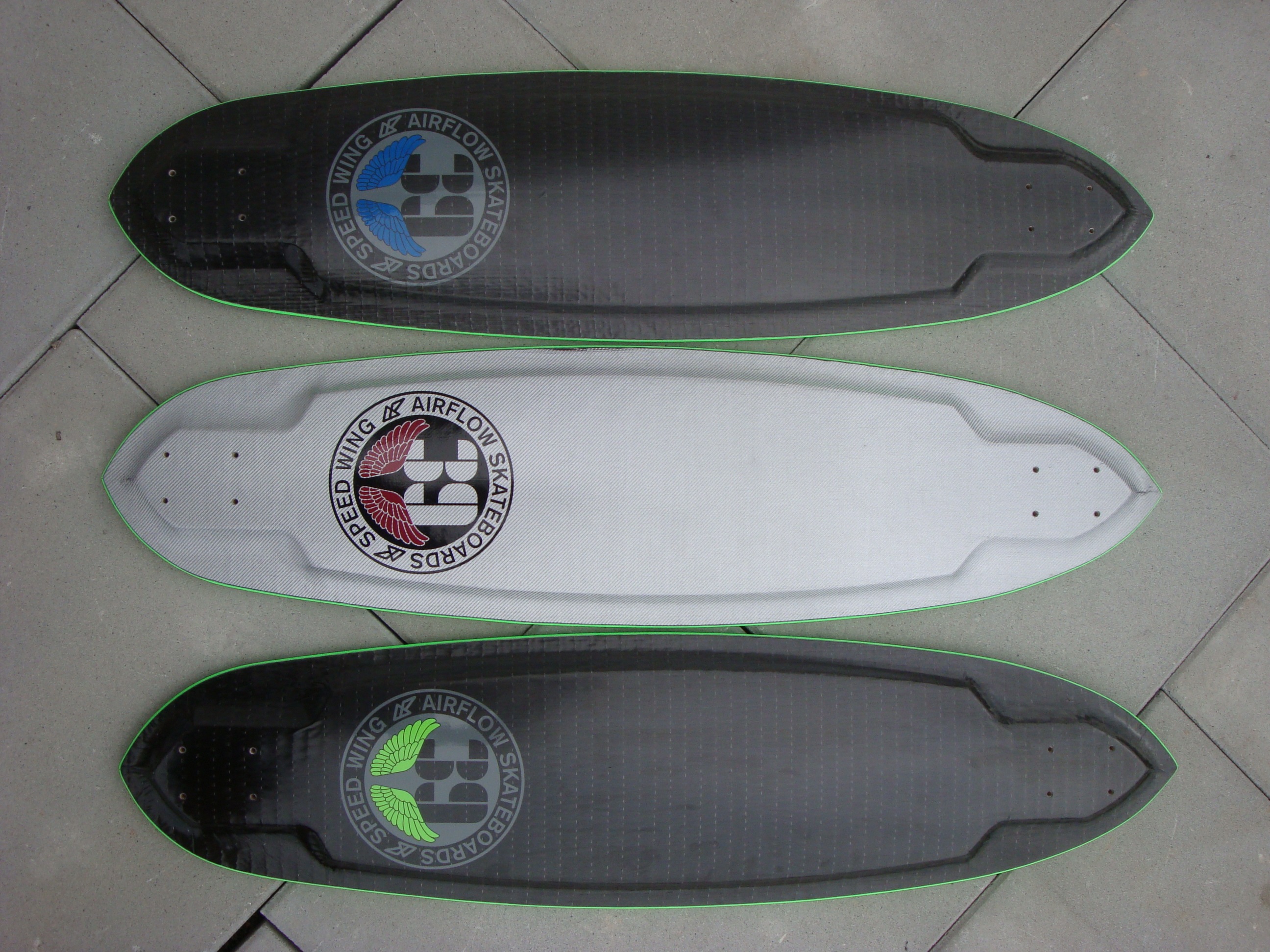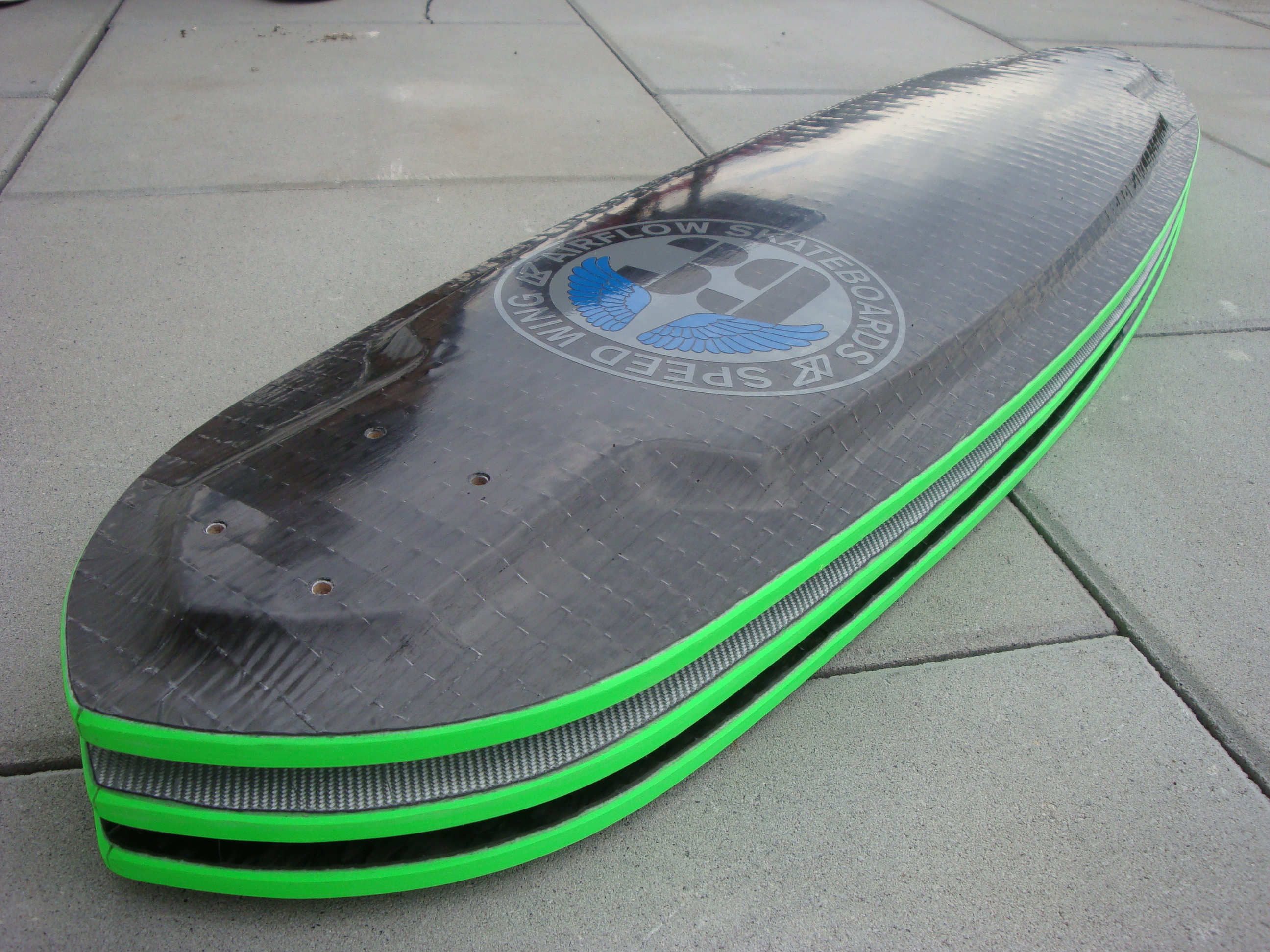 Foamcore Speedwing 39
The first foamcore Speedwing 39 prototype was sucessfully tested last weekend at the Houyet Freeride in Belgium. The foamcore Speedwing 39 is a superlight, anti-torsional and fast speedboard. Controlled drifts, precise cornering through sweepers and super stable at highspeed, this board will fulfil all your needs.
Teamriders Ramón Königshausen and Dasha Kornieko will ride this board at the following IGSA DH World Cup Events: Peyragudes Deluxe, Graveyard Call, Kozakov Challenge , Teolo Grand Prix and the Burning Wheels Tour Event Gioasteka at San Bernardio pass.
Material: Foam-core, glass-fibre, carbon-fibre, ABS
Specifications:
| | |
| --- | --- |
| Wheelbase: | 72cm/28⅜" |
| Lenght: | 99cm/39" |
| Width: | 26cm/10¼" |
| Weight: | 1300g |
Write a comment about this board on Ramón's Teamrider Blog!
Setup:

| | |
| --- | --- |
| Trucks: | G.O.G. Big Brother 200mm |
| Wheels: | CULT 72mm/80A |
| Bearings: | Airflow ABEC 7 |
| Bushings: | Venom barrel |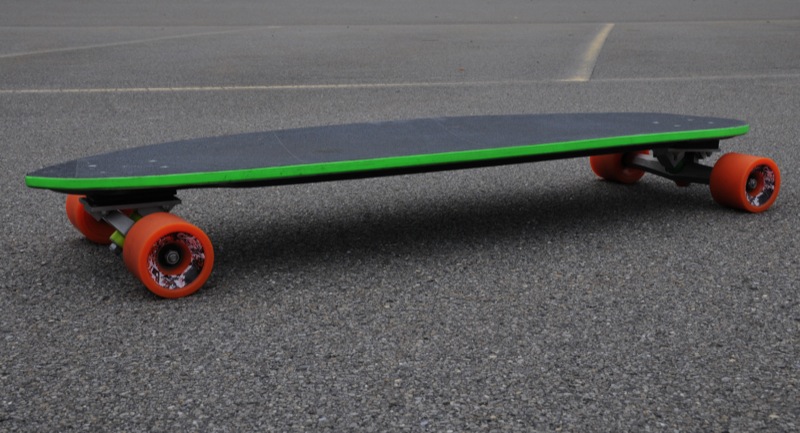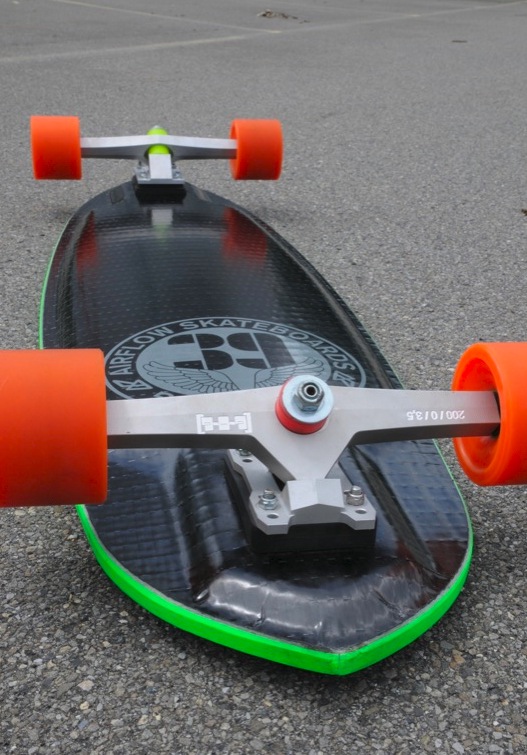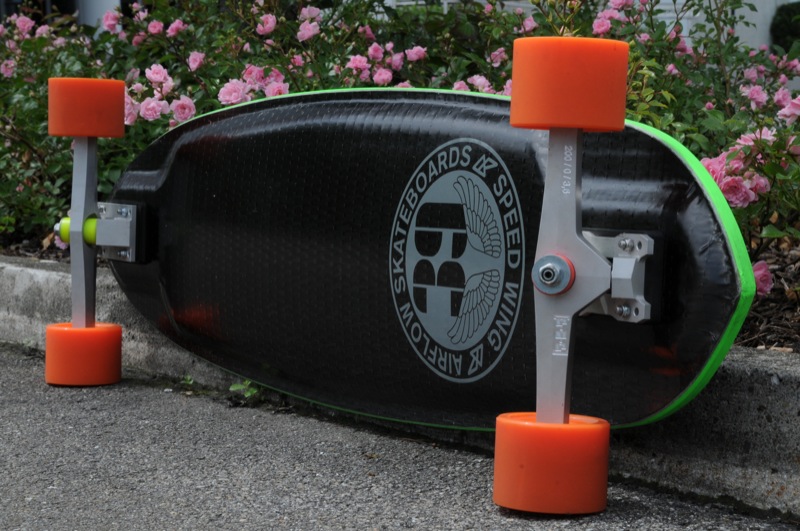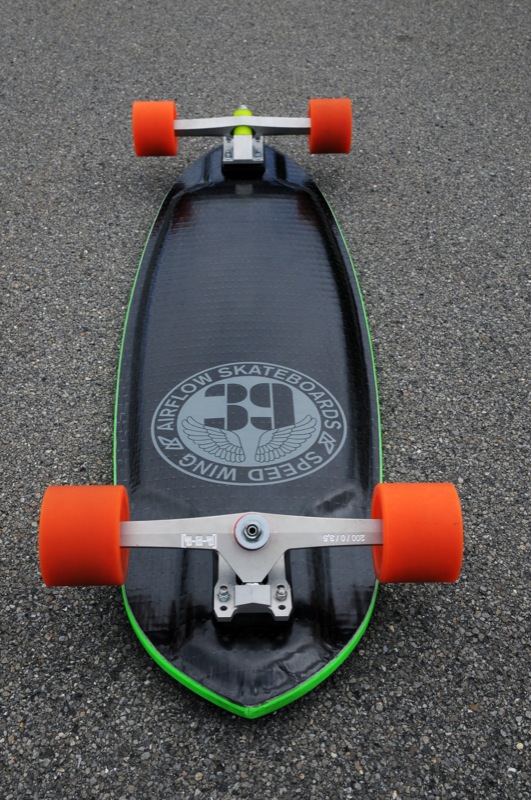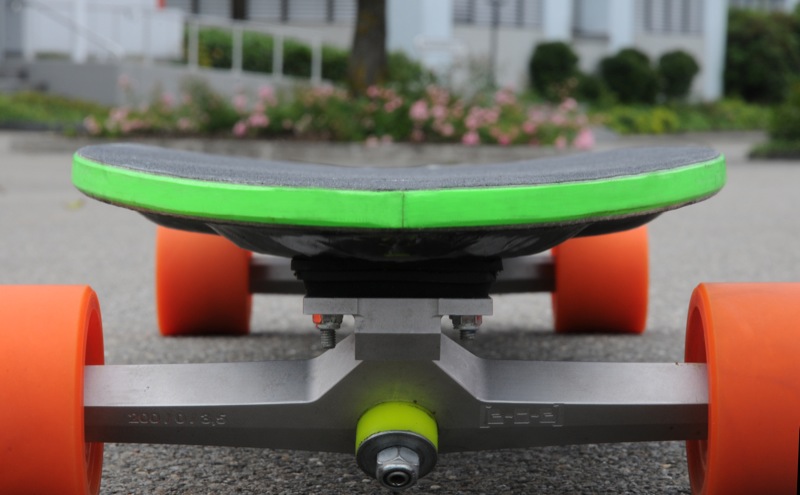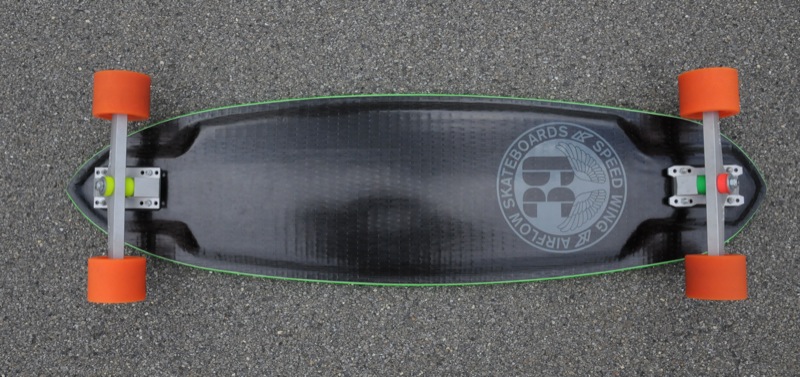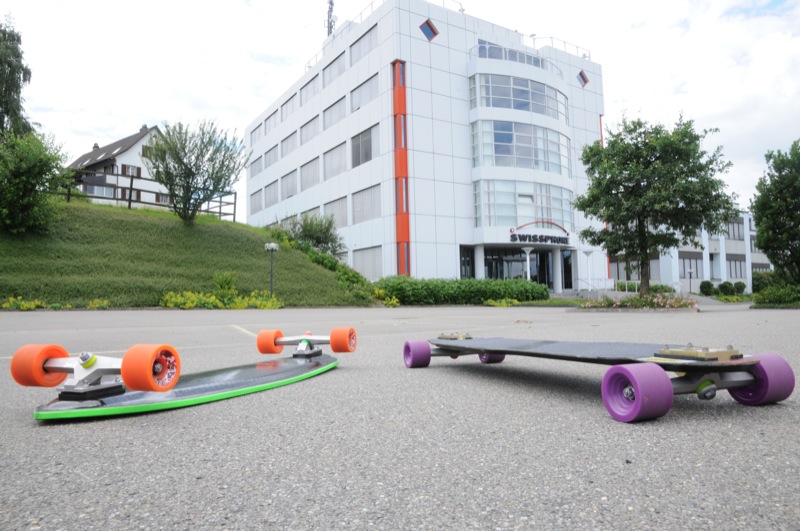 Skateboarding for every one
On June 21, 2009, skateboarders around the globe will celebrate the pure exhilaration, creativity, and spirit of one of the most infuential activities in the world by blowing off all other obligations to go skateboarding.

Hally Gally Charity Race 08
a wonderfull Race with a lot of loughing and a smell of X-Mas...

Fieschlager 2008
This year's Sports and Holiday Camp of the city of Zurich also featured a course called "Slalomskateboard riding". Among 700 kids aged 11-15 there were 40 that attended this course.

Over 80 Cones Zurich
One week before the Worlds Ramón Königshausen wins the Over 80 Cones at Zurich Rennweg, leaving Dominik Kowalski on second place. Both are eager to represent their Nation at the Worlds next week! - Chris Hart becomes thrid after he took a 3-months time-out. Congratulations!

1st place Chris Hart mad cow streetboarder x
Once again mad cow won the fight against the meteoroligists. Chris 1st place man Nastasia 2nd place whomen Marvin 2nd place juniors, Marco 3rd place juniors