News

Pump Action
Ob als praktisches Fortbewegungsmittel in der Stadt, für den Einsatz bei urbanen Freeride-Sessions oder einfach um locker mal einen Trick auf Lager zu haben – Das Airflow Pump Action ist der perfekte Begleiter für den alltäglichen Gebrauch.

Das Board ist drop-through, ohne Vorspann und hat eine angenehme "lip-concave". Es wurde absichtlich auf Vorspann verzichtet um ein bessere Handling des Boards herauszuholen. Die "lip-concave" verleiht dem Deck einen natürlichen, surfigen Flex. Dank diesen Eigenschaften kann man auf dem Pump Action unbeschwert lange Distanzen zurücklegen. Zusätzlich haben wir die Nose und Tail verlängert, damit auch mal ein kleiner Trick oder das Überspringen kleiner Hindernisse kein Problem sein werden.

Das Pump Action ist in zwei Flexklassen erhältlich: Soft und Medium

40 Years of passion
Am Sonntag 6. März 2011 wird Chris 40.
Wir treffen nicht wie auf dem Flyer ab 9Uhr sondern um 11 Uhr zum Birthday - Freeride am Rigiblick

Wer auch immer Lust hat dabei zu sein ist herzlich willkommen.

Dann hoffen wir doch auf trockene Strassen und Temperaturen wie wir sie Anfangs Februar hatten.

Gruss Puli




Facebook Event

DROP - My Life Downhill
«DROP - My Life Downhill»
A documentary about downhill skateboarding, starring Martin Siegrist, Mischo Erban, Erik Lundberg, Scott Smith and a few more of the worlds fastest downhill skateboarders. The Orangefiist movie is presented by Airflow Skateboards and 3-times world champion Martin Siegrist.
Wo: Hermetschloostrasse 70 in Zürich Altstetten. Wann: 21 Uhr
Watch the teaser!!!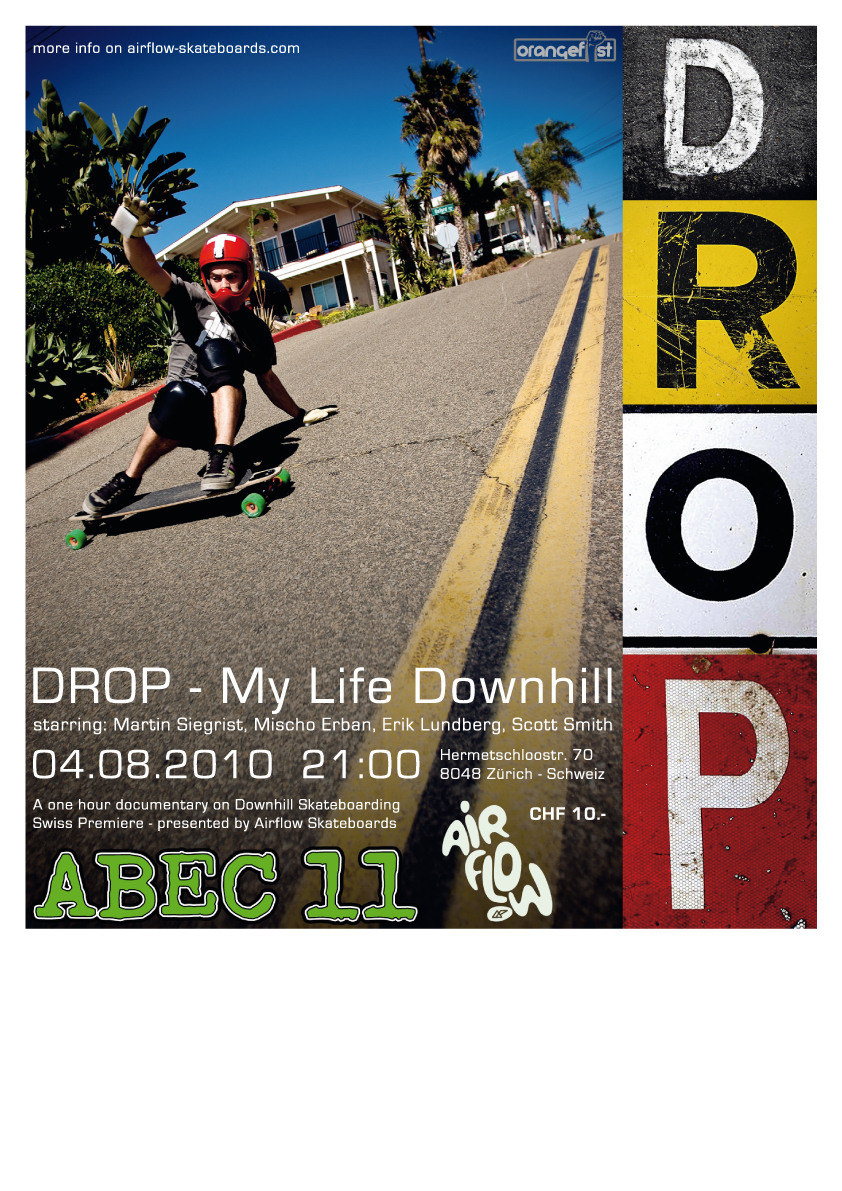 Videoflashback 2009
How else would you try to capture and share the feeling of longboarding to others? I guess the best way to do it is to try it yourself. Go out and skate and enjoy the moment!
How to remember those moments of joy? Maybe with a video...longboard videos have never been as popular as in 2009. There's a ton of them out there...many show skills, style, speed or just plain soul-riding. They can all fascinate - depending on how well the video was made.
Airflow 2009 in Videos. Here's our complilation of the best videos refered to Airflow or their riders that got put online in 2009!
____________
In April Ramón was downunder visiting Jackson Shapiera and skating with the skate Australia crew. When they were skating the Waterfallway near Dorrigo they got interviewed by the TV news station NBN:
Extreme skating at the Waterfallway

A few weeks later the Burning Wheels Tour had its first stop at the Tunnel Slalom World Cup at a tunnel opening near Zurich, Switzerland. Watch the finals between Ramón and George Pappas form Durango, Colorado. Ramón took the win.
BWT Tunnel Slalom Skateboard World Cup - Finals
In the meanwhile a longboard video production that Airflow is involved in released their trailer. The project is called "DROP - my life downhill" and features Erik Lundberg (SWE) and Mischo Erban (CAN) along with Airflow team rider Martin Siegrist (SUI). Check out the trailers!
Drop - My life downhill - Trailer

For some of the shots a Porsche Cayenne with a pursuit camera arm was used. It is the same car that they used to shoot some of the action scenes for the James Bond movie "Quantum of Solace".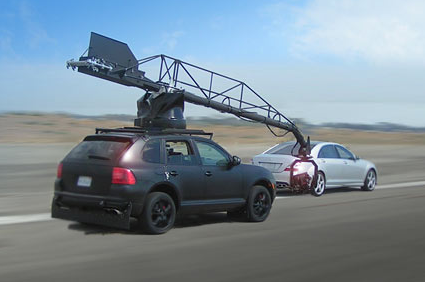 Extreme Longboarding by Marc McCrudden
Getting ready for the racing season was Martin Siegrist on one of our favourite roads: Col d'Izoard. Perfect Swiss precision skating!
Martin Siegrist at Col d'Izoard
Shortly thereafter the IGSA World Cup Series launched off in southeastern France at Peyragudes, a skiing resort in the Pyrenean mountains at the boarder to Spain. Airflow was successful with Martin in 3rd, Ramón in 10th and Dasha in 2nd in the Women's.
Click here for full results Peyragudes 2Luxe Cup 2009
Yvon Labarthe has been creating splendid videos throughout the summer. Here's his first one from Peyragudes. Thank you Yvon!
IGSA Peyragudes 2Luxe Cup by Yvon Labarthe
The weekend after everyone moved over to Argonay (F) for the second IGSA event called "The Graveyard Call". This track was highly technical and really narrow so that the race was held in a two-men heat system. Dasha finished 4th, Martin 9th and Ramón got 13th.
Click here for full results Graveyard Call 2009
Here's another one of Yvon's great videos:
IGSA Graveyard Call 2009 by Yvon Labarthe

Since two can't be enough here's the third one in a row: The Padova Grand Prix in Teolo, Italy. This track wasn't crazy fast but it featured a shitload of hairpins at the bottom - one after another! Teamriders Martin and Ramón dominated qualifying using their slalom pumping skills to accelerate out of slow hairpins. Our team finished 1st (Martin), 7th (Ramón) and 1st (Dasha).
Click here for full results Padova Grand Prix 2009
And yes, Yvon was keeping up the good work:
IGSA Padova Grand Prix by Yvon Labarthe
__________________________________________________________
Despite all the good news a really tragic message arrived to us when we were at the Padova Grand Prix. Anthony Fricker, a fellow longboarder from Australia had died in a skateboarding accident. Anton was working on a documentary known as "Skate Australia". Team rider Ramón had travelled 2 weeks in Australia with Anton and was very enthusiastic in devoting some skating and filming to it. Upon the day he wasn't able to complete his film but his close friends are carrying on his work. Our condolences go out to his family and friends.
Therefore we would like to feature his trailer in our 2009 video compilation. Thank you Anton!
Skate Australia Trailer by Anton Fricker
____________________________________________________________
After Padova Grand Prix there was a 10-days break to the next event in Czech Republic. Many riders were travelling through Switzerland on their way north. For example the Louis Pilloni, Patrick Switzer and James Kelly from Orangatang or Brian Holden, ABEC11 representative from Colorado. Check out their video. Some of the footage was shot on Ramón's local spot.
Loaded in Switzerland by Louis Pilloni
The next event were the European Championships in Kozakov, Czech Republic. This event probably featured one of the best race tracks on the circuit. Top speeds of 90km/h, fast slightly banked hairpins and cheap beer! For Kozakov we do not only have one video - we have to really epic videos! One of them - who'd expected anyone else? - is by Yvon Labarthe. The other one was made by the organization itself.
Here also our team was quite successful: Airflow congratulates the European Champions Martin Siegrist and Dasha Kornienko. Our slalom ace Ramón took 6th.
Click for full results Kozakov Challenge European Championship 2009
Read the Race Recap by Ramón
IGSA European Championships - Kozakov Challenge 2009 by Yvon Labarthe

IGSA European Championships - Kozakov Challenge 2009 - Official Video
Here we would like to give out the "crash of the year" award to Jackson Shapiera from Hopkin Racing Australia for his venturing crash at Kozakov. Jackson was unharmed, safe and sound after this crash. However, he is currently recovering from a foot injury. Heal fast bro!
Crash of the Year - Superman Jackson Shapiera
The same weekend as Kozakov happened there was a Skateboarder-Cross event happening in Switzerland. Luckily Kozakov ended on Saturday and the Boarder-Cross was on Sunday. Ramón and Dasha, along with Patrick Switzer made it back in time to be at the Burning Wheels Tour Boarder-Cross in Lucerne, Switzerland (7hrs drive from Kozakov) - By the way: in 2010 this event will happen on the weekend between Teolo and Kozakov. We highly recommend stopping by if you can!
Airflow Skateboards' Chris Hart took second - Congrats!
Click here for full results Burning Wheels Tour Boarder-Cross
Burning Wheels Tour Boarder-Cross by Patrick Switzer
The last IGSA event in Europe was held on an island called Great Britain. To be precise it took place in Eastbourne. Airflow representative Dasha Kornienko was there rocking - another first place for our lady!
Click here for results Eastbourne Speed Days 2009
IGSA Eastbourne Speed Days by Yvon Labarthe

By the end of summer, Burning Wheels Tour released this nice little video that was shot in the Swiss Alps.
Burning Wheels Tour video shooting by Alexis Lieber
In October the fastest race on the IGSA circuit was held: Malarrara Pro Teutônia in Brazil. Martin Siegrist was there trying to set a new high speed record. By the end it was set by Mischo Erban from Canada: 113km/h. In the quarter finals Scott Smith from Canada crashed only inches away from Martin. Check it out!
Click here for full results Malarrara Pro Teutônia 2009
Martin vs. Scoot at IGSA Malarrara Pro Teutônia
One month and another continent later Martin Siegrist wend downunder for the IGSA World Championships at Mount Panorama, Bathurst, NSW Australia. Martin pretty much dominated during time trials. When he ventured everything in the semifinals he slid out in the Forest's elbow. Martin finished the race getting 6th. World Champion 2009 is Kevin Reimer from Vancouver BC, Canada. Congrats!
Follow Cam Evran and Martin
No we won't disappoint you. Also this time our fellow countryman Yvon Labarthe edited an excellent video. Unfortunately Yvon was involved in a really bad Streetluge crash and wasn't able to continue the race. Nevertheless he became 2009 IGSA World Cup Series Winner. Congrats and heal fast Yvon!
IGSA Newtons Playground World Championships by Yvon Labarthe
IGSA and ASRA put up an entire webcast of the race.
Click here to go to the IGSA page for watching it.
Last but not least the final showdown in South Africa the the IGSA Hot Heels near Cape Town. Airflow's Dasha Kornienko had the pleasure to experience South Africa. Here's a little video of a race that took place one week prior to Hot Heels, where Dasha got first and therefore 2009 IGSA World Cup Series Winner.
Dasha Kornienko at the South African Nationals - Howteq
That's it from us in 2009. We hope you enjoyed watching the videos and keep coming back for regular updates on our blog!
We would like to thank all the video makers out there especially Patrick Switzer and Yvon Labarthe for keeping up the great work.
We would like to thank all the event organizers out there especially Marcus Rietema and his team behind the IGSA for organizing a great racing circuit since 1996!
And thanks you all you rad skaters out there in our little big family!
Airflow Skateboards, Ramón Königshausen

Dasha Nr.1 World Cup Ranking
Airflow teamrider Dasha Kornienko (CAN) wins the womens IGSA World Cup Series 2009. 2nd place goes to Rebekka Gemperle (SUI), World Champion Brianne Davies (CAN) places 3rd. Airflow's proud and congratulates all three girls for pushing their limits!
______________
After spending her entire summer travelling and racing all over Europe, skating mountain passes and living in Switzerland, and going on a trip to the very southern tip of Africa Dasha's brought it: 2009 Women's World Cup Series Champion!
Let's have a little backflash of the past summer...

(Words by Ramón Königshausen)
Houyet, Belguim
May 30th Dasha arrived in Zurich Switzerland. After her first slalom race in Prague, Czech Republic, downhill skateboarding started off with a Freeride in Houyet, Belgium.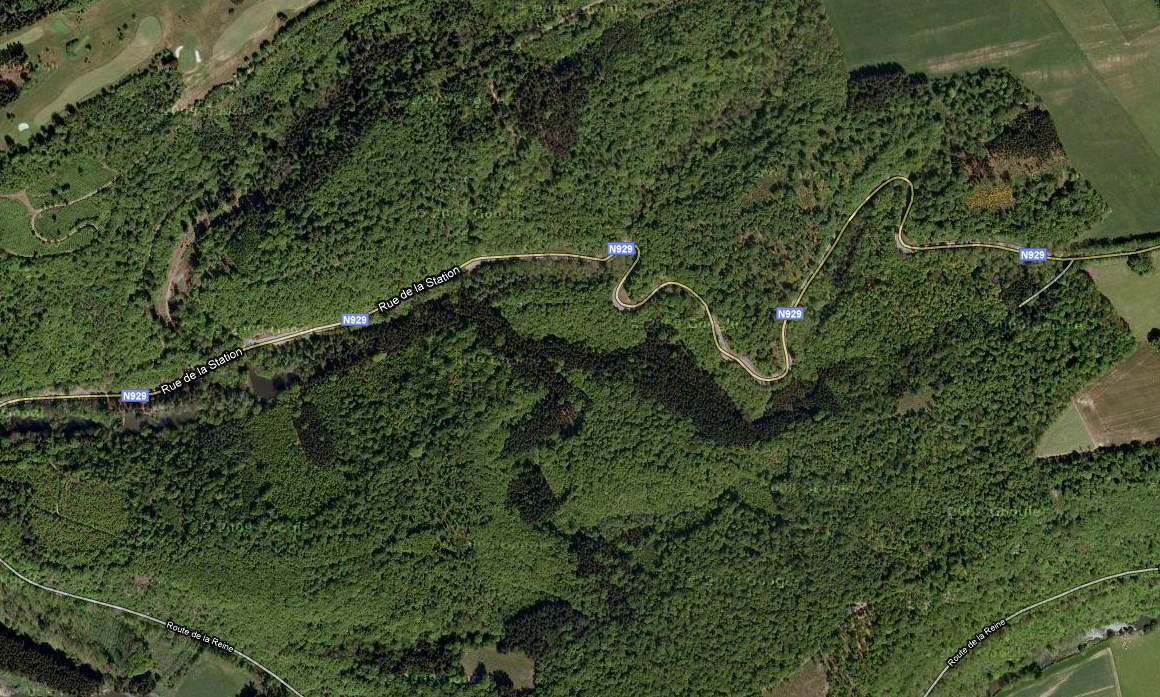 This was when Dasha switched from an Evo to topmount. The two of us were given a prototype foamcore Speedwing "39 made by our sponsor Airflow Skateboard to test out. After getting used to the higher stance, it didn't take long and we discovered the benefits of a topmounted board. Along with Mike River and the crew from the UK as well as the guys from Stuttgart Germany – the Houyet Freeride definitely was a chilled start of the season to test out gear, enjoy tons of runs with friends and get ready for racing.
Check out the Video. Mike River (CULT Wheels) followed Dasha and Uta down the track!
At the top of a hill just 15mins from where I live: Me, Brian Holden, Dasha, Patrick Switzer, Louis Pilloni, James Kelly
As July came, the racing season wasn't far either. Our road trip started from Switzerland to Peyragudes in south-eastern Spain with Sebastian Hertler and Jakob Raab from Stuttgart, Germany. A quick stop over at the Marseilles bowl on the way and they arrived at the first event located near a skiing resort in the Pyrenean mountains.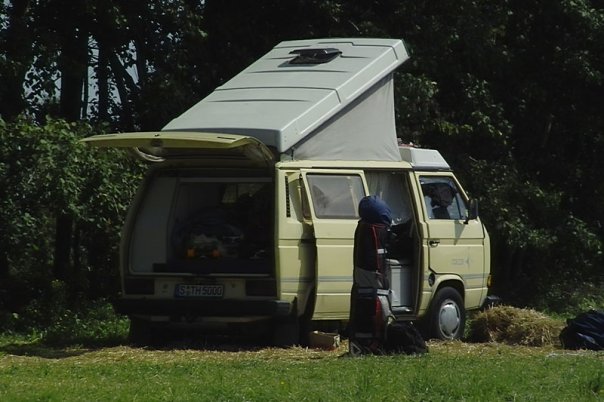 Sebastian's VW van - classy
Peyragudes, France
Peyragudes (F) was supposed to be one of the fastest tracks on the European circuit. At top speeds of 90km/h (55mph) the racers had to go over consistently changing pavement, bumps, around sweepers and master 5 hairpins.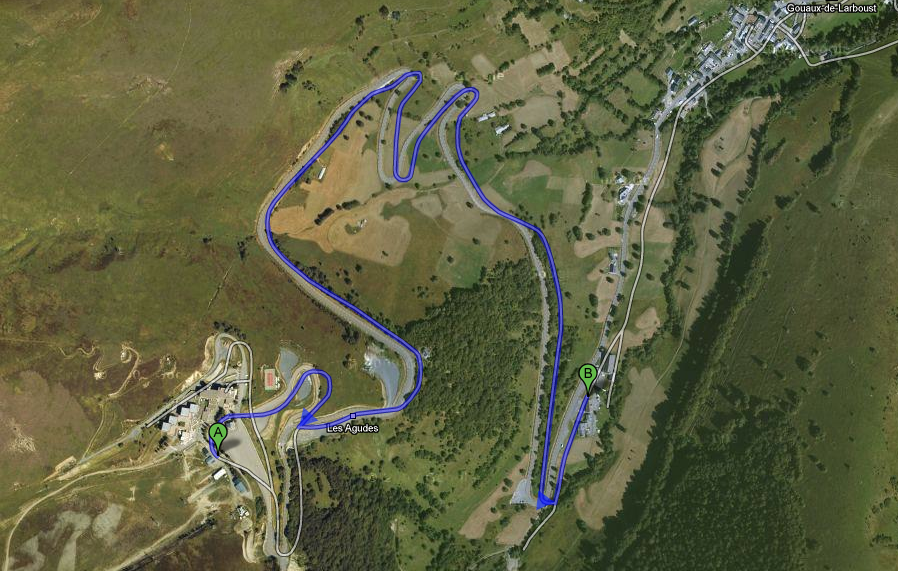 The winner of the Women's category was determined by a point system (most of the races do like this). 3 runs mass-heat, winner gets 1pt, second gets 2pts etc.
The key at Peyragudes was to make the best out of the tight start area and down to the first hard lefthander. In their first run Bettina Luginbühl (SUI) managed to win the heat leaving behind Dasha, Rebekka Gemperle (SUI), Kristina Engstrand (SWE) and Verena Völkel (GER). In the second heat Dasha made a pass just around the sweeper that lead into the high speed part. Bettina passed her again in the hairpins section but coming out of it Dasha had more exit speed and was able to pass Bettina again and held her lead all the way to the finish line.
First left hand harpin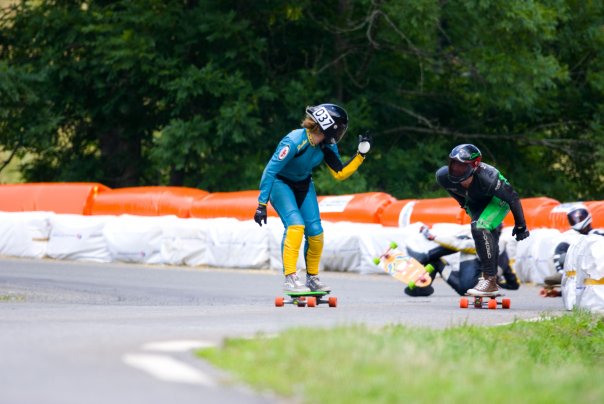 Surviving a crash fest: Dasha and James
The third round would be the tiebreaker. Everybody was watching in excitement from the top of the hill where they could overlook the entire course. Who would make the race? Two-time world champion Bettina Luginbühl or Dasha Kornienko? Kristina and Rebekka were full on as well…But it was Bettina who took it. Followed by Dasha in second, Rebekka third, Kristina fourth and Verena fifth.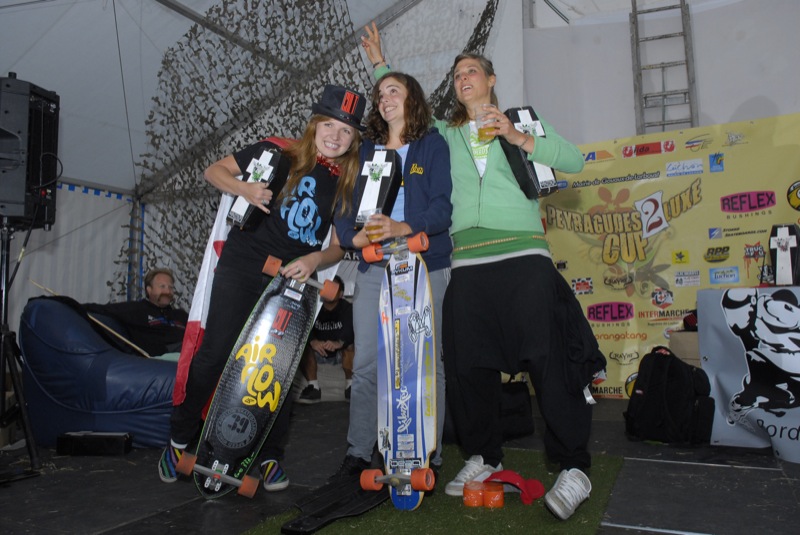 This was the first IGSA podium for Dasha, congratulations!
Graveyard Call, Argonay, France
Shortly after Peyragudes everybody was making their trip to Argonay (F) to compete at the "Graveyard Call". Dasha was road tripping with the Norwegians – also known as "Team Red Wine".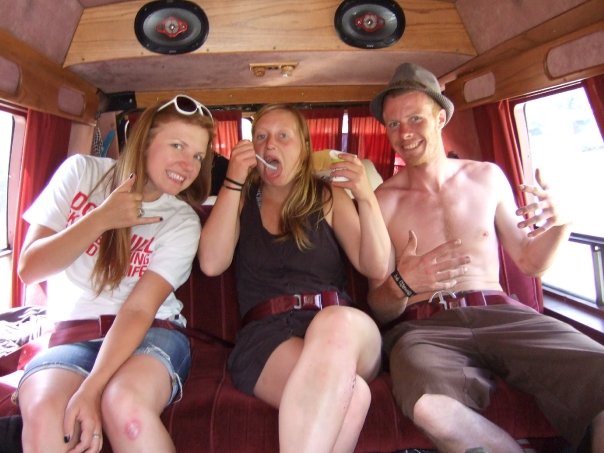 Dasha, Kristina and Torbjørn of Team Red Wine.
The top part of the race track known as D173 is used by the locals as a practise hill. It's a narrow road through the forest ending in the town of Argonay. For the race the bottom part was closed as well which made it really challenging course. The last hairpin passing by a graveyard gave this event its name.
This time Dasha couldn't it into the finals. Rebekka and Bettina battled out the finals with Bettina taking her 2nd victory in a row. Unfortunately they both crashed and injured themselves slightly. Dasha took 4th to Kristina who finished 3rd.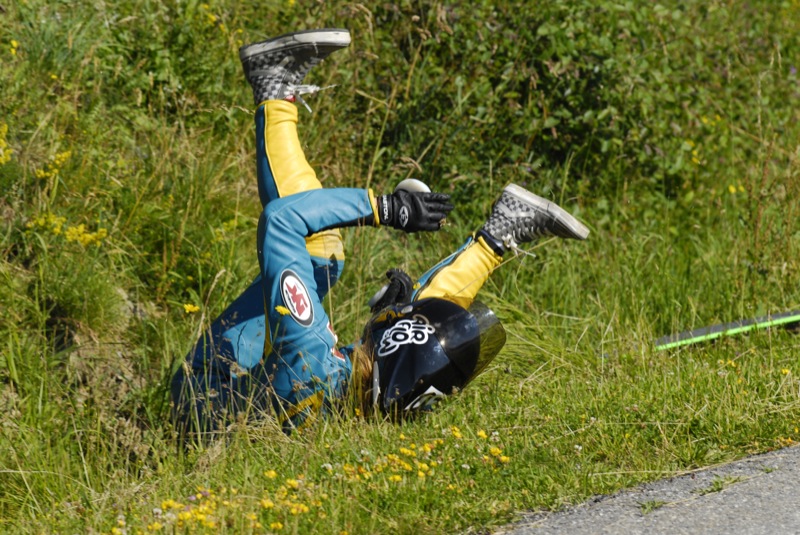 Nobody can deny that crashing isn't part of the deal sometimes....
Teolo, Italy
Teolo was hot! Thanks to Dasha and my sister I had gotten a super short haircut. Shortly after our arrival many were inspired by my advantage against the heat. So Adam Yates declared himself a Figaro cutting several skaters' hair. The Italians had a great hospitality, they fed us, served you with sports drinks at the finish line and at night there was always a cool show going on.
It was in the land of pasta, pizza and power slides (?) that Dasha would make her first IGSA victory. Second was Karin Feldbaum, third Uta Hang, both from Stuttgart, Germany.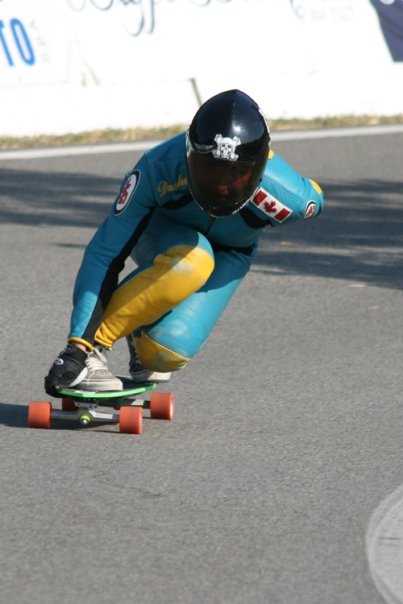 Papeedeepoopee!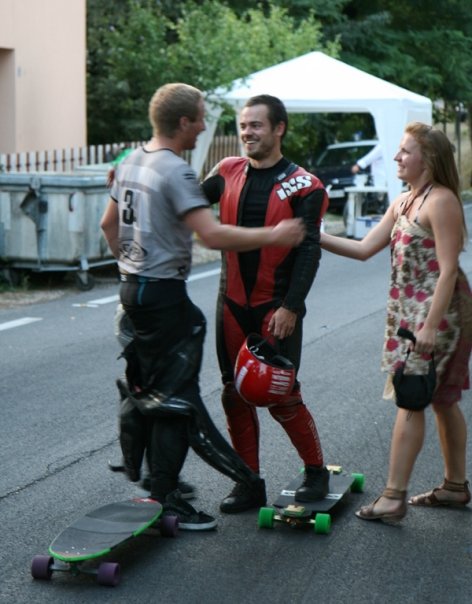 A Victorious Team: Ramón (7th), Martin (1st) and Dasha (1st)
After the race in Teolo we returned to Switzerland for a couple of days. By the middle of the week we got company by the Orangatang guys (Patrick, Louis, James, Jackson), Sebastian and Jakob, Brian from Colorado and Leeso from Oz, who had already come with us. A big BBQ was held after a chilled day of skating down to the Lake, swimming and relaxing.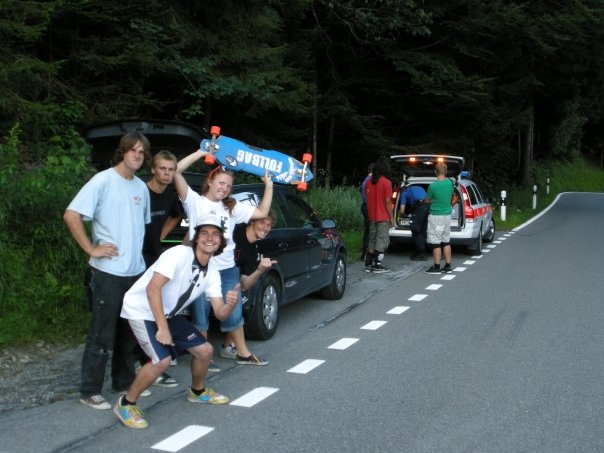 Law enforcement? – I don't think so!
Unfortunately Dasha and I didn't manage to organize a car to go to any of the races either the Slalom European Championship in Czech Republic nor the Longboard Jam in Austria. So we stayed home in Switzerland. Samy Cantieni was kind enough to let us borrow his Toyota Landcruiser for local trips. Well, I must say Stelvio Pass isn't a bad option, is it?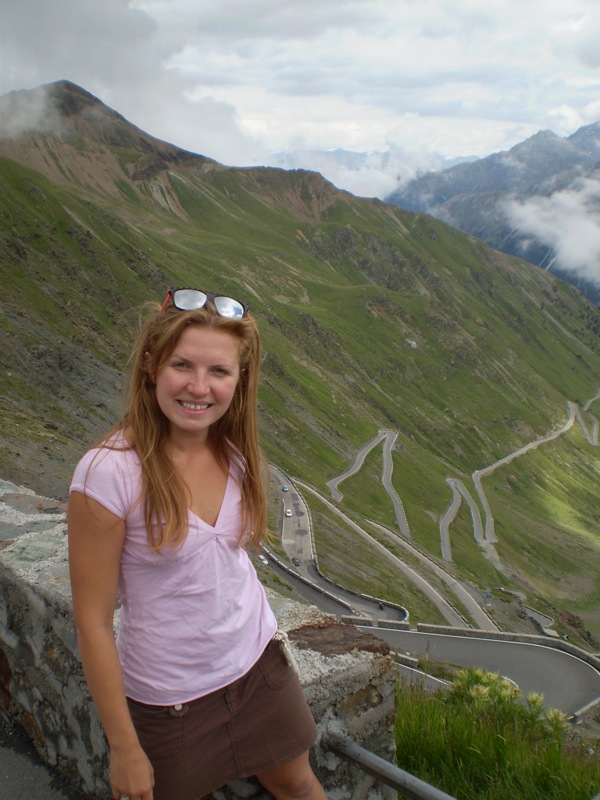 At the top of world famous Stelvio Pass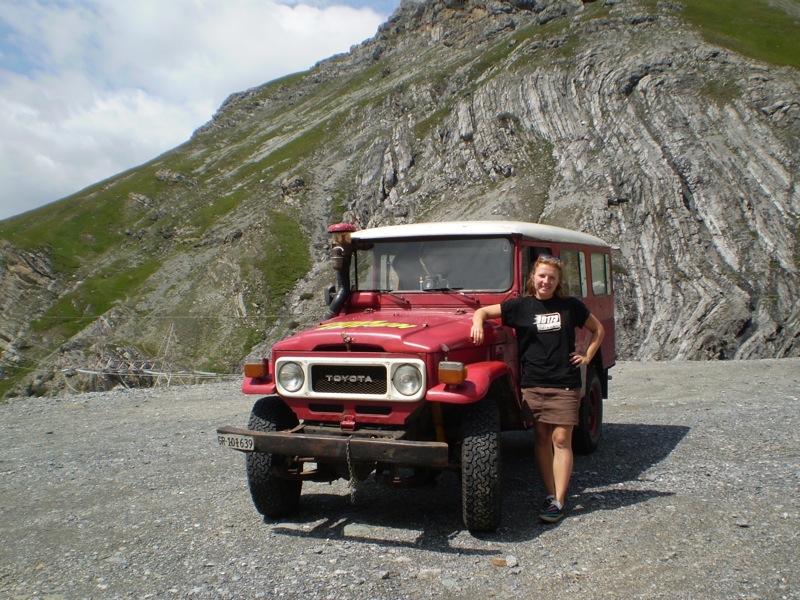 Samy's Landcruiser!
Kozakov, Czech Republic
After the "weekend off" we got a ride to Kozakov along with Christoph Haller and Rebekka. The land of awesome cheap beer provided us with an equally awesome racetrack: top speeds up to 95km/h (60mph), 3 hairpins, two high speed sweepers and butter smooth pavement.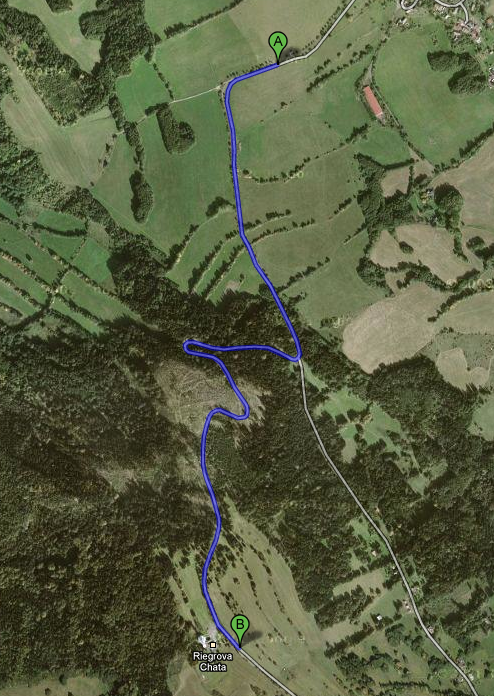 Dasha qualified 3 seconds ahead of Kristina, followed by Rebekka, Verena and Sophie Friedel (her DH debut). This time the racing format was supposed to be different since starter Eimer had a different system in mind. By the end the last run would count. This caused some difficulties along with the race directors trying to exclude Dasha from racing in the Open category. Fortunately by the end Dasha was able to make the best out of the situation and win the European Championship.
<br></br>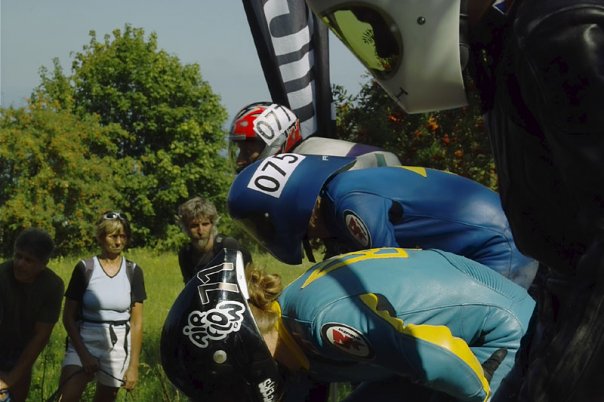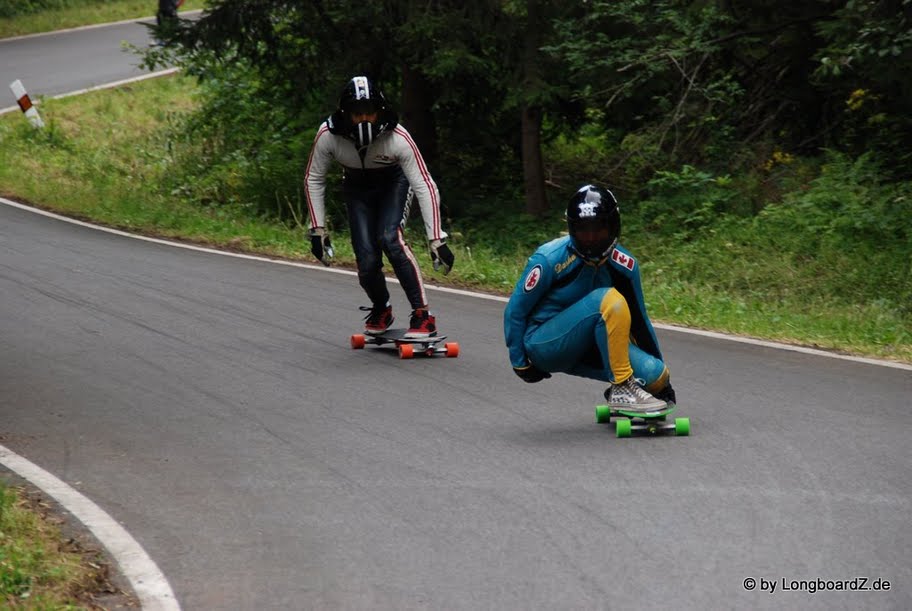 Double-DK: Dominik Kowalski and Dasha Kornienko
As if one event per weekend wasn't enough we travelled 7hrs through Saturday night just to make it back in time for the Burning Wheels Tour Skateboarder-Cross race locatedin Lucerne, Switzerland. Along with Dasha there were two more Canadians shredding the BX course. Patrick Switzer (ON) and Ross Baradoy (AB). Check out Partick's video.
Eastbourne
wasn't on Dasha's schedule until Mike River from
CULT wheels
managed to convince her to fly over to the UK. On day one from 129 stand up riders Dasha qualified 22
nd
in Open. The second day many improved. So did Dasha. But due to tailwind people with an OK tuck were able to get past her in qualifying. Nevertheless Dasha ruled in the Women's category and brought home another victory!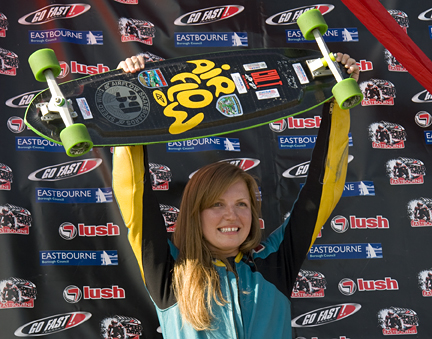 In September Dasha visited her family in Ukraine. I went there for 10 days and we tried to spread the stoke on skateboarding. Check out the article here: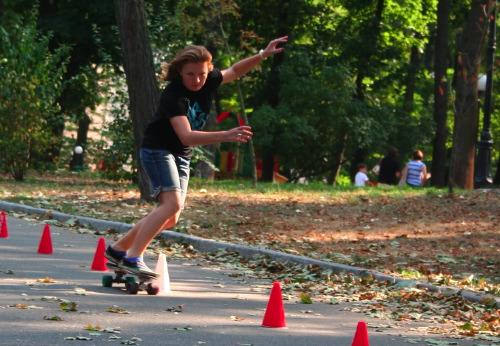 On October 17 the award ceremony for the Swiss Skateboard Series "
Burning Wheels Tour
" took place in Zurich. The best skaters in all disciplines (Slalom, DH, Boardercross, Push-race) were awarded. Dasha having participated in 3 out of 6 events (Boardercross, Gioasteka free ride, Over 80 Cones Slalom) finished 3
rd
overall. Congratulations!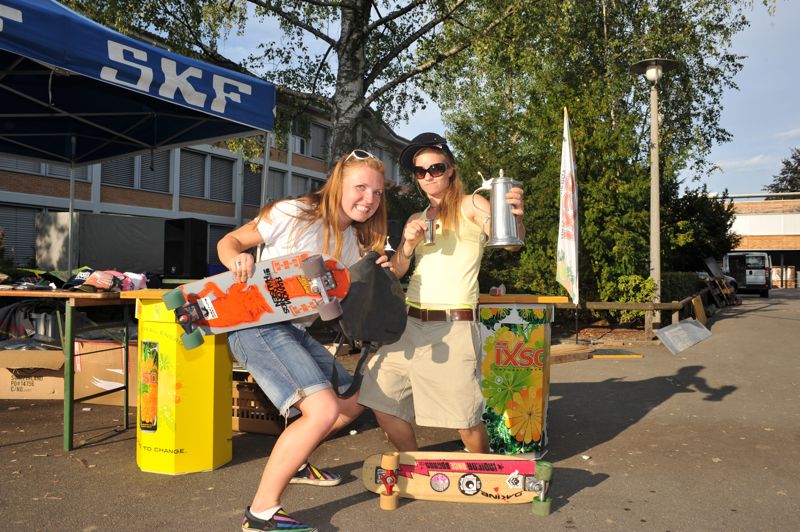 Mid November Dasha left good old Europe to return back to Canada. But not for long. Just before she took off to last World Cup of the season in South Africa, Dasha broke her personal speed record. Up in the north of Ontario Dasha hit 98.9km/h (61.45mph) on her Airflow foam core Speedwing "39, GOG BigBrothers and CULT wheels. Like that she's only a click away to join the century club. Go get it!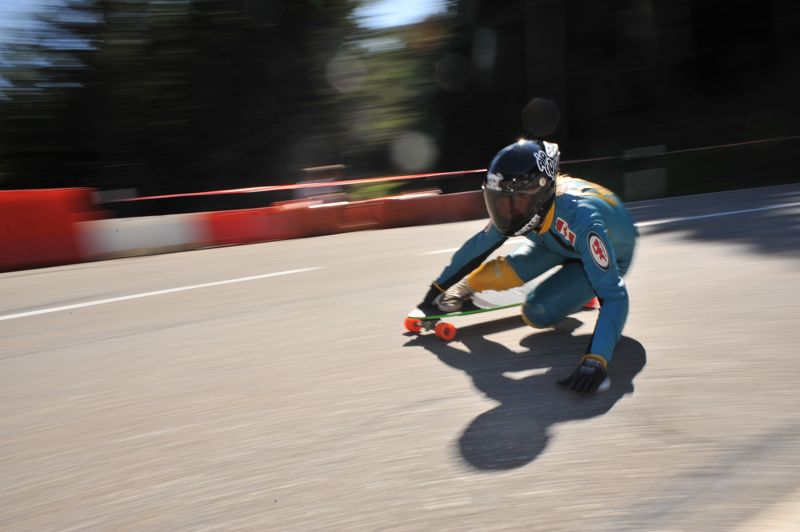 At the Giòasteka Freeride at San Bernardino Pass, Switzerland.
I guess it's a waste of characters to say that I'm jealous but I just did. Anyway, Dasha's still in South Africa.
One week prior to the big showdown at Kogelberg there was the South African Nationals at "Howteq". Check out the Video Dasha put online:
Hot Heels South Africa – This is where Dasha and Rebekka would have battled it out. Rebekka had gone to the World Championships in Australia and broken her wrist. Although she did qualifying with her broken wrist she decided not to risk any further injury in a race. Per se Dasha was awarded winner of the race and therefore 2009 Women's World Cup Series Champion!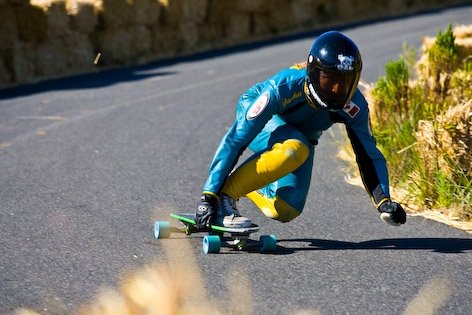 CONGRATULATIONS DASHA!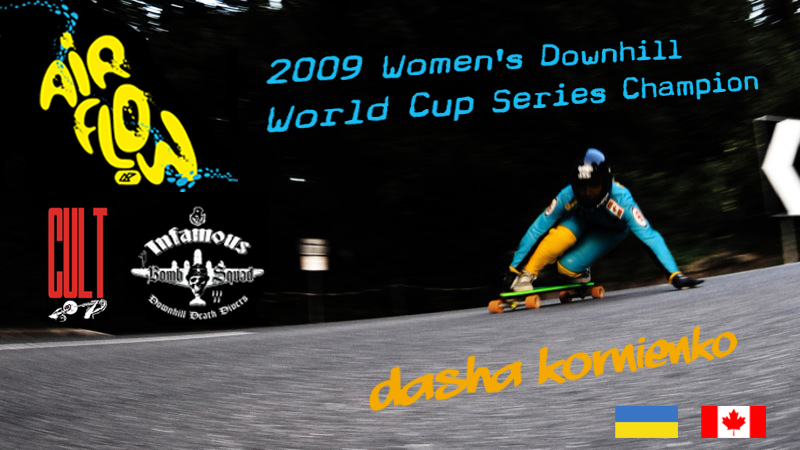 Fiesch 2009
Ein bewegtes Fiesch Lager 2009, geleited von Profi Skatern wie Ramon Königshausen, Betina Luginbühl und Andy Hofstetter zeichneten die Ferien Woche der Zürcher Kids. Meist schönes Wetter und motivierte Teilnehmer machten diese Zeit unvergesslich. Besten Dank auch an alle Kinder fürs mitmachen, an Eva fürs organisieren, und überhaupt....... Bis nächstes Jahr.....Feel he flow....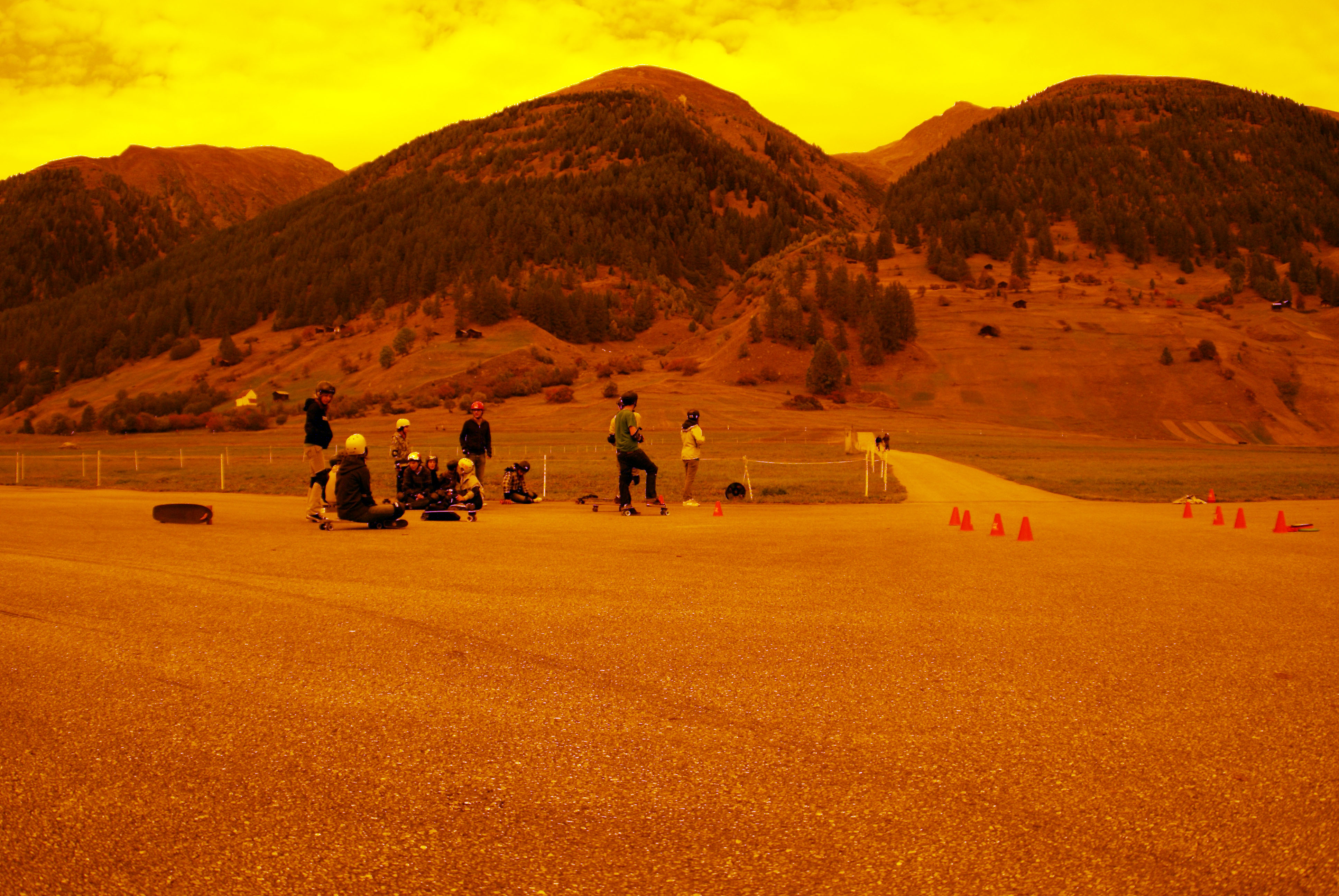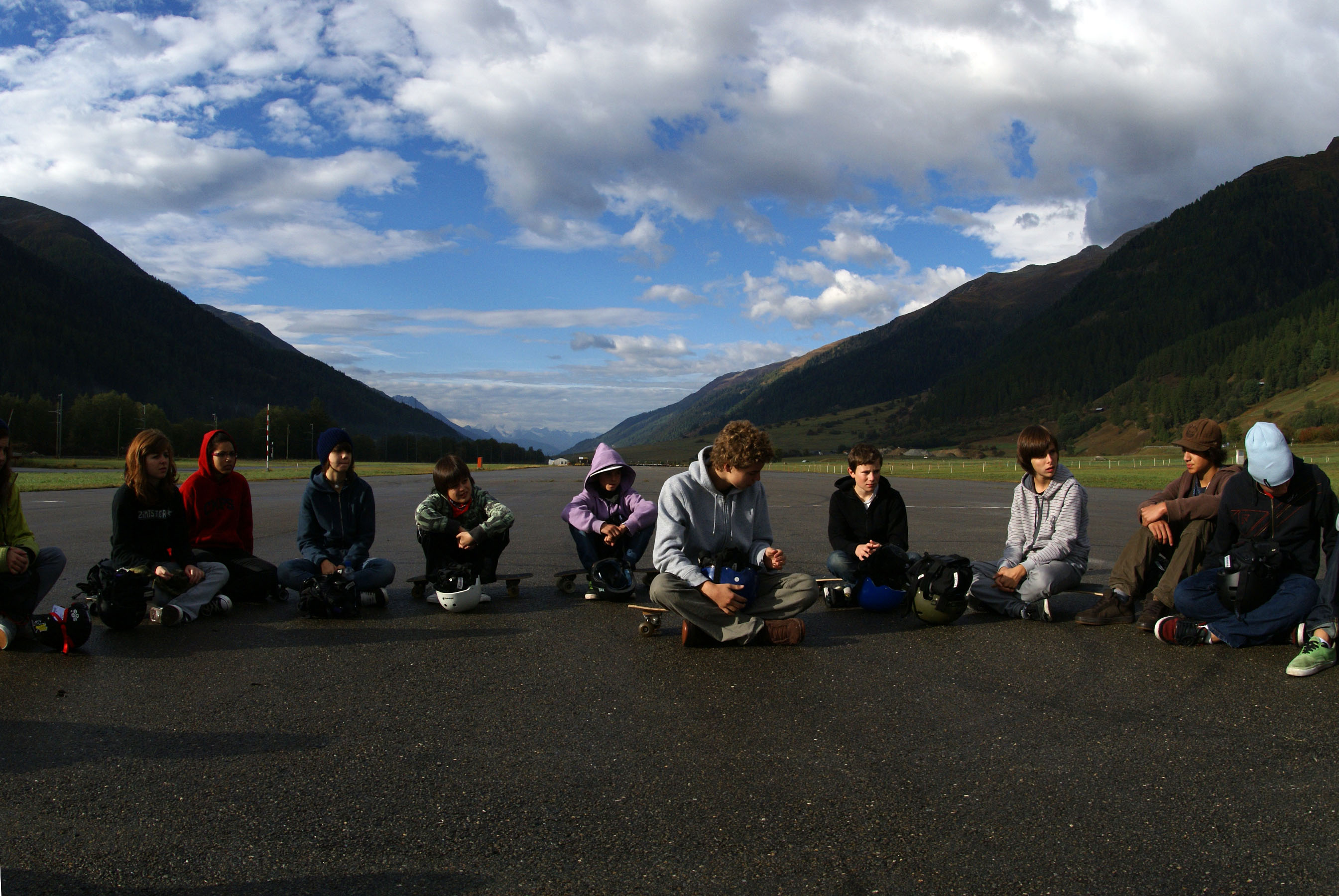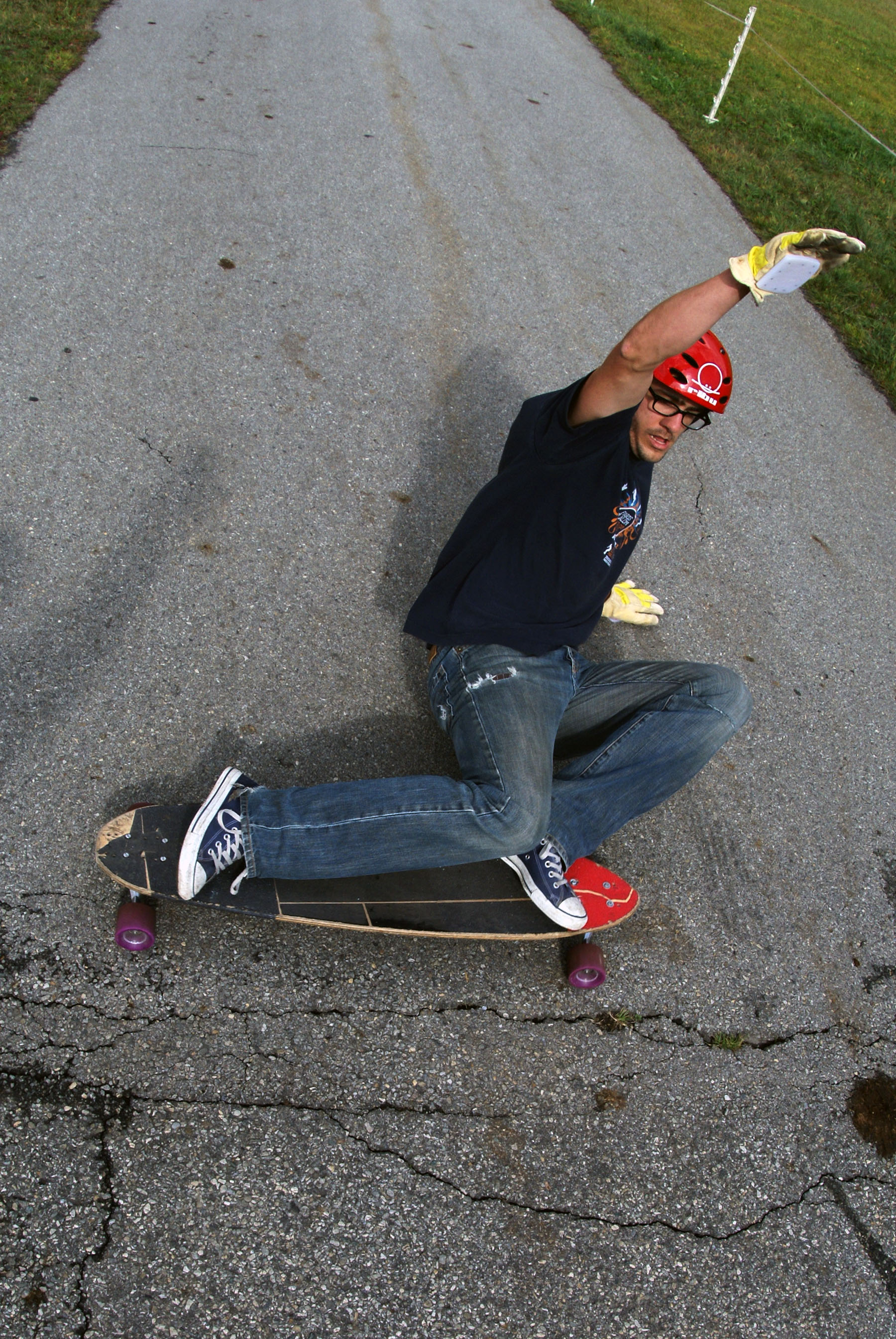 Ramón wins again!
Once again, Ramón Königshausen dominated the Over 80 Cones Slalom at the Rennweg in Zürich.

Dasha and Ramón spread the stoke in Ukraine!
While visiting my family in Kiev, Ukraine, I thought of the possibility of holding a slalom session in my hometown. I asked Ramón, who was coming to check out the city for 9 days, if he could bring along his board and some cones. Unfortunately, the airline's tight weight restrictions meant that we had to ride without a helmet and pads. Since, as far as we know, the slalom scene in the city is nonexistent (we could not find any online forums or websites), I could only invite my cousins, aunts and uncles, to whom the sport was totally unknown, to come and see what it is all about. The following is an account of the day written by my cousin Danyil, with my assistance. Some additional historical information has been placed in square brackets.
Words by Danyil Grybchuk
Photos by Yuryi & Danyil Grybchuk
The 13th of September was not an ordinary day in Kiev. The wheels of a slalom board touched the city's asphalt for the first time in its 1,500-year history.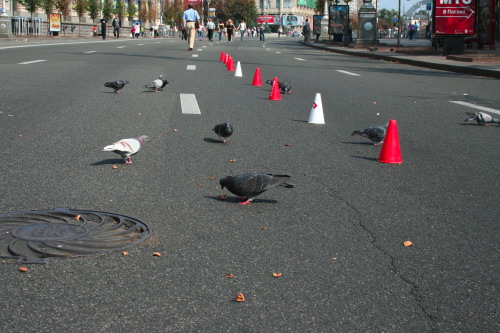 [Kiev or Kyiv (Ukrainian: Київ), is the capital and the largest city of Ukraine, located in the north central part of the country on the Dnieper River. The population as of the 2001 census was 2,611,300. The name Kiev is said to derive from the name of Kyi, one of four legendary founders of the city (brothers Kyi, Shchek, Khoryv and sister Lybid'). During its history, Kiev, one of the oldest cities in Eastern Europe, passed through several stages of great prominence and relative obscurity. The city may have been founded in the 5th century as a trading post, perhaps part of the land of the early Slavs. It gradually acquired eminence as the centre of the East Slavic civilization, becoming in the tenth to twelfth centuries a political and cultural capital of Rus', a medieval East Slavic state. Completely destroyed during the Mongol invasion in 1240, the city lost most of its influence for the centuries to come. (Wikipedia)]
It was a warm day and the sun was beating down when we arrived at Kreschatyk, the most central street in Kiev.
[Khreshchatyk (Ukrainian: Хрещатик). The name is derived from the Slavic word krest or khrest (cross). It lies in a valley that is crossed by several ravines. When looked at from above, the valley resembles a cross. The entire street was completely destroyed during World War II by the retreating Red Army and rebuilt in the neo-classical style of post-war Stalinist architecture. On May 1, 1986, a few days after the Chernobyl nuclear accident, Soviet authorities held a traditional May Day parade on Khreshchatyk, in order to "calm people" and "prevent panic" caused by the disaster. Thousands of Kievans, including many children, were exposed to dangerous doses of radiation. Due to its central location, the street became the traditional place for political rallies. In the winter of 2004, Khreshchatyk and became the centre of the main public protests of the Orange Revolution. At its peak, over a million people from all around Ukraine attended the rally. (Wikipedia)]
On weekends, this street is closed to traffic and open only to pedestrians. Thus, there were many spectators for our impromptu session. After choosing a part of the road, Ramón began installing the cones. At first, nobody could guess what these cones were for, having never seen slalom performed. Many walked into the way of the cones, especially small children who treated them as a toy, picking them up and moving them. Only when Ramón began testing the course he had set up, did the parents pull their kids out of the way. By-passers stopped to watch him in awe. Watching him, I wondered how it was physically possible to do such things. I had the impression that he was floating or flying over the road. His movements were so fast and precise, he reminded me of a very fast Swiss clock, the arms moving back and forth, back and forth, and it seemed that he could do it forever.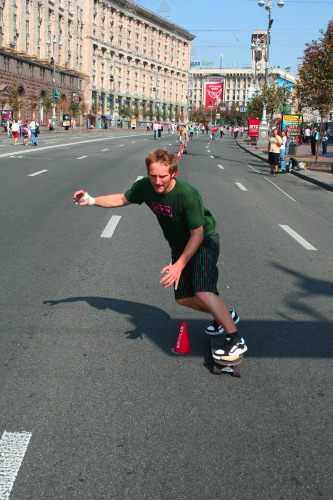 When he went down the second time, I finally understood that what I saw was happening in real-time and not fast-forwarded. The people that were watching with me were constantly saying "wow", "amazing", "well done", "he's crazy", but no one was indifferent. Perhaps this sport is not so popular in our country because of the roads—the quality of which leaves more to be desired. It would be hard to find a place to practice. However, we managed to find a good spot, not at Kreschatyk, because this street is one of the busiest in the city and thus cars leave much oil, which makes for a slippery surface. Even Ramón, a world champion, managed to fall and hurt his palm because of this. He said that here, he could only ride at 60% of his maximum speed. For this reason, we decided to take our session somewhere else, where the pavement was not "sketchy", as Ramón described. And so we went to the nearby Mariinskyi Park.
[Mariinsky Park is the central park of Kiev, founded in 1874, and is one of the favorite places of city dwellers and visitors. Especially in the morning, away from the city's noise, it is very pleasant to take a walk in the park, where in shady alleys, beneath the huge crowns of centenary old trees it is still peaceful and quiet. There is also the legendary "bridge of lovers" where couples still go and place locks to symbolize the strength of their love. The park is located right next to the Mariinsky Palace, which was requested to be constructed in 1744 by the Russian Empress Elizabeth, daughter of Peter I. It was designed by Bartolomeo Rastrelli, the most famous architect working in the Russian empire at that time, in the Baroque style and was intended to echo French Versailles in miniature. During World War II it was badly damaged but later reconstructed, and is an official residence of the Ukrainian president. (Wikipedia)]
On weekends, this park is crowded with people, so we had lots of spectators here as well. Cars are not allowed to enter the park, but there were still some drivers who ignored the rules (a common thing for Ukrainian drivers :-). The pavement here was much better and there was more of a slope. Ramón and Dasha appeared much happier to be skateboarding here and were able to ride at their full speed. They both were great.
So this made me want to try slalom as well. I was on my roller-blades and attempted to go through the course. At first it was surprisingly different, and later became unexpectedly pleasant. I was trying hard, but in comparison to Ramón, I was hardly trying. After one of his rides, I told him his speed was unreachable. Before long, Dasha and Ramón convinced us to try their boards. I found it very scary, but my girlfriend. Nastya, looked more confident when she stood on the board. She said, "Balance is important in different aspects of life... especially in such cases." (Nastya Yeremenko). My cousins Pasha and Olya also tried, with the help of Dasha and Ramón.
Even their father, Sergei, was very enthusiastic and gave it a go. Although he was constantly hitting the cones, he kept trying. He said, "In ten years, I will be as cool as Ramón is now" (meaning, he will be riding as well as him).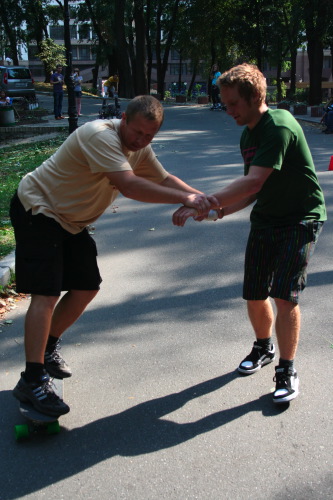 My cousin Olya was so happy to try it that she is now looking forward to having a board of her own. She was more careful than her brother, Pasha, who rode independently and managed to not to hit the cones. However, his innate expertise did not save him from a fall, when he had to avoid a woman with a stroller. At first it seemed that he only got a few scratches, but later, following an x-ray, it turned out that he got a hairline fracture in his shoulder and must wear a cast for 3-4 weeks. However, he made sure to tell us that this will not stop him from skateboarding again.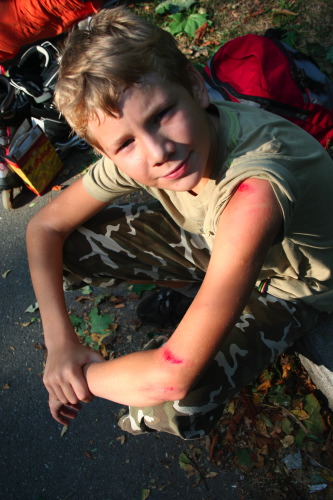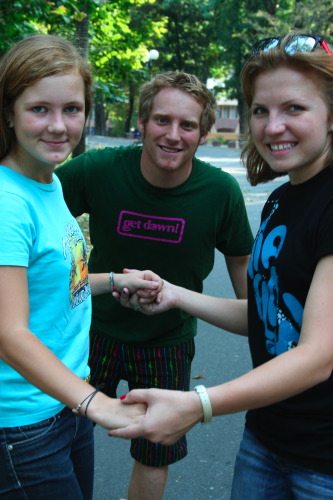 The first slalom session in Kiev was very successful for us and very surprising for the pedestrians that happened to pass by. Few people know that the first electric tram line in Europe (arguably, the first in the world) was established in Kiev in 1892. Thus, Kievans are not so behind in transport development. However, longboards are still unknown to us. This is why I think we should engage more people in riding longboards and slalom boards. I hope that the first slalom session was not the last and that Ramón's idea of holding a competition here will be brought to life.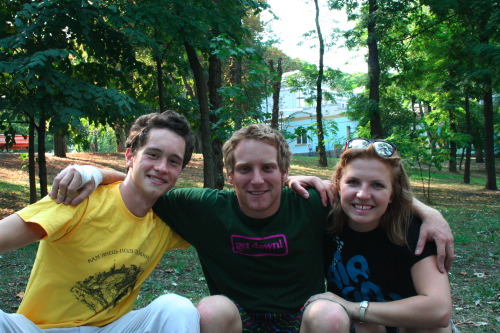 -----------------------------------------------------------------------------------
We hope you enjoyed this account of slalom in Ukraine. We think that Mariinskyi Park would truly be an ideal venue for a race. We would love to hear what you think of the possibility of holding an event Kiev in the future! Email us at: dasha@airflow-skateboards.com or ramon@airflow-skateboards.com.

Kozakov: Offical Video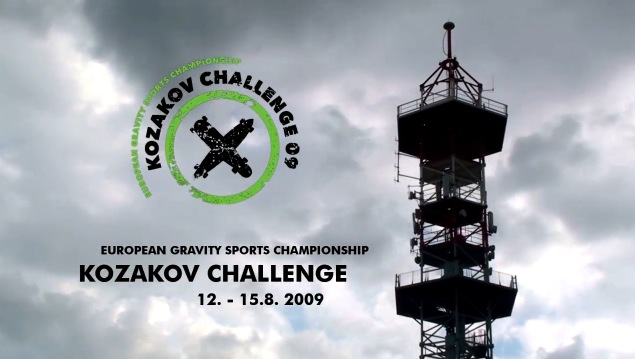 IGSA European Championship KOZAKOV CHALLENGE 2009 official video from VitHasek on Vimeo.

Dasha wins Eastbourne
Dasha Kornienko dominated the past weekend and won all three heats in the womens race for points. Dasha leads in the IGSA world cup ranking, followed by Rebekka Gemperle and Bettina Luginbühl. Congrats Dasha!
Again Dasha also qualified with the men and was 22nd after the first day of qualifying. Day two was a bit tougher as many guys improved their times. Dasha did too bit had to fight the rough pavement at the bottom and got 58th.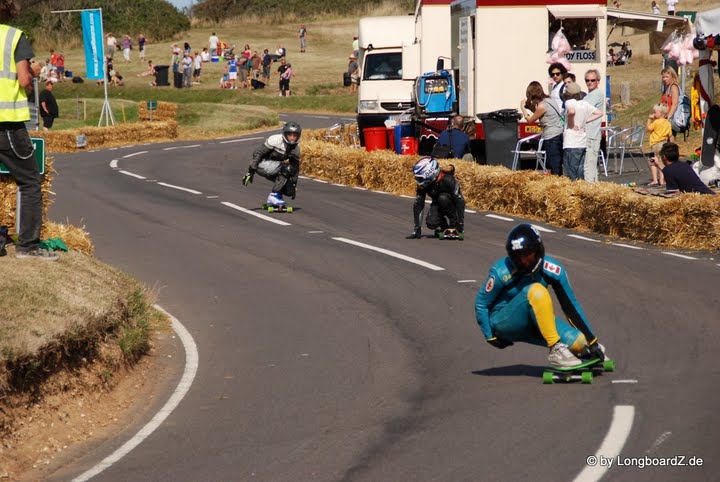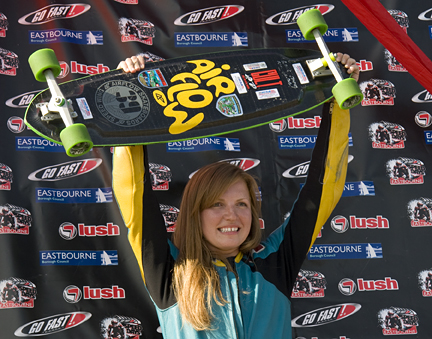 Mens final standings:
1. Mischo Erban, Canada
2. Scoot Smith, Canada
3. Patrick Switzer, Canada
4. Christoffer Sanne, Sweden
5. Oliver Nielson, Denmark
6. Jackson Shapiera, Australia
17. Marcel Isler, Switzerland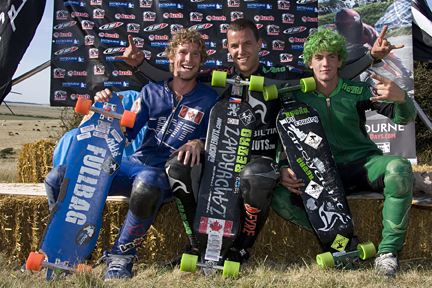 Video on BBC: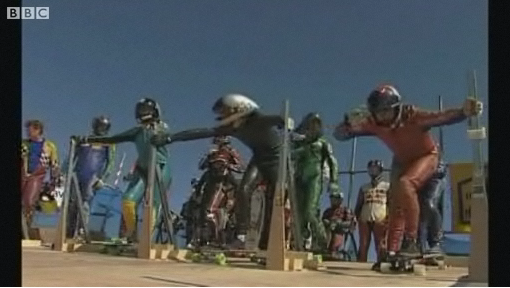 European champ 2009: Martin Siegrist
Letztes Wochenende duellierten sich die Downhiller in Kosakov Tschechien um den Titel: Europameister 2009. Nach unzähligen Trainingsruns am Mittwoch und Donnerstag ging es dann am Freitag erst mal um eine gute Qualifikation.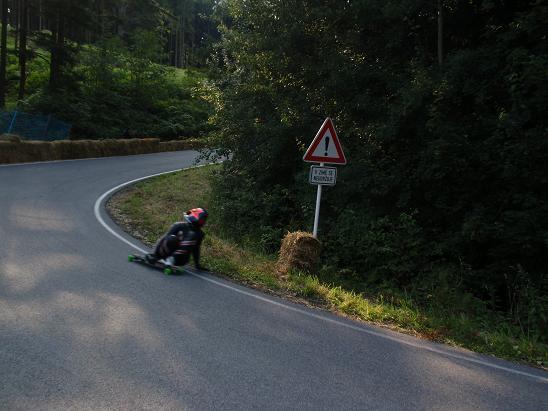 Christof Bat (SUI) setzte die Latte hoch. Als zweitschnellster fuhr Mische Erban (CAN) gefolgt von Louis Bigourdin (FR), Patrik Switzer (CAN), Sebastian Hertler (DE) und auf Position 5 Martin Siegrist (SUI) knapp vor seinem Team Kollegen Ramon Königshausen (SUI).
Grosses Finale am Samstag:
Samstags ging es dann wirklich zur Sache. Wer wird neuer Europameister 2009? Nach schon von Anfang an sehr harten Heats ist es dann zum grossen Finale zwischen Mischo, Bat, Sebastian und Martin gekommen. Einige Ueberholmanöver mit knapp Tempo 85 km/h, einem entscheidenden Fehler von Mischo Erban, liess dieses Finale zum Fotofinish zwischen Bat und Martin werden. Knappe 30 cm (bei immer noch 80 Sachen) lag Martin am Ende vorne. Neuer Europa Meister 2009 heisst also (zum x-ten mal) Martin Siegrist (SUI). Airflow gratuliert und ist riesig stolz!!!!! Teamfahrer Ramon zeigte im kleinen Finale, dass er nicht nur fähig ist Slalom zu fahren, sondern auch in der Disziplin Downhill durchaus ernst zu nehmen ist und schaffte es auf den 6. Platz!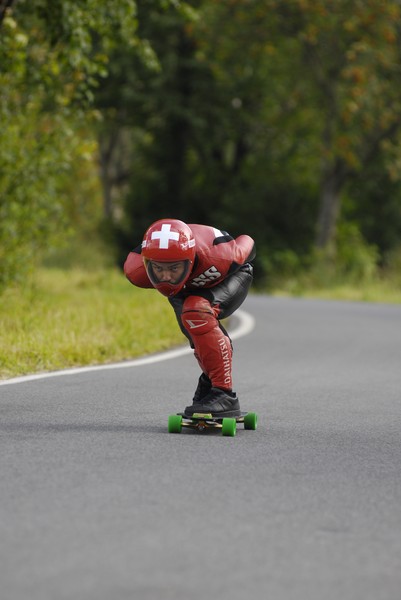 1.Martin Siegrist
2.Christof Bat
3.Sebastian Hertler
4.Mischo Erban
5.Patrik Switzer
6.Ramon Königshauen

Bei den Frauen ging es nicht minder spannend zu und her.
Teamfahrerin Dasha Kornienko (CAN) zeigte ihr Bestes und gewann vor Rebecca Gämperle (SUI) und Verena Voelkel (DE).

Victory for Martin and Dasha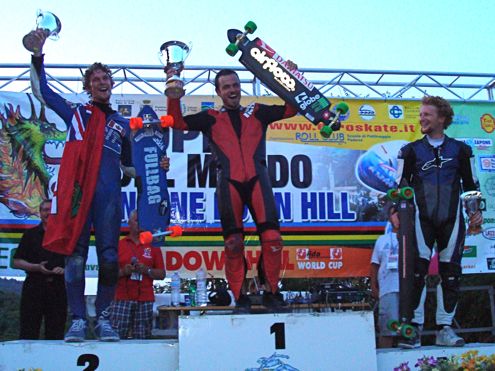 Another victory in the history of Martin Siegrist and Airflow Skateboards. Last weekend the best downhill skateboarders met up in Teolo for the third stop of the IGSA world cup circuit. After the first qualifying run James Kelly (USA) had the lead over Louis Pilloni (USA) and Mischo Erban (CAN). Martin Siegrist was on 6th. On day two and after the second qualifying run, Martin had the fastest time being the only one to beat 1:59.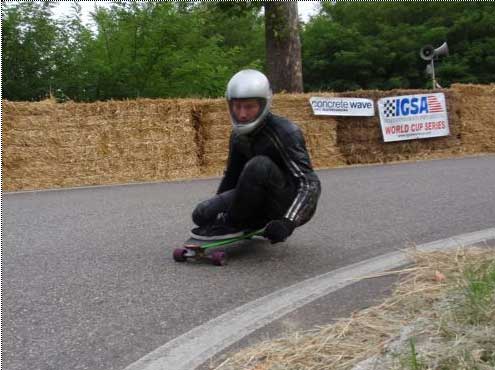 Ramón Königshausen cam in 3rd getting a good starting position for race day.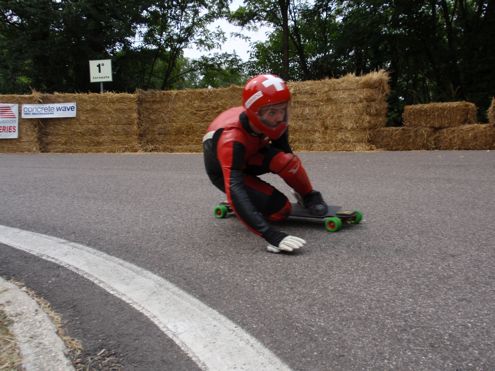 Martin also dominated the finaly and won the Padova Grand Prix in front of Patrick Switzer (CAN) and Stefan Rüefli (SUI). Ramón ended up 7th beating Mischo Erban (CAN), Christoph Batt (SUI) and Jackson Shapiera (AUS)
(Four Swiss riders in the top 10!)
Team rider Dasha Kornienko dominated the women's category and got 1st, beating Karin Feldbaum (GER) and Uta Hang (GER).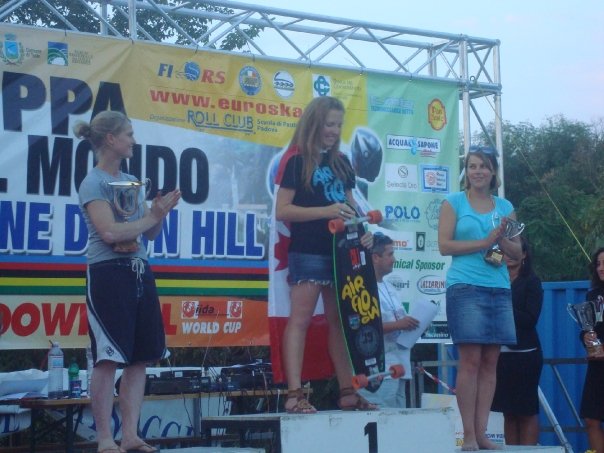 Padova Grand Prix

Downhill Skateboarding Top Ten

1. Martin Siegrist, Switzerland
2. Patrick Switzer, Canada
3. Stefan Ruefli, Switzerland
4. Erik Lundberg, Sweden
5. Scoot Smith, Canada
6. Louis Pilloni, United States
7. Ramón Konigshausen, Switzerland
8. Mischo Erban, Canada
9. Christoph Batt, Switzerland
10. Jackson Shapiera, Australia
SPEEDWING FOAM CORE
Nun endlich also da.....Speedwing 39 Foam core. Nach erfolgreichen Testes produzierte Airflow eine erste kleine Stückzahl an High-end decks aus Schaumstoff, Abs Seitenwangen, Fiberglas und Carbon. Gerade ferig gestellt sind sie nun also schon unterwegs zu den ersten IGSA Downhill Races in Europa. Team Fahrerin Dasha aus Canada, so wie Ramon, werden Ihre ersten Renn erfahrungen schon bald mitteilen. Airflow drückt die Daumen!!
Bei interesse: Martin Siegrist hat diese schönen Teile im Auto mit dabei und zeigt sie jederzeit gerne....(Preis: 333Euro oder 500CHF)
oder directes mail an : chris@airflow-skateboards.com
Abmessungen:
Radstand:
72cm/28⅜"
Länge:
99cm/39"
Breite:
26cm/10¼"
Gewicht:
1200g
Wer seine Meinung darüber abgeben will kann das im Teamrider Blog von Ramón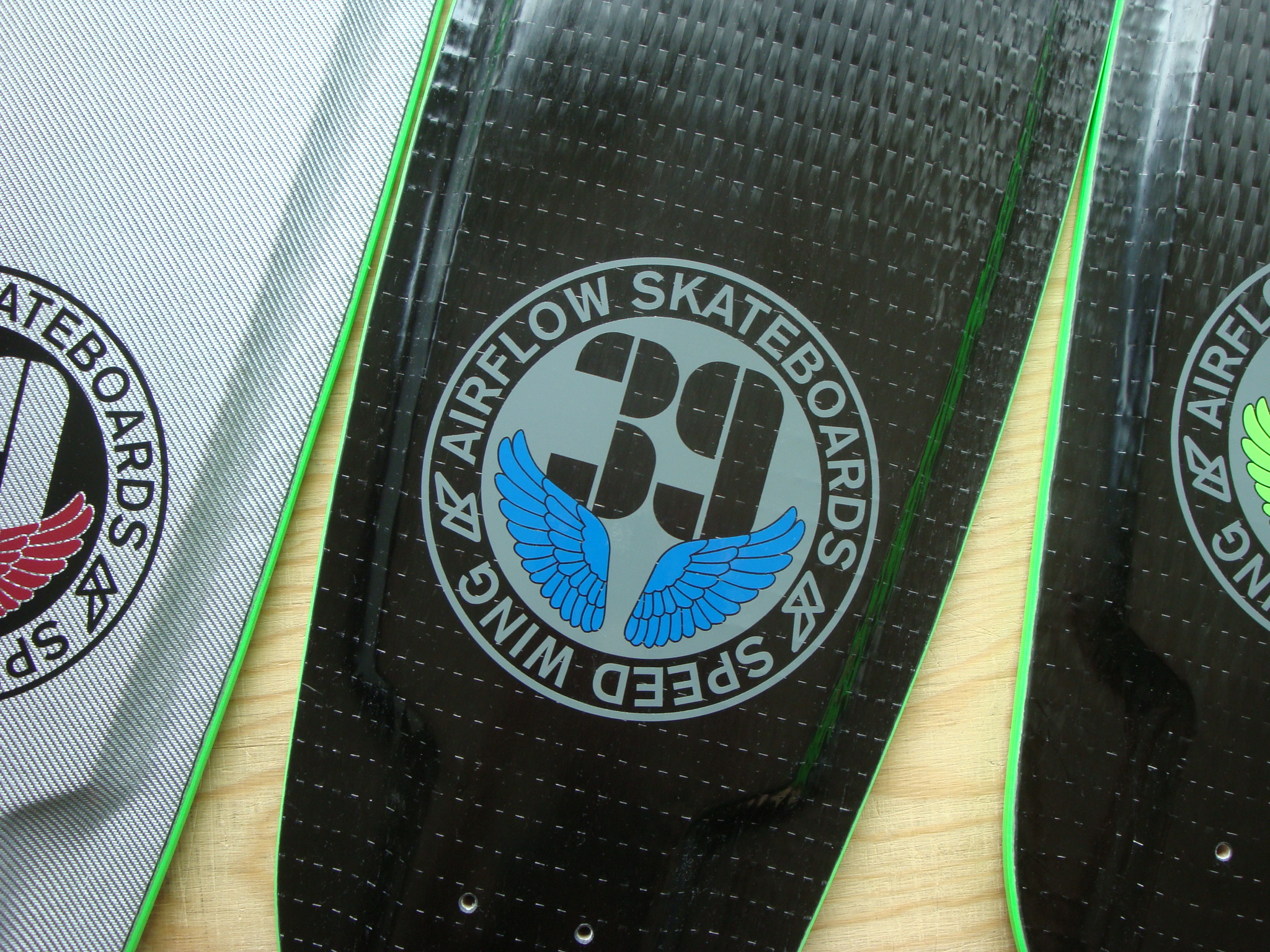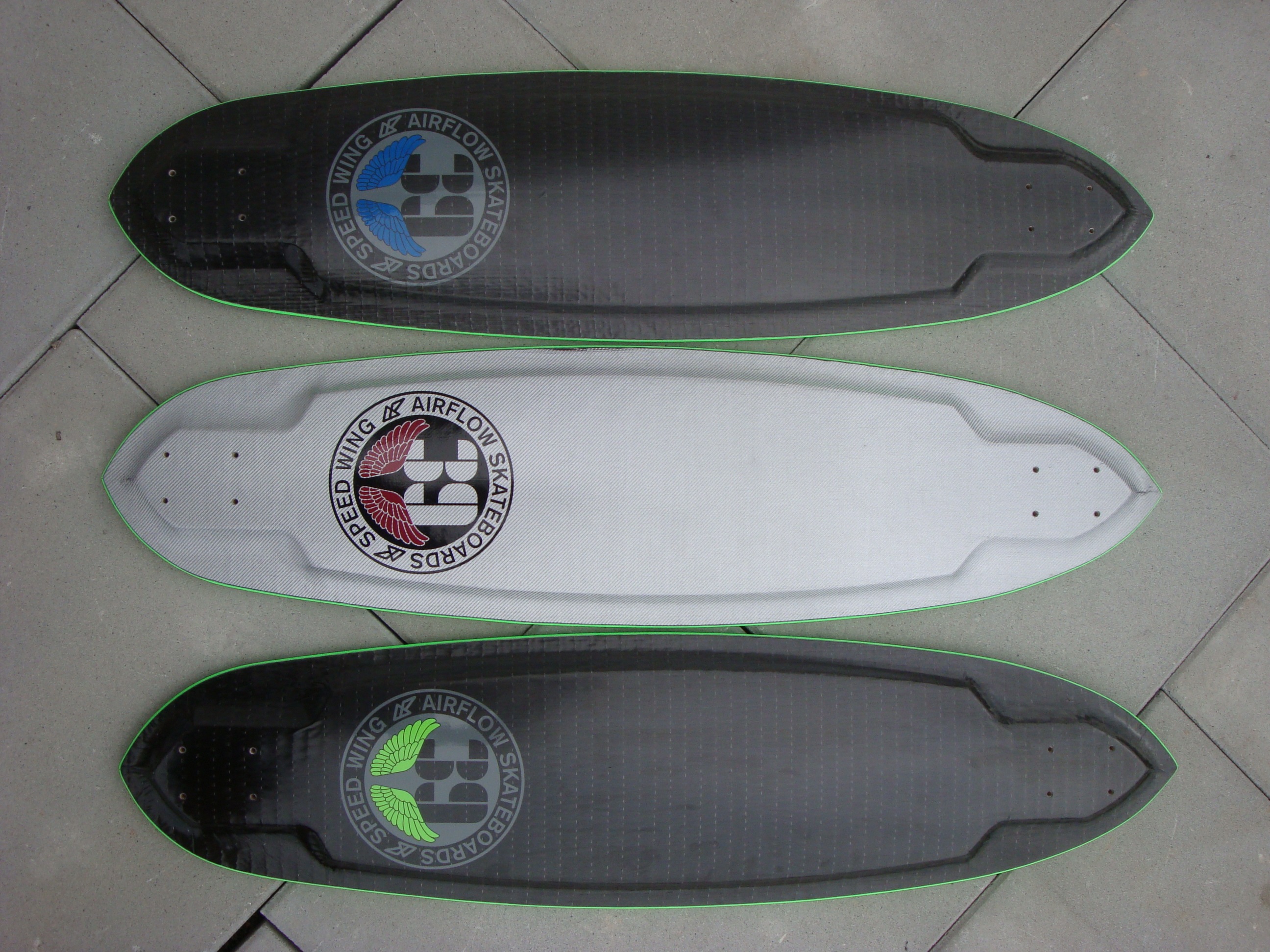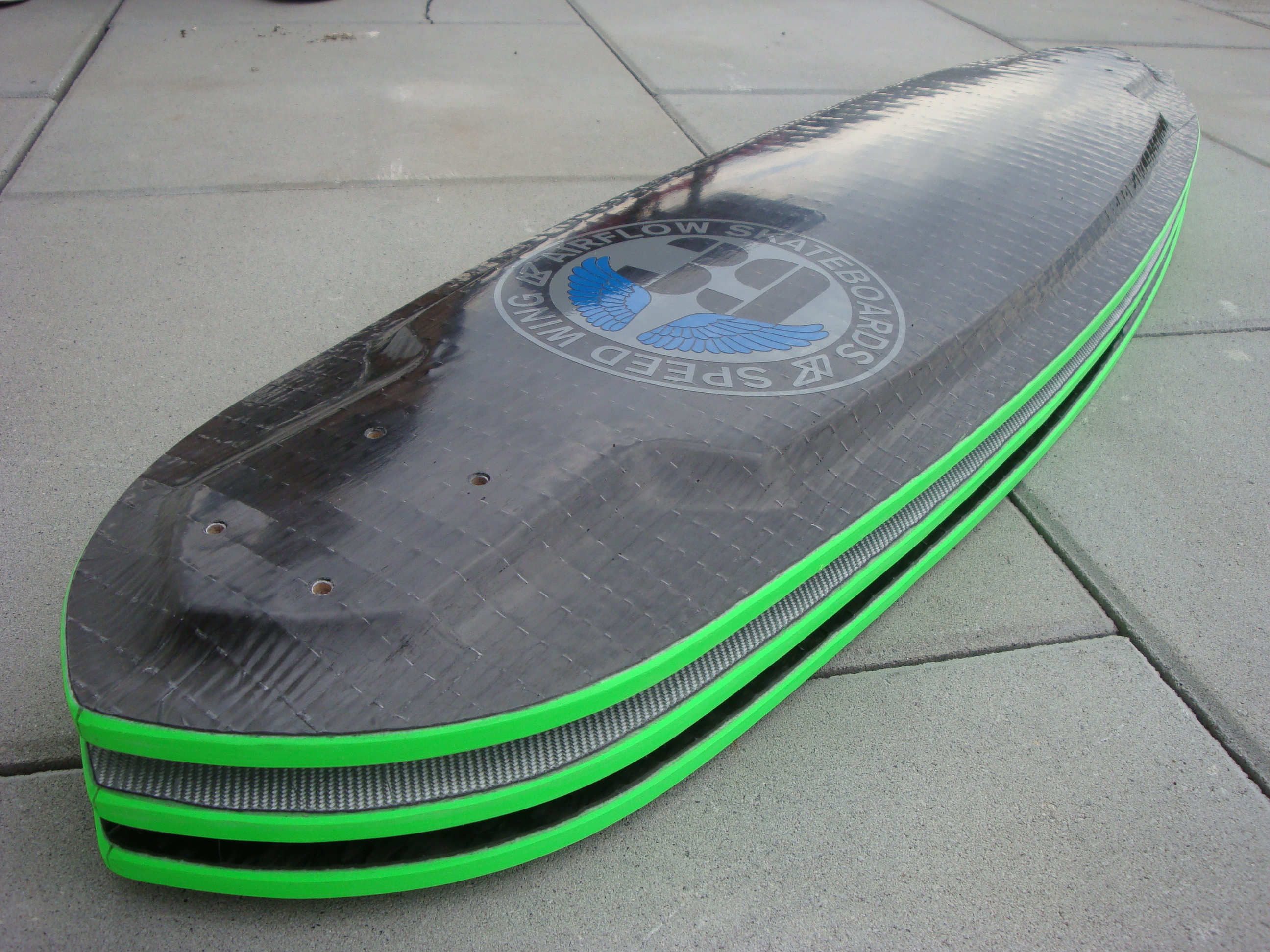 3.Place for Martin
Peyragudes France-
Die Downhill Welt-Elite traf sich dieses Wochenende in Payragudes mitten in den Pyreneen zum Kampf Giganten. Louis Pilloni (USA) gewinnt den ersten IGSA Welt Cup in der Saison 2009. Zweitschnellster war Erik Lundberg (SWE) vor Airflow Teamfahrer Martin Siegrist (SUI). Die Lederne Medalie holte sich Mischo Erban (CAN), welcher in der Qualifikation domierete. Teamrider Ramon Königshausen (SUI)(Slalom Weltmeister 2006) konnte seinen 10 Platz vom Vortag halten und verdiente sich somit mächtig respekt bei der Scene. Teamfahrerin Dasha Kornienko (CAN) holte sich silber bei den Damen...
Ein überaus erfolgreiches Wochenende für Airflow- Skateboards!!!!!!

Two Podiums for Airflow in Grenoble!
Ramón Königshausen places 2nd overall and Dasha Kornienko places 3rd in the womens category at the Désaxé World Cup of Slalom Skateboarding in Grenoble!

[VIDEO] Dasha at Houyet
On June 13-14, team riders Ramón and Dasha traveled to Belgium for the Houyet Freeride. There, they were able to test the prototype of the new Airflow speedboard, the Foamcore Speedwing 39. Here is a video they put together from one of the first runs on Day 1 of the freeride—in it Dasha is riding the wood Speedwing... video of the new board to come!

Foamcore Speedwing 39
The first foamcore Speedwing 39 prototype was sucessfully tested last weekend at the Houyet Freeride in Belgium. The foamcore Speedwing 39 is a superlight, anti-torsional and fast speedboard. Controlled drifts, precise cornering through sweepers and super stable at highspeed, this board will fulfil all your needs.
Teamriders Ramón Königshausen and Dasha Kornieko will ride this board at the following IGSA DH World Cup Events: Peyragudes Deluxe, Graveyard Call, Kozakov Challenge , Teolo Grand Prix and the Burning Wheels Tour Event Gioasteka at San Bernardio pass.
Material: Foam-core, glass-fibre, carbon-fibre, ABS
Specifications:
| | |
| --- | --- |
| Wheelbase: | 72cm/28⅜" |
| Lenght: | 99cm/39" |
| Width: | 26cm/10¼" |
| Weight: | 1300g |
Write a comment about this board on Ramón's Teamrider Blog!
Setup:

| | |
| --- | --- |
| Trucks: | G.O.G. Big Brother 200mm |
| Wheels: | CULT 72mm/80A |
| Bearings: | Airflow ABEC 7 |
| Bushings: | Venom barrel |