News

Around the World - Rio
and here it is:
Das Airflow «Around the World - Rio Edition » Ein topmount Longbord mit sanftes 3D Concave und Rocker.
Das «Around the World» ist ein Topmount Brett mit mittlerem Radstand sowie ausgeprägtem Nose und Tail. Damit eignet sich dieses Brett für allen denkbaren und undenkbaren Schabernak! Das «Around the World» hat eine leicht gedroppte Standfläche und ein sanftes 3D Concave mit Rocker. Ob Tricks, Freeride oder Cruising, mit dem «Around the World» geht alles ein Bisschen einfacher...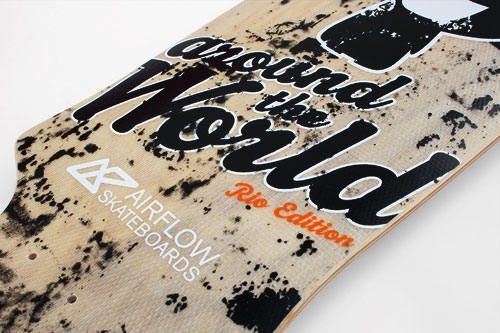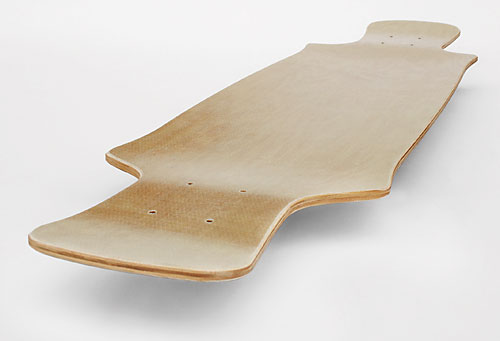 Mold design: Martin Siegrist
Shape: Chris Hart
Graphic: Pia Affolter
Fotos: Joël Giroud

Airflow Bracket
and here it is:
the Airflow topmount 3D deck BRACKET!!!





Das «Bracket» ist ein Topmount Brett mit kurzem Radstand und tiefen Wheelwells: Die Einfräsungen verhindern mit den entsprechenden Achsen Wheelbites bis zu einer Rollengrösse von 83mm.





Airflow Teamfahrer Ramón Königshausen dominierte auf einem «Bracket» Prototypen den IGSA Maryhill Worldcup 2011 und erwies sich als harter Gegner an den Weltcup Rennen in Europa. In «Greener Pastures» ist Ramón ebenfalls mit dem «Bracket» zu sehen.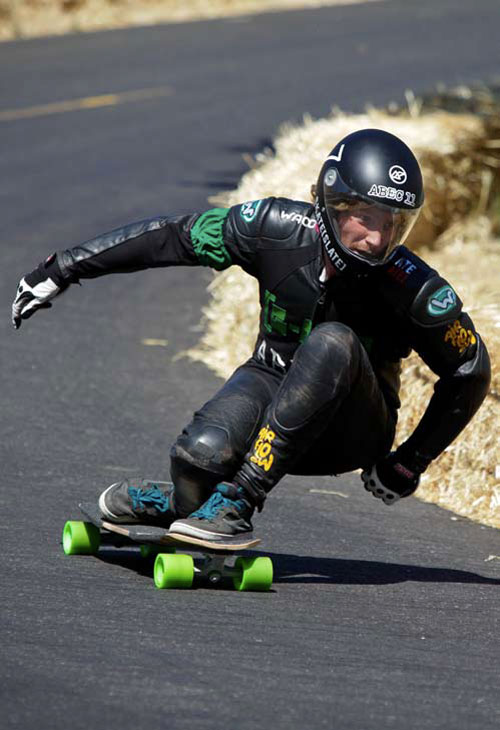 Foto: Scott Wippermann
Rider: Airflow Teamrider Ramón Königshausen

GP Episode 5
The last episode of Greener Pastures depicts the showdown at Kozakov Challenge. Team rider Ramón made it into the consolation round placing seventh. Five out of the top ten were riders involved with Greener Pastures - Congrats guys!
Skate[Slate] called up Ramón and Patrick Switzerland to talk about the production background. Check out the interview on Skate[Slate]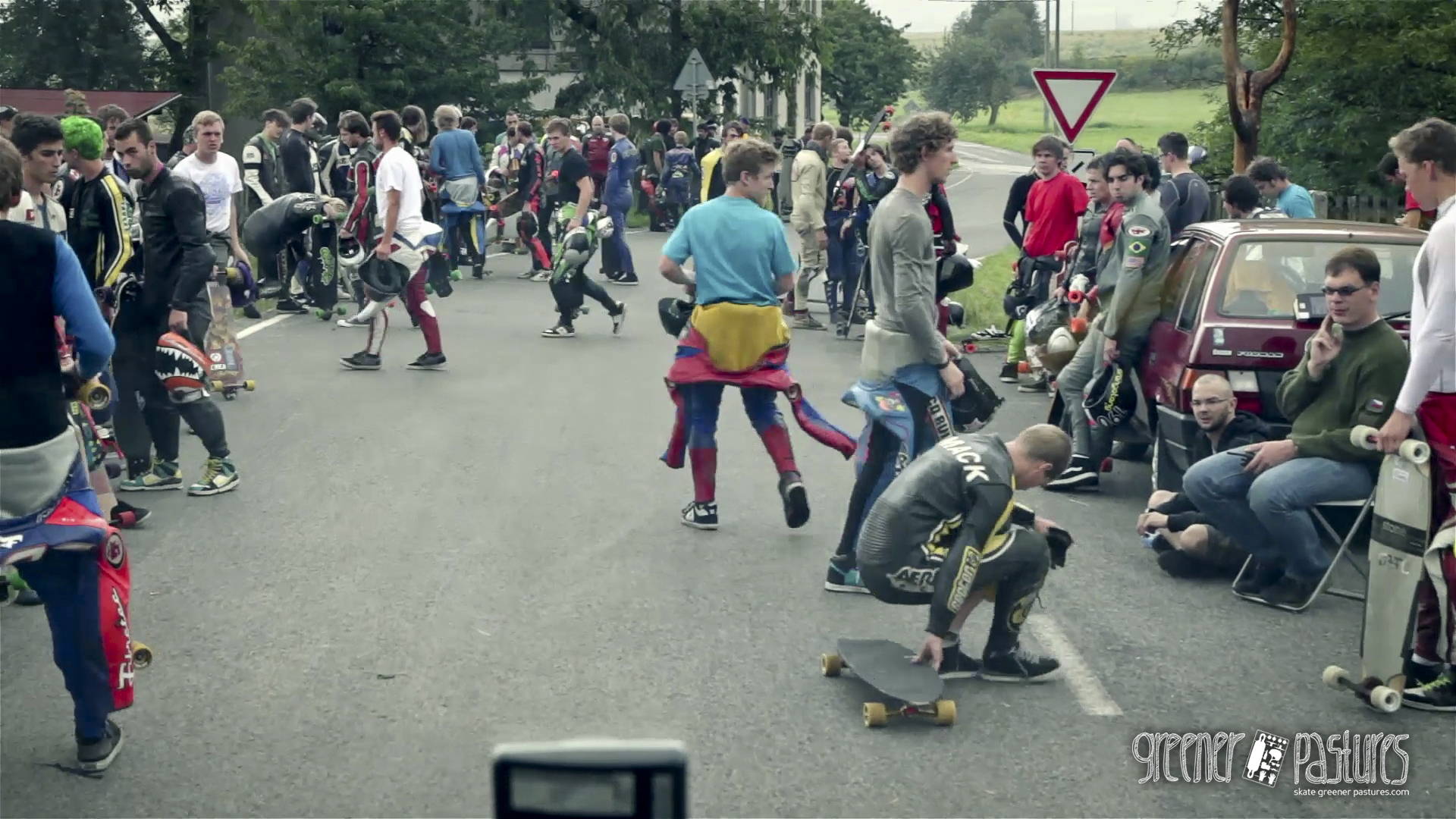 Riders congregating at the bottom of the hill hungry for another run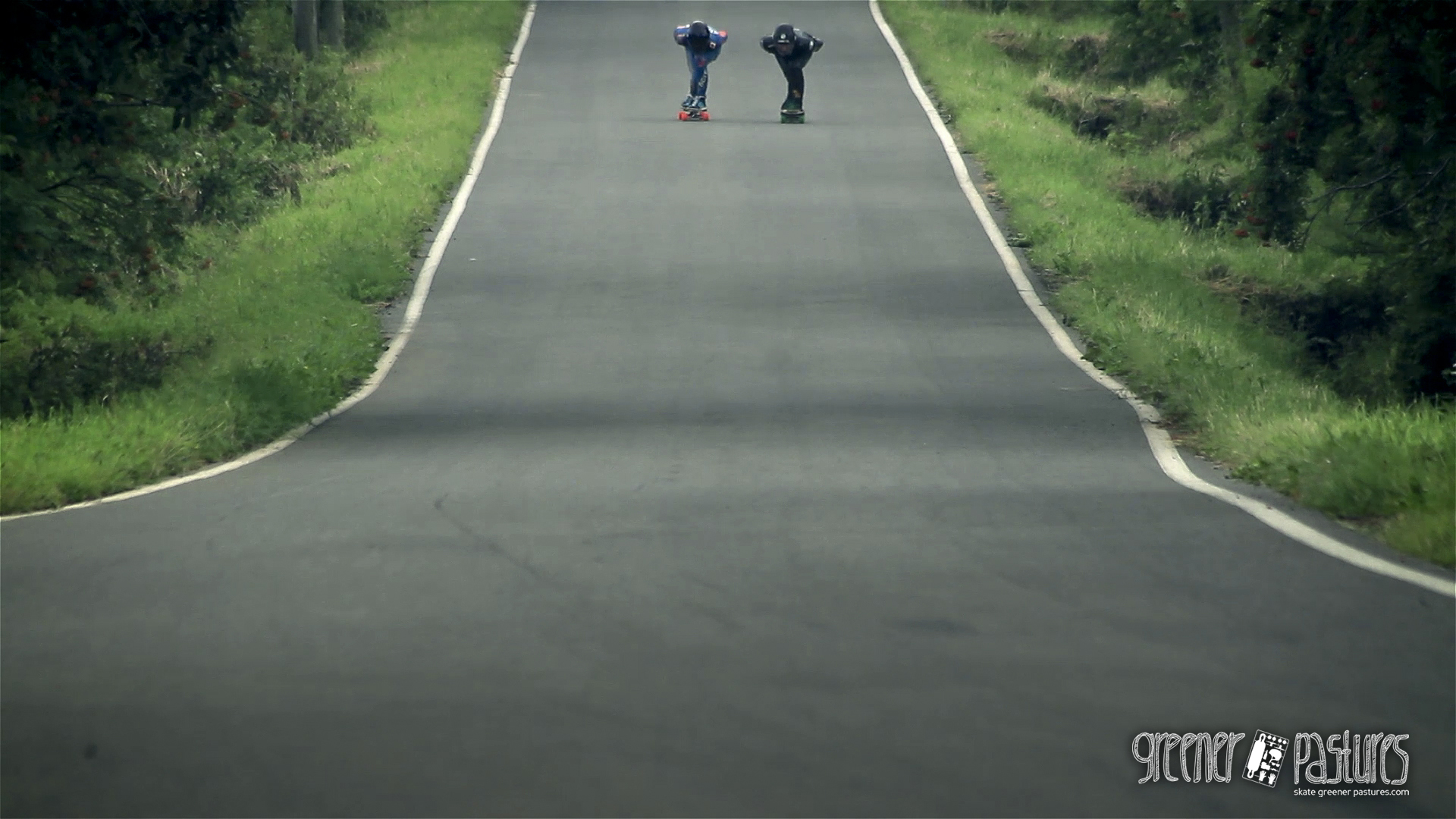 "Heaven sent" - Patrick Switzer and Ramón Königshausen drafting down the straight at 95km/h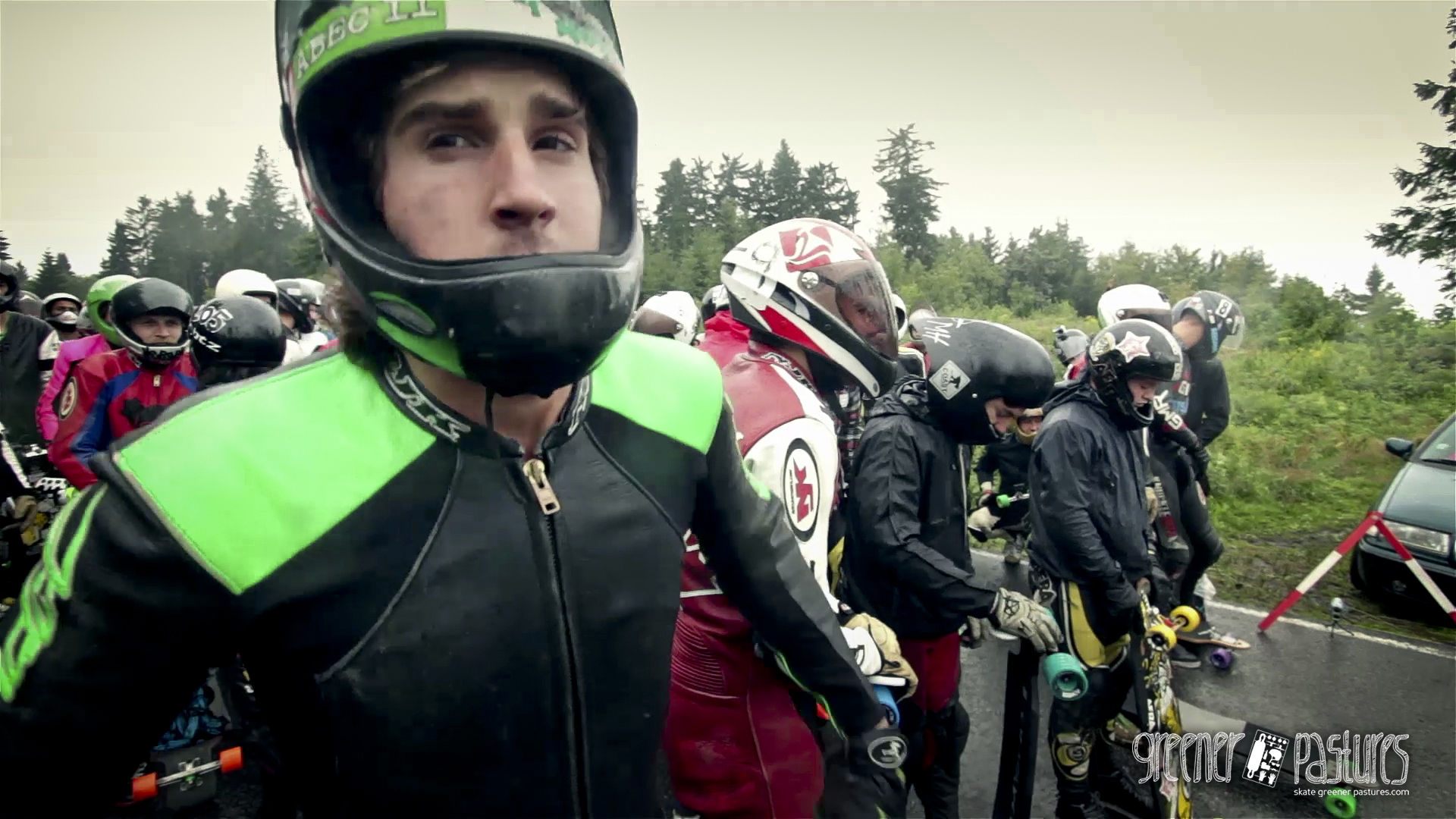 James Kelly amped for another run despite the wet conditions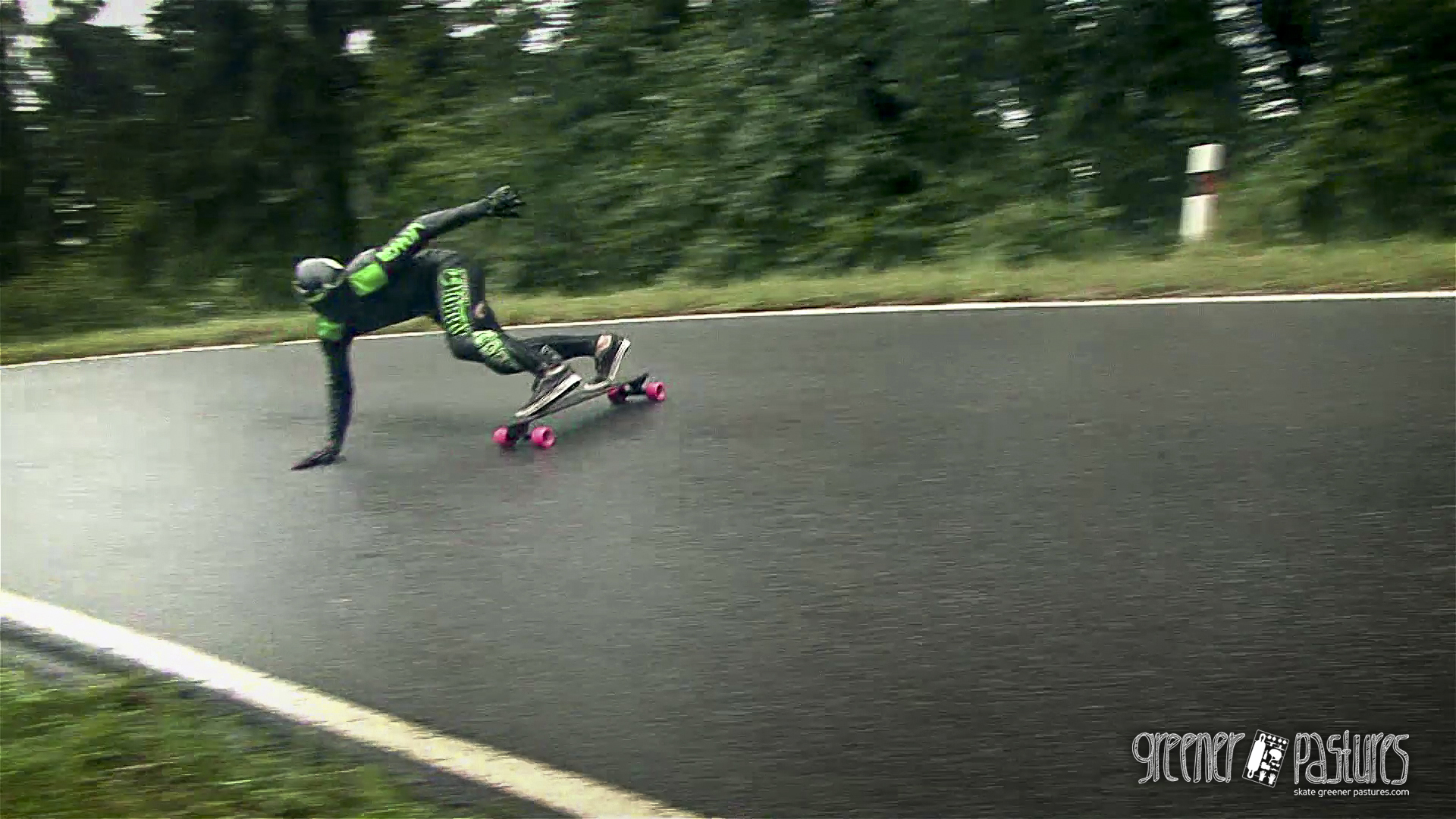 James Kelly's qualifying run
Patrick Switzer and Alex Tongue sliding during practise
James rocking a mustache and non-matching "eye-brahs"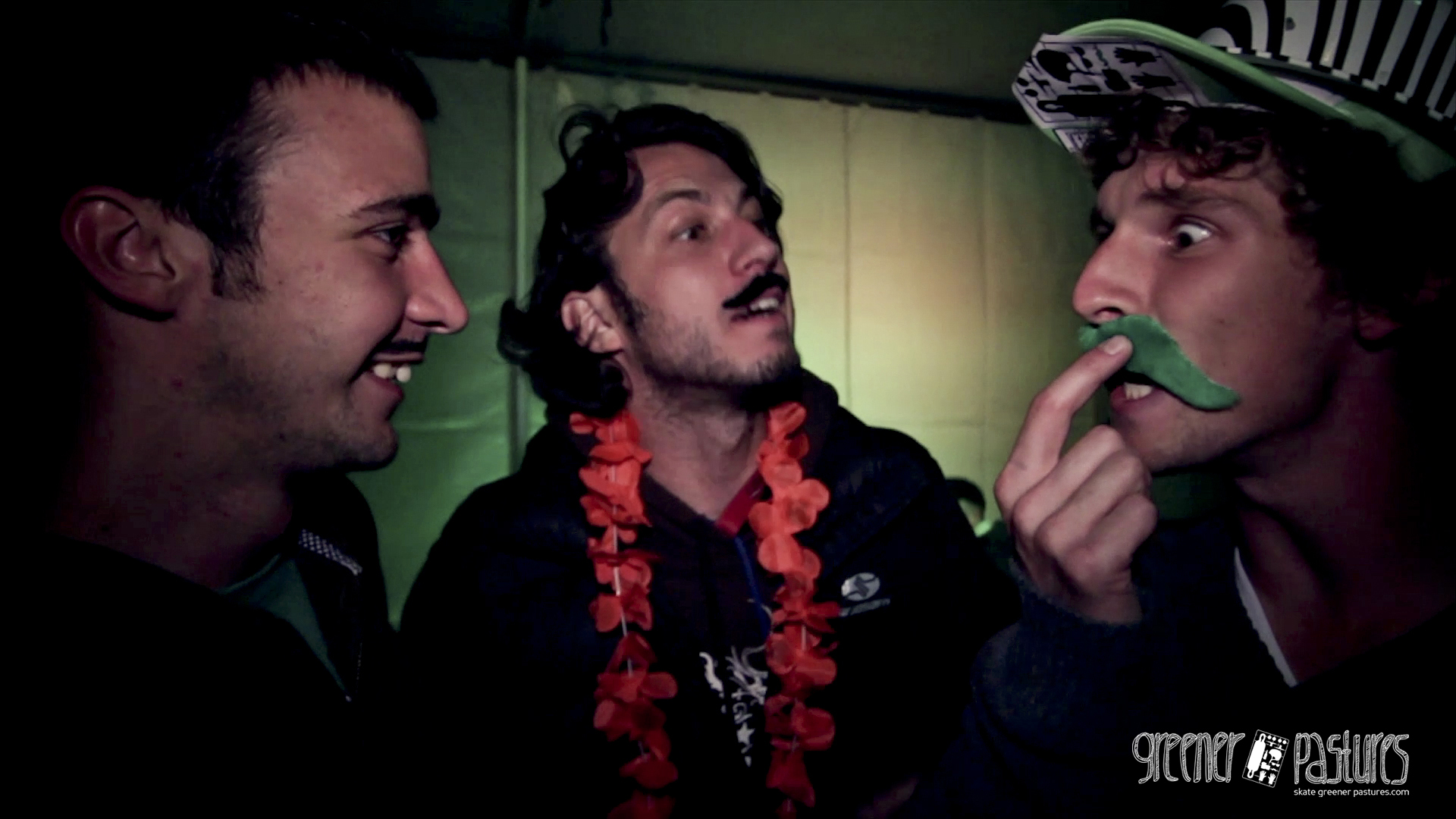 Greener Moustaches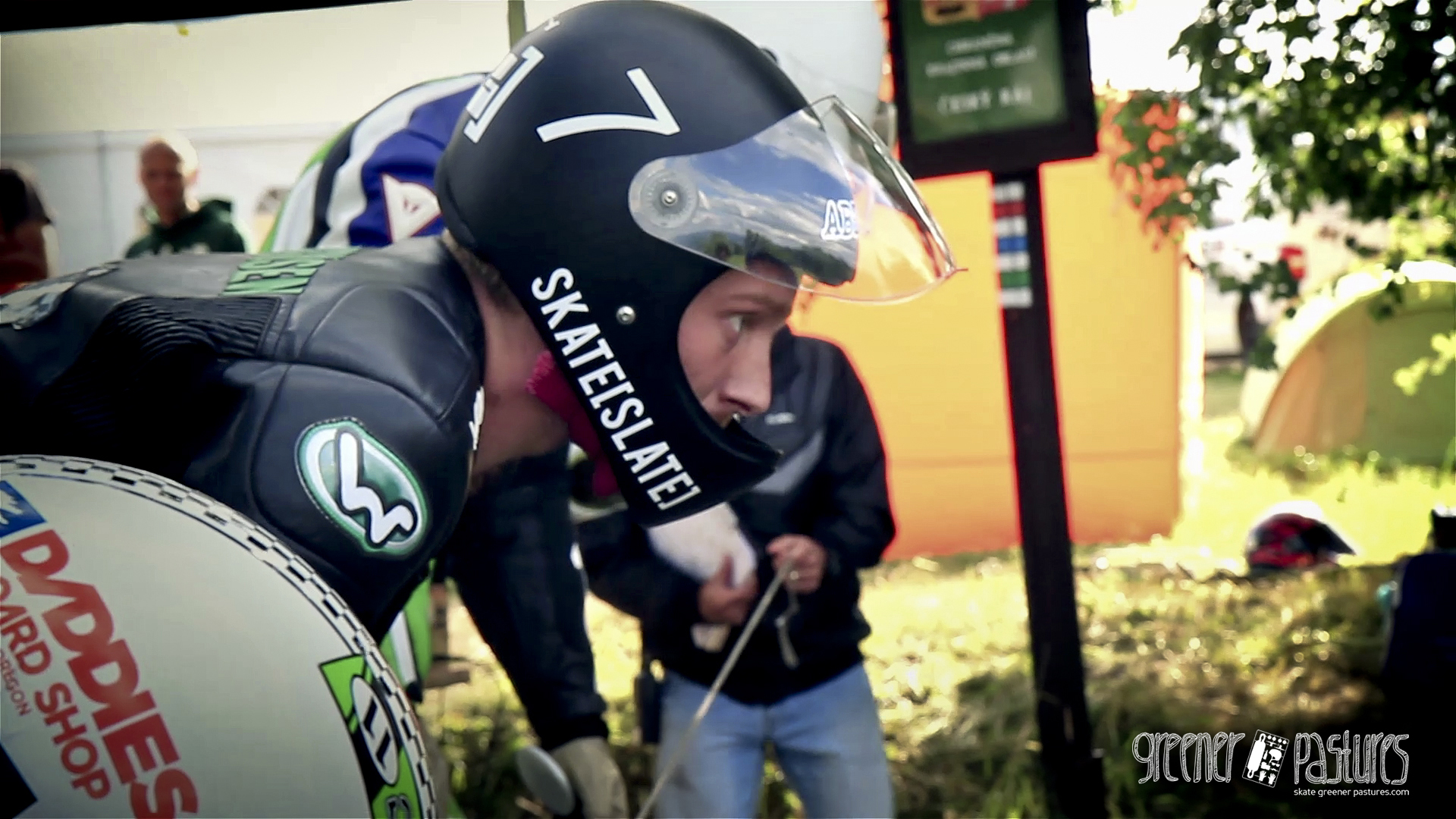 Ramón very, very focused at the start line
The top 16!
The anxious feeling you get before the rubber band snaps across the starting line…
Quarterfinals – Jackson and G-Mack hanging back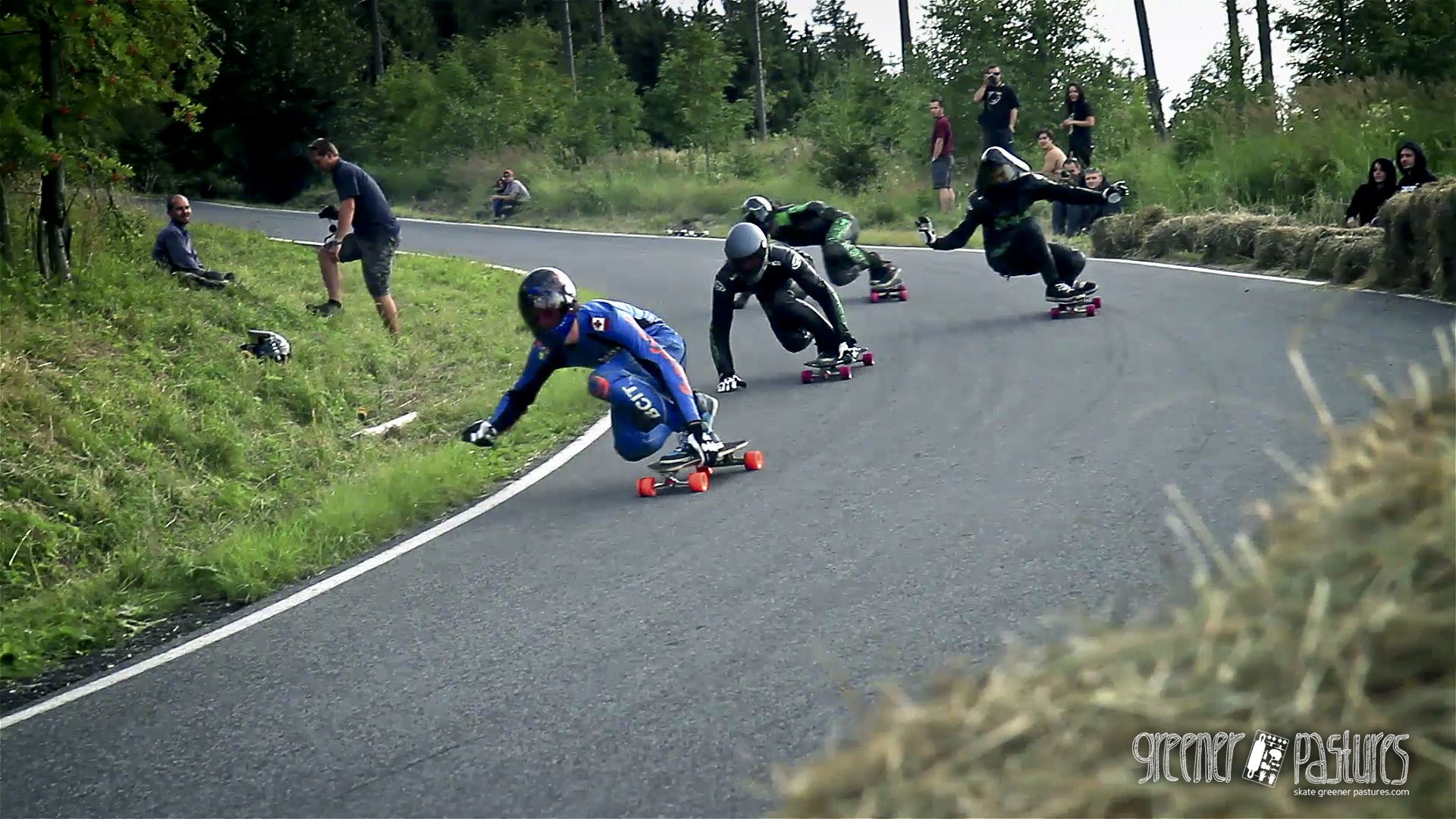 Semifinals I - Switzer just passed the GOG team mates Kowalski and Hertler toe-side predrifting in between them!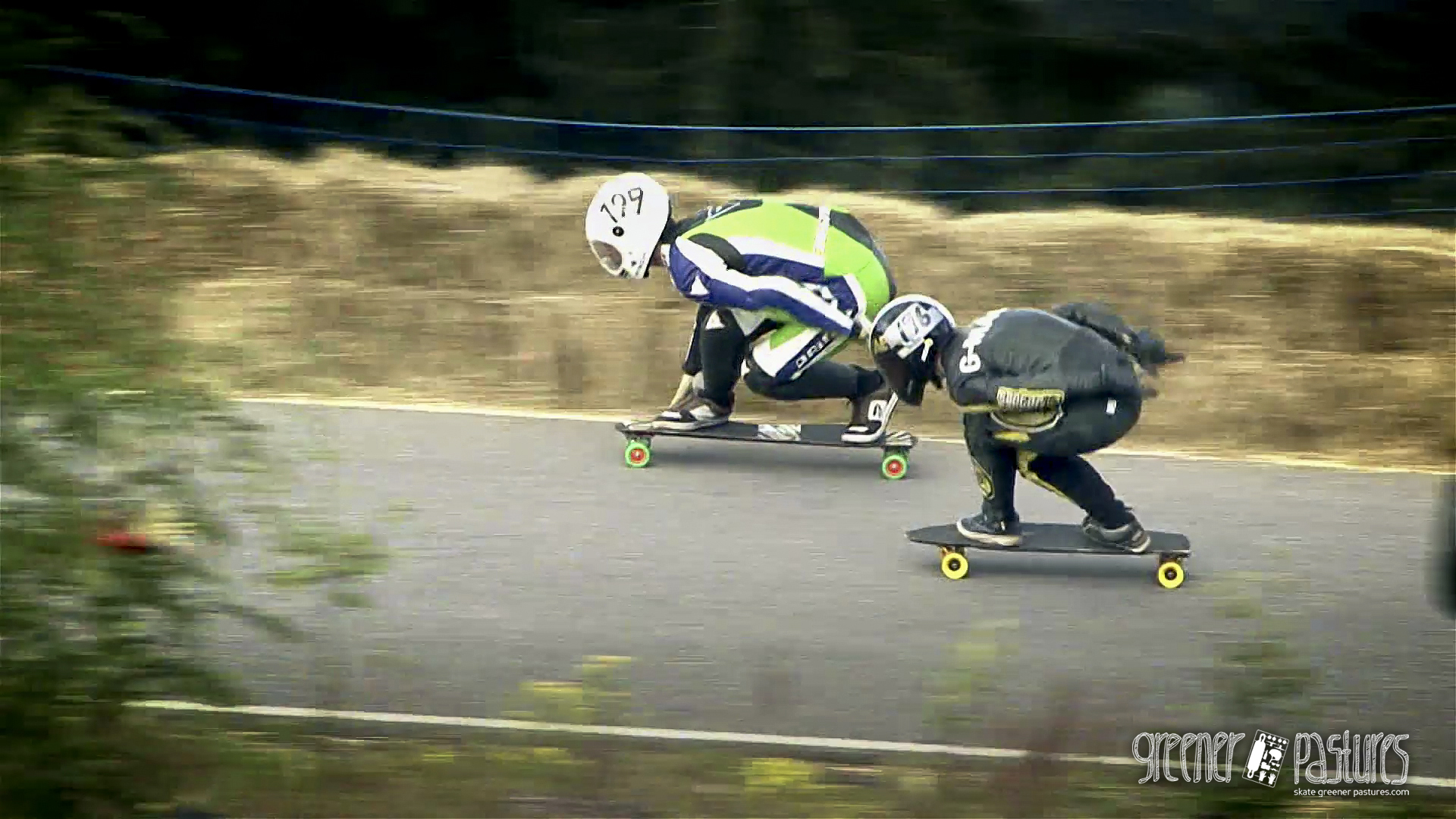 Semifinals II - George and Jakob Raab - who's got more exit speed?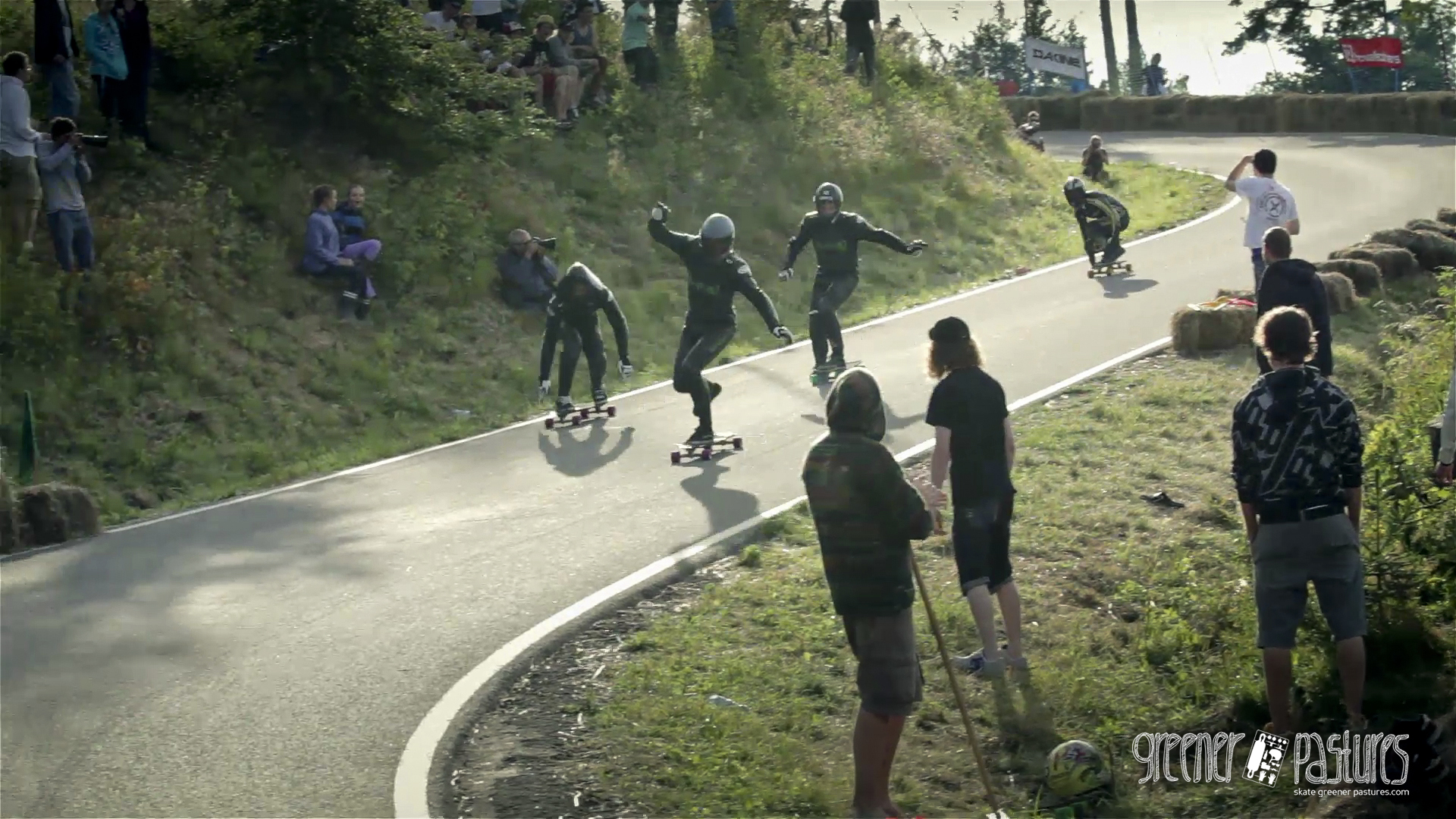 Consolation finals - The Gang of Germany plus G-Mack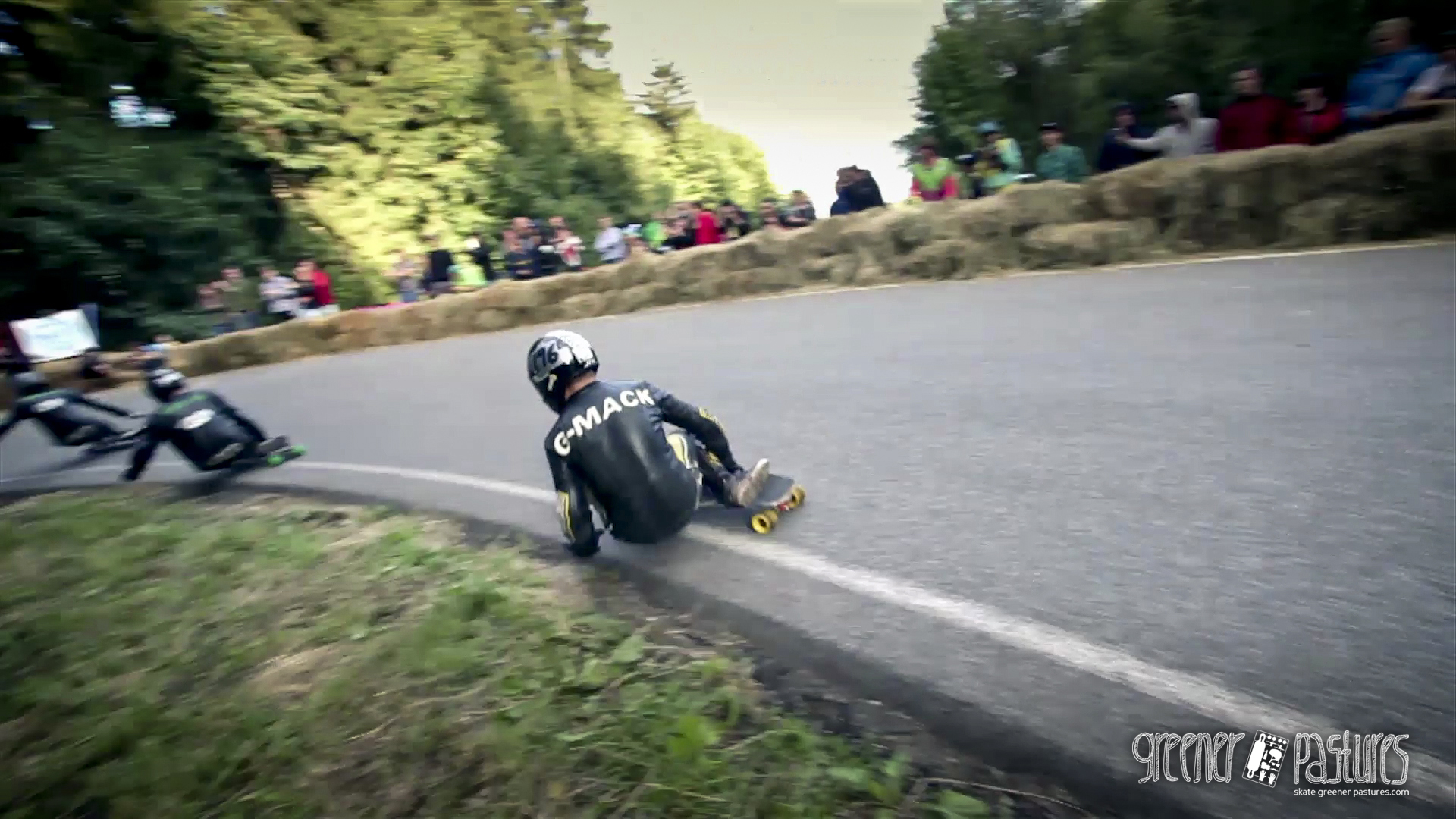 Consolation final - G-Mack following the Gang of Germany
…about to fight for a really close finish!
Switzer sailing towards victory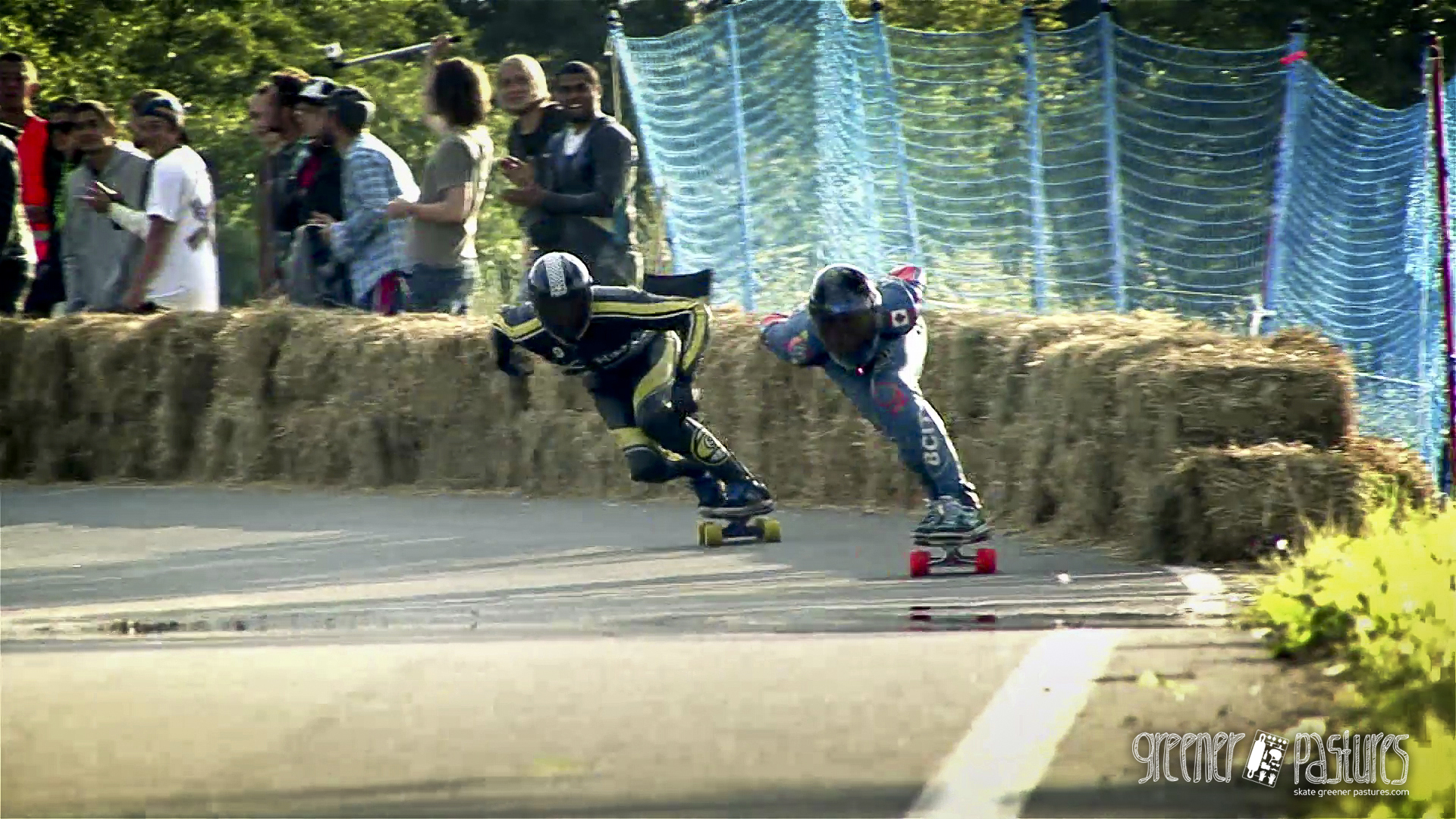 …Jackson closing in from behind but unable to pass Switzer before the finish line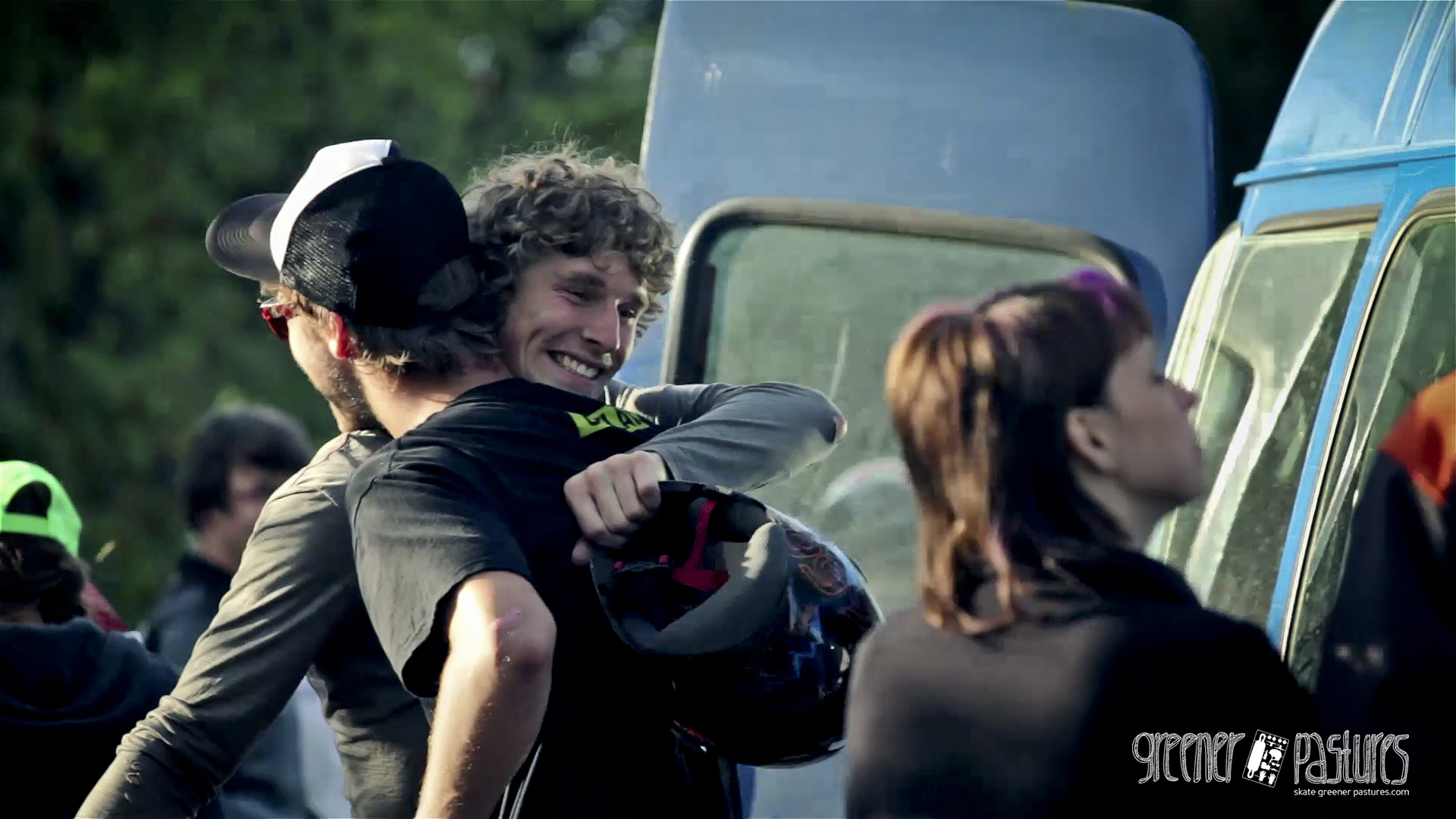 King Switzer receiving congratulations
-------------------------
Official release
With the Greener Pastures filming section in Switzerland coming to a close, we were all ready to get to Kozakov and join the party. Oh yes, and practice the course with the best racers in the world, especially now that we had become comfortable with the European style road construction in a group dynamic.

The 3Heads have filmed Kozakov Challenge since 2009, and with their experience and ability to speak the language makes it an extremely exciting event to cover. We couldn't be happier being part of making the event well known again through high quality media, and this time highlighting the Greener Pastures riders.

A bonus for the project, five Greener Pastures riders placed in the top ten! Congrats!

1st - Patrick Switzer
4th - James Kelly
6th - George Mackenzie
7th - Ramón Königshausen
9th - Kyle Martin

The Greener Pastures tour was exhausting, yet an invaluable adventure to remember because of the people, the skating and the life experiences in a foreign land. It is an absolute pleasure to expose the phenomenal free-riding in Switzerland. Yet, let it be known that European style road construction is some of the most dangerous to ride. If you decide to visit, talk to the locals and more specifically Samy at Roll Laden Skate Tours to help plan your trip, and be informed of the laws and the best places to skate. Be cautious, and ride with locals!

Roll Laden Contact: nopain@nobrain.ch @ http://roll-laden.tv/

Please visit www.skategreenerpastures.com for background information on the Greener Pastures series. There is still more in the works!

Click here for the Greener Pastures series playlist. Gather some friends and watch the series start to finish!
If you would like to host a screening without internet streaming, contact patrickswitzer@gmail.com.


A big thanks to the Greener Pastures riders, and those at Kozakov Challenge for being part of the last episode!

Matt Arderne - Fibretec Skateboards - South Africa
John Barnet - Kebbek Skateboards - Canada
Samy Cantieni - Roll-Laden Skate Tours - Switzerland
James Kelly - Arbor Collective - USA
Ramón Königshausen - Airflow Skateboards - Switzerland
Yvon Labarthe - Abec 11 Wheels - Switzerland
George Mackenzie - Sector 9 - Canada
Kyle Martin - Landyachtz Longboards - Canada
Patrick Switzer - Orangatang Wheels - Canada



Producer: Patrick Switzer
Director: Vit Hasek, 3Heads Production

http://www.skategreenerpastures.com
http://www.facebook.com/skategreenerpastures
-------------------------
SUMMING UP THE TRIP
One of the many packing timlapses back in Switzerland
The Moovie Car as seen from a rider's perspective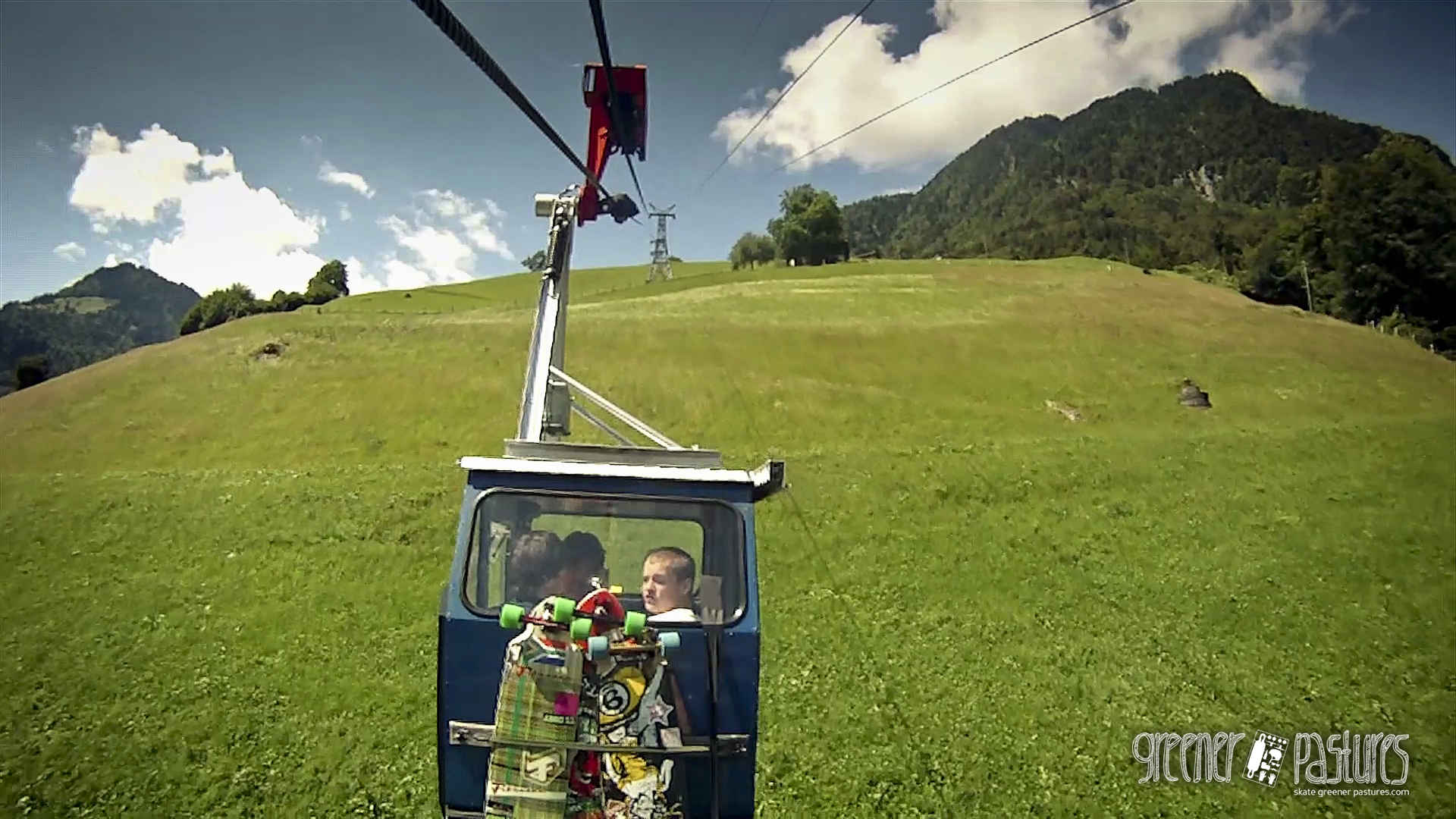 Oh the blessed skate gondola!
Ramón and Yvon rescuing the "crash cam"
A water fall down from a rock…I see what you did there!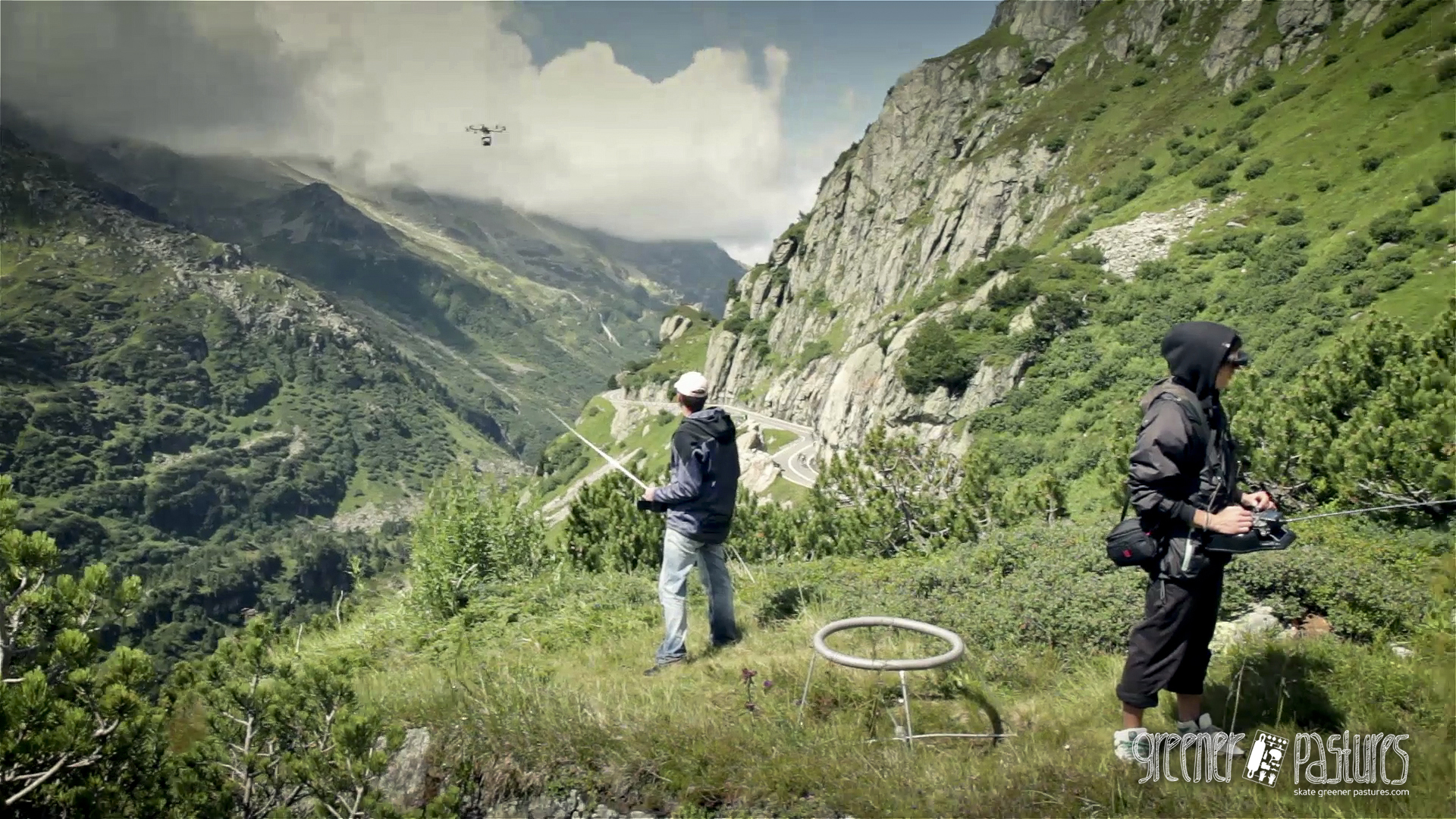 Dan and Martin of the 3Heads crew operating the octocopter
Going for a refeshing swim at the top of the gondola run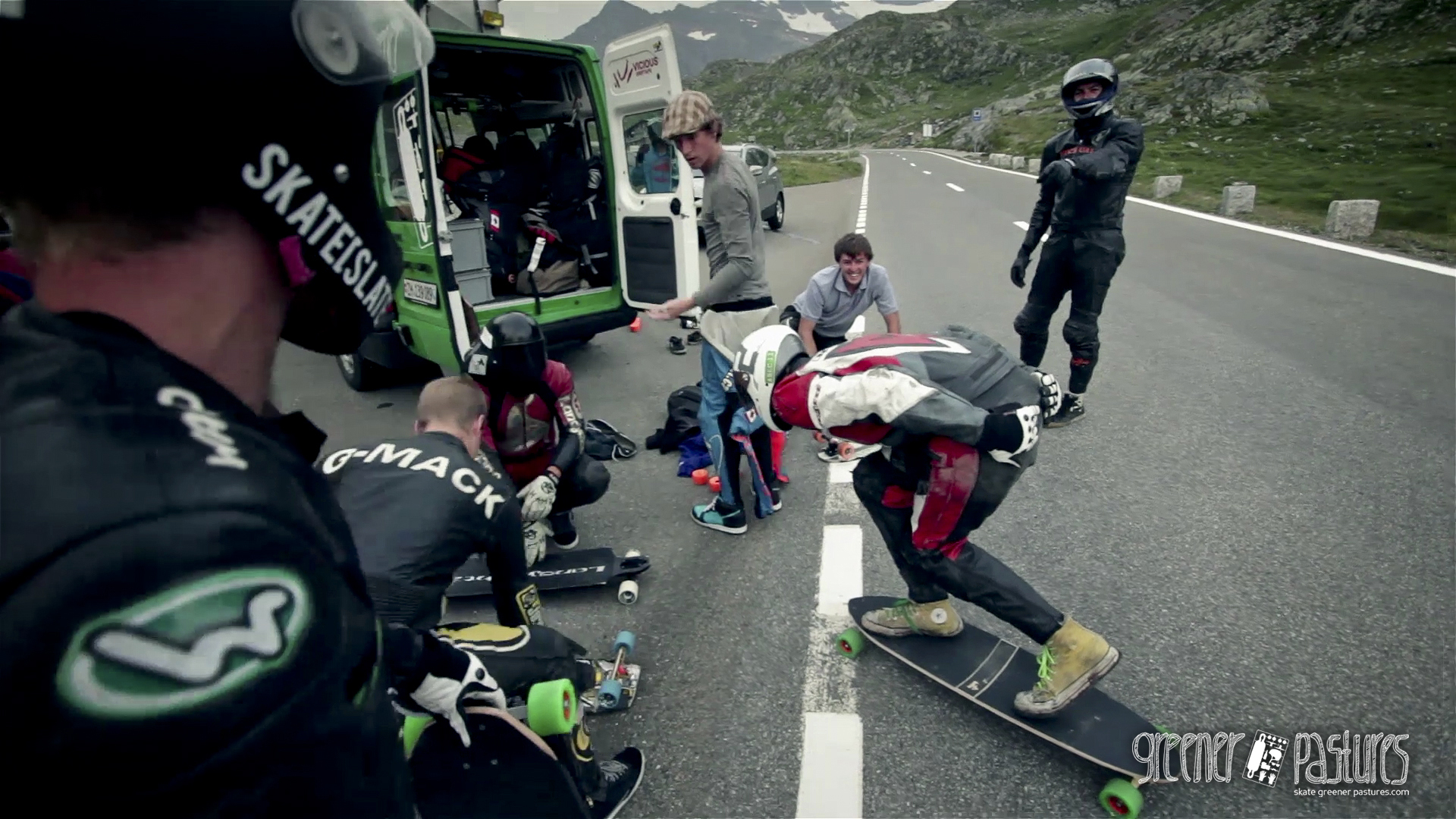 Yvon trying to tuck like a real man…
Samy actually just turned 5…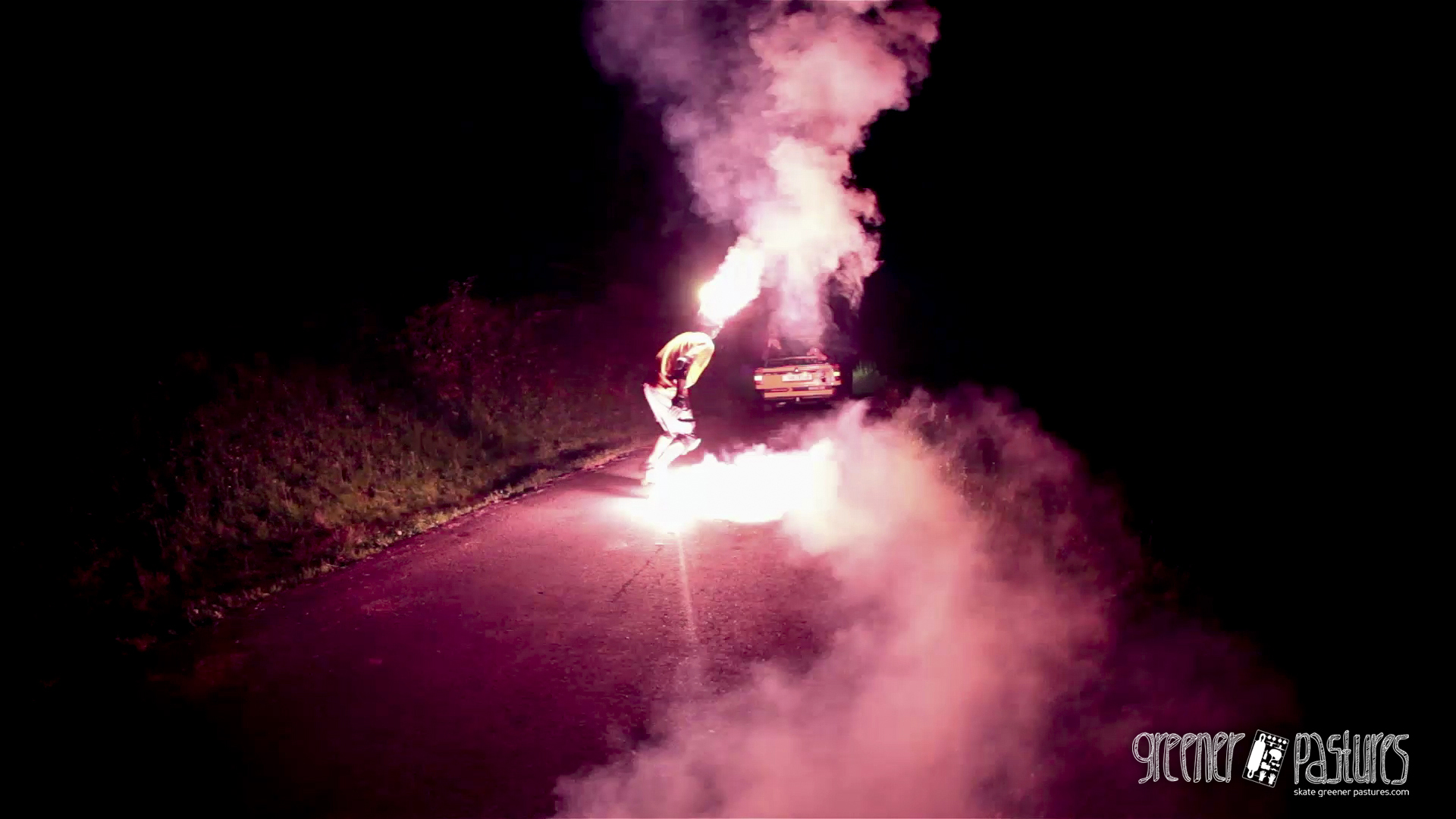 Jep…it was sorta sketchy…

GP Episode 4
Greener Pastures Episode 4 – Landscape
Official release communiqué
Skateboarding in Switzerland is undoubtedly one of the most incredible ways to enjoy perfect conditions in such an impressive environment. When the riders became comfortable with their sometimes testing, yet blissful situation the true personalities of their character and skating style were revealed.

The astonishing connection with environment in the Alps showed just how rapid, and unexpectedly powerful storms can be. After being trapped by rain at one location for two days, we changed plans and ventured to Swiss wine country. This location became one of the best days of filming & skating on the trip.

There is nothing like a phenomenal landscape view that takes your breath away for kilometres on end while riding a mountain pass at +80km/hr. When you catch yourself standing up, jaw dropped gawking at the view of where you are, the tension is removed, spirits are elevated, and a privileged smile raises.

Thanks to the rad crew, South African, Canadian, Swiss who joined us on our last free-ride filming day.

The final episode of the series moves to the Czech Republic for Kozakov Challenge, the first European IGSA World Cup race of the season.




EP5: Racing will be released January 10th.

Producer: Patrick Switzer
Director: Vit Hasek, 3Heads Production

http://www.skategreenerpastures.com
http://www.facebook.com/skategreenerpastures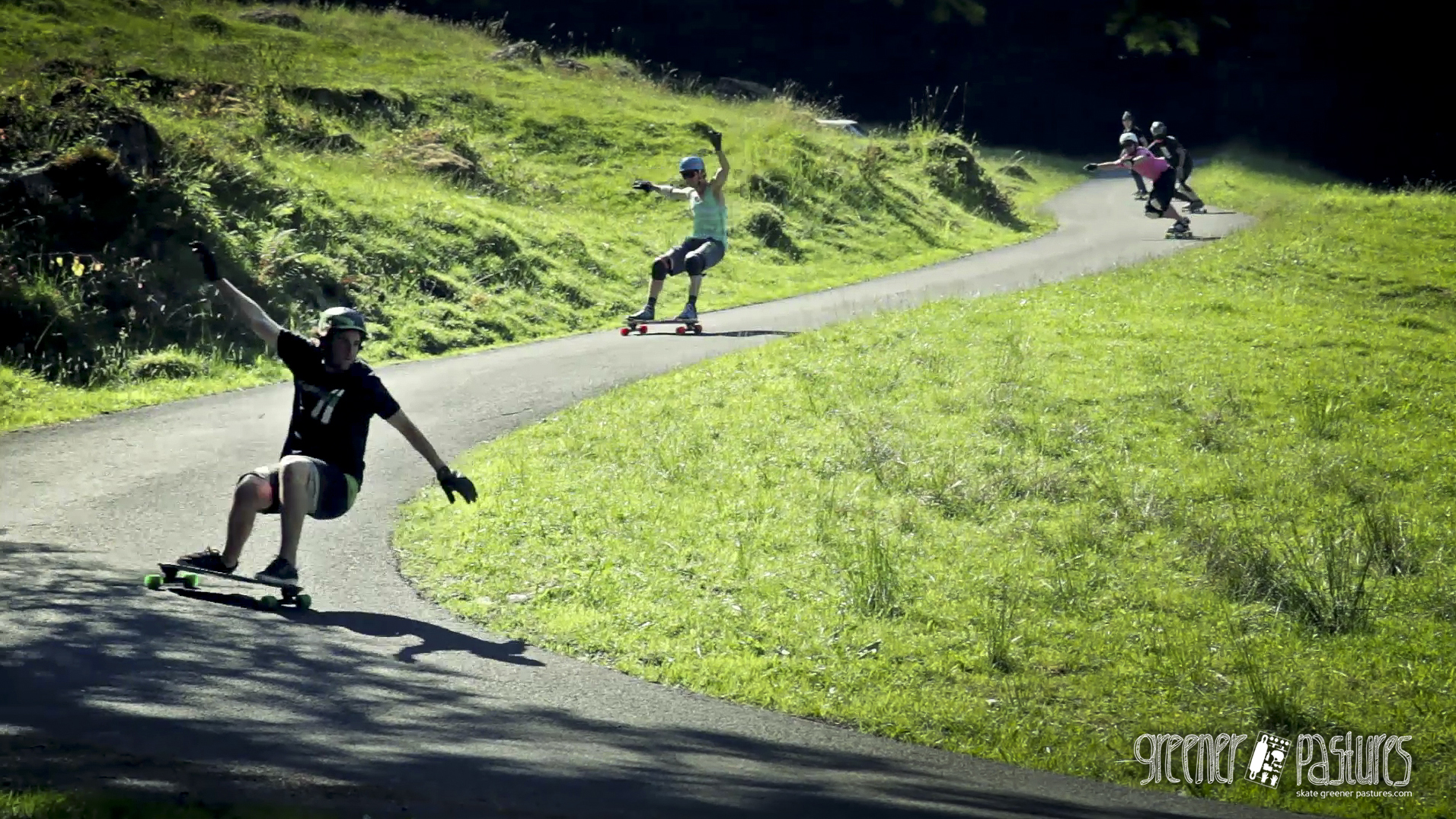 James Kelly enjoying one of the 16 consecutive hairpins on one of our all-time favourites
P-Swiss and G-Mack early-grabbing over a cattle-guard

YES!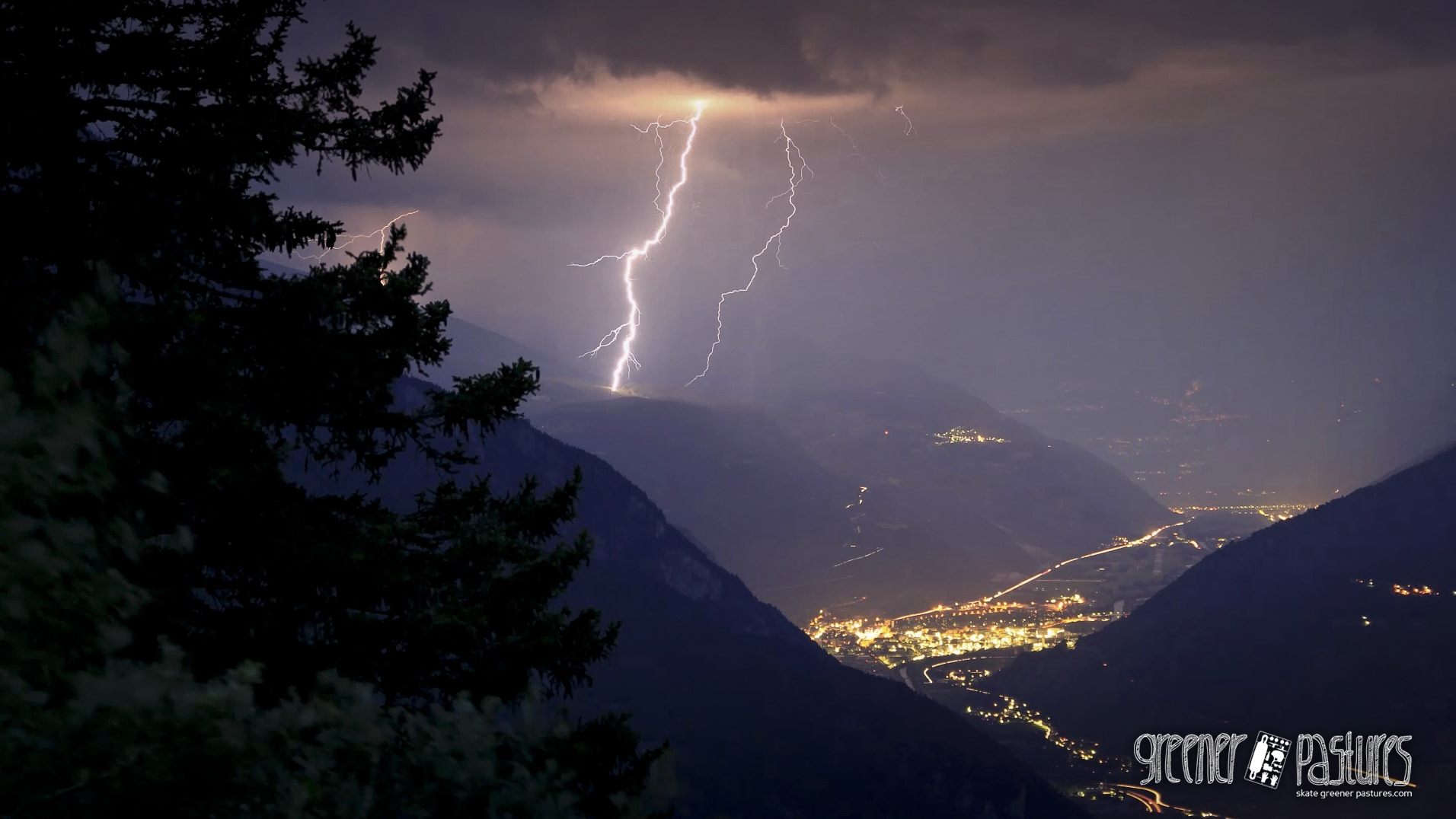 Epic long-time exposure during a thunderstorm that hit us in the south of Switzerland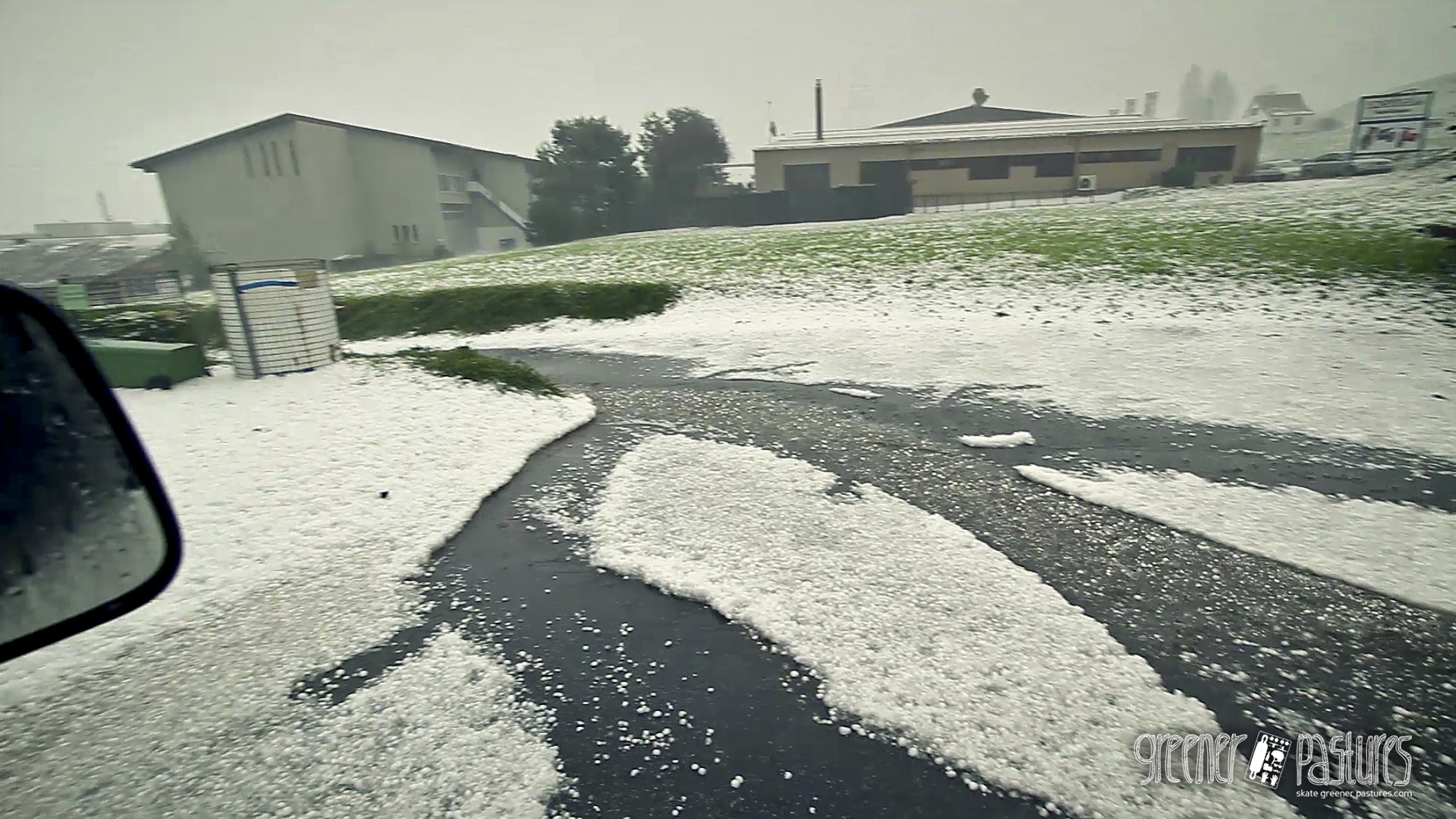 The aftermath of the hailstorm that hit us at the beginning of our trip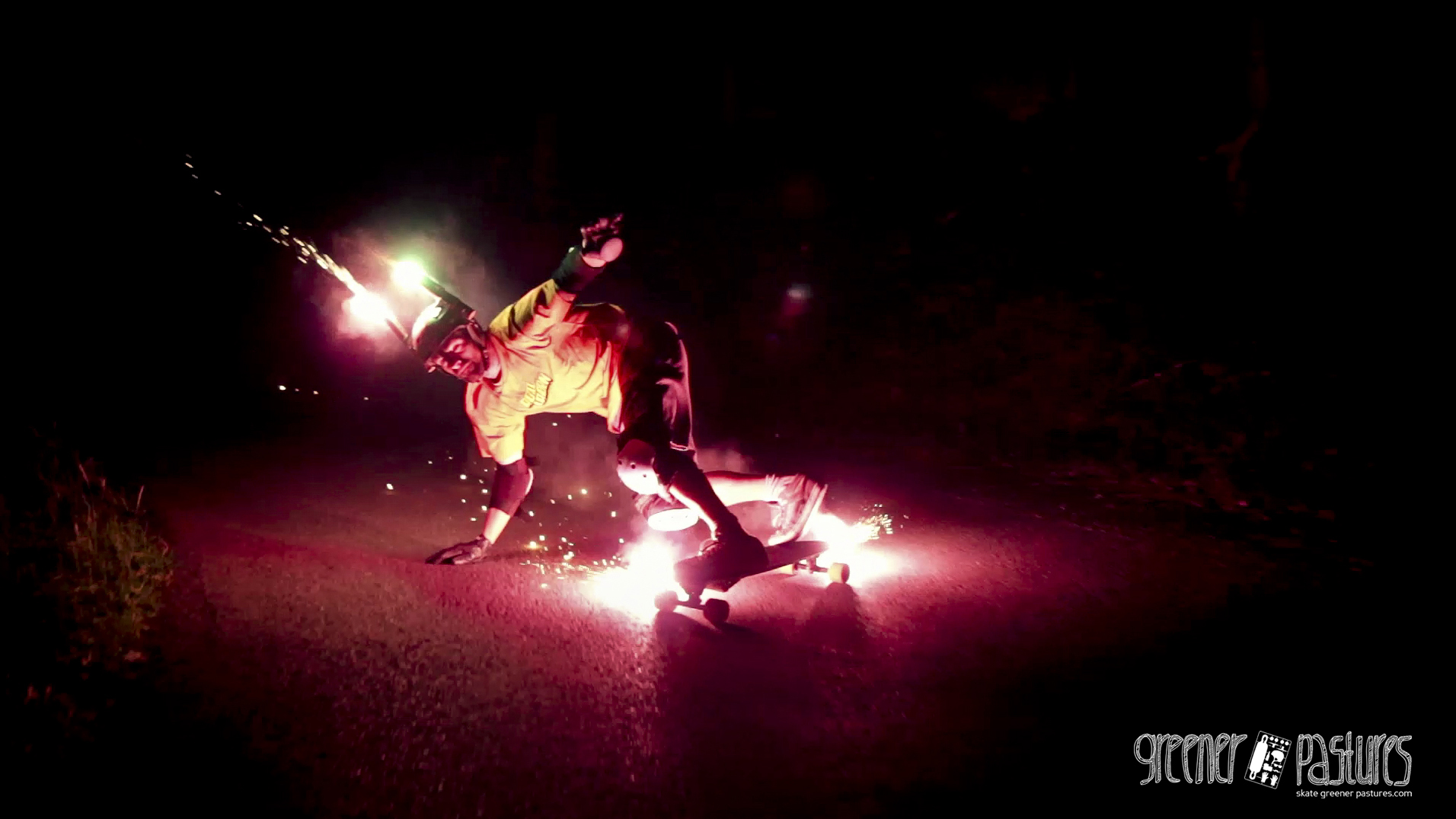 Samy the pyromanic!

Ramón surfing the flames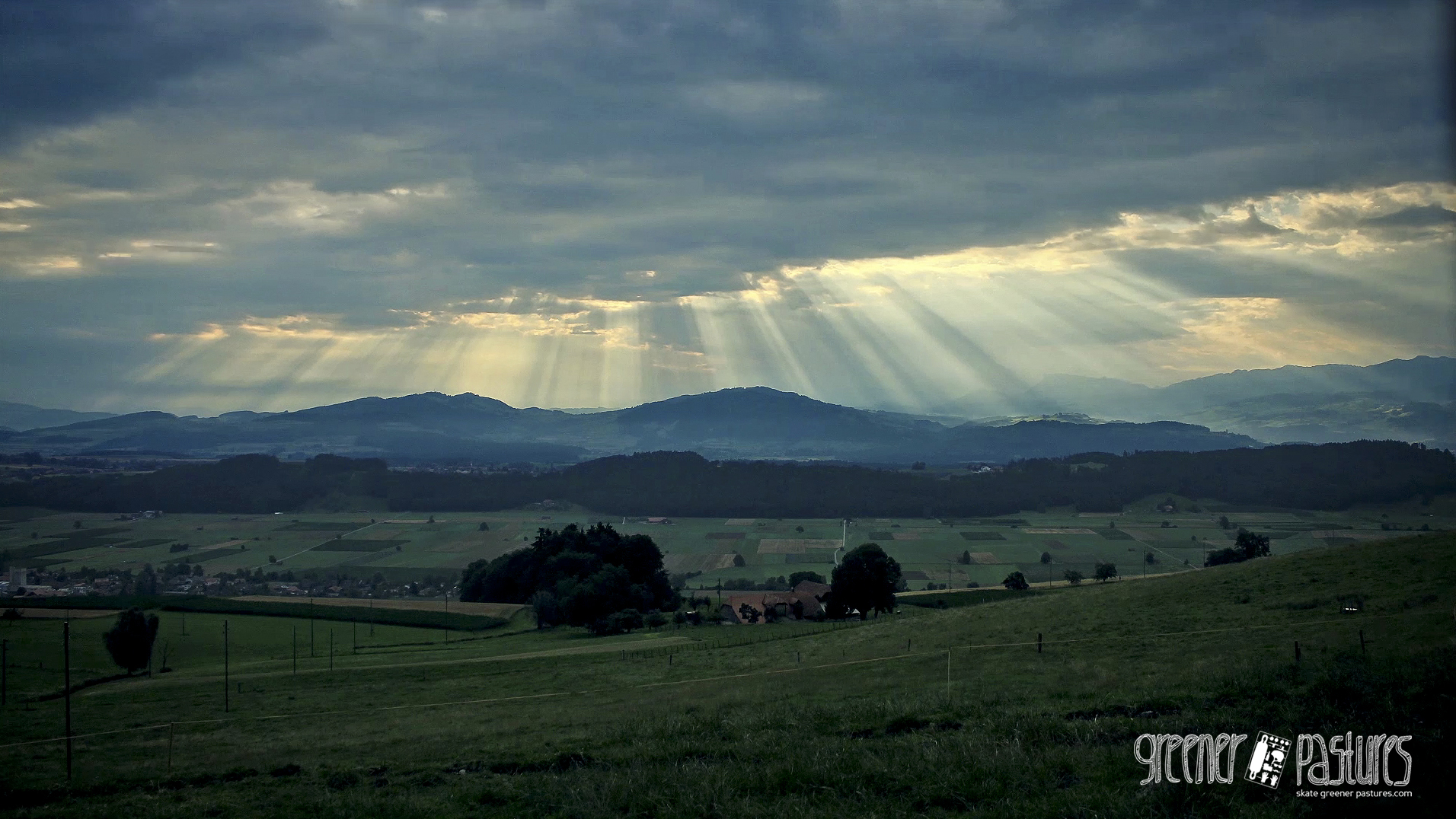 Probably the best time-lapse Yvon captured during the trip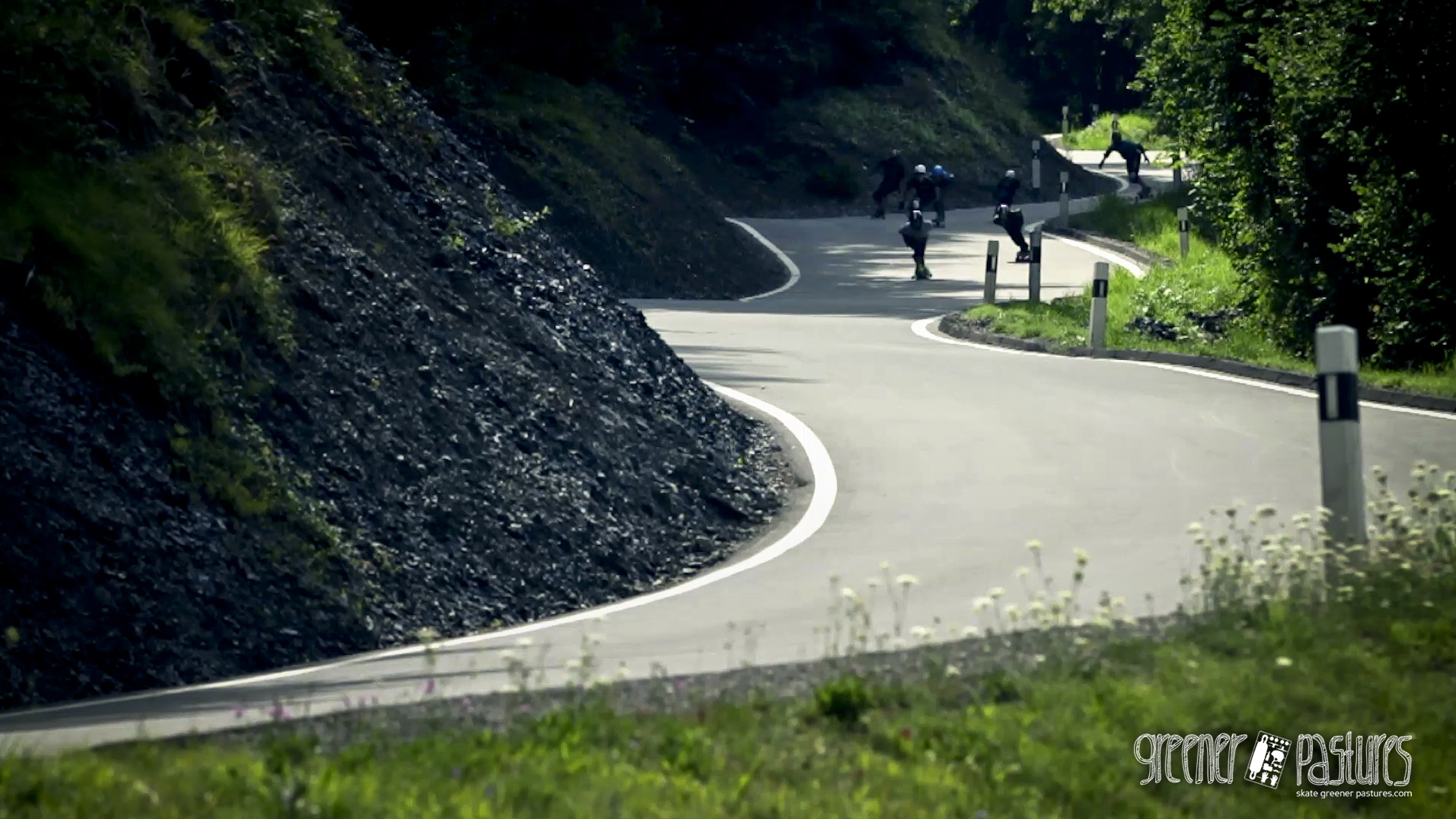 This spot wasn't on the schedule but it was the only dry area in Switzerland at that time
Steep, wide, and repaved only two years ago, this spot will blow your mind!
Shot from our very elaborate rope cam (once it wouldn't crash anymore)

GP Episode 3
Episode 3: Freeride
Official release communiqué:
In the search to find the most challenging roads in Switzerland, EP3 highlights the supreme variety found, but on one hill. Oh yeah, and a gondola to the top!

While free riding, a multitude of things can capture your focus, i.e., position of other riders, rough pavement, vehicles, guard rails, debris, what's for lunch, etc.
Focus and comfort in ones riding comes when these thoughts are subdued, when one finds their 'flow'.

In EP3 the riders talk about their experiences with accidents and injuries. The message is simple. Being attune to the dangers involved in a situation will lower the risk. Riders sacrifice so much for a lifestyle which is important to them. As Samy Cantieni states "I would never trade anything for all I have lived through, thanks to skateboarding."

By this point the Greener Pastures crew had become more comfortable riding close together, with the European style of road construction, the pavement and what we as a group felt this project represents.




EP4 Landscape coming on December 13th.
Producer: Patrick Switzer
Director: Vit Hasek, 3Heads Production

http://www.skategreenerpastures.com
http://www.facebook.com/skategreenerpastures
Interview mit Team Rider Ramón Königshausen über EP3 auf allaroundskate: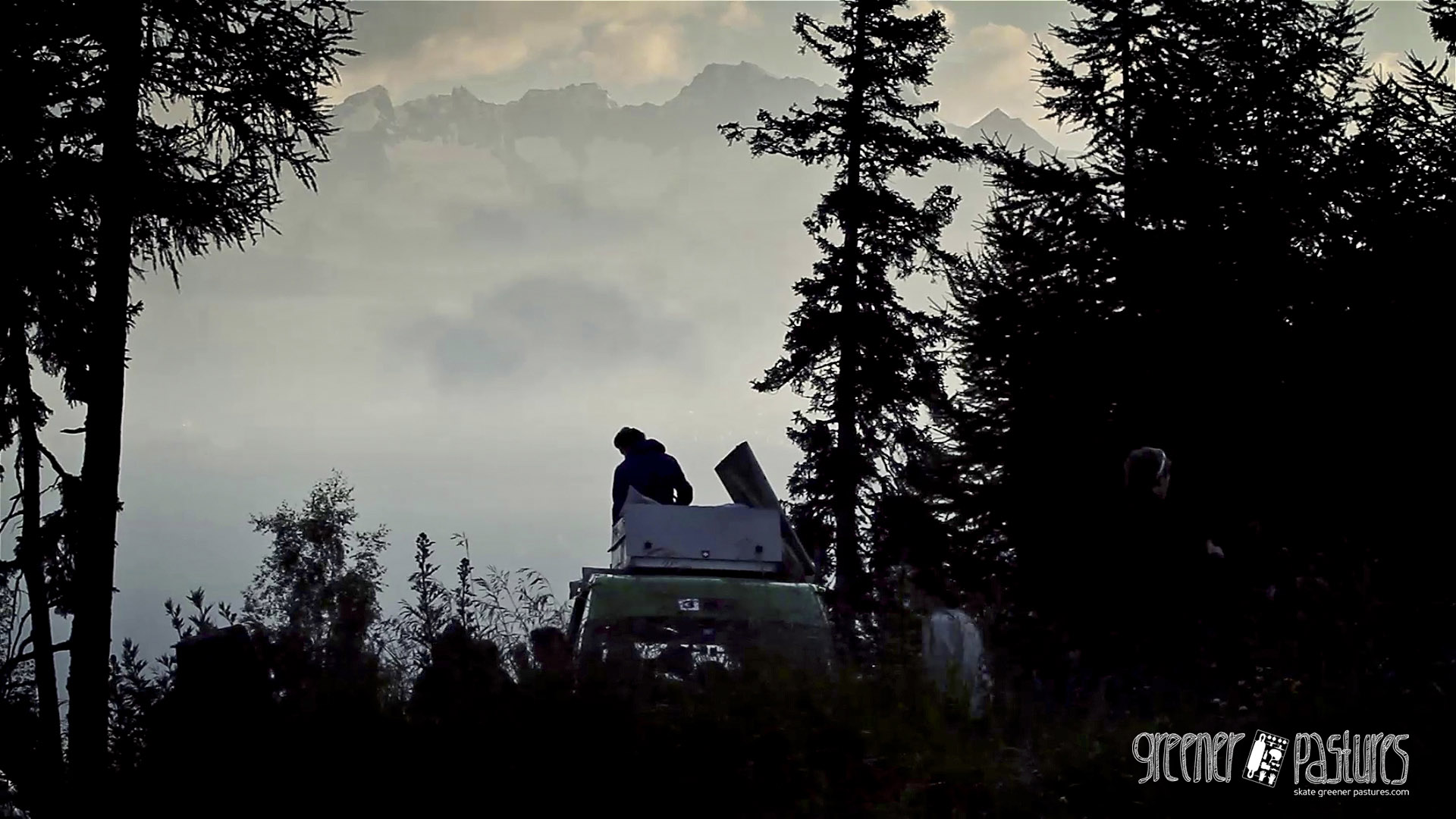 Getting the gear out of the roof box for another day of freeriding.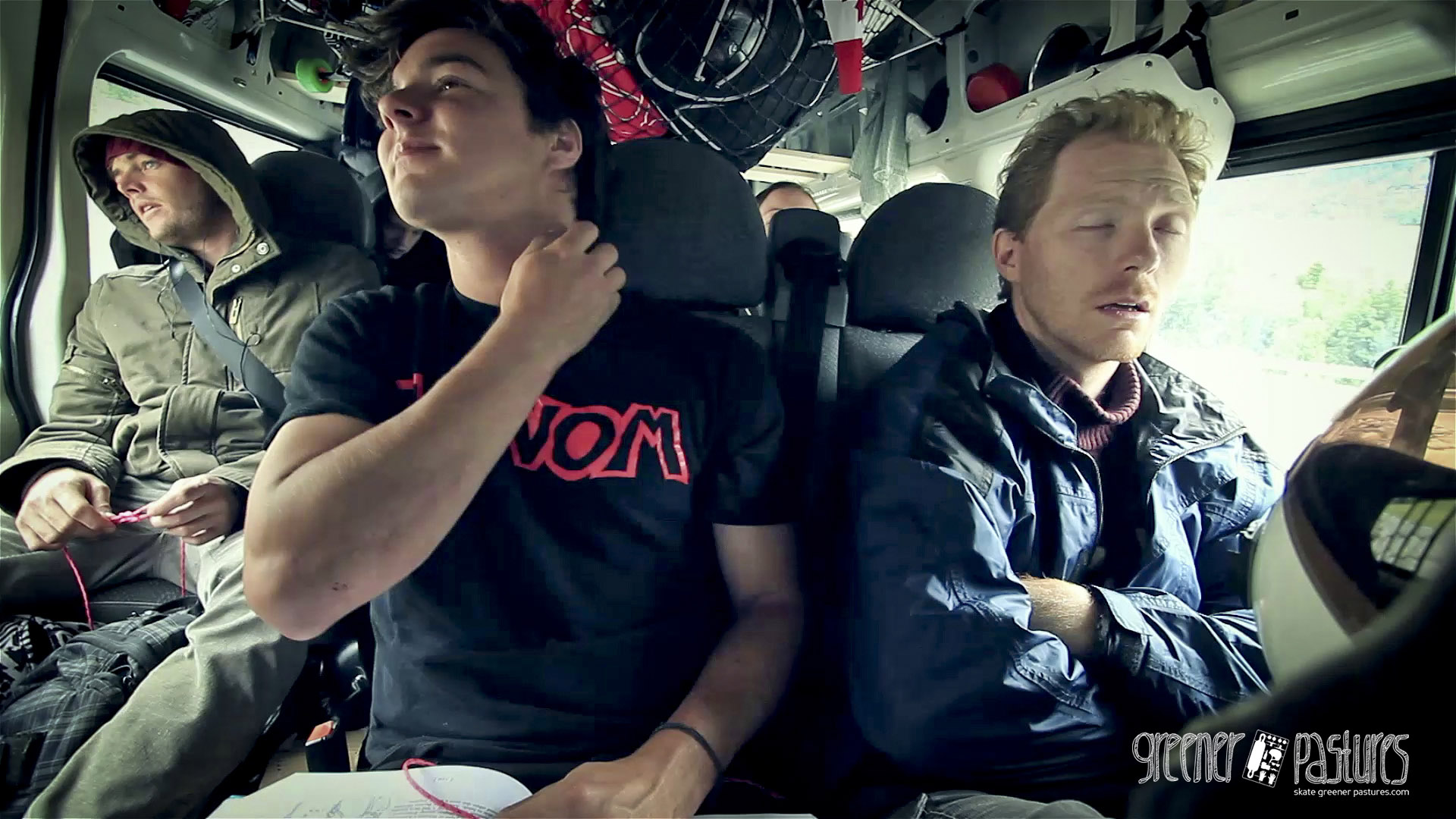 Driving…yeah…not our favourite but if you know how to deal with it: Sleep or grasp the nice scenery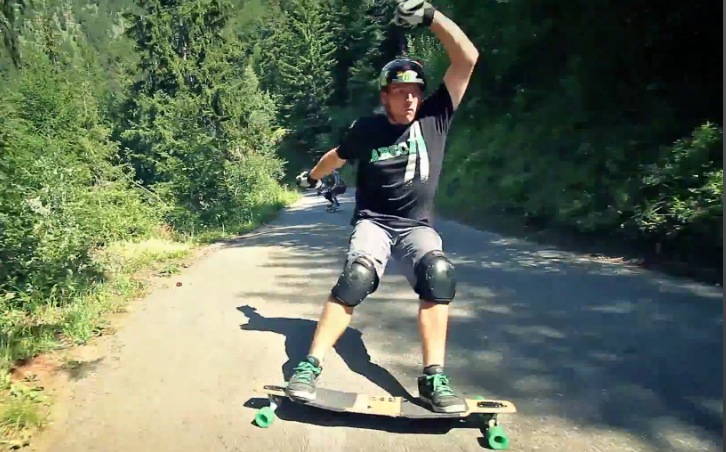 Ramón close behind the Moovie car on a narrow road…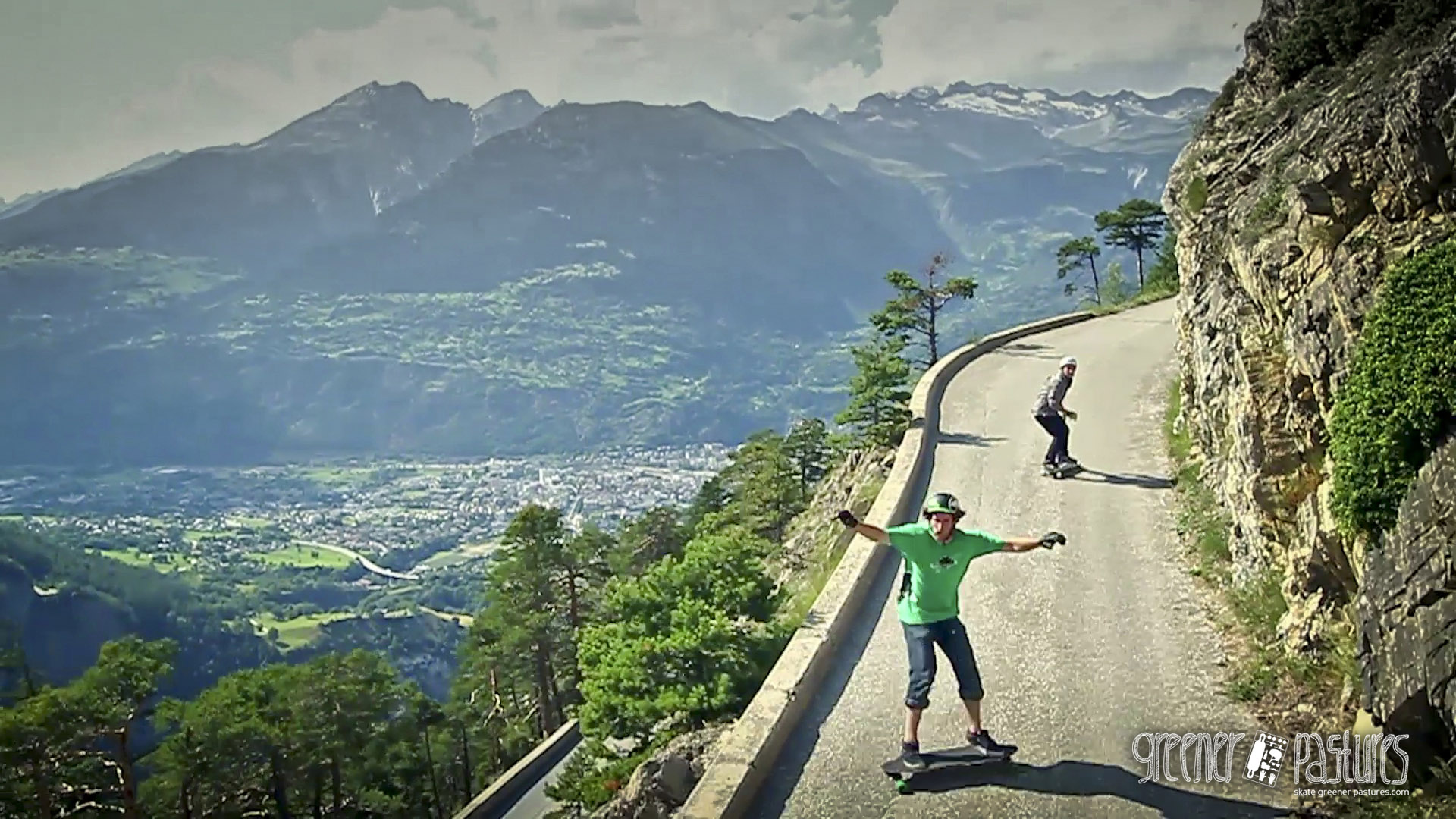 Huge drop on one side of the road and a rock wall on the other – no room for mistakes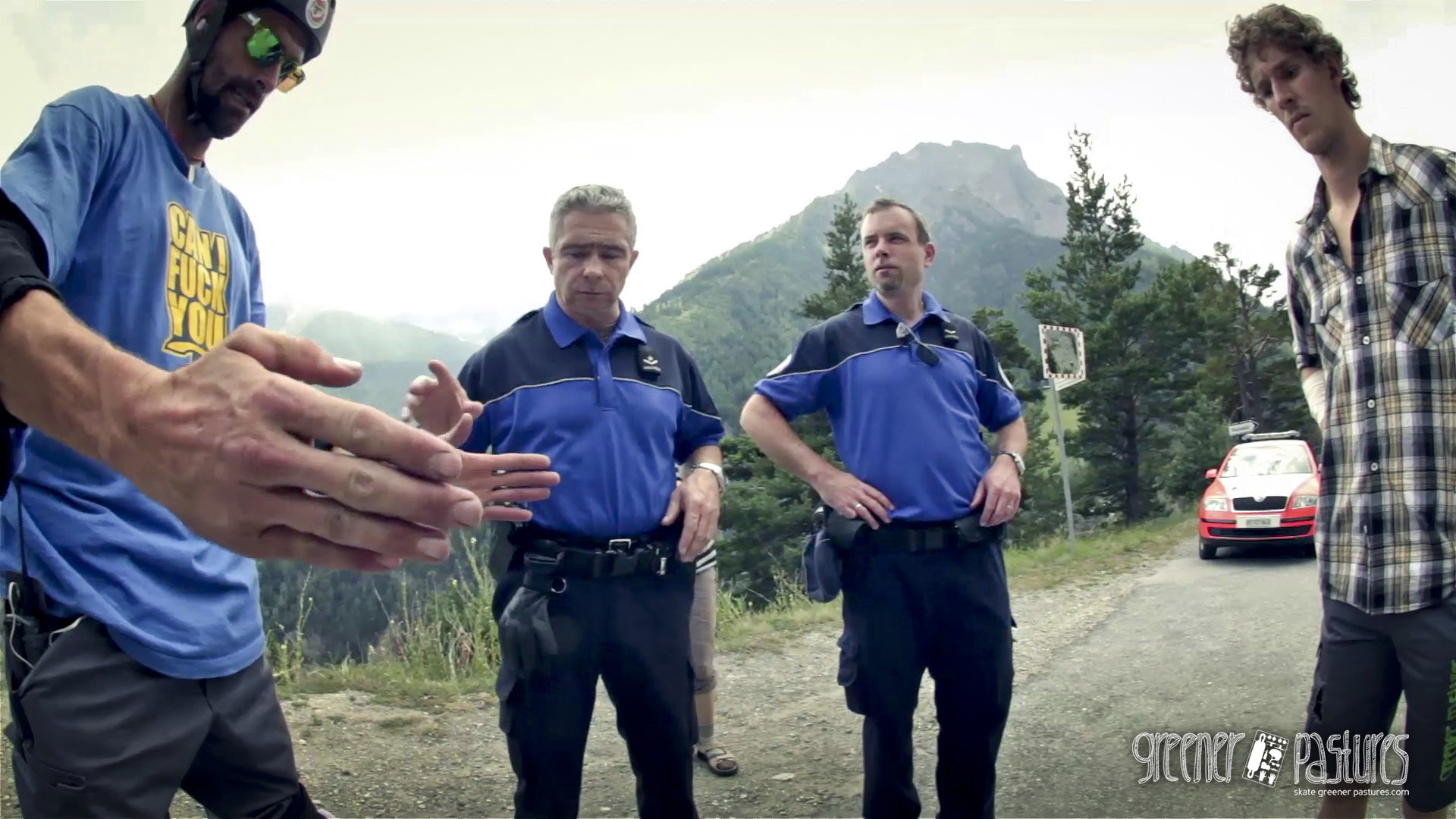 Samy explaining to the Swiss Police that what we do is in fact legal.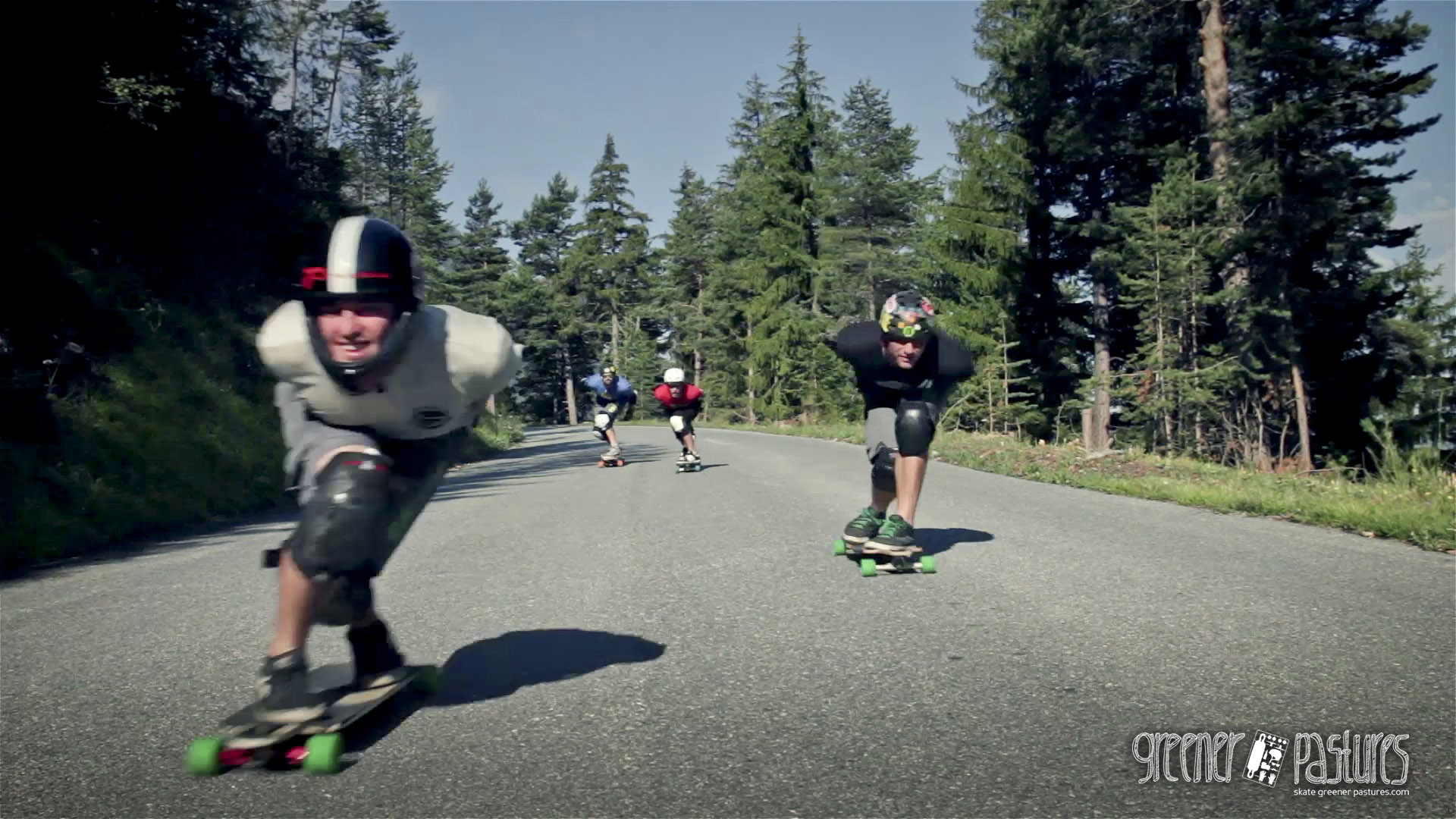 The bottom part is such a relief for your nerves after using all your concentration and focus at the top.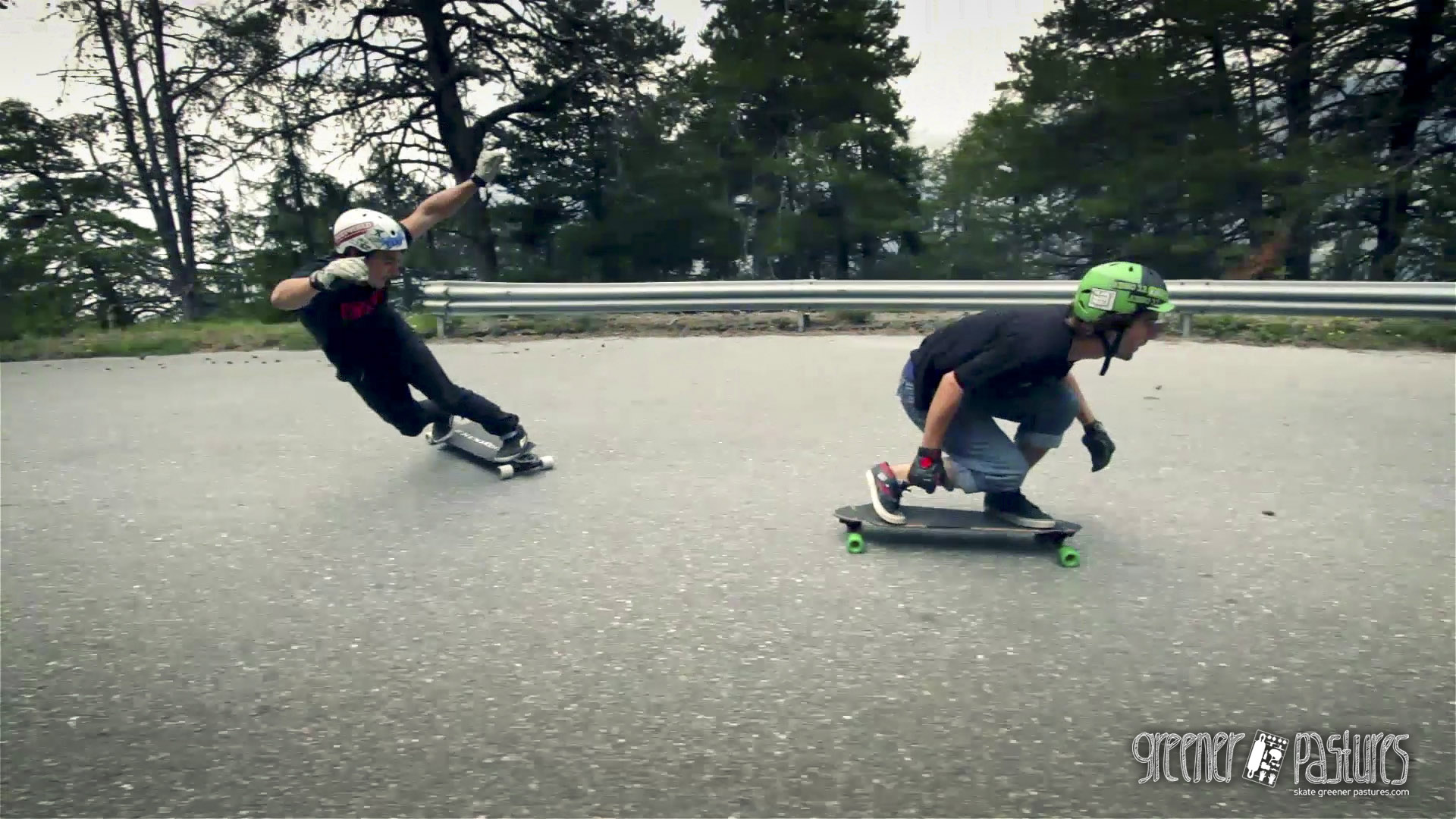 This is the part where everyone felt really comfortabale with their riding.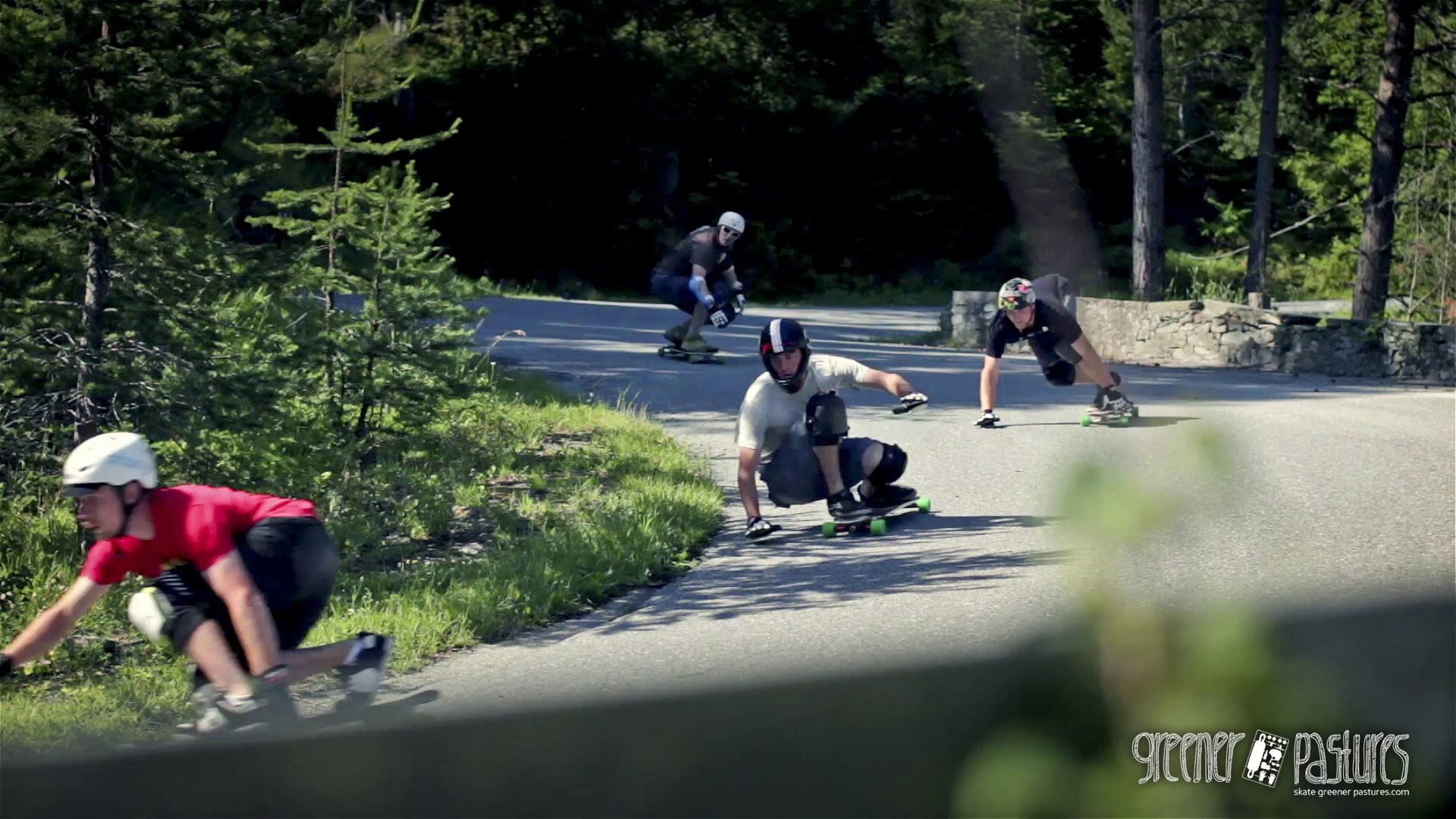 This sweeping section was among the favourites on the tour – so nice and flowy!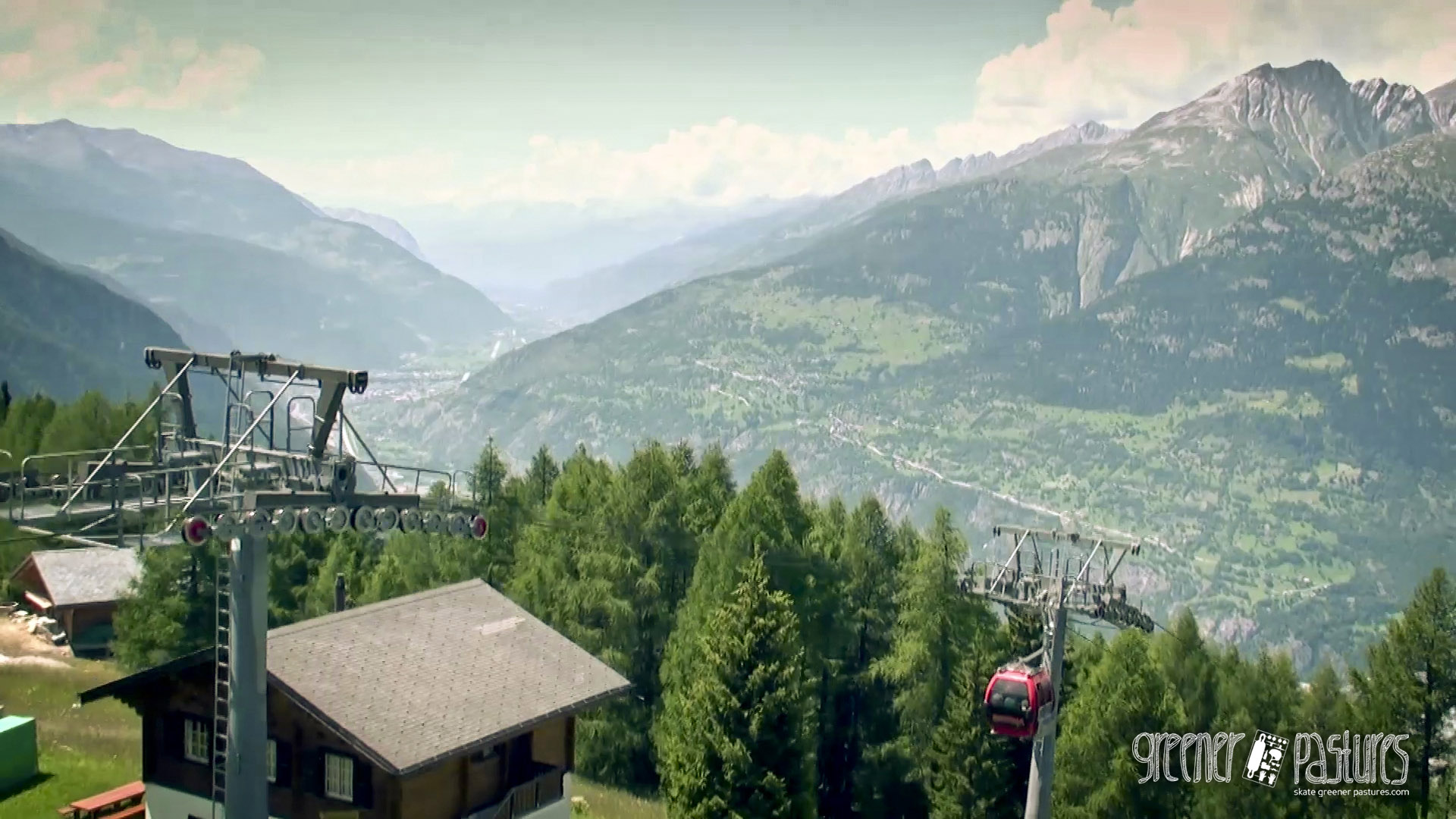 And this ladies and gentlemen is how you get back to the top!
GP Episode 2
"It's not the equipment; it's the rider! Though in many cases, the choice of equipment can depict the style of the rider."
In the second episode we learn about the best longboarding gear there is. Airflow is proud to be amid the big guys – leading innovation and technology.
Team rider Ramón Königshausen was part of Greener Pastures during two weeks of epic freeriding, traveling and racing. Here's an interview with a few of his impressions, comments and thoughts from his journal along with the official relase photos for EP 2.
What happened at the end of Episode I?
R: Like we can see at the beginning of EP 2 Patrick took a fall on a narrow bridge on day one of our travels. There wasn't much room as he highsided and slammed against a rock wall head first. His helmet was cracked, his elbow cut open so he had to go to the hospital and get stitches.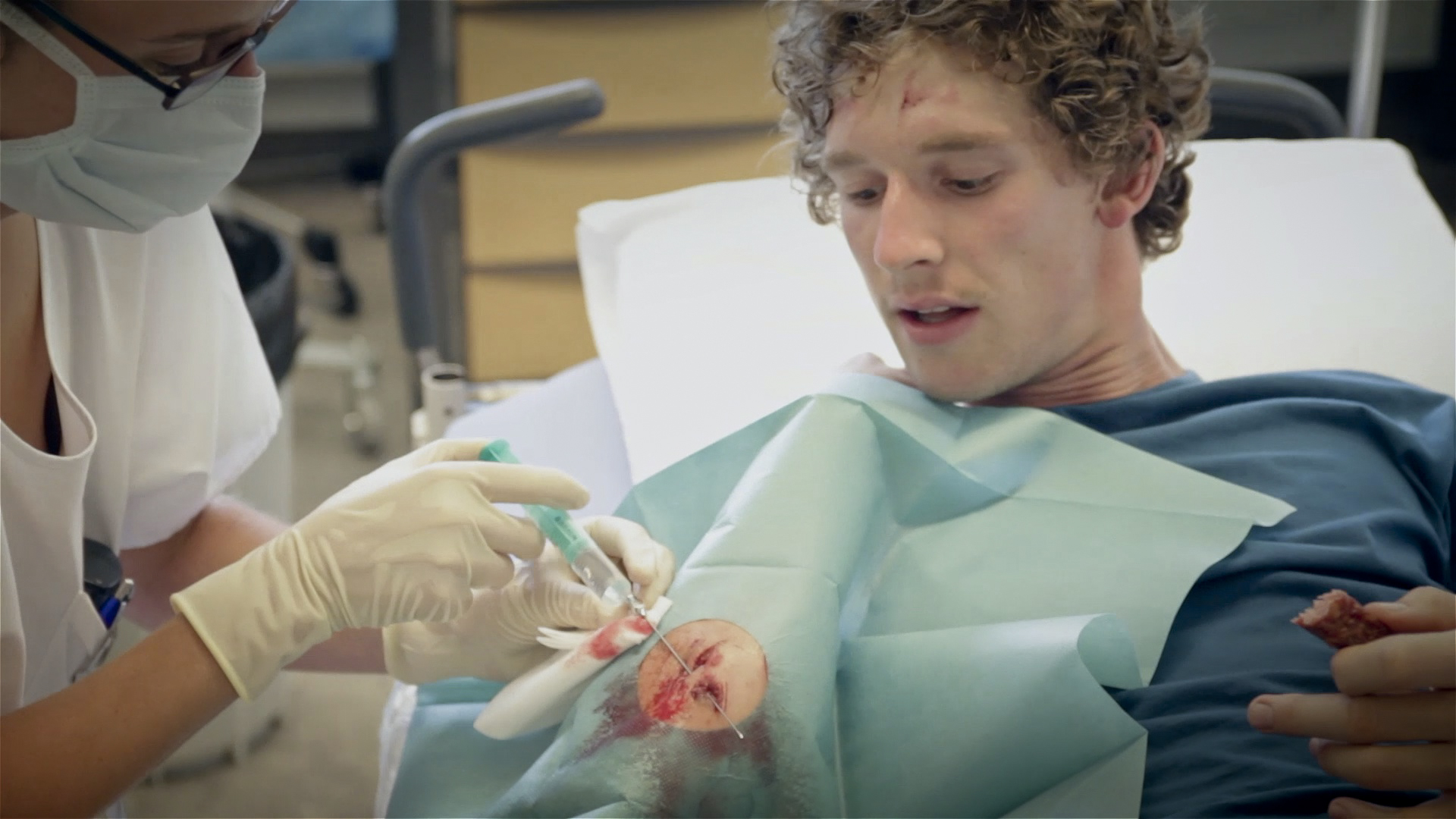 Patrick Switzer's tortured elbow – Getting a piercing?
Why is John Barnet's voice so messed up?
R: John's interview was taken at Kozakov where it is the usual manner to party hard. The plum vodka stole his voice that weekend…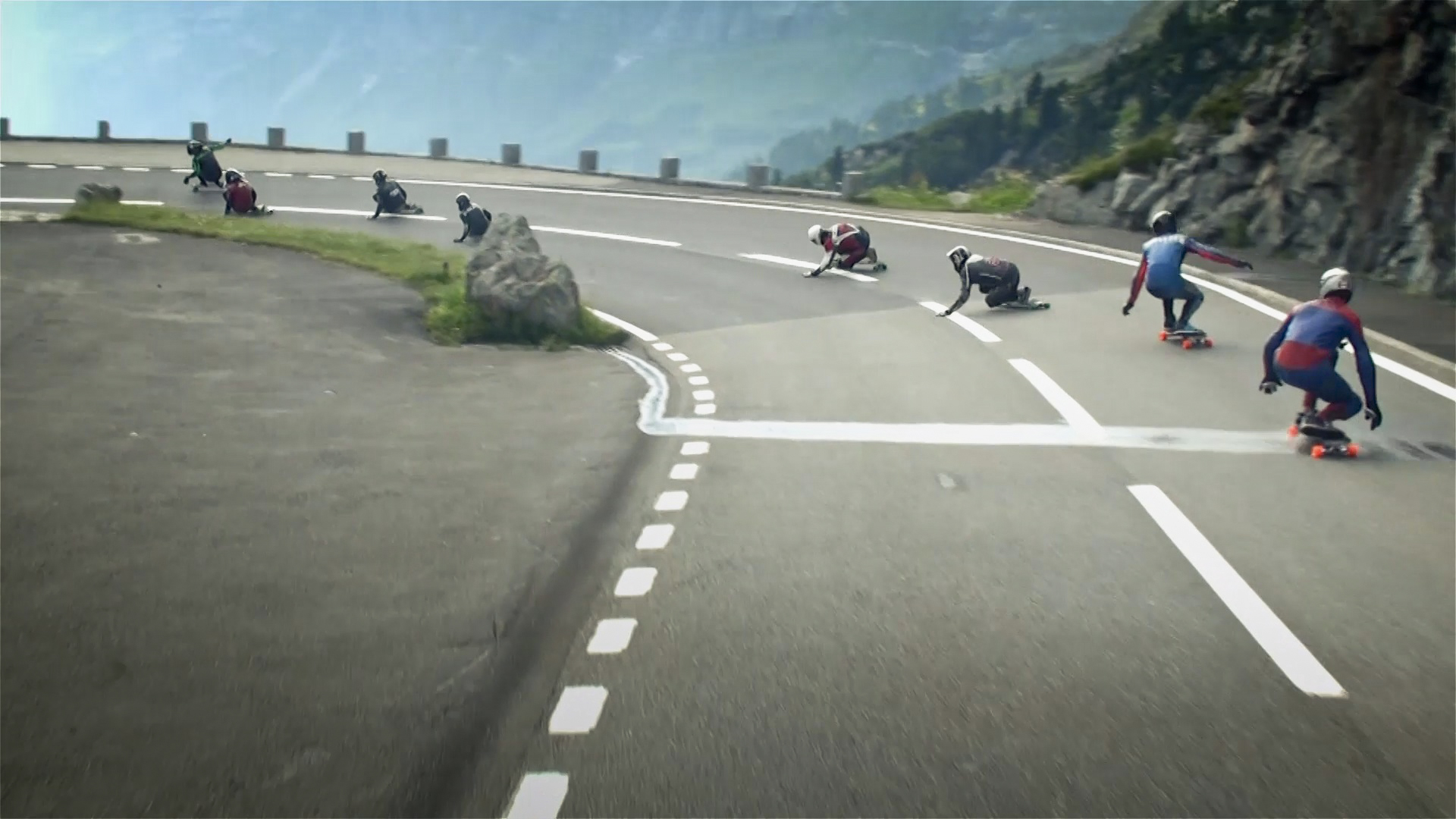 This hairpin features a 25m drop over the edge – Better stick your line!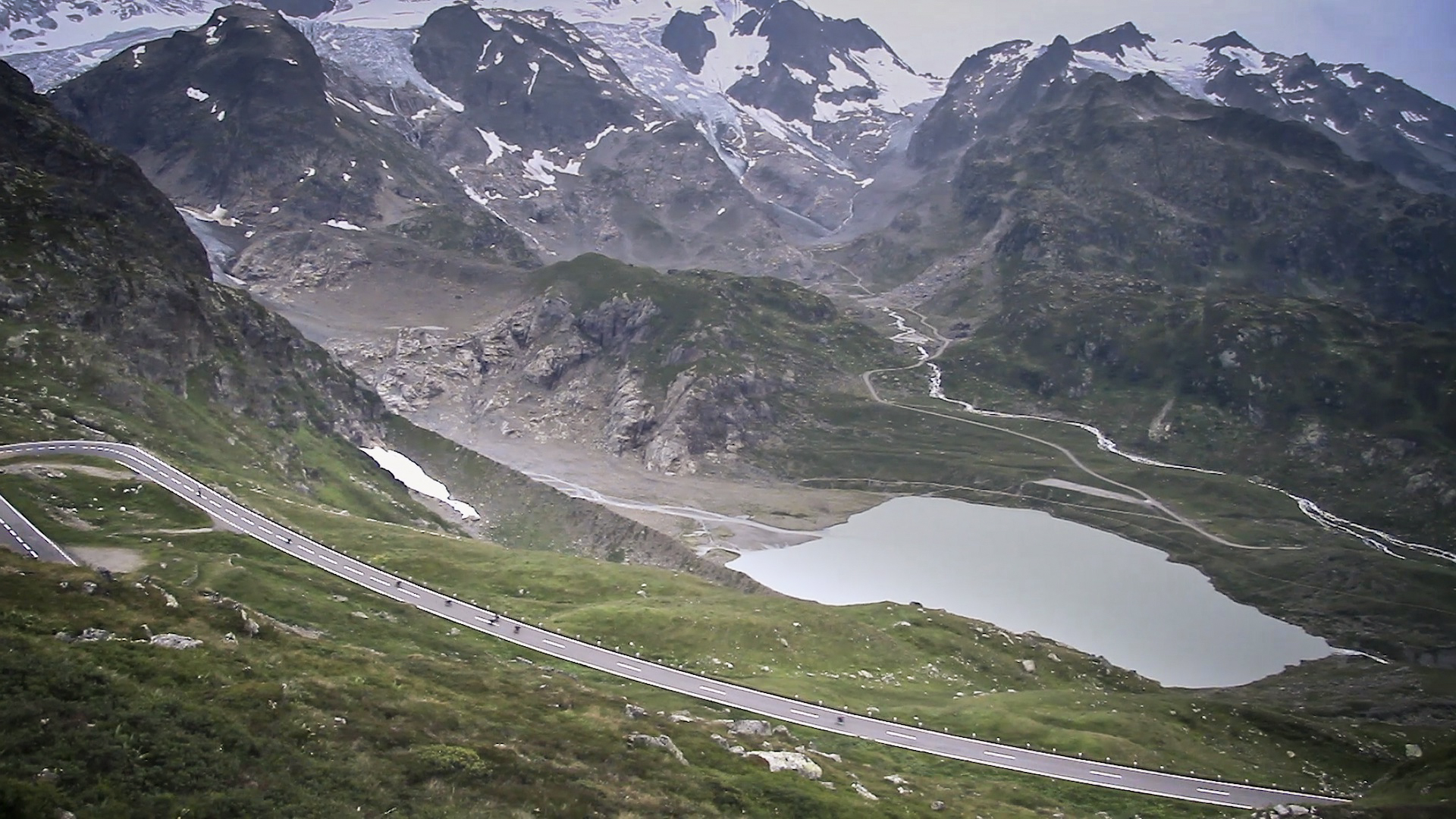 Just before sunset there's hardly any traffic on this mountain pass: The little dots are downhill skateboarders

Where is the epic mountain pass that features a 100km/h tunnel?
R: The pass is in the center of Switzerland where a lot of electricty is produced by hydropower using artificial dams to create lakes. The shots in EP 2 were actually taken on two passes. One of them wasn't on the original schedule but alongside the route so we decided to spontaneously skate and film.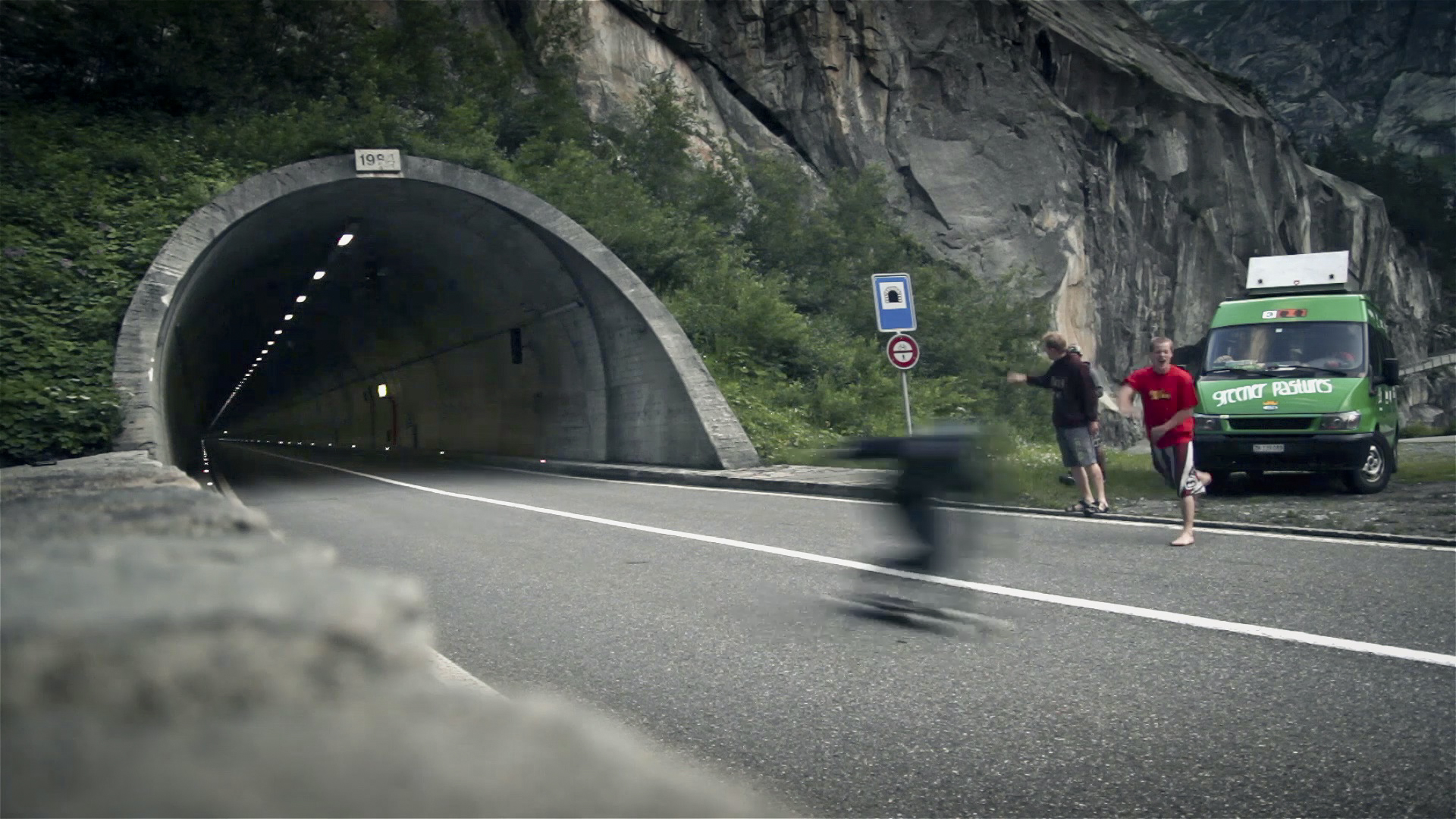 Kyle Martin shooting out of the tunnel at 100km/h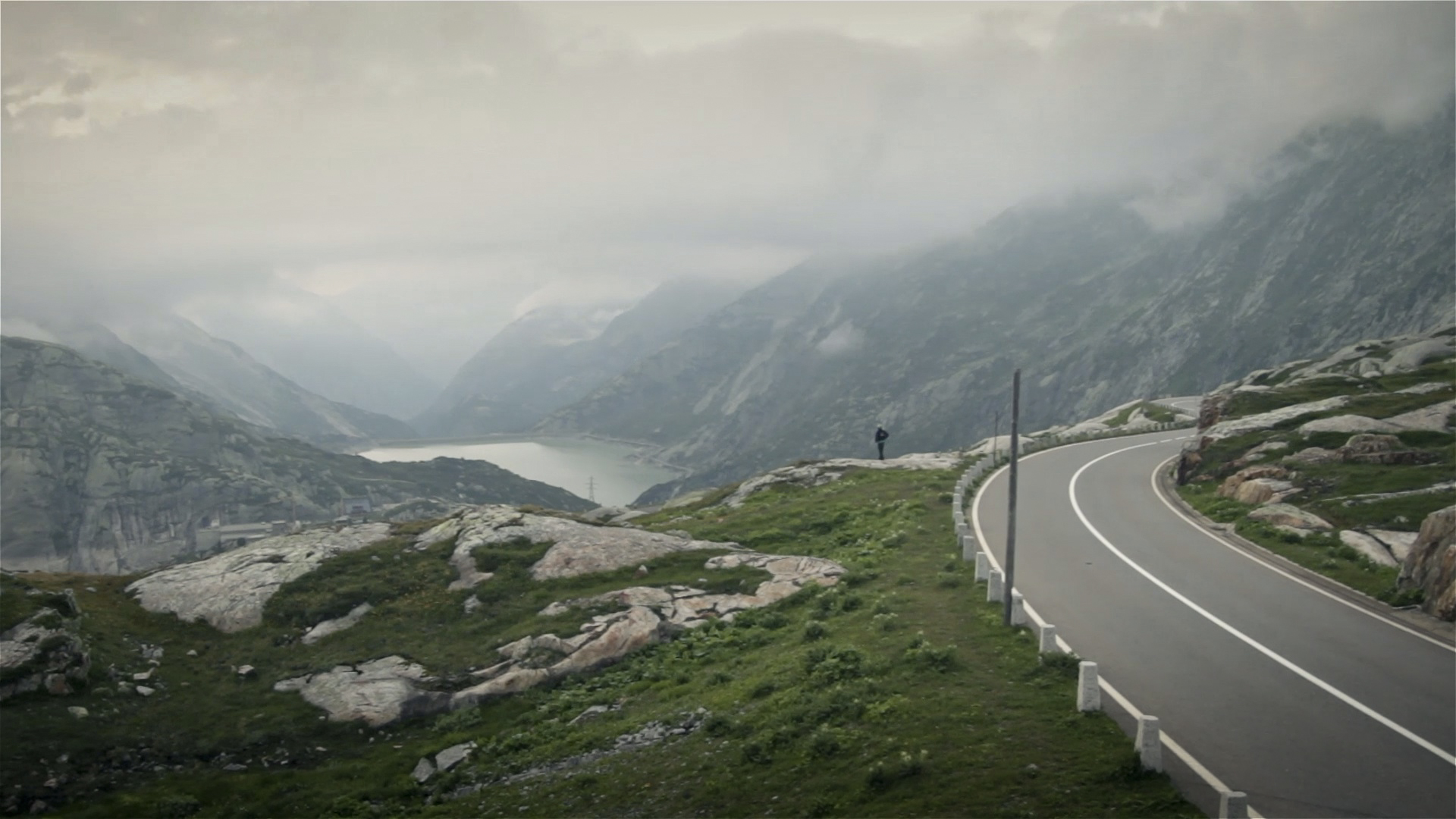 James Kelly taking a moment to grasp the beatiful scenery of the Swiss Alps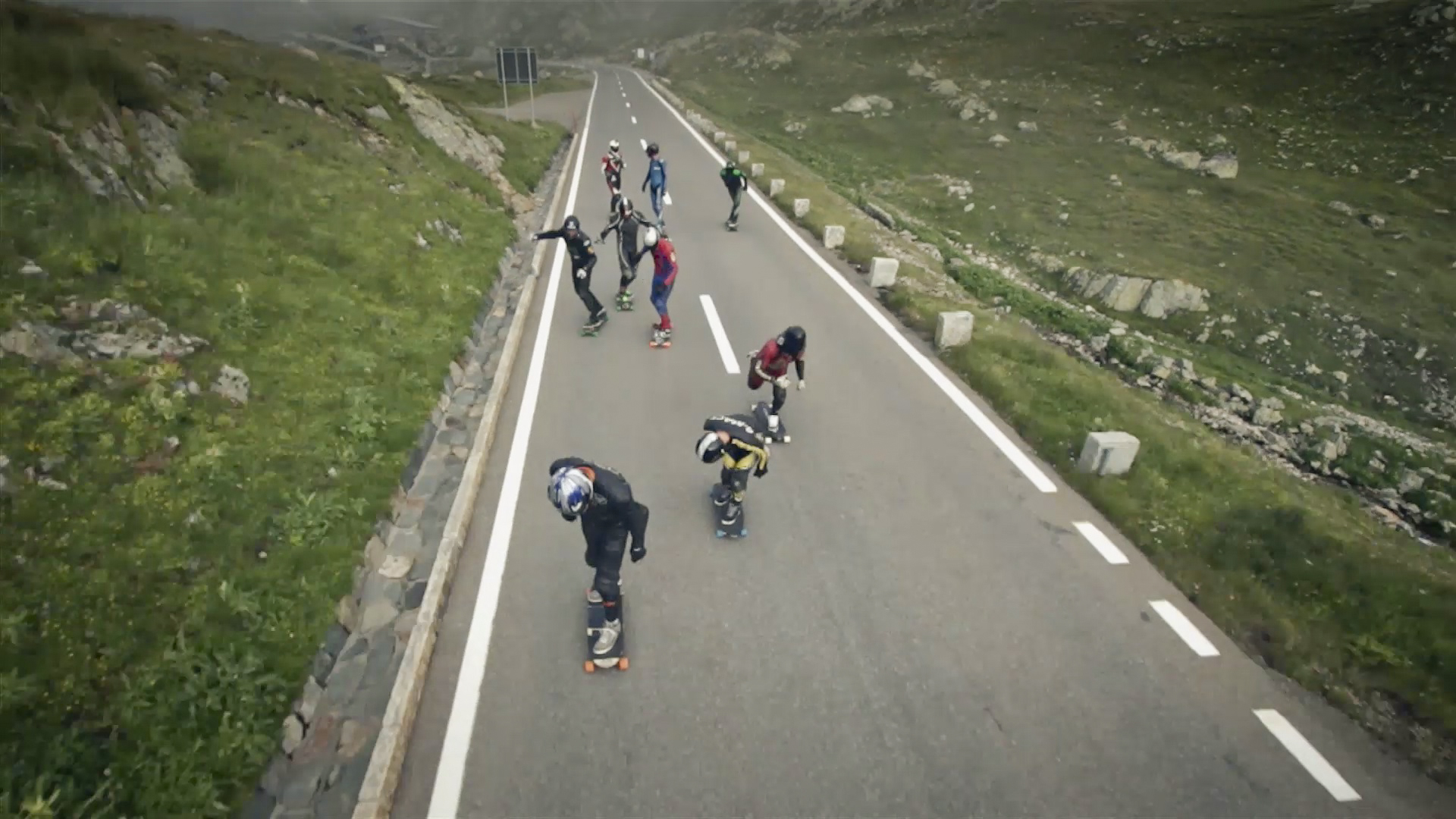 The full crew taking off – 28km of gnarly mountain pass ahead of them
How epic are those mountain passes?
R: Plain facts are:
length: 28km / 26km

altitude: 2224m / 2165m

ø incline: 5.7% / 5.9%
# hairpins: 12 / 9
max. speed: 90km/h / 100km/h
smooth pavement, stunning scenery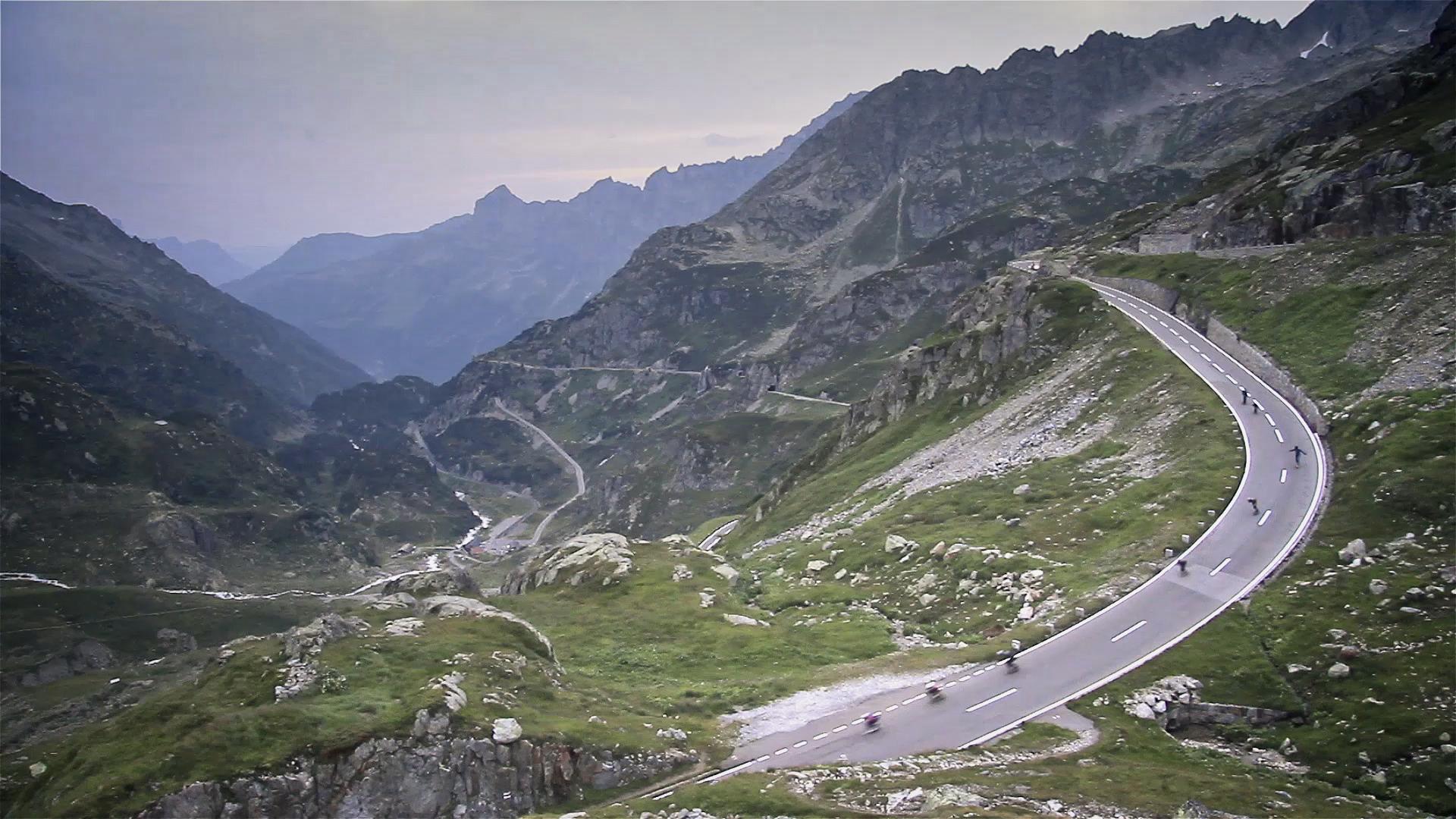 Epic view across the valley – The riders hit up to 90km/h in this top section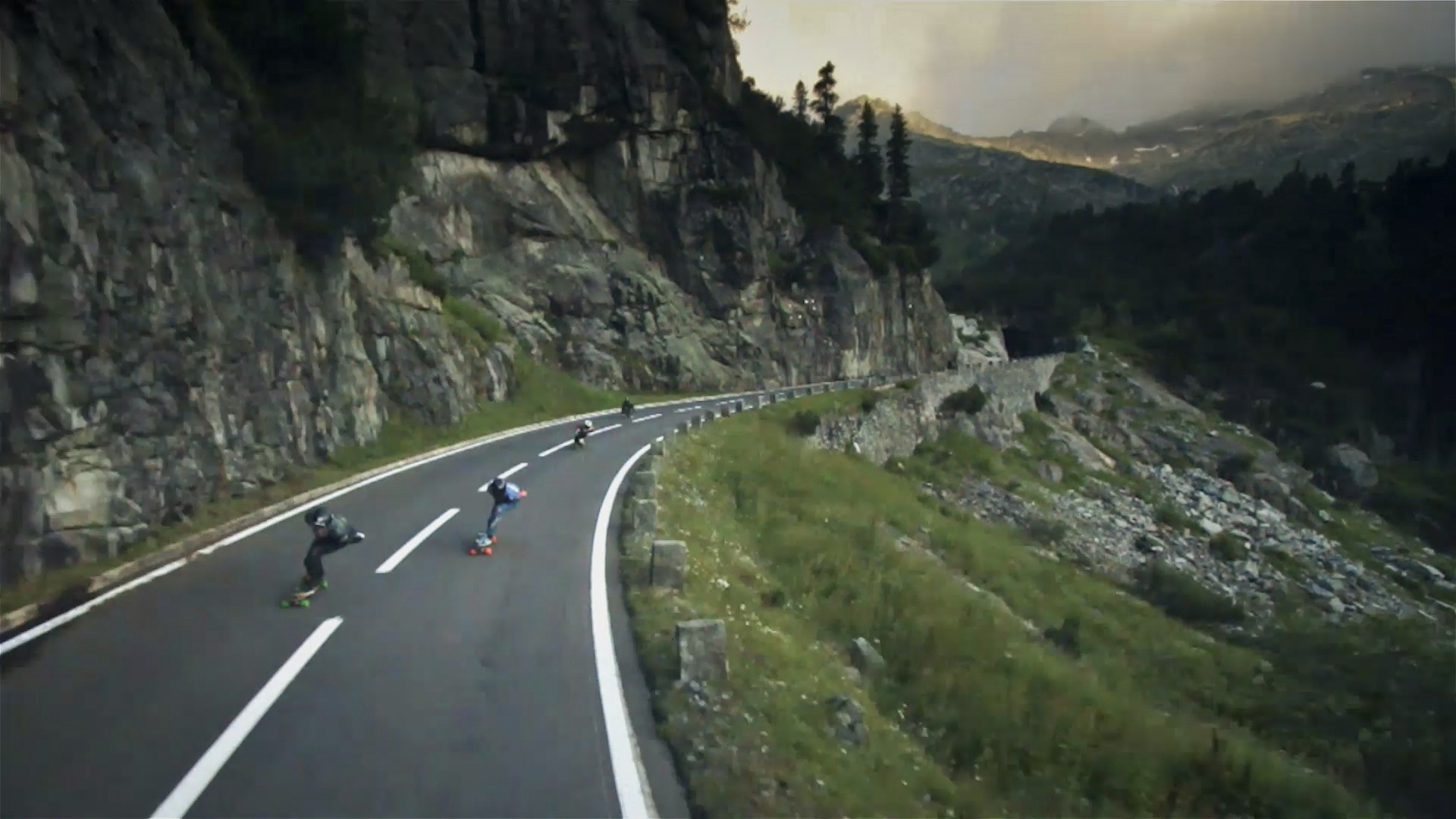 The technical sweeping bottom section features super smooth asphalt – Ramón and Patrick flying behind the moovie car
How did the wrist watch affect Patrick's life?
R: I just skyped with Patrick today and found out he's full on becoming a Swiss being on time and all.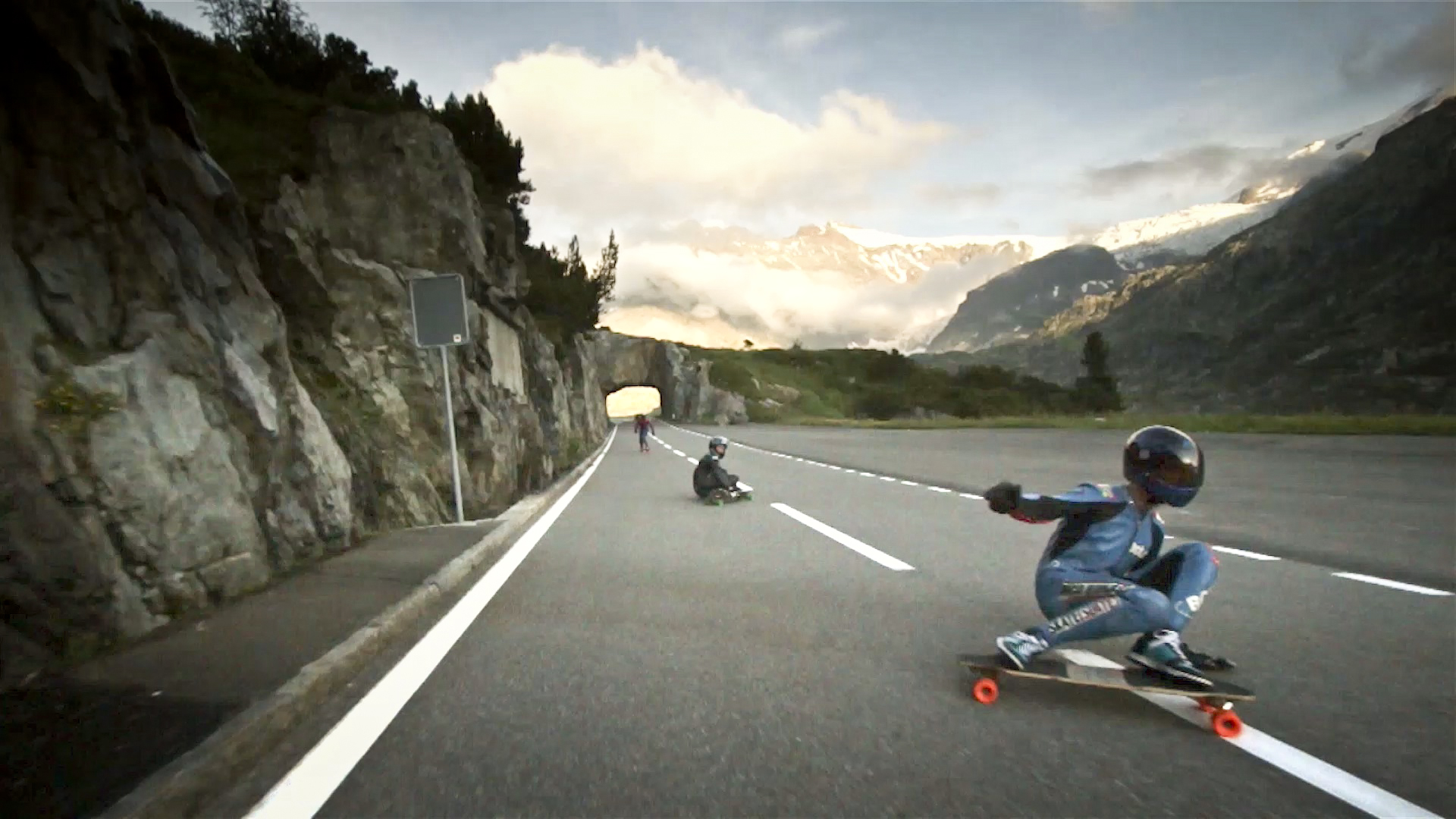 Patrick Switzer leading Ramón and the rest of the group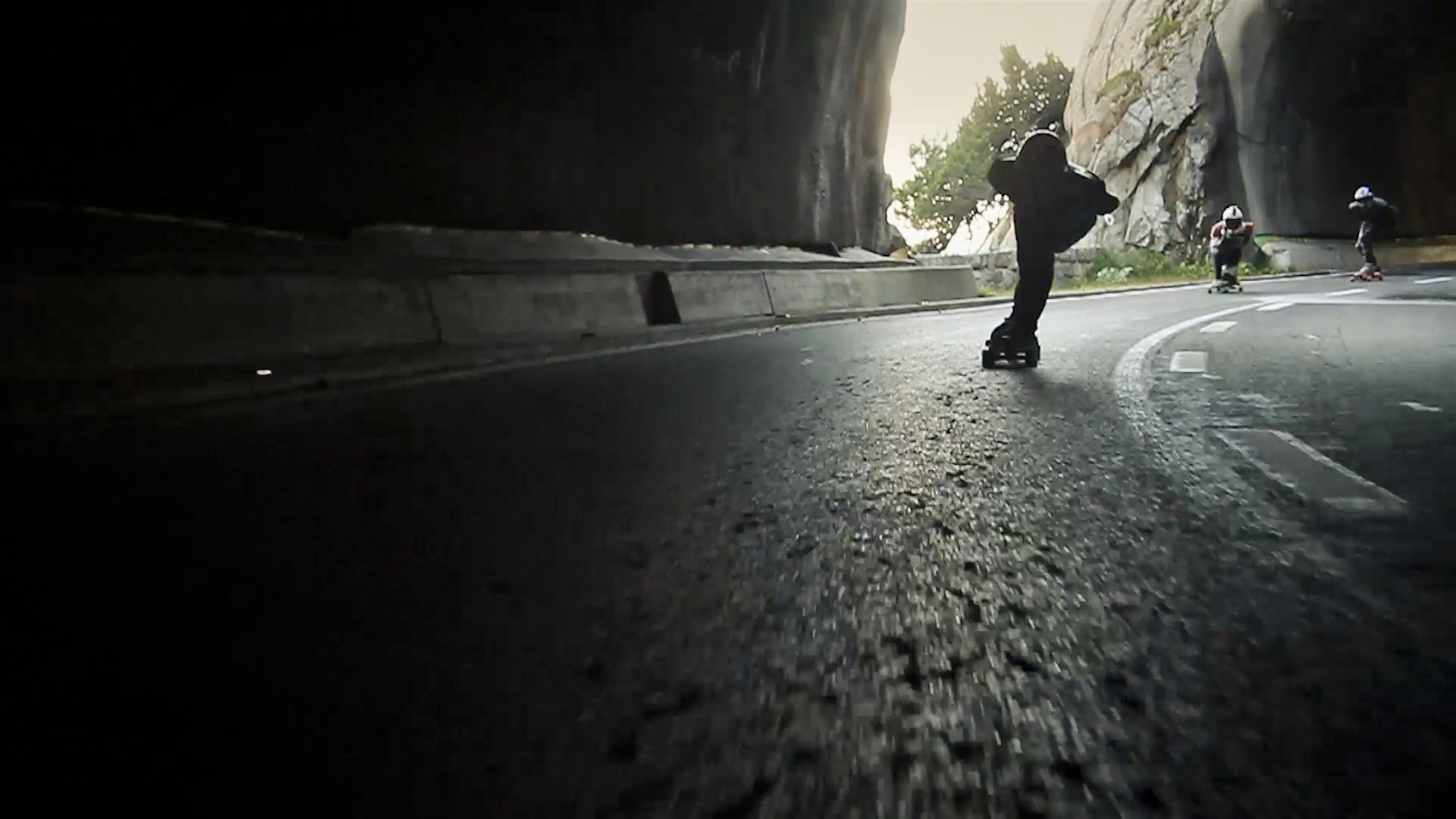 Ramón entering a tunnel in full tuck behind the moovie car.
What happened with James Kelly in EP 2?
R: We were shooting on the 28km long mountain pass just before sunset and got a late call on the radios (that were built in our helmets) of an upcoming car. Patrick, James and I were running tight toghether but James was closer to the middle of the road and had to do an emergency move into a gravel driveway on the lefthand side of the road. James acted very professionally and it was the only right thing to do, yet we were all upset this could even have happened so we all got a little emotional there.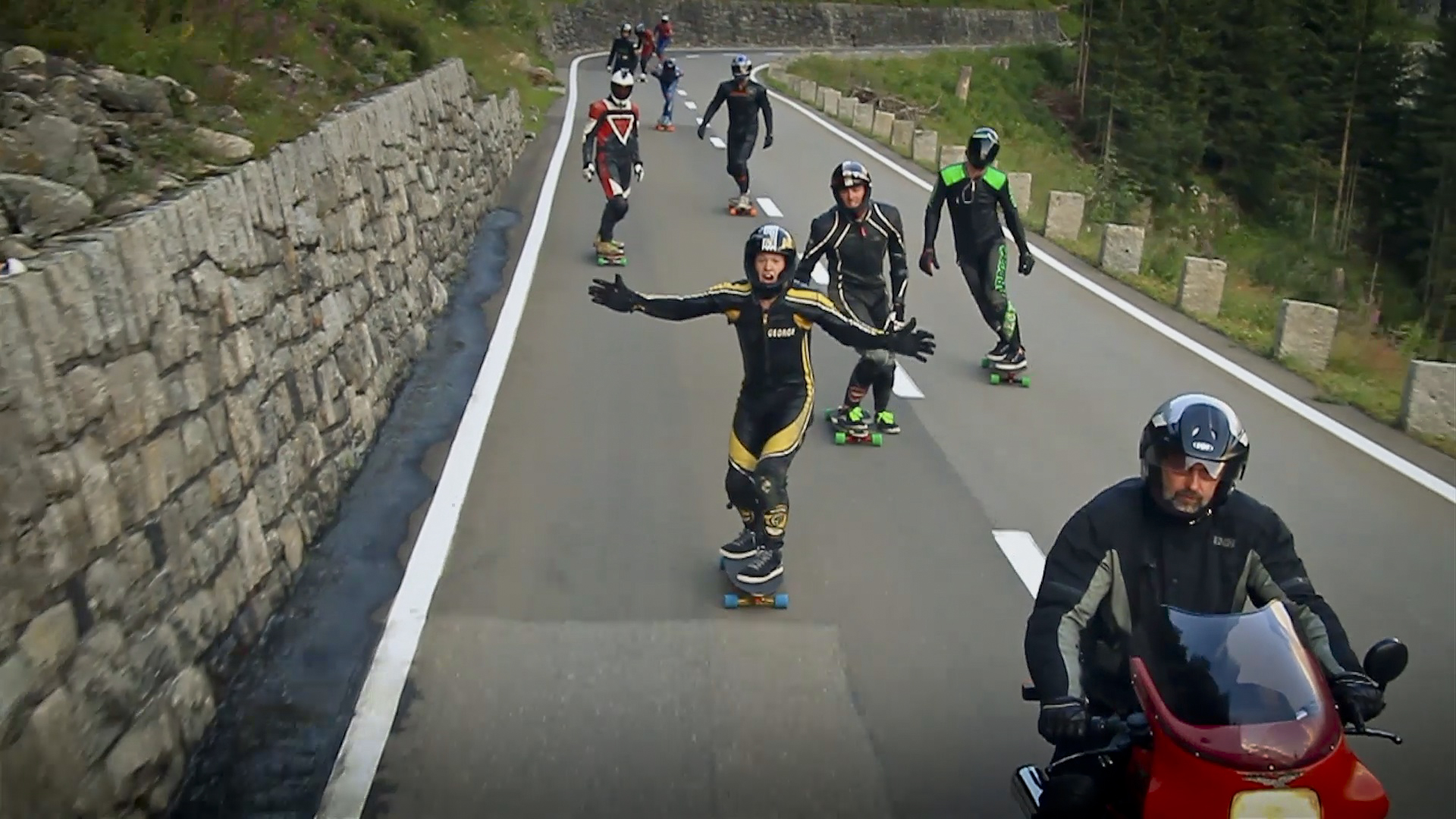 This guy seems like he wanted to take advantage of the presence of the moovie car – George Mackenzie seems not so stoked about him…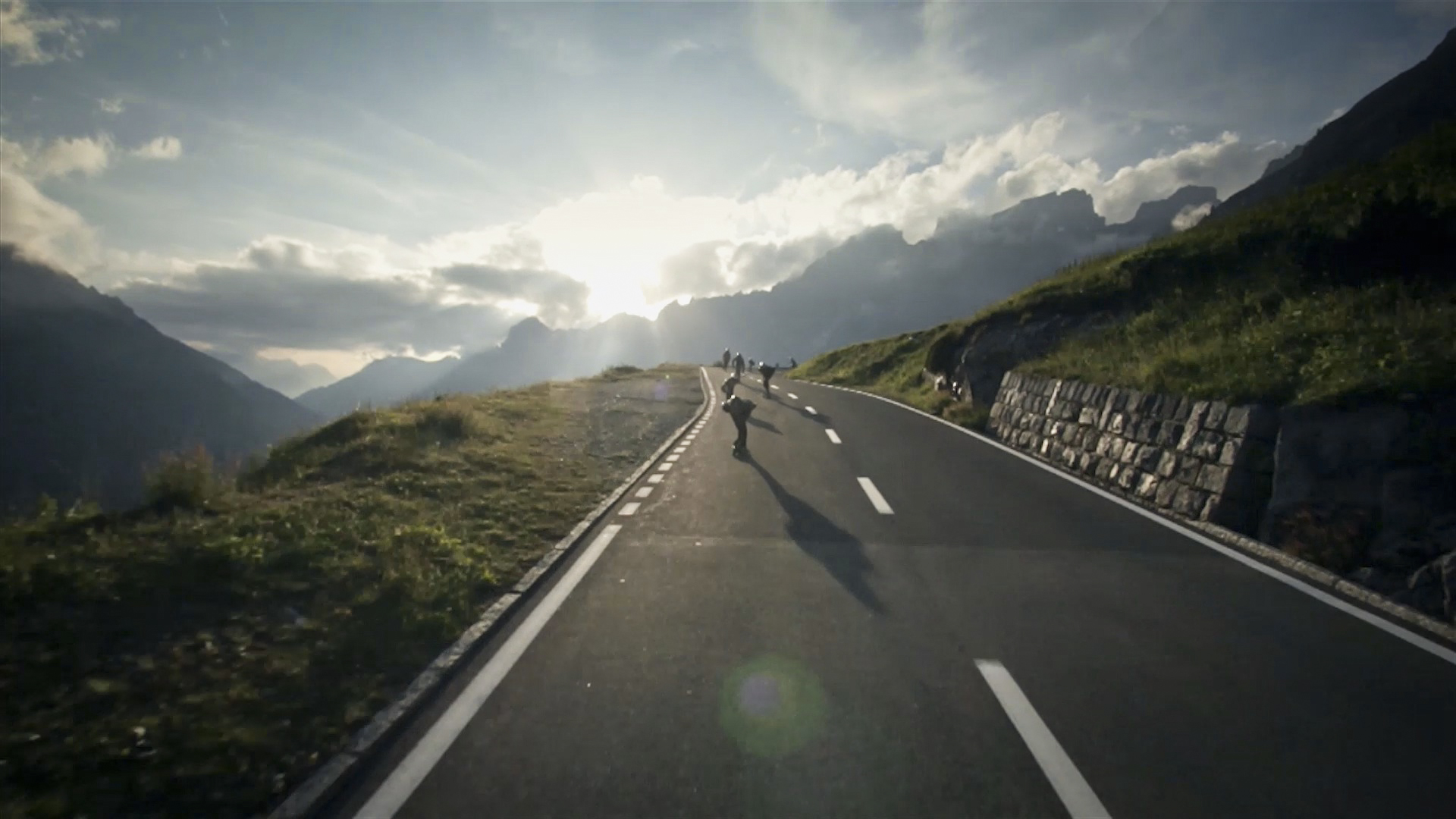 Many of the shots we had to get right after the sunrise or just before sunset.
Did you break any camera equipment?
R: Apart from the octocopter that crash landed (you can see some of it in the trailer), Patrick dropped a 550D (at the end of EP 2) that was instantly declared "dedicated crash cam"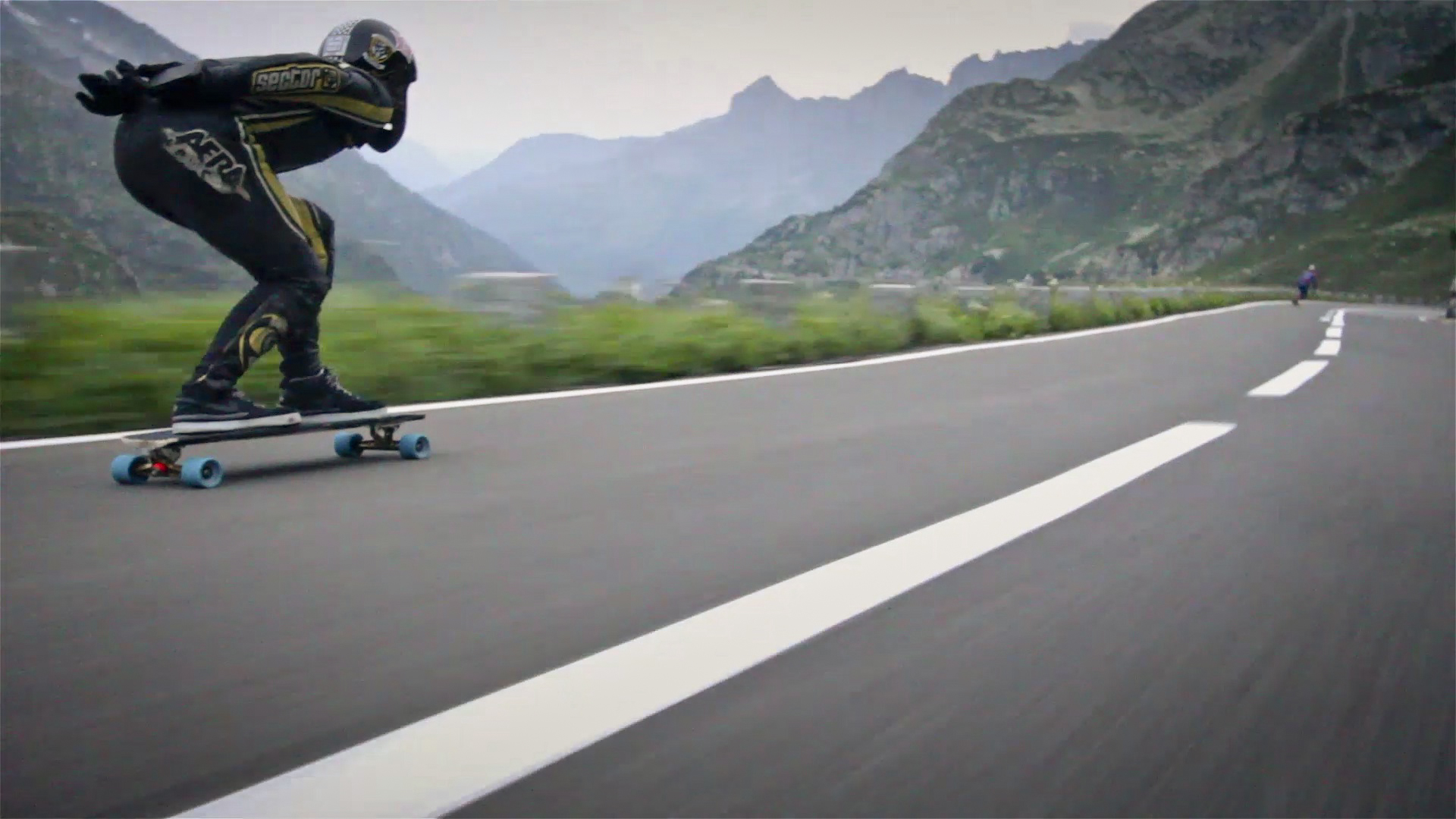 Handheld shot of George Mackenzie flying down the fastest part of the mountain pass at 90km/h – Patrick later on drops the camera
Since this episode is about equipment, what do you ride?
R: I'm riding an Airflow Bracket, the new topmount that will come out in 2012, 160mm GOG Trucks, ABEC 11 ZigZags 78A and FAT ANT Bushings. I use Moon Pucks to make my standups longer and Risch Aerohelmets to protect my head.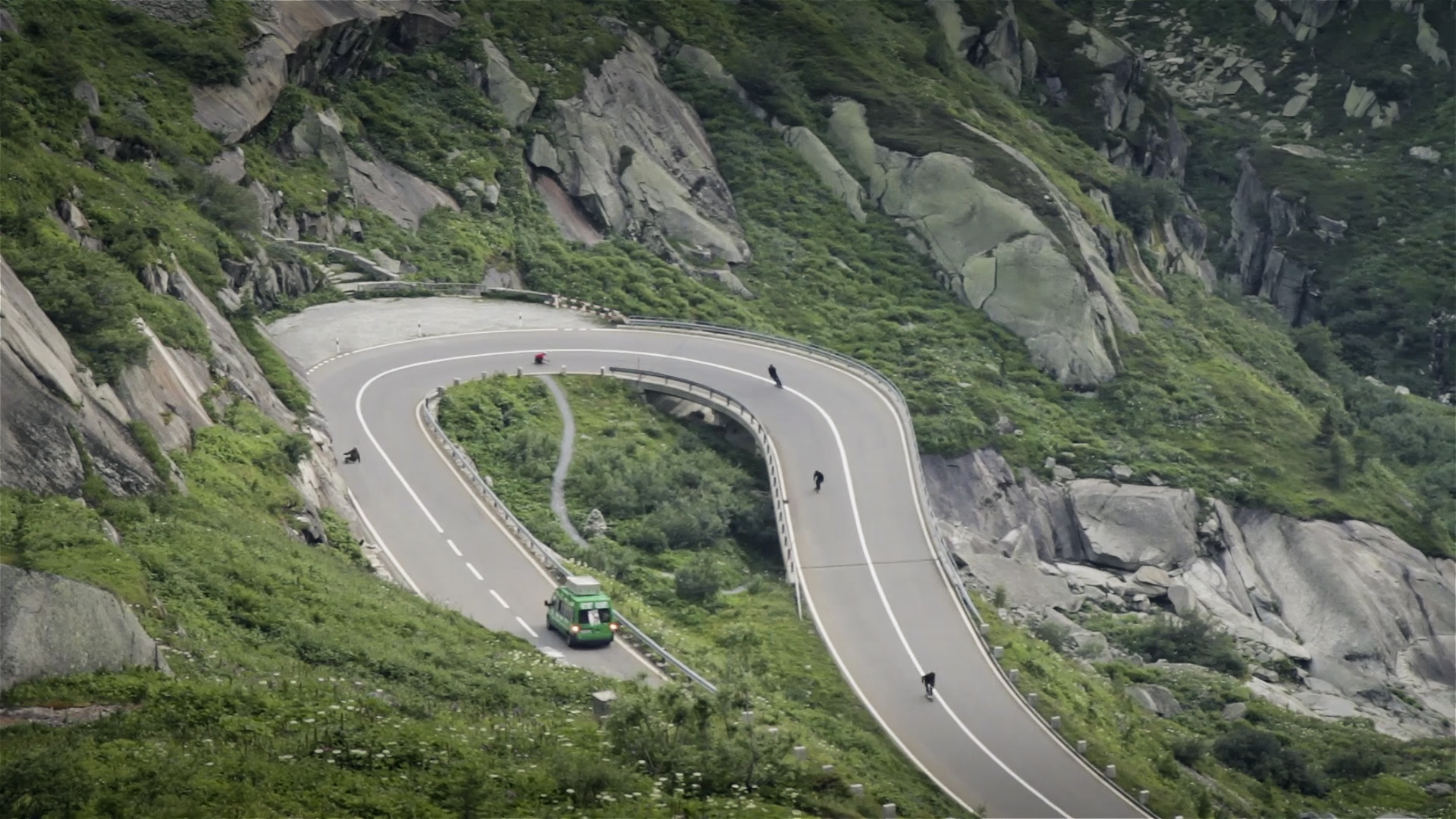 If there's not enough room to built a full hairpin the Swiss just add a bridge
What's gonna happen in the next episode?
R: Well obviously something with the police involved…and freeriding of course!

EP3 Freeride coming on November 29th.

Producer: Patrick Switzer
Director: Vit Hasek, 3Heads Production

http://www.skategreenerpastures.com
http://www.facebook.com/skategreenerpastures
Follow Ramón on Facebook!
https://www.facebook.com/#!/pages/Ramón-Königshausen/

PS: no that's not a hickie on my Ramón's neck!

GP Episode 1
Greener Pastures Episode 1: Travelling – Featuring team rider Ramón Königshausen
Greener Pastures EP1 gives us an introduction of the crew and their experiences they've made during Greener Pastures. Main topics in this episode are: Traveling, Food, Swiss Roads, and getting up early!
View with the glacier across the valley of one of Switzerland most epic mountain passes
Downhill skateboarding gives us the unique opportunity to search out our next skate location in some of the most unique and extreme places in the world. Be it in our own town, country or making our way slowly uncovering the globe to embrace each opportunity to hone our skills.
The skate-van on its way to the next spot.

This small country of Switzerland offers countless diverse challenges within a relatively short drive. During the filming of Greener Pastures we covered one thousand kilometres traveling to each of the ten locations (not including skating) over thirteen days before making our way to Kozakov the first European IGSA World Cup race in Czech Republic.
Cozy little place with a huge drop on the flipside…

In many cases traveling becomes more the adventure than skating, when in search of our next campsite, meal or stunning view. "The van" becomes a place of refuge which all skaters can relate to.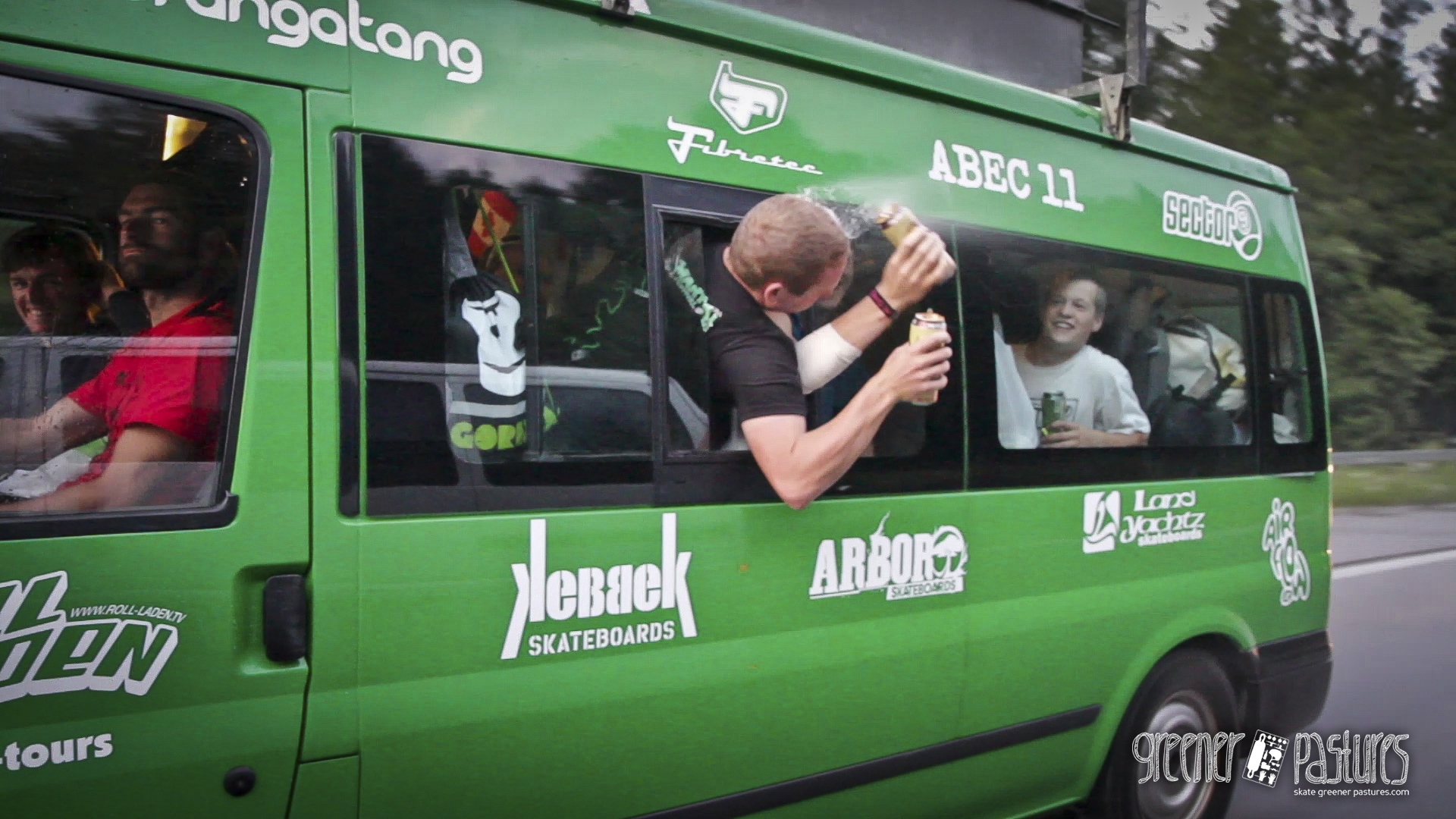 The crew having a great time on the van!

In Greener Pastures a magic wheel is used to create a metaphor for how each of us are connected. No matter who we ride for, what we ride, or how we ride it we are all brought together for a common passion.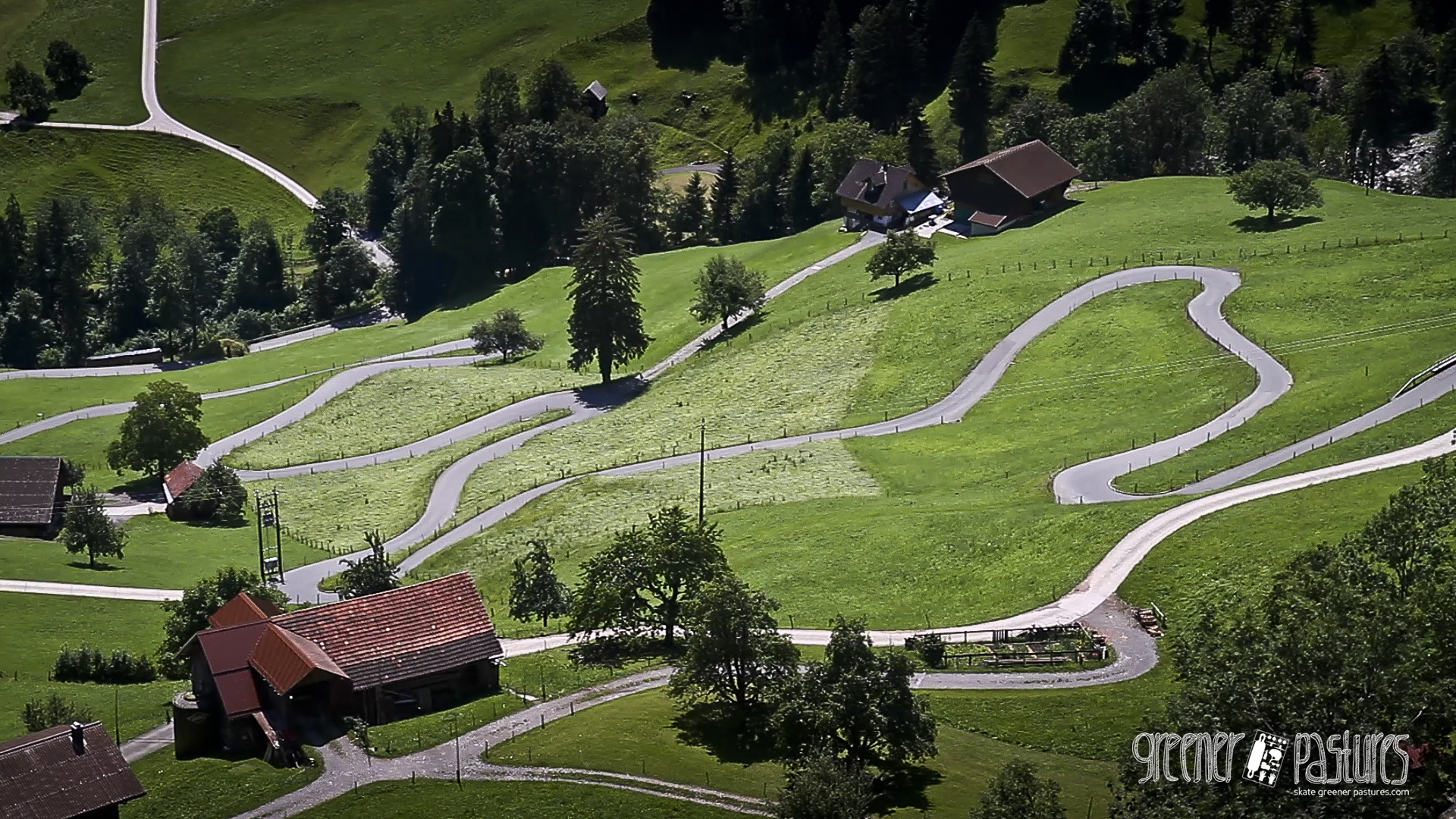 Yes: this is real!


Producer: Patrick Switzer
Director: Vit Hasek, 3Heads Production

http://www.skategreenerpastures.com
http://www.facebook.com/skategreenerpastures

More info: www.skategreenerpastures.com

Greener Pastures
"Greener Pastures" film series is hosted in Switzerland which encompasses a great diversity of landscapes offering an abundance of opportunity for places to film and explore.
The purpose of "Greener Pastures" is to expose some of the best skating with some of the best riders on earth in a high quality production. It is clear that longboarding has become an individual entity, distinct from other sports while still being connected to them. It is this new and vibrant identity that "Greener Pastures" looks to communicate to its viewers. But unlike other skateboard and longboard videos, "Greener Pastures" will represent all companies together, presented in an unbiased fashion. It is this type of unity that will allow for an uninhibited cooperation between riders. It is this sense of community and cooperation that is at the heart of the contemporary longboarding identity.
Produced by Patrick Switzer
Directed by 3heads Production
Shot on Canon EOS (7D, 60D, 550D)
-------------
Ramón's quick summary:
We all gathered at my place July 6th, the day I returned victorious from Maryhill and hit the road the next day right when a crazy hail storm came down to ruin all my grandparents' fruit in the backyard.

It was't the only storm we had to outlive on the two weeks trip; unfortunately some of the bad weather caused some delay but we tried not to struggle and stick to our schedule (as far as P-Swiss time goes). Samy and I were in charge of getting everyone where they needed to be…in time!
For me – and also Yvon – Greener Pastures was the chance to be starring in front of the camera for a change. Nevertheless, from time to time we couldn't hold ourselves back and contributed a few shots to the 3heads. (Yvon was mainly taking time lapse or running the rope cam.)
The episodes will be lauched by early October through our YouTube channel.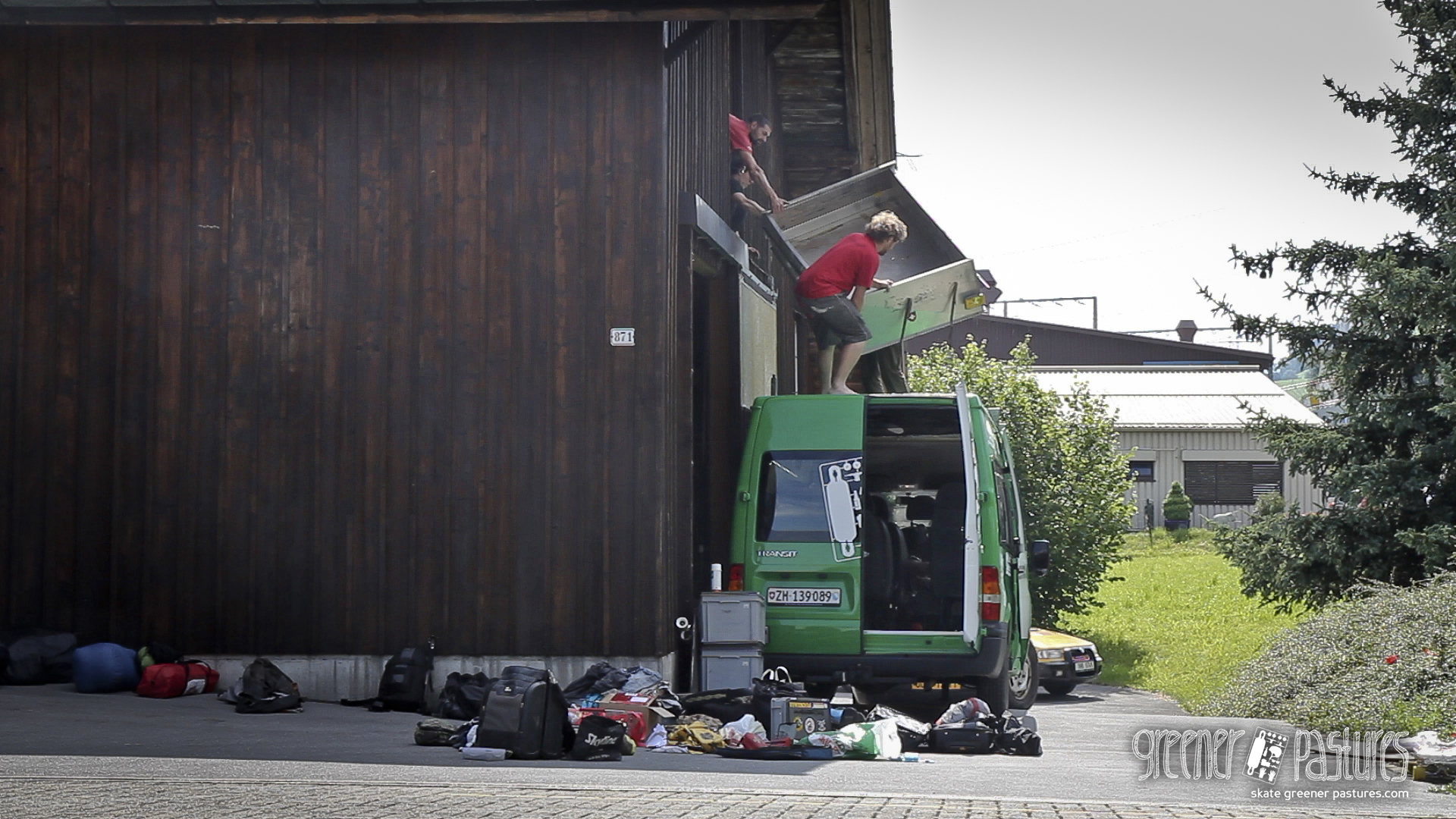 Glad I stored this big a** roof box in my barn all winter long!
All logos were designed by Tamara Prader.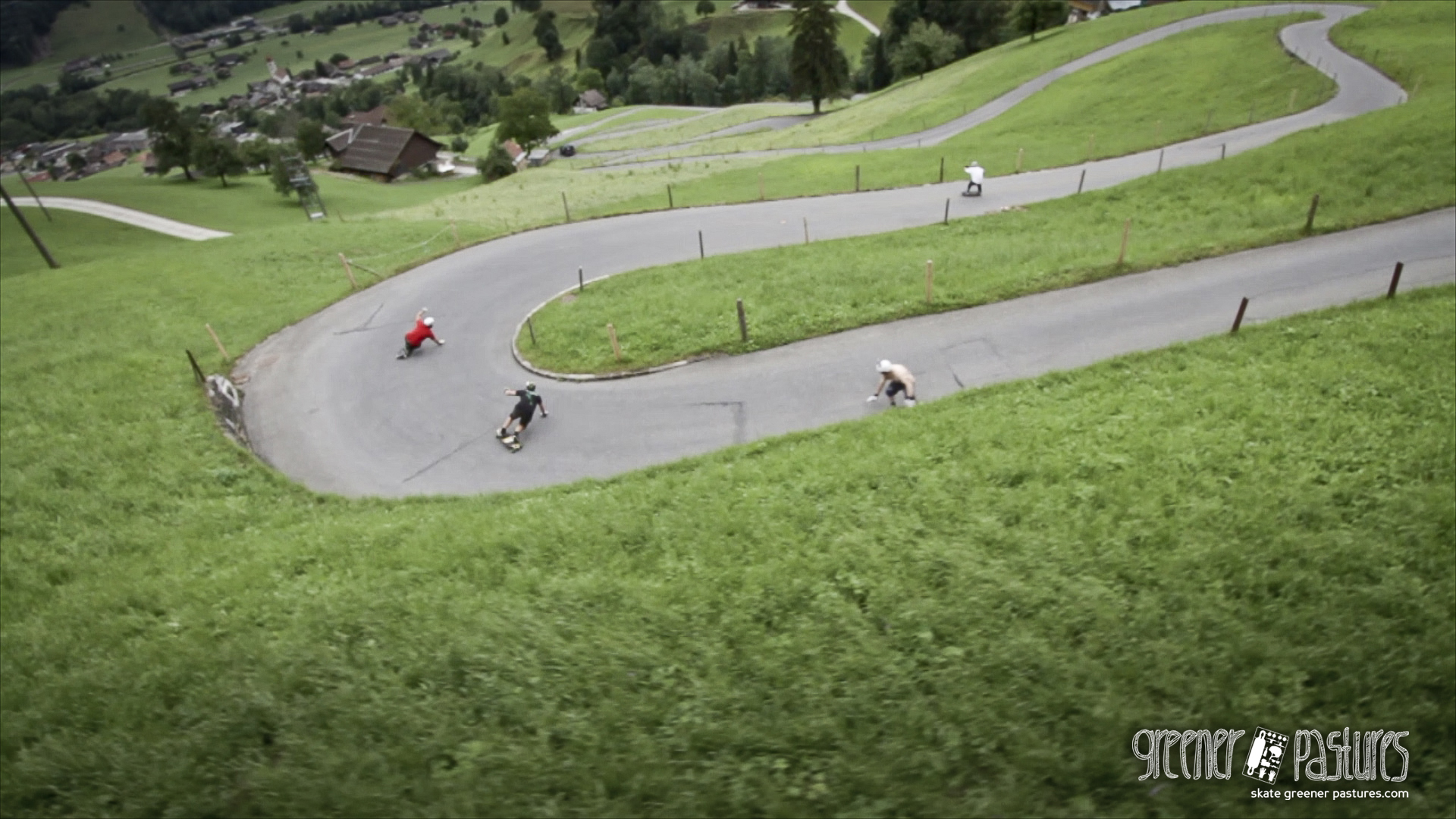 The bottom part of this spot features 8 consecutive hairpins and a gondola to the top.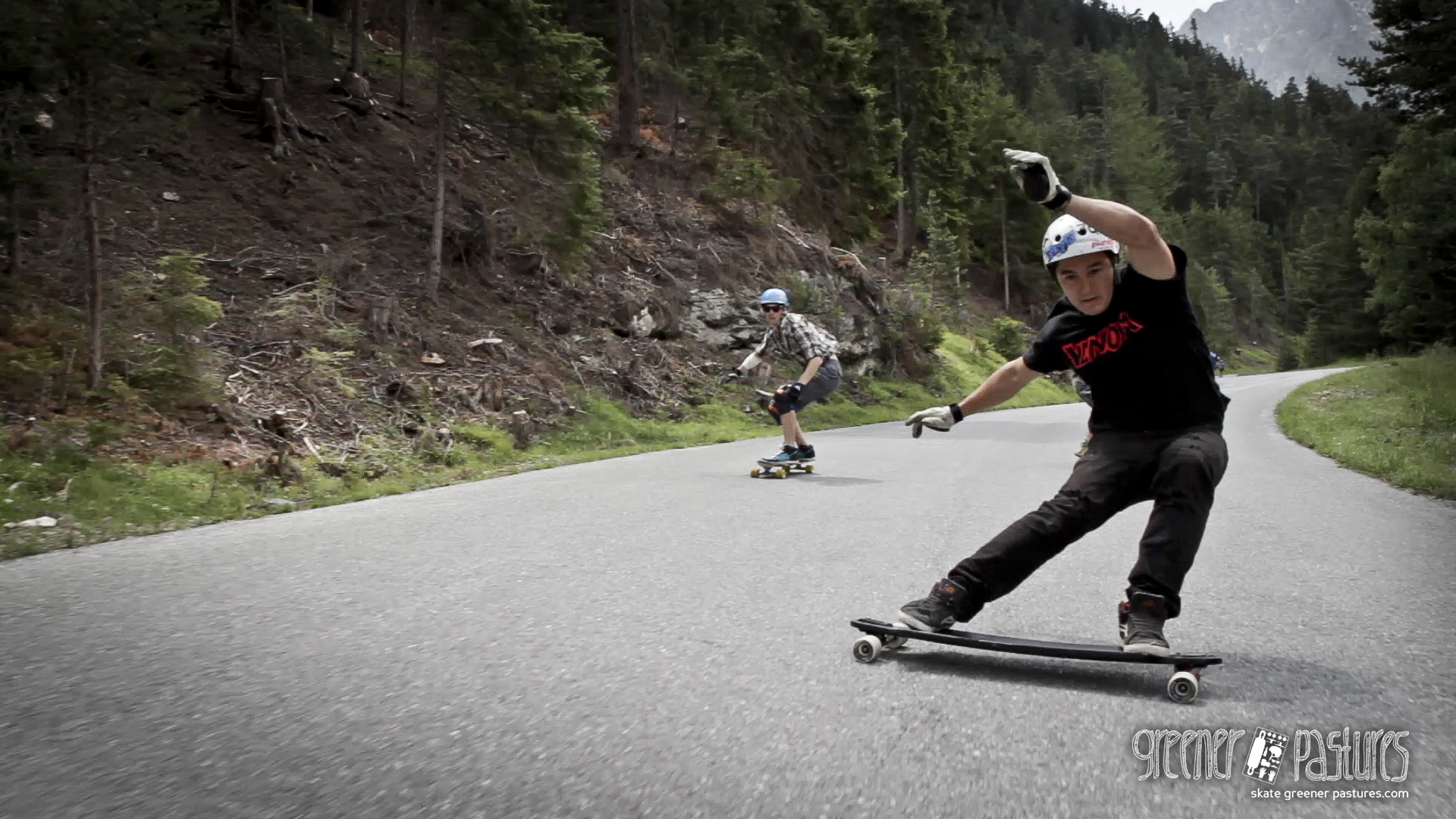 Kyle Martin from Canada busts a phat heelside standup on a wide open spot.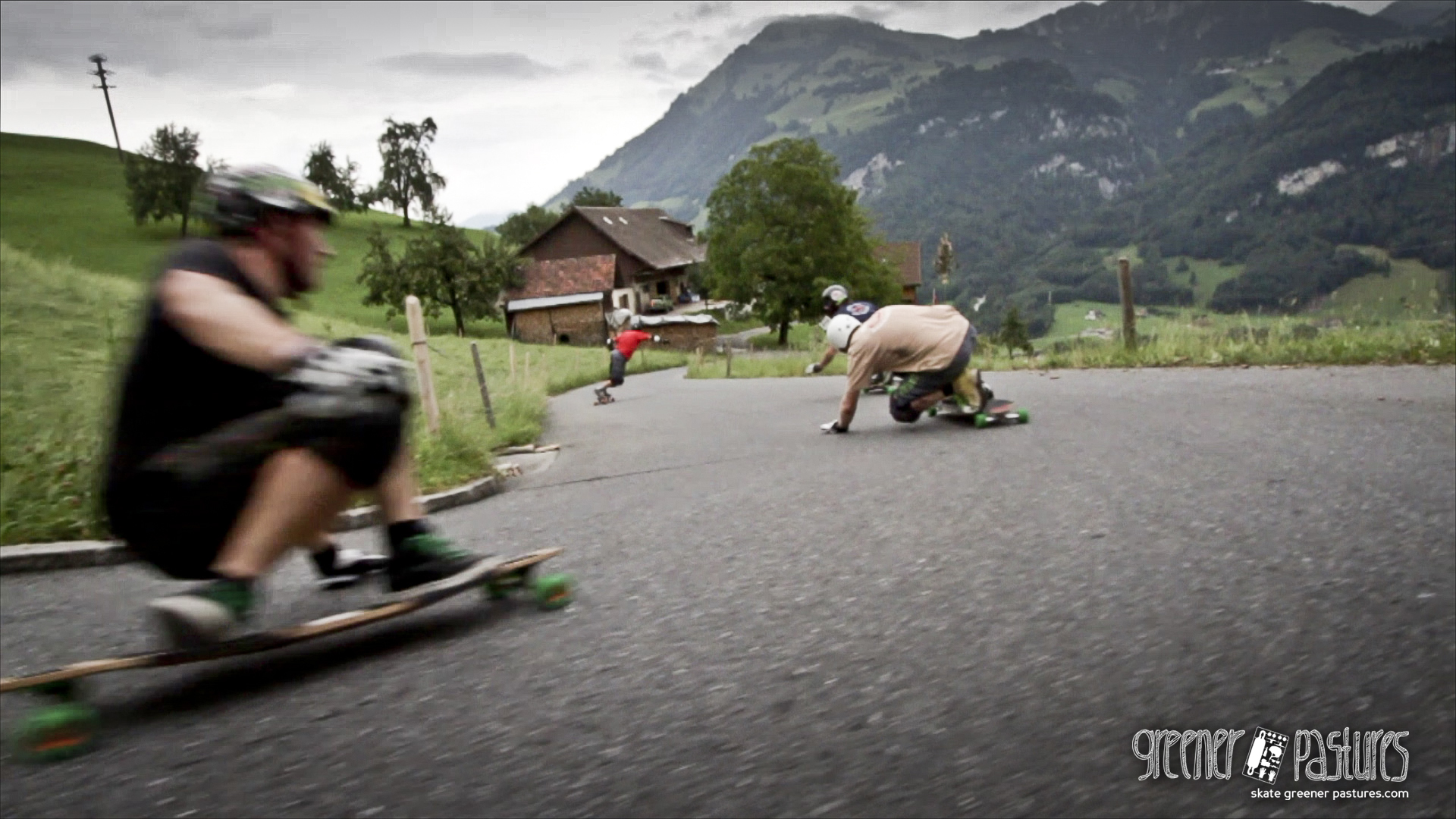 Team rider Ramón in full enjoyment of the 8 consecutive hairpins.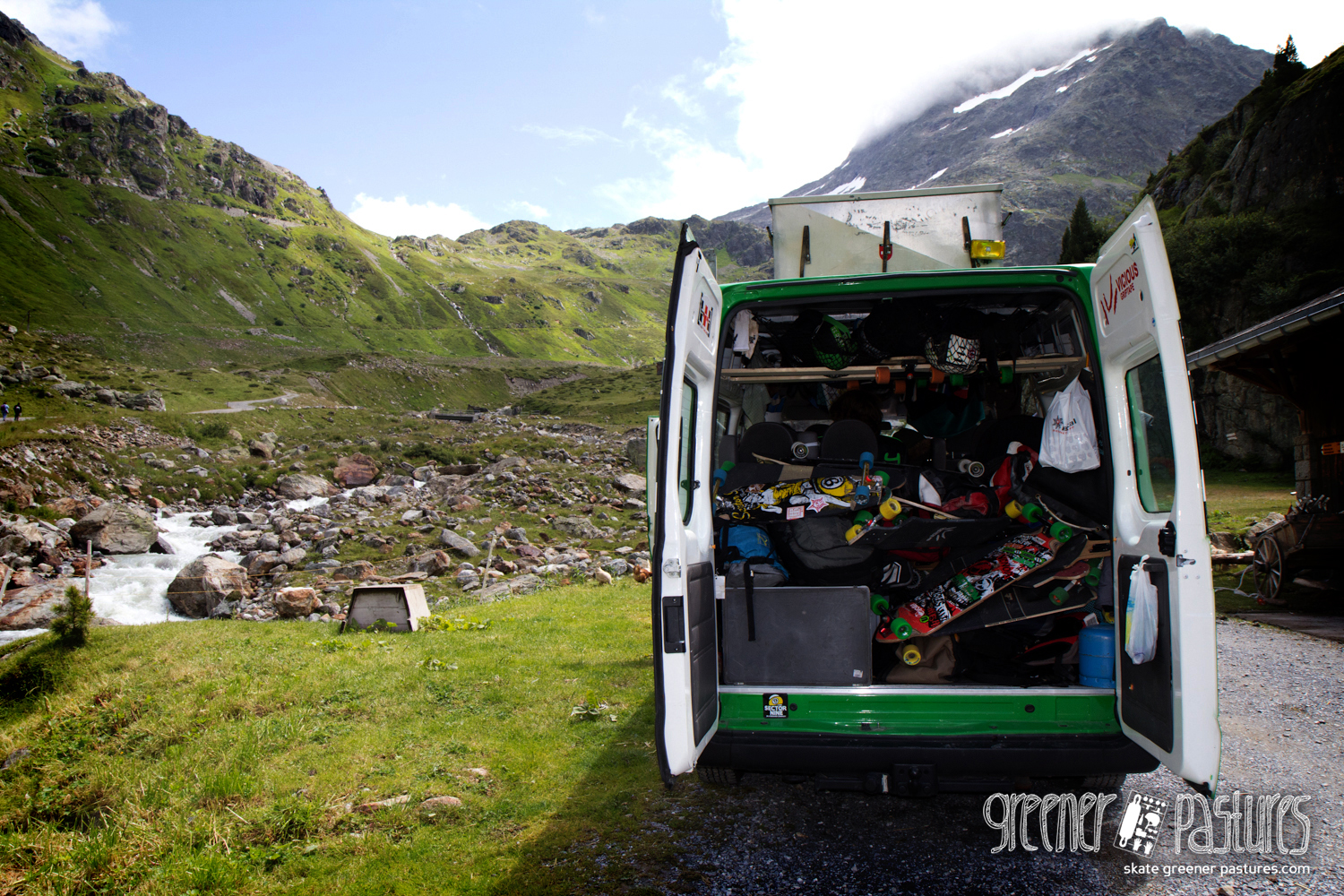 Roll-Laden Skatetours Van – Seats for 15 people!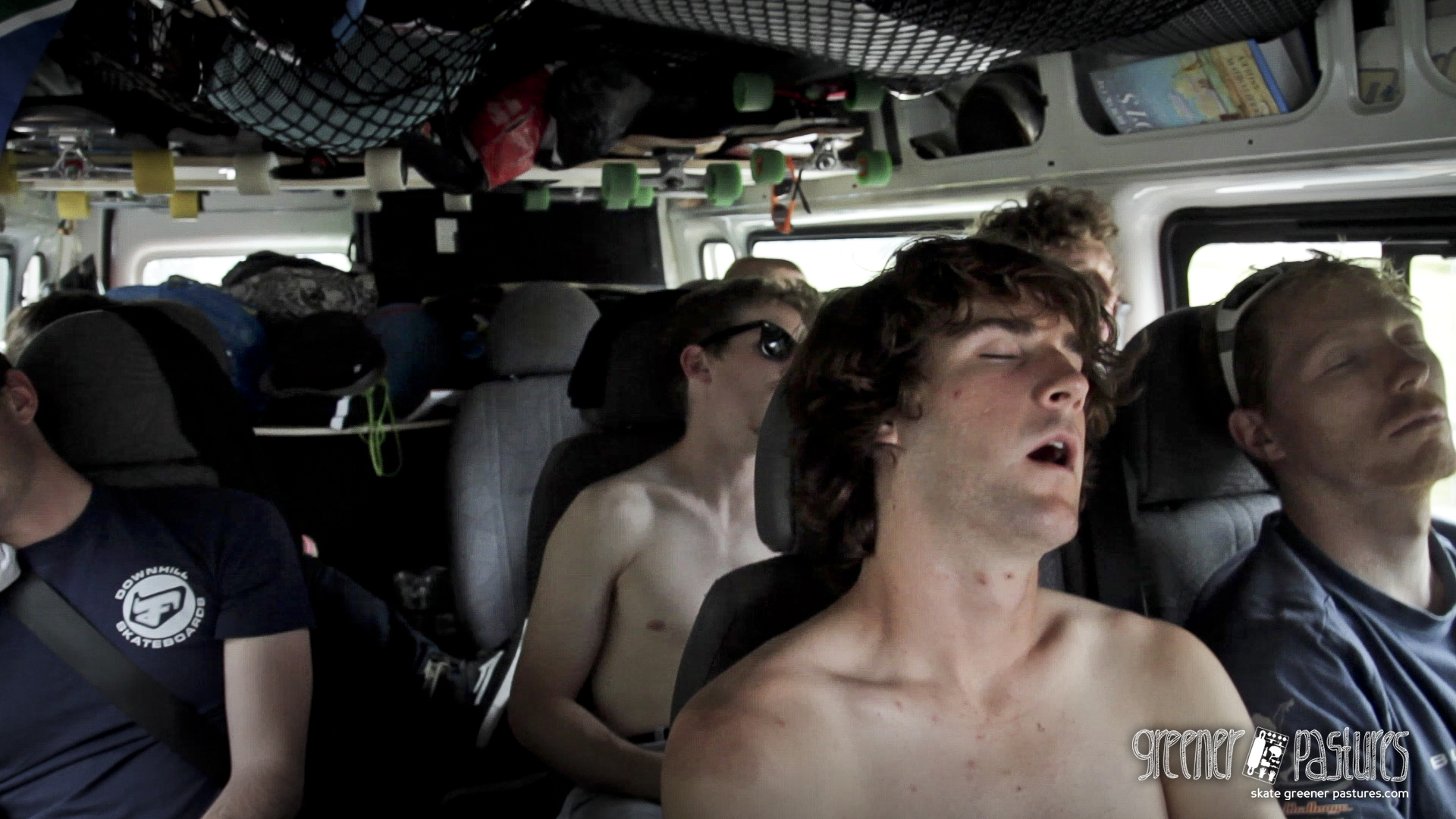 2 week-long Skatetrips are exhausting!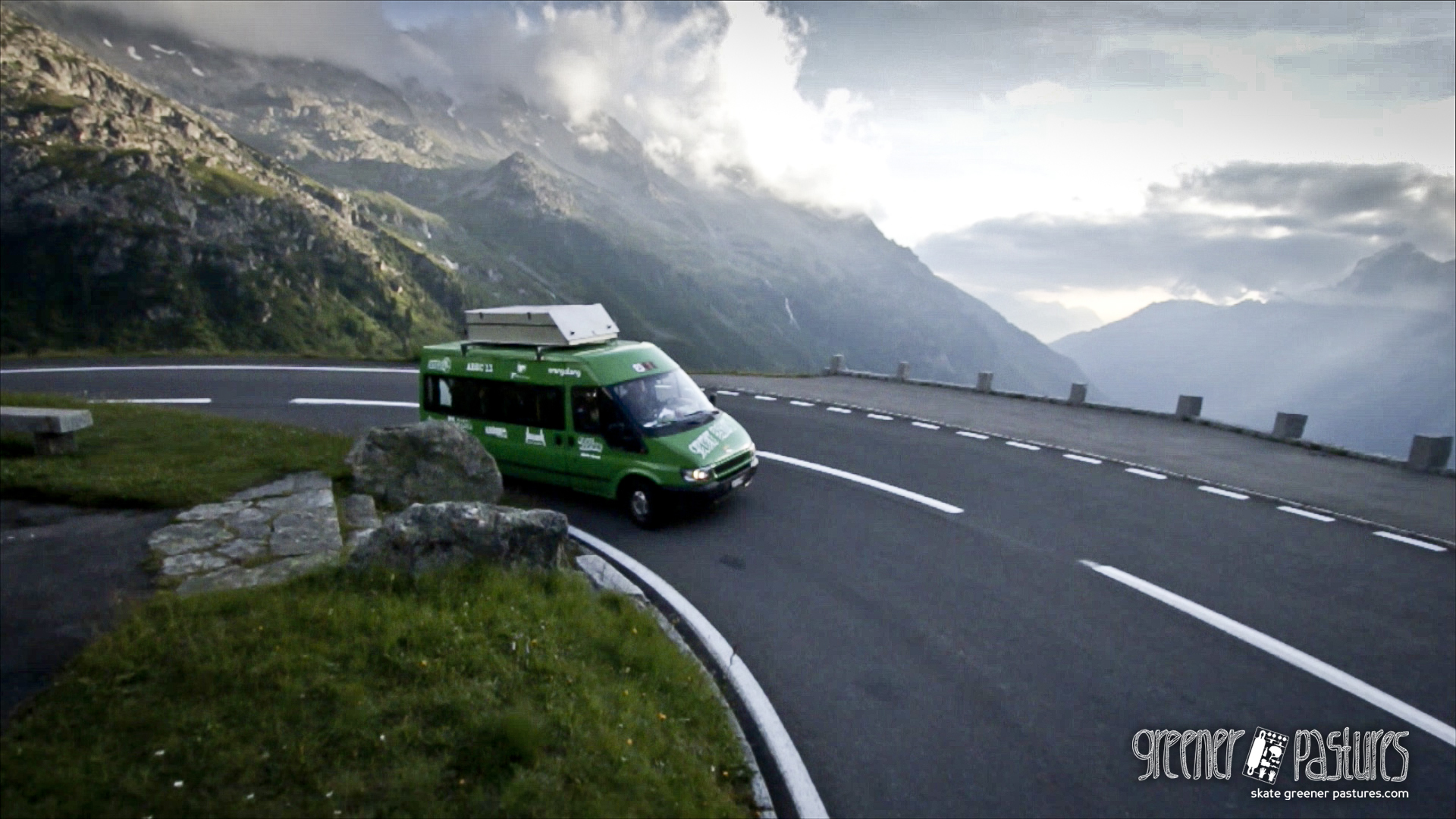 That day the wheather cleared up just in time for some evening runs down a big mountain pass.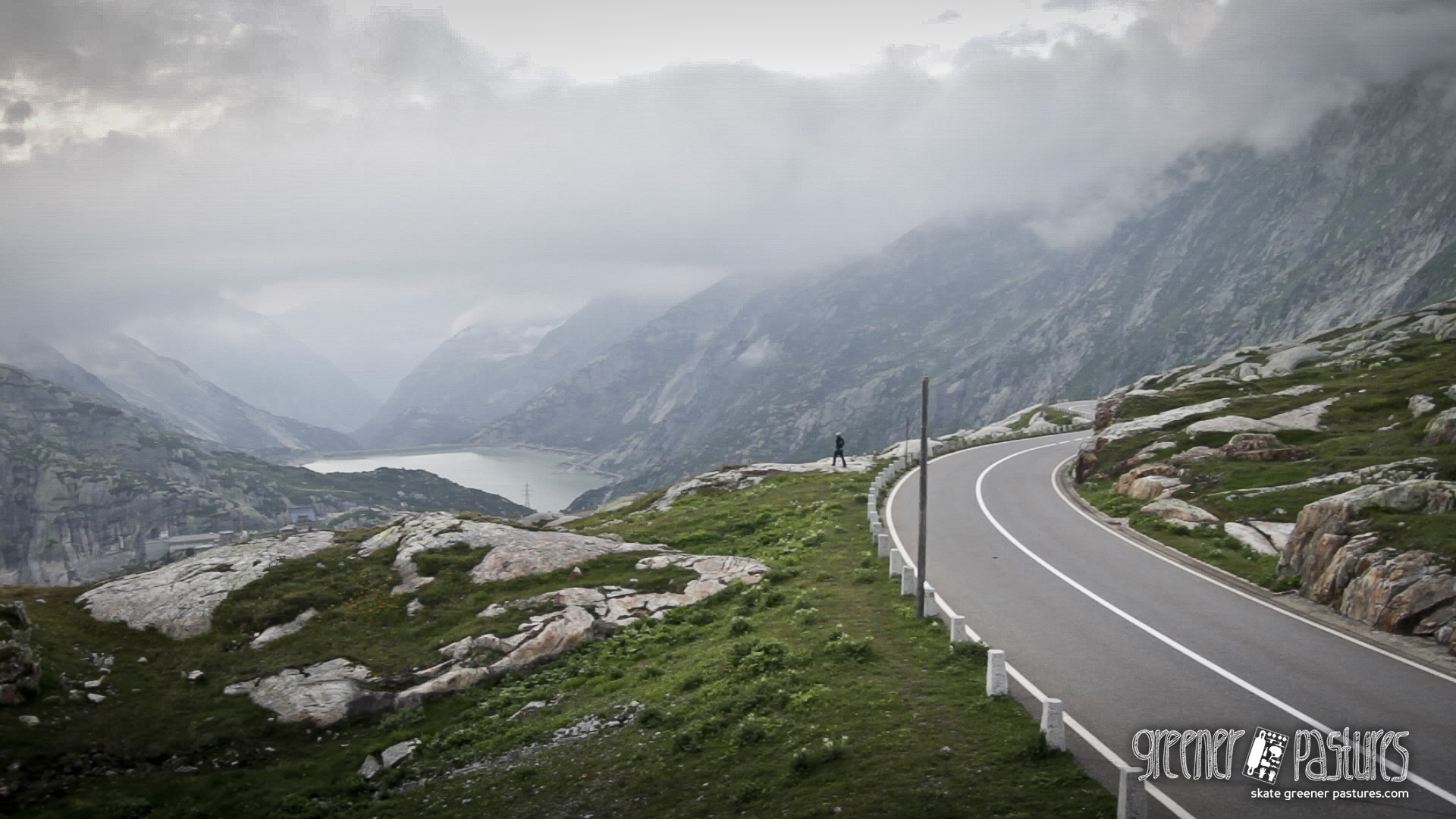 Another epic mountain range – To be explored by Matt Arderne from South Africa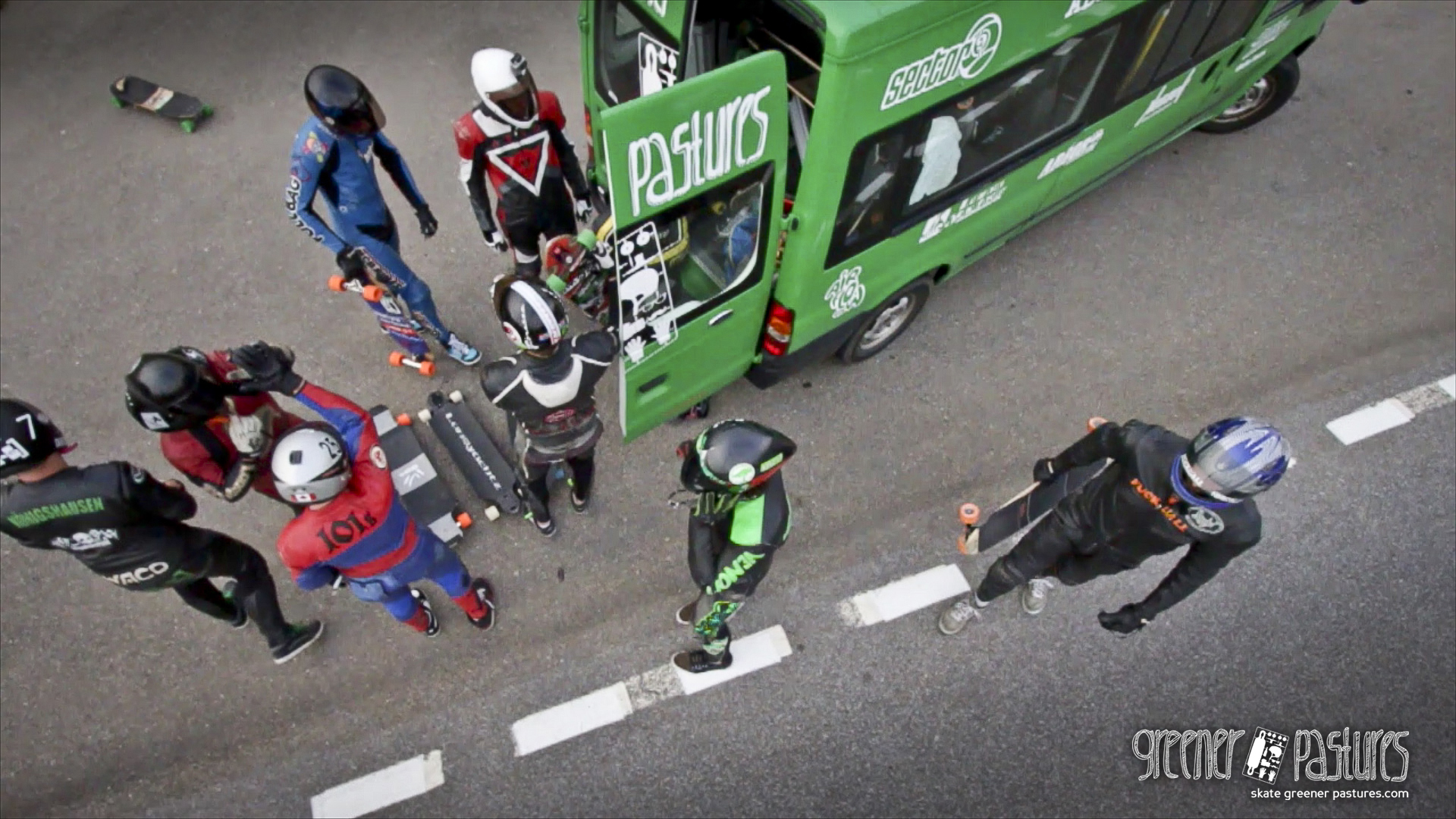 Ready to strike!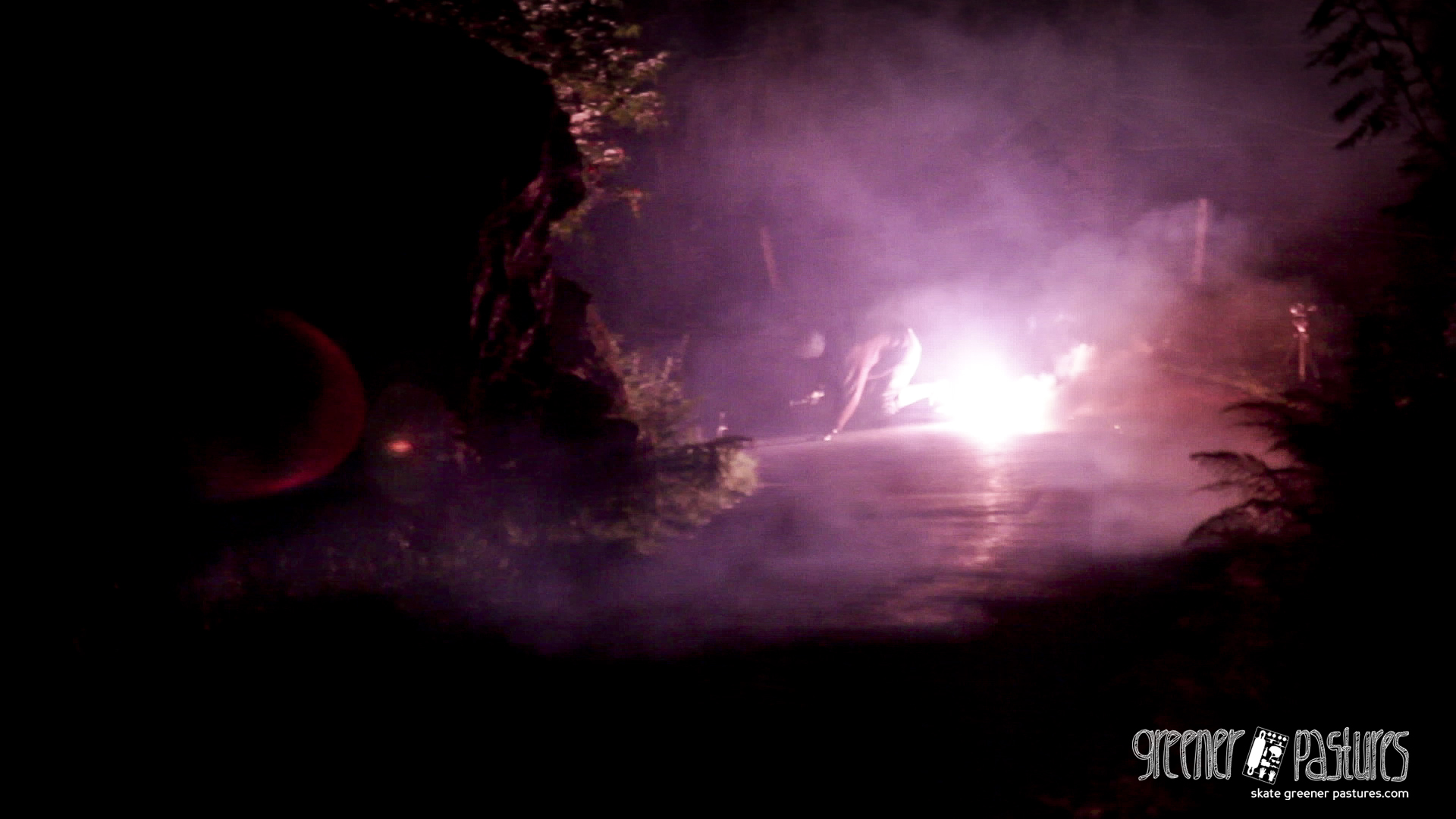 Those night time runs with the flares were epically experimental!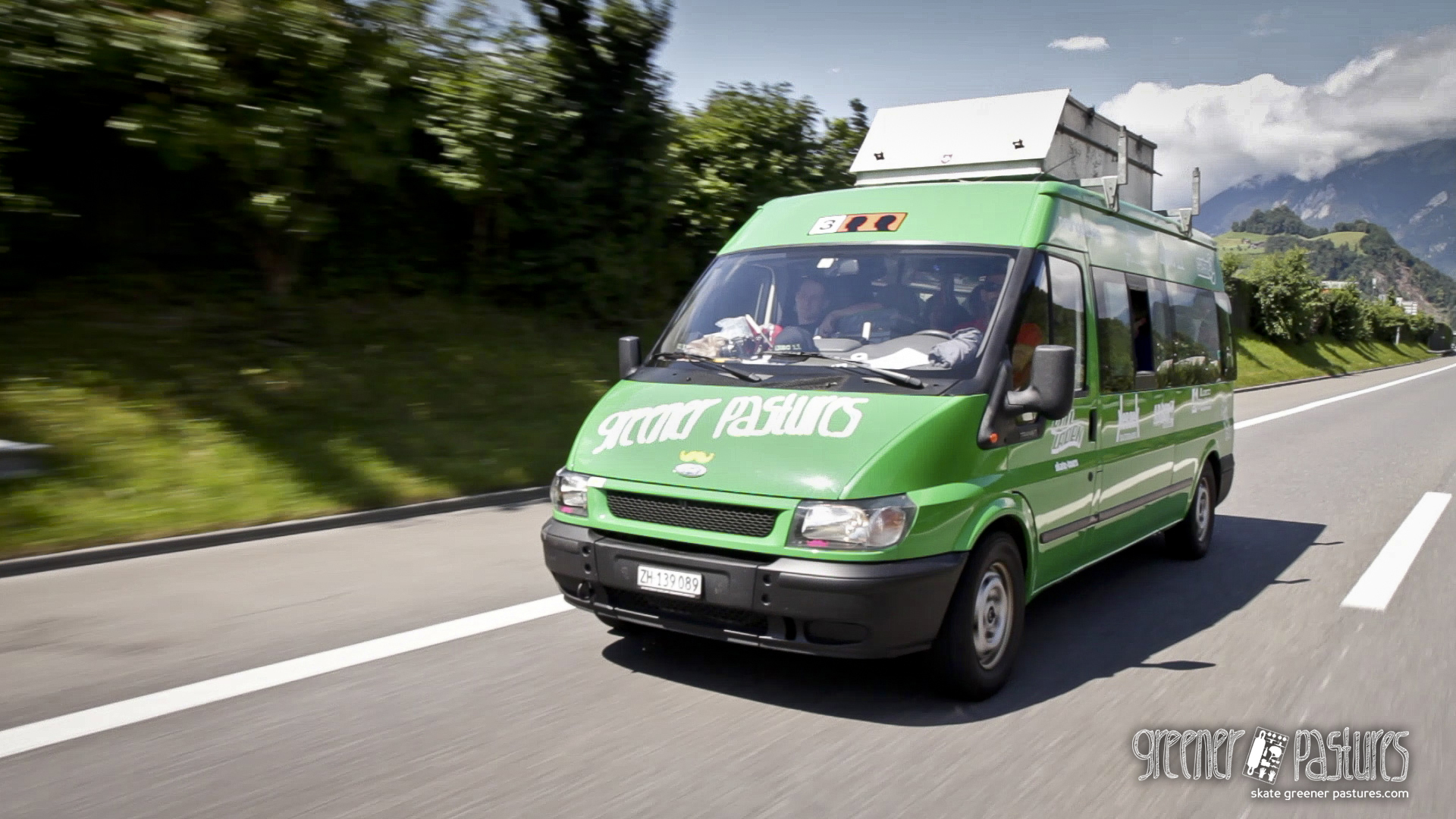 Yes, we did spend quite some time on the road IN this vehicle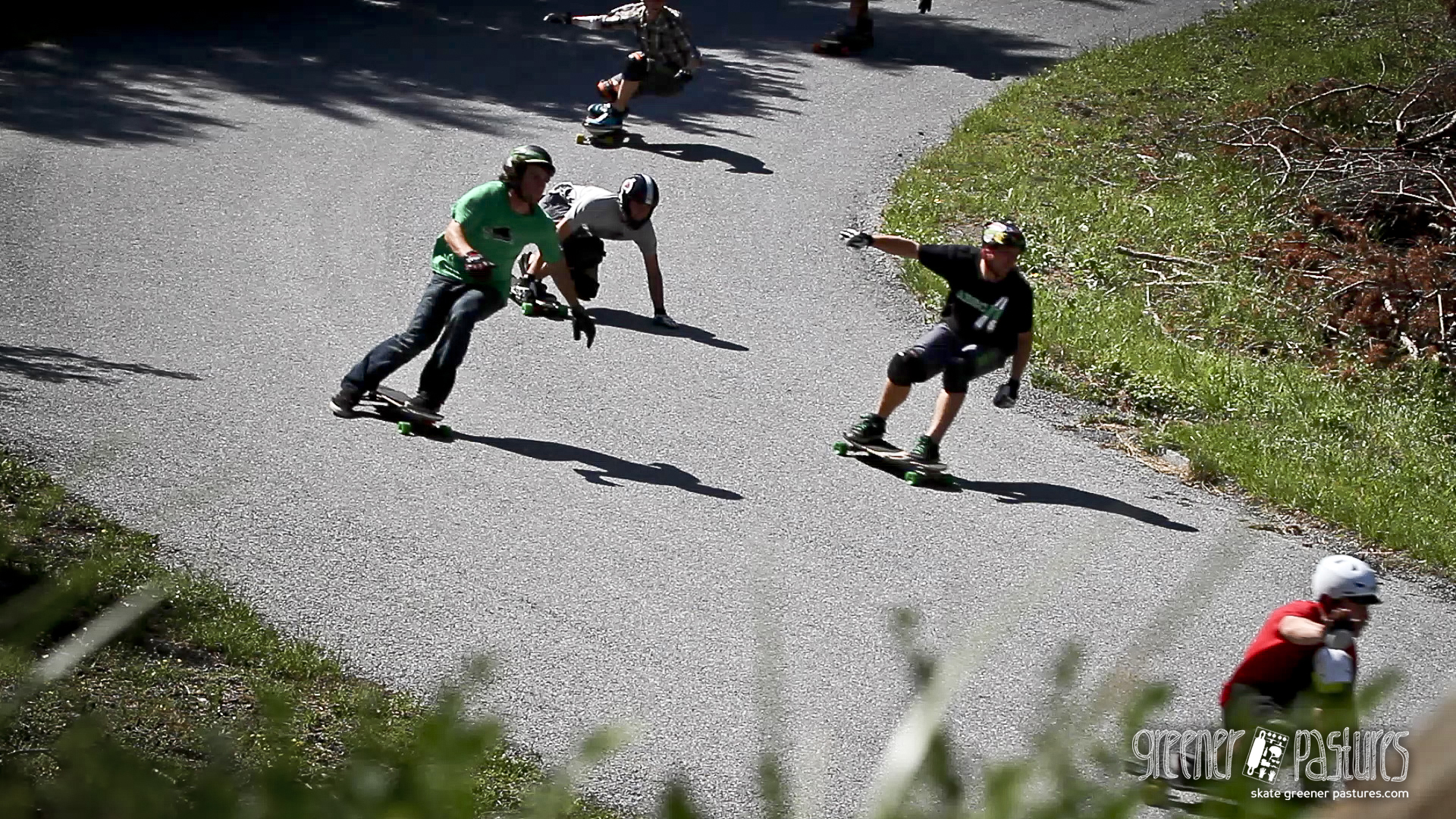 Note: James Kelly is footbraking!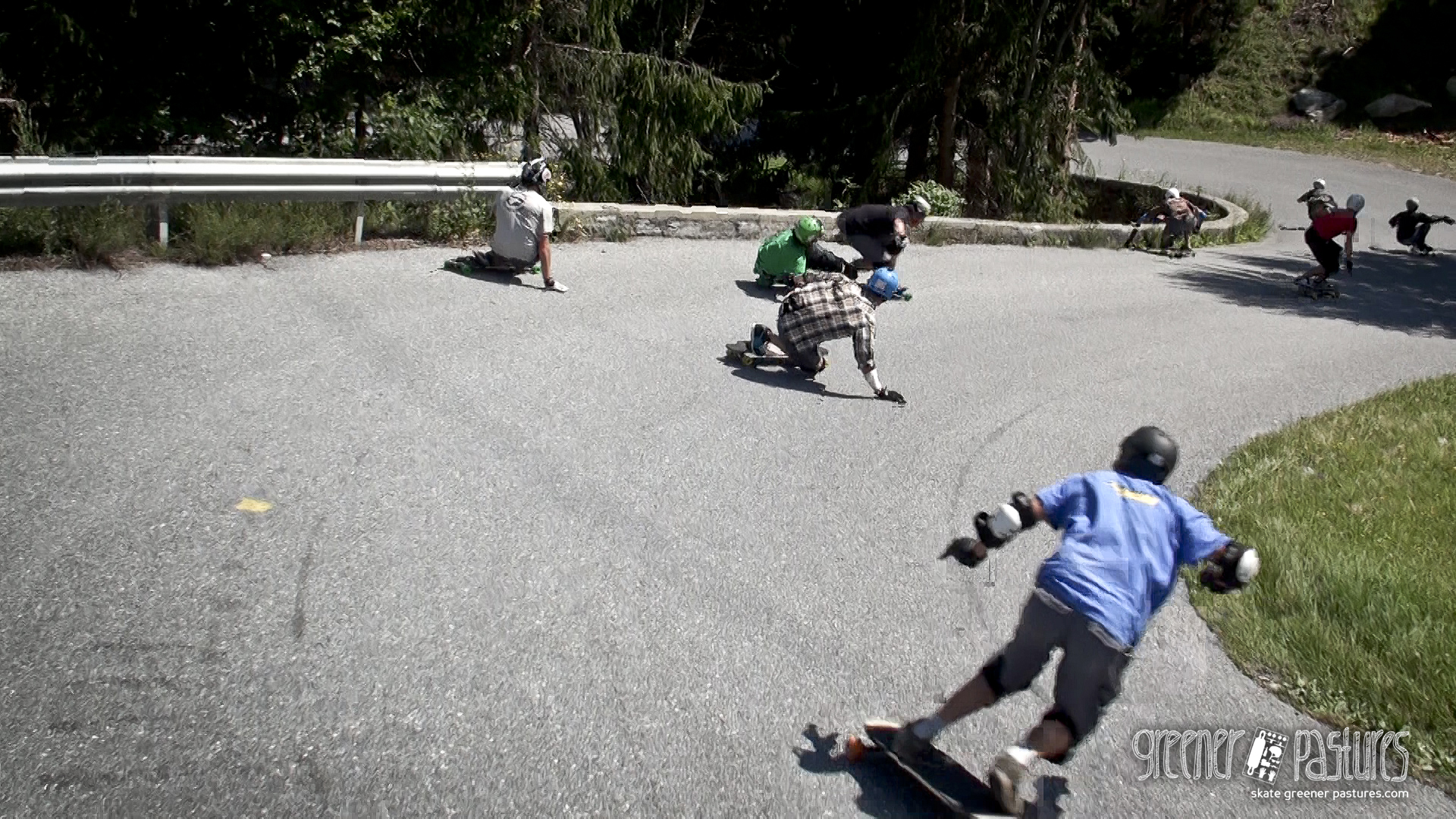 Tight riding may lead to crashing…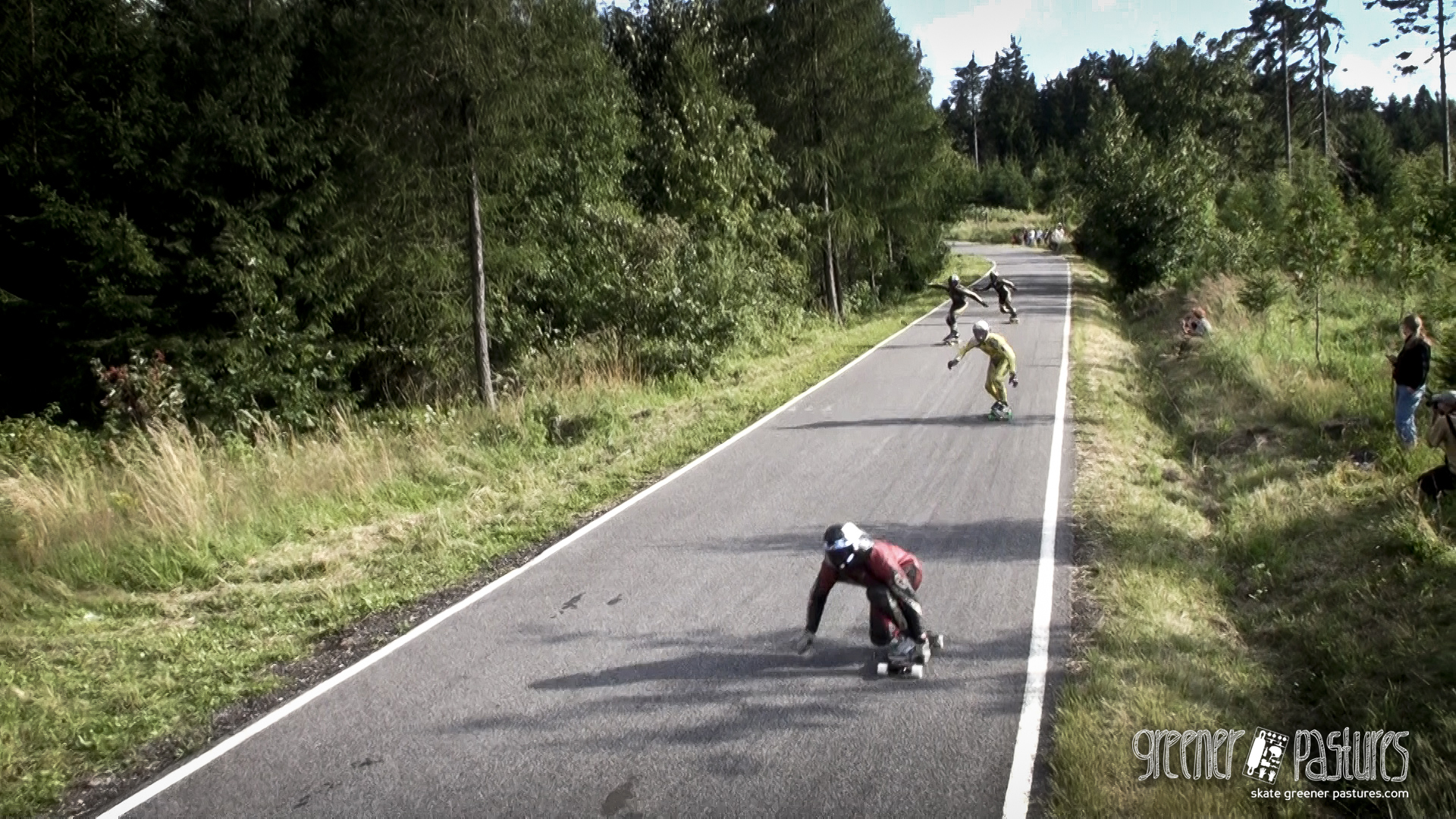 The final showdown happened at Kozakov Challenge 2011
--------------

Ramon gewinnt Maryhill
Ramon Konigshausen gewann seinen ersten IGSA World Cup in Maryhill, am Festival of Speed. Martin Siegrist wurde nach einem sehr umstrittenen Entscheid von IGSA President Marcus Rietemann vom 2. Platz auf den 6. Platz verwiesen. Fuse war ganz vorne dabei!!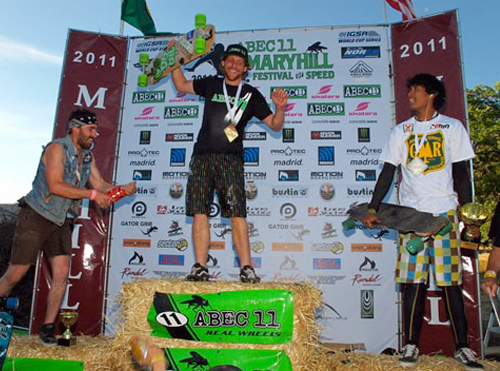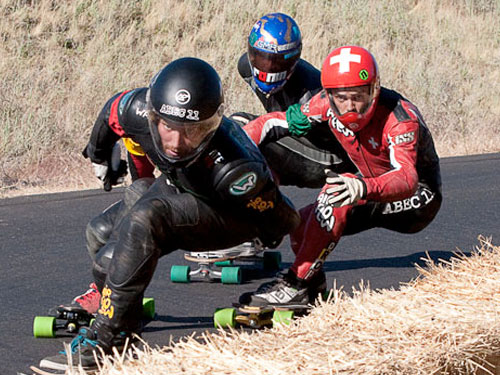 Airflow Fuse
Auf der neusten Kreation von Airflow Skateboards spürst du dank einem einzigartigen 3D Concave jederzeit wo du stehst - ohne hinzusehen! Die definiert geformte, wannenartige Standfläche verfügt über leicht konisch zulaufende, 12° hochgezogene Kanten. Das 5° Aussenristconcave verhindert zudem, dass die Füsse bei Slides und radikalen Manövern vom Brett rutschen.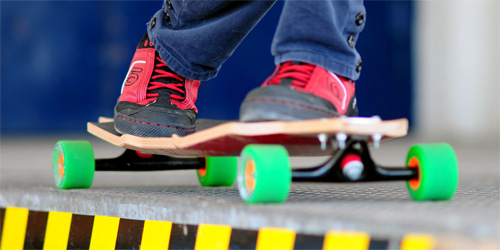 Das «Fuse» ist als drop through Brett konzipiert, lässt sich aber auch topmount montieren. Der tiefe Schwerpunkt verleiht deinem Setup Laufruhe auf schnellen Abfahrten. Dank symmetrischer Bauweise (twin tip) kann das Brett in beide Richtungen gefahren werden. Auch seitwärts ist das «Fuse» voll in seinem Element.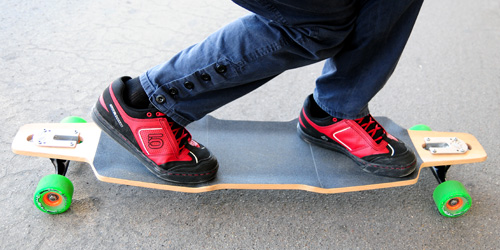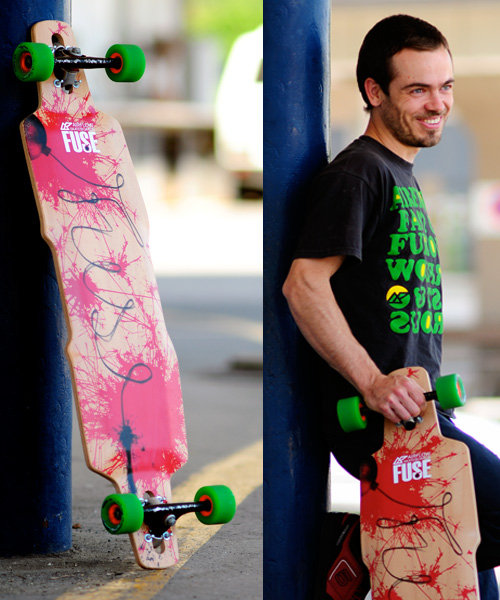 Resultate Slalombrunch
FULL RESULTS
Day 1 HS

A Group

1 Gustavs Gailitis
2 Chris Hart
3 Pascal Weber
4 Martin Siegrist (qualified first!)
5 Philipp Enzmann
6 Julian Coester
7 Andrea Just
8 Luca Jehle
9 Manuel Carusone
10 Lenz Oberle
11 Simon Feldmann
12 Marc Steinemann
13 Francesco Puligheddu
14 Igor Balzerini
15 Nils Ernst
16 Robin Birrer

B Group

1 Ross Baradoy
2 Mitch Enzmann
3 Linus Enzmann
4 Fabienne Schmid


Sunday Slalom

A Group

1 Gustavs Gailitis
2 Pascal Weber (best qualifier)
3 Chris Hart
4 Martin Siegrist
5 Michael Brönnimann
6 Andi Hofstetter
7 Jadranko Radovanovic
8 Simon Feldmann
9 Philipp Enzmann
10 Christian Schneebeli
11 Nastasja Wolfensberger
12 Marc Steinemann
13 Luca Jehle
14 Jan Lüscher
15 Andrea Just
16 Manuel Carusone

B Group

1 Julian Roth
2 Marcel Hug
3 Joy Spearing
4 Nils Ernst
5 Robin Birrer
6 Lenz Oberle
7 Igor Balzerini
8 Linus Enzmann
9 Mitch Enzmann
10 Fabienne Schmid


Greenskate
Dieses Jahr war Greenskate etwas aussergewöhnlich. Im Gegensatz zum letzten Jahr fand der Event nicht am Rigiblick statt. Stattdessen folgten wir einen vorgegebenen Route durch die Stadt Zürich – wo die 30 Longboarder in grünen T-Shirts natürlich für Aufsehen sorgten. – Unterwegs machten wir bei einem Shoppingcenter halt, damit wir uns nachher am GZ Wollishofen beim Grill & Chill am See gut verplegen konnten. Ein gelungener Event, welcher der Öffentlichkeit gezeigt hat, wie das Longboard als trendiges Fortbewegungsmittel eingesetzt werden kann.
Eine Fotogalerie findet ihr auf Soulrider.com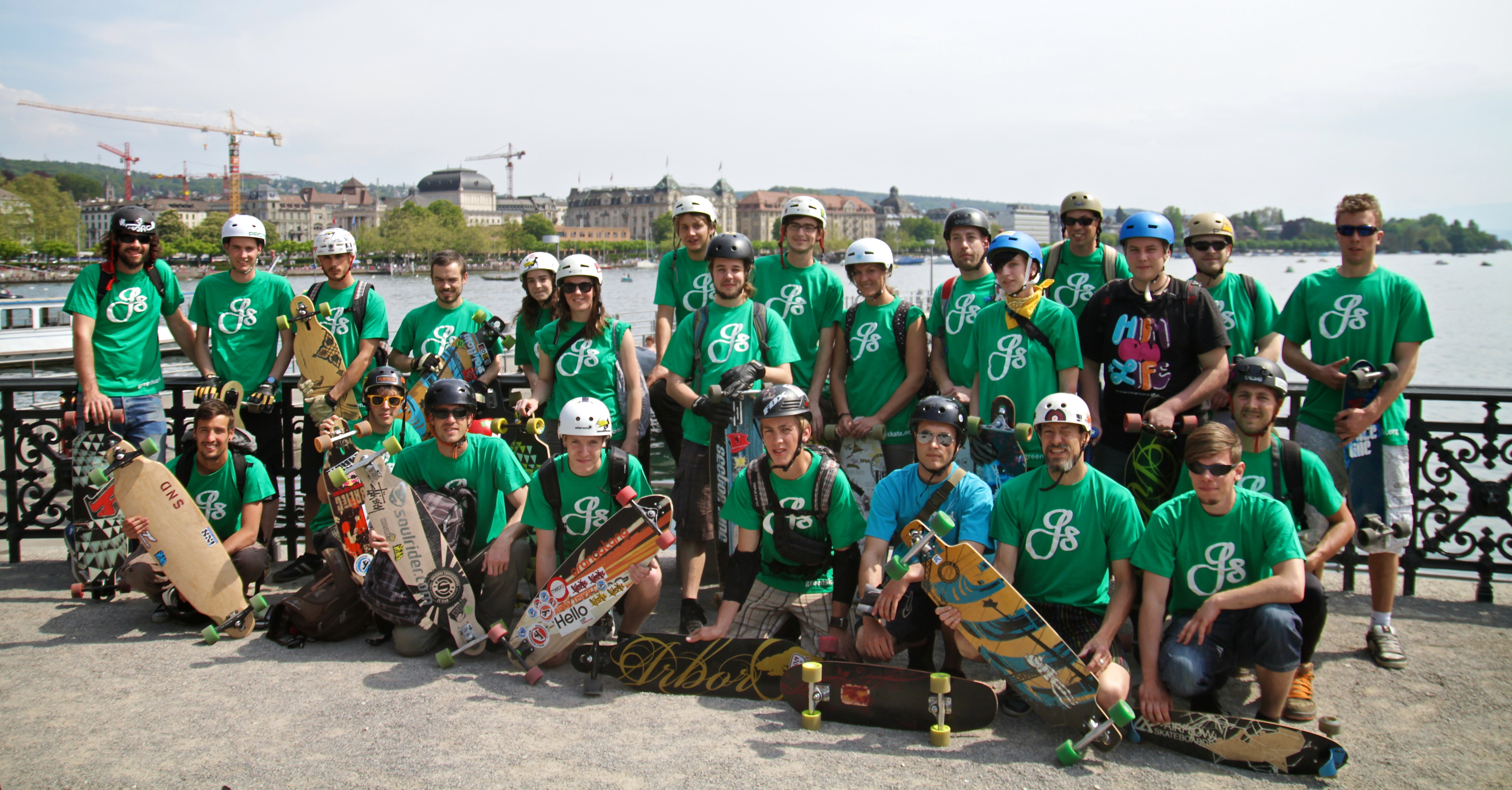 GRN SWTZRLND
Team Riders Pascal, Martin, Christoph und Ramón zeigen im neusten ABEC 11 Video höchste Präzision auf einem schmalen Fussweg…enjoy!
HotHeels Video
Hot Heels Africa Race Video by Team Rider Ramón Königshausen

Beton on Fire Raw Run
Run mit Team Rider Ramón Königshausen am Beton on Fire 2010 in der Bobbahn Altenberg, Deutschland

Pump Action
Ob als praktisches Fortbewegungsmittel in der Stadt, für den Einsatz bei urbanen Freeride-Sessions oder einfach um locker mal einen Trick auf Lager zu haben – Das Airflow Pump Action ist der perfekte Begleiter für den alltäglichen Gebrauch.

Das Board ist drop-through, ohne Vorspann und hat eine angenehme "lip-concave". Es wurde absichtlich auf Vorspann verzichtet um ein bessere Handling des Boards herauszuholen. Die "lip-concave" verleiht dem Deck einen natürlichen, surfigen Flex. Dank diesen Eigenschaften kann man auf dem Pump Action unbeschwert lange Distanzen zurücklegen. Zusätzlich haben wir die Nose und Tail verlängert, damit auch mal ein kleiner Trick oder das Überspringen kleiner Hindernisse kein Problem sein werden.

Das Pump Action ist in zwei Flexklassen erhältlich: Soft und Medium

40 Years of passion
Am Sonntag 6. März 2011 wird Chris 40.
Wir treffen nicht wie auf dem Flyer ab 9Uhr sondern um 11Uhr zum Birthday - Freeride am Rigiblick

Wer auch immer Lust hat dabei zu sein ist herzlich willkommen.

Dann hoffen wir doch auf trockene Strassen und Temperaturen wie wir sie Anfangs Februar hatten.

Gruss Puli




Facebook Event

Ramon 2nd Place
Ramon
Hot Heels Africa
Downhill Skateboarding Top 8

1. Mike Zietsman, South Africa
2. Ramon Konigshausen, Switzerland
3. Mischo Erban, Canada
4. Anton Pratt, South Africa
5. Christoph Batt, Switzerland
6. Scoot Smith, Canada
7. Stephan Rufli, Switzerland
8. Matt Arderne, Canada

Schweizer Dreifachsieg
Schweizer Dreifachsieg an den Downhill Europameisterschaften 2010 in Insul (D)

DROP - My Life Downhill
«DROP - My Life Downhill»
Ein Dokumentar Film von Orangefist über die besten Downhill Skateboarder der Welt. Erst wenige male wurde dieser Streifen der Extra Klasse in Camada so wie in der USA gezeigt. Letzte Woche zeigte Airflow Team Fahrer Martin Siegrist den Film in Malaisien und am 4.August wird Drop als Europa Premiere im Headquater von Airflow in Zürich gezeigt. Einige dieser Fahrer werden auf der Durchreise zum nächsten IGSA Event vor Ort sein. Dont miss it. Beer und evtl. Grill wird bereit stehen. Sobald es also genug dunkel ist, kann es losgehen.(wird also ca 21 Uhr sein. Eintritt 10 Fr.
Wo: Hermetschloostrasse 70 in Zürich Altstetten. Wann: 21 Uhr
Watch the teaser!!!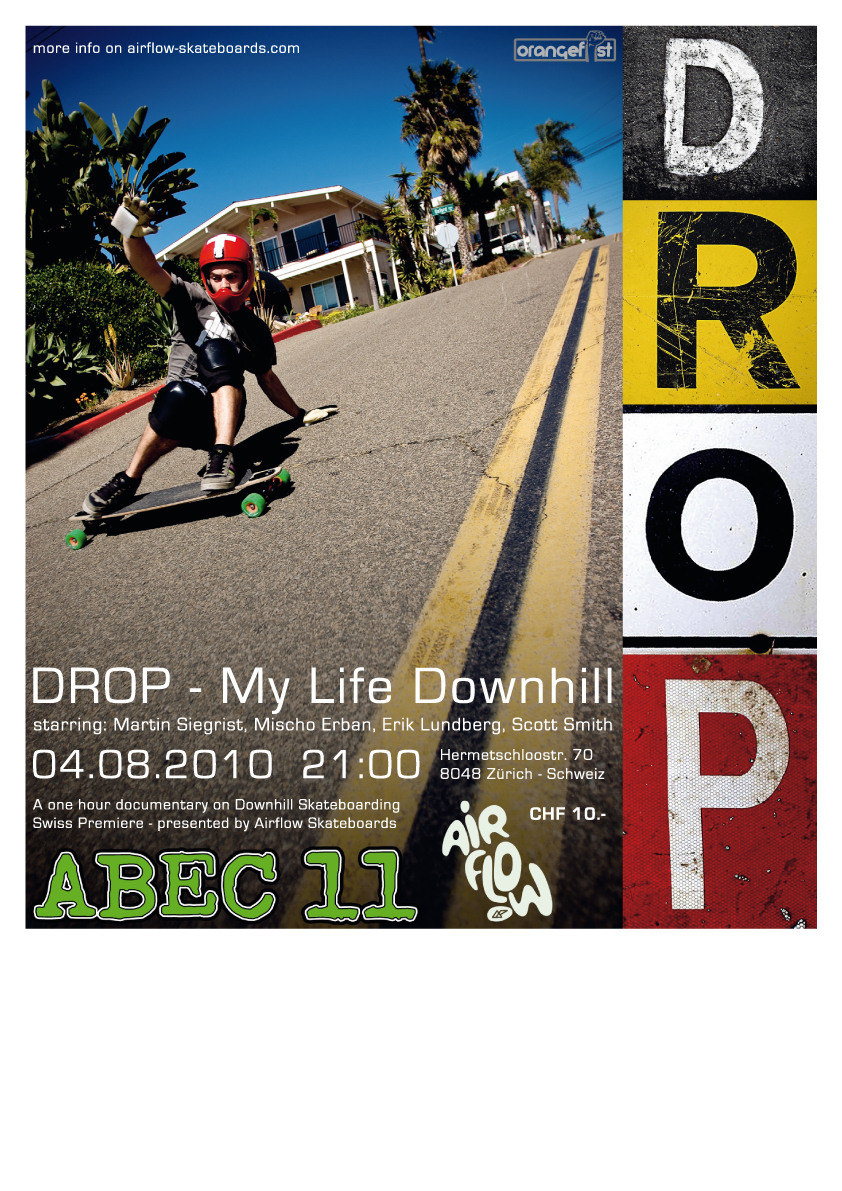 4410 Skate
Mitte April reiste Martin Siegrist nach Kuala Lumpur, Malaysia, wo er für unbefristete Zeit einen neuen Job als Industrie Designer für die Firma Blocx (http://www.blocx.com) angenommen hat. Er arbeitet dort in der Kletterhalle Camp5 (http://www.camp5.com) wo er Dreidimensionale Objekte, vor allem Kletterwände und deren Zubehör, entwirft.

An einen unbefristeten Aufenthalt würde man natürlich auch gerne unbefristet viel Gepäck mitnehmen. Martin beliss es allerdings bei etwas mehr als drei Zehntnern:

"Mein Gepäck wog bei der Abreise ca. 160 kg und beinhaltete unter anderem ein Mountainbike, 6 Skateboards, 50 Sets Skateboard Rollen, Achsen, 4 Helme, eine Tag Heuer Geschwindigkeits-Messanlage (+ Speedsuit), 4 Slacklines, Schuhe, Kleider, Materialmuster usw."



Anlässich seiner Abreise organisierte er ein kleines Goodbye Skate in Liestal. Das Video dazu könnt ihr euch hier anschauen:

Weitere News von Martin gibt es auf seiner Website www.mrtn.ch

Ramón wird 2x Europameister 2010
Ramón Königshausen dominierte die Slalom Skateboard Europameisterschaft in Richterswil vor heimischem Publikum. Nur Dominik Kowalski konnte ihm die Stirn bieten und holte zum Schluss den Overall Titel nach Deutschland.

Videoflashback 2009
Wie würdest du jemanden das Gefühl des Asphaltsurfens am besten vermitteln? Sehr wahrscheinlich geht das am besten, wenn derjenige es gleich selbst versucht. Go out and skate und geniess den Moment!
Aber wie erinnert man sich an diese Momente der Freude? Vielleicht mit einem Video...nie zuvor waren Longboard videos so populär, wie im Jahr 2009. Longboardvideos gibt's bald wie Sand am Meer...sei es Können, Style, Speed oder einfach nur Soulriding. Alles fasziniert - solange das Video gut umgesetzt wurde.
Airflow 2009 in Videos Eine Zusammenstellung der besten Onlinevideos 2009, welche mit Airflow oder unseren Riders zu tun haben.

____________
In April Ramón was downunder visiting Jackson Shapiera and skating with the skate Australia crew. When they were skating the Waterfallway near Dorrigo they got interviewed by the TV news station NBN:
Extreme skating at the Waterfallway

A few weeks later the Burning Wheels Tour had its first stop at the Tunnel Slalom World Cup at a tunnel opening near Zurich, Switzerland. Watch the finals between Ramón and George Pappas form Durango, Colorado. Ramón took the win.
BWT Tunnel Slalom Skateboard World Cup - Finals
In the meanwhile a longboard video production that Airflow is involved in released their trailer. The project is called "DROP - my life downhill" and features Erik Lundberg (SWE) and Mischo Erban (CAN) along with Airflow team rider Martin Siegrist (SUI). Check out the trailers!
Drop - My life downhill - Trailer

For some of the shots a Porsche Cayenne with a pursuit camera arm was used. It is the same car that they used to shoot some of the action scenes for the James Bond movie "Quantum of Solace".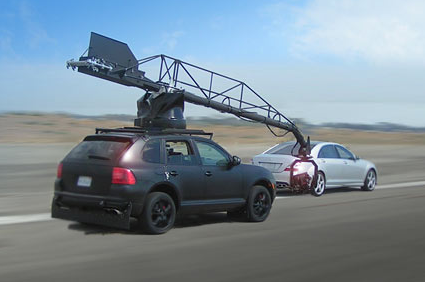 Extreme Longboarding by Marc McCrudden
Getting ready for the racing season was Martin Siegrist on one of our favourite roads: Col d'Izoard. Perfect Swiss precision skating!
Martin Siegrist at Col d'Izoard
Shortly thereafter the IGSA World Cup Series launched off in southeastern France at Peyragudes, a skiing resort in the Pyrenean mountains at the boarder to Spain. Airflow was successful with Martin in 3rd, Ramón in 10th and Dasha in 2nd in the Women's.
Click here for full results Peyragudes 2Luxe Cup 2009
Yvon Labarthe has been creating splendid videos throughout the summer. Here's his first one from Peyragudes. Thank you Yvon!
IGSA Peyragudes 2Luxe Cup by Yvon Labarthe
The weekend after everyone moved over to Argonay (F) for the second IGSA event called "The Graveyard Call". This track was highly technical and really narrow so that the race was held in a two-men heat system. Dasha finished 4th, Martin 9th and Ramón got 13th.
Click here for full results Graveyard Call 2009
Here's another one of Yvon's great videos:
IGSA Graveyard Call 2009 by Yvon Labarthe

Since two can't be enough here's the third one in a row: The Padova Grand Prix in Teolo, Italy. This track wasn't crazy fast but it featured a shitload of hairpins at the bottom - one after another! Teamriders Martin and Ramón dominated qualifying using their slalom pumping skills to accelerate out of slow hairpins. Our team finished 1st (Martin), 7th (Ramón) and 1st (Dasha).
Click here for full results Padova Grand Prix 2009
And yes, Yvon was keeping up the good work:
IGSA Padova Grand Prix by Yvon Labarthe
_____________________________________________________
Despite all the good news a really tragic message arrived to us when we were at the Padova Grand Prix. Anthony Fricker, a fellow longboarder from Australia had died in a skateboarding accident. Anton was working on a documentary known as "Skate Australia". Team rider Ramón had travelled 2 weeks in Australia with Anton and was very enthusiastic in devoting some skating and filming to it. Upon the day he wasn't able to complete his film but his close friends are carrying on his work. Our condolences go out to his family and friends.
Therefore we would like to feature his trailer in our 2009 video compilation. Thank you Anton!
Skate Australia Trailer by Anton Fricker
___________________________________________________________
After Padova Grand Prix there was a 10-days break to the next event in Czech Republic. Many riders were travelling through Switzerland on their way north. For example the Louis Pilloni, Patrick Switzer and James Kelly from Orangatang or Brian Holden, ABEC11 representative from Colorado. Check out their video. Some of the footage was shot on Ramón's local spot.
Loaded in Switzerland by Louis Pilloni
The next event were the European Championships in Kozakov, Czech Republic. This event probably featured one of the best race tracks on the circuit. Top speeds of 90km/h, fast slightly banked hairpins and cheap beer! For Kozakov we do not only have one video - we have to really epic videos! One of them - who'd expected anyone else? - is by Yvon Labarthe. The other one was made by the organization itself.
Here also our team was quite successful: Airflow congratulates the European Champions Martin Siegrist and Dasha Kornienko. Our slalom ace Ramón took 6th.
Click for full results Kozakov Challenge European Championship 2009
Read the Race Recap by Ramón
IGSA European Championships - Kozakov Challenge 2009 by Yvon Labarthe

IGSA European Championships - Kozakov Challenge 2009 - Official Video
Here we would like to give out the "crash of the year" award to Jackson Shapiera from Hopkin Racing Australia for his venturing crash at Kozakov. Jackson was unharmed, safe and sound after this crash. However, he is currently recovering from a foot injury. Heal fast bro!
Crash of the Year - Superman Jackson Shapiera
The same weekend as Kozakov happened there was a Skateboarder-Cross event happening in Switzerland. Luckily Kozakov ended on Saturday and the Boarder-Cross was on Sunday. Ramón and Dasha, along with Patrick Switzer made it back in time to be at the Burning Wheels Tour Boarder-Cross in Lucerne, Switzerland (7hrs drive from Kozakov) - By the way: in 2010 this event will happen on the weekend between Teolo and Kozakov. We highly recommend stopping by if you can!
Airflow Skateboards' Chris Hart took second - Congrats!
Click here for full results Burning Wheels Tour Boarder-Cross
Burning Wheels Tour Boarder-Cross by Patrick Switzer
The last IGSA event in Europe was held on an island called Great Britain. To be precise it took place in Eastbourne. Airflow representative Dasha Kornienko was there rocking - another first place for our lady!
Click here for results Eastbourne Speed Days 2009
IGSA Eastbourne Speed Days by Yvon Labarthe

By the end of summer, Burning Wheels Tour released this nice little video that was shot in the Swiss Alps.
Burning Wheels Tour video shooting by Alexis Lieber
In October the fastest race on the IGSA circuit was held: Malarrara Pro Teutônia in Brazil. Martin Siegrist was there trying to set a new high speed record. By the end it was set by Mischo Erban from Canada: 113km/h. In the quarter finals Scott Smith from Canada crashed only inches away from Martin. Check it out!
Click here for full results Malarrara Pro Teutônia 2009
Martin vs. Scoot at IGSA Malarrara Pro Teutônia
One month and another continent later Martin Siegrist wend downunder for the IGSA World Championships at Mount Panorama, Bathurst, NSW Australia. Martin pretty much dominated during time trials. When he ventured everything in the semifinals he slid out in the Forest's elbow. Martin finished the race getting 6th. World Champion 2009 is Kevin Reimer from Vancouver BC, Canada. Congrats!
Follow Cam Evran and Martin
No we won't disappoint you. Also this time our fellow countryman Yvon Labarthe edited an excellent video. Unfortunately Yvon was involved in a really bad Streetluge crash and wasn't able to continue the race. Nevertheless he became 2009 IGSA World Cup Series Winner. Congrats and heal fast Yvon!
IGSA Newtons Playground World Championships by Yvon Labarthe
IGSA and ASRA put up an entire webcast of the race.
Click here to go to the IGSA page for watching it.
Last but not least the final showdown in South Africa the the IGSA Hot Heels near Cape Town. Airflow's Dasha Kornienko had the pleasure to experience South Africa. Here's a little video of a race that took place one week prior to Hot Heels, where Dasha got first and therefore 2009 IGSA World Cup Series Winner.
Dasha Kornienko at the South African Nationals - Howteq
That's it from us in 2009. We hope you enjoyed watching the videos and keep coming back for regular updates on our blog!
We would like to thank all the video makers out there especially Patrick Switzer and Yvon Labarthe for keeping up the great work.
We would like to thank all the event organizers out there especially Marcus Rietema and his team behind the IGSA for organizing a great racing circuit since 1996!
And thanks you all you rad skaters out there in our little big family!
Airflow Skateboards, Ramón Königshausen

Fiesch 2009
Ein bewegtes Fiesch Lager 2009, geleited von Profi Skatern wie Ramon Königshausen, Betina Luginbühl und Andy Hofstetter zeichneten die Ferien Woche der Zürcher Kids. Meist schönes Wetter und motivierte Teilnehmer machten diese Zeit unvergesslich. Besten Dank auch an alle Kinder fürs mitmachen, an Eva fürs organisieren, und überhaupt....... Bis nächstes Jahr.....Feel he flow....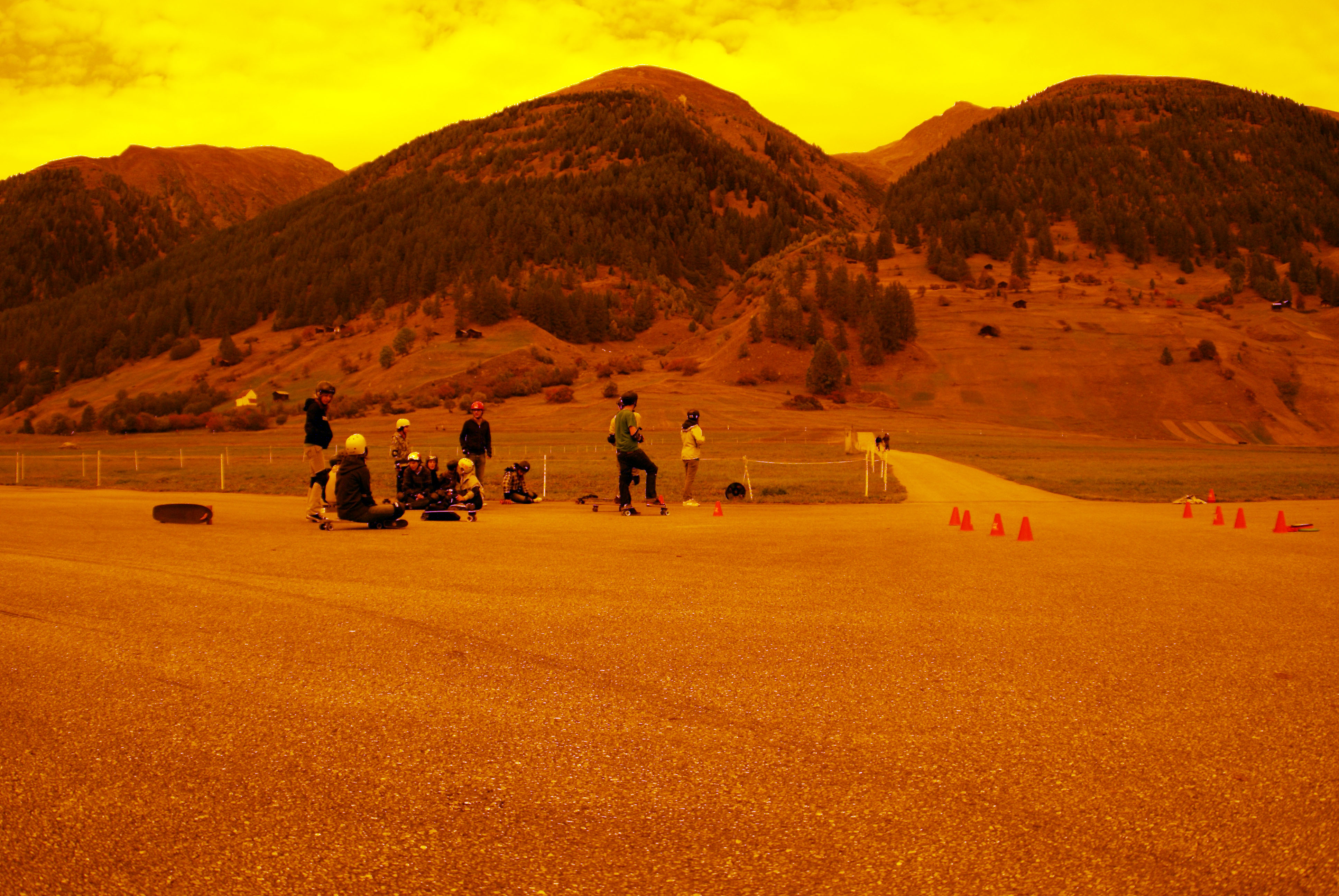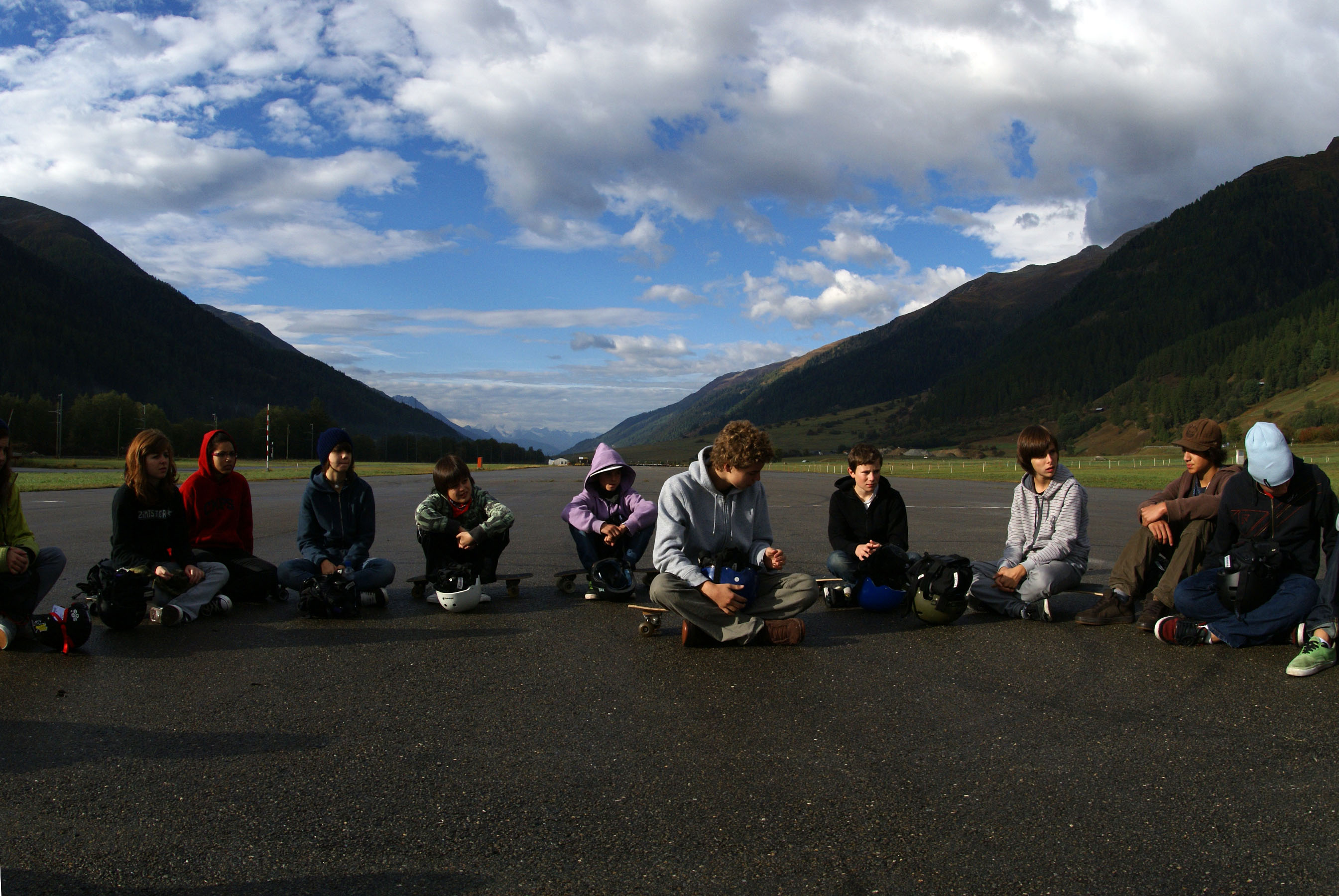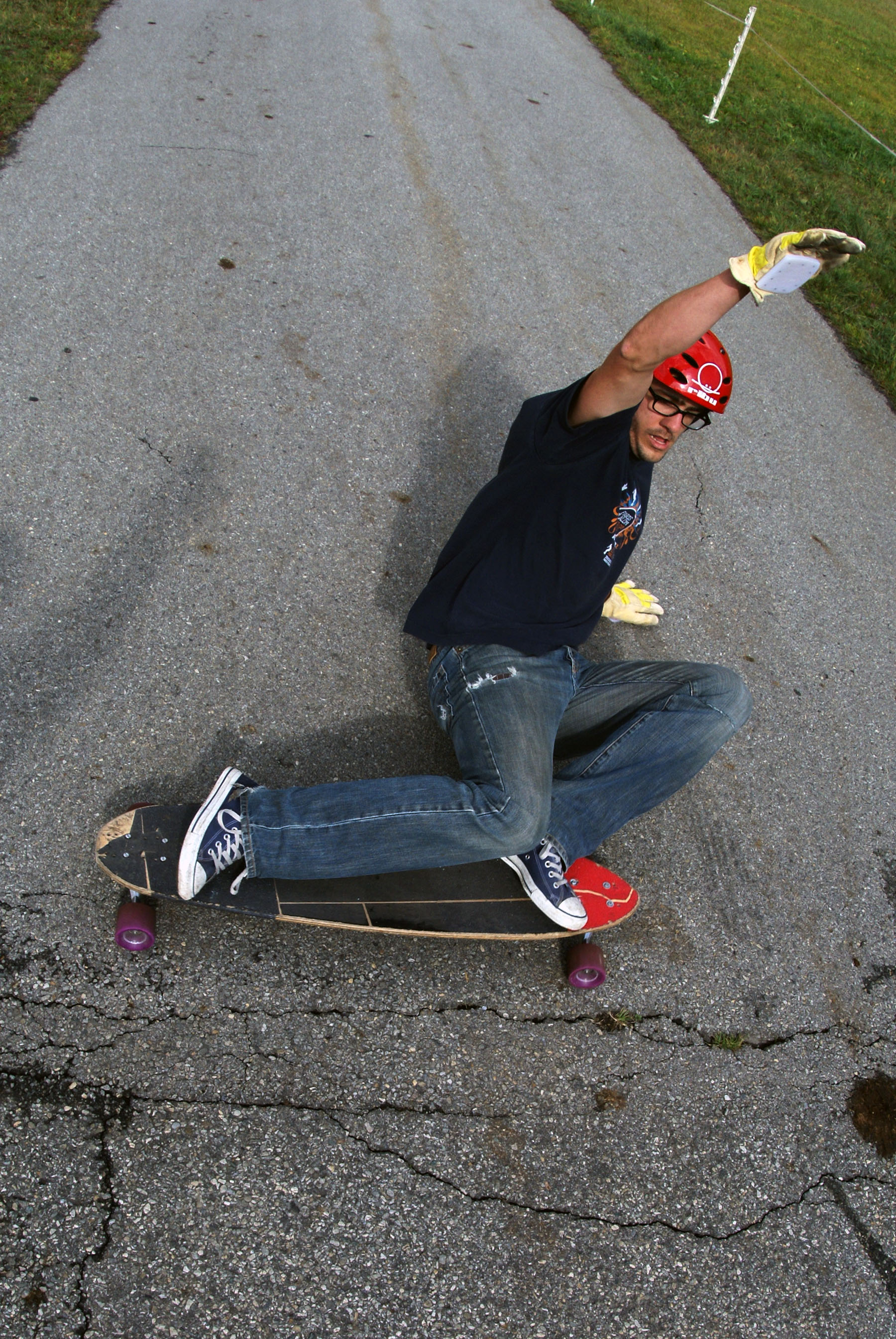 Ramón gewinnt einmal mehr!
Einmal mehr dominiert Ramón Königshausen den Over 80 Cones Slalom am Rennweg in Zürich.

Bericht NZZ 24. Sept. 2009
Für Freunde des feinen Asphalts.
Skateboards sind mehr als Spielzeug – Airflow und Indiana zeigen «Rennmaschinen» aus Fiberglas, Schaumkern und Epoxidharz Skateboards sind leistungsfähige Fahrzeuge und hochentwickelte Sportgeräte. Zürcher Hersteller fallen mit innovativen Produkten international auf.
Bericht NZZ vom 24. Sept. 2009 Seite 64 von Stefan Betschon >>lesen!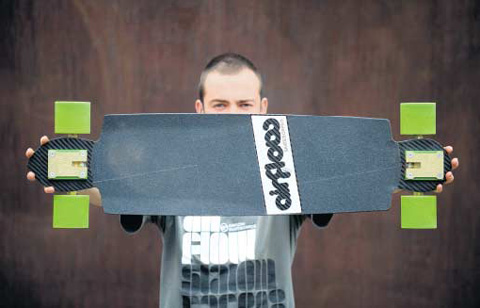 Bild: NZZ / Matthias Wäckerlin

Dasha and Ramón spread the stoke in Ukraine!
While visiting my family in Kiev, Ukraine, I thought of the possibility of holding a slalom session in my hometown. I asked Ramón, who was coming to check out the city for 9 days, if he could bring along his board and some cones. Unfortunately, the airline's tight weight restrictions meant that we had to ride without a helmet and pads. Since, as far as we know, the slalom scene in the city is nonexistent (we could not find any online forums or websites), I could only invite my cousins, aunts and uncles, to whom the sport was totally unknown, to come and see what it is all about. The following is an account of the day written by my cousin Danyil, with my assistance. Some additional historical information has been placed in square brackets.
Words by Danyil Grybchuk
Photos by Yuryi & Danyil Grybchuk
The 13th of September was not an ordinary day in Kiev. The wheels of a slalom board touched the city's asphalt for the first time in its 1,500-year history.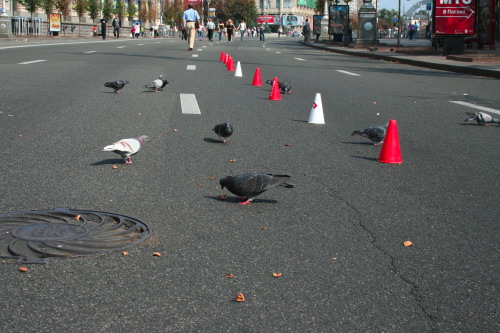 [Kiev or Kyiv (Ukrainian: Київ), is the capital and the largest city of Ukraine, located in the north central part of the country on the Dnieper River. The population as of the 2001 census was 2,611,300. The name Kiev is said to derive from the name of Kyi, one of four legendary founders of the city (brothers Kyi, Shchek, Khoryv and sister Lybid'). During its history, Kiev, one of the oldest cities in Eastern Europe, passed through several stages of great prominence and relative obscurity. The city may have been founded in the 5th century as a trading post, perhaps part of the land of the early Slavs. It gradually acquired eminence as the centre of the East Slavic civilization, becoming in the tenth to twelfth centuries a political and cultural capital of Rus', a medieval East Slavic state. Completely destroyed during the Mongol invasion in 1240, the city lost most of its influence for the centuries to come. (Wikipedia)]
It was a warm day and the sun was beating down when we arrived at Kreschatyk, the most central street in Kiev.
[Khreshchatyk (Ukrainian: Хрещатик). The name is derived from the Slavic word krest or khrest (cross). It lies in a valley that is crossed by several ravines. When looked at from above, the valley resembles a cross. The entire street was completely destroyed during World War II by the retreating Red Army and rebuilt in the neo-classical style of post-war Stalinist architecture. On May 1, 1986, a few days after the Chernobyl nuclear accident, Soviet authorities held a traditional May Day parade on Khreshchatyk, in order to "calm people" and "prevent panic" caused by the disaster. Thousands of Kievans, including many children, were exposed to dangerous doses of radiation. Due to its central location, the street became the traditional place for political rallies. In the winter of 2004, Khreshchatyk and became the centre of the main public protests of the Orange Revolution. At its peak, over a million people from all around Ukraine attended the rally. (Wikipedia)]
On weekends, this street is closed to traffic and open only to pedestrians. Thus, there were many spectators for our impromptu session. After choosing a part of the road, Ramón began installing the cones. At first, nobody could guess what these cones were for, having never seen slalom performed. Many walked into the way of the cones, especially small children who treated them as a toy, picking them up and moving them. Only when Ramón began testing the course he had set up, did the parents pull their kids out of the way. By-passers stopped to watch him in awe. Watching him, I wondered how it was physically possible to do such things. I had the impression that he was floating or flying over the road. His movements were so fast and precise, he reminded me of a very fast Swiss clock, the arms moving back and forth, back and forth, and it seemed that he could do it forever.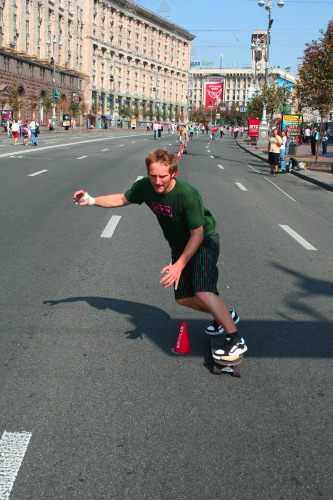 When he went down the second time, I finally understood that what I saw was happening in real-time and not fast-forwarded. The people that were watching with me were constantly saying "wow", "amazing", "well done", "he's crazy", but no one was indifferent. Perhaps this sport is not so popular in our country because of the roads—the quality of which leaves more to be desired. It would be hard to find a place to practice. However, we managed to find a good spot, not at Kreschatyk, because this street is one of the busiest in the city and thus cars leave much oil, which makes for a slippery surface. Even Ramón, a world champion, managed to fall and hurt his palm because of this. He said that here, he could only ride at 60% of his maximum speed. For this reason, we decided to take our session somewhere else, where the pavement was not "sketchy", as Ramón described. And so we went to the nearby Mariinskyi Park.
[Mariinsky Park is the central park of Kiev, founded in 1874, and is one of the favorite places of city dwellers and visitors. Especially in the morning, away from the city's noise, it is very pleasant to take a walk in the park, where in shady alleys, beneath the huge crowns of centenary old trees it is still peaceful and quiet. There is also the legendary "bridge of lovers" where couples still go and place locks to symbolize the strength of their love. The park is located right next to the Mariinsky Palace, which was requested to be constructed in 1744 by the Russian Empress Elizabeth, daughter of Peter I. It was designed by Bartolomeo Rastrelli, the most famous architect working in the Russian empire at that time, in the Baroque style and was intended to echo French Versailles in miniature. During World War II it was badly damaged but later reconstructed, and is an official residence of the Ukrainian president. (Wikipedia)]
On weekends, this park is crowded with people, so we had lots of spectators here as well. Cars are not allowed to enter the park, but there were still some drivers who ignored the rules (a common thing for Ukrainian drivers :-). The pavement here was much better and there was more of a slope. Ramón and Dasha appeared much happier to be skateboarding here and were able to ride at their full speed. They both were great.
So this made me want to try slalom as well. I was on my roller-blades and attempted to go through the course. At first it was surprisingly different, and later became unexpectedly pleasant. I was trying hard, but in comparison to Ramón, I was hardly trying. After one of his rides, I told him his speed was unreachable. Before long, Dasha and Ramón convinced us to try their boards. I found it very scary, but my girlfriend. Nastya, looked more confident when she stood on the board. She said, "Balance is important in different aspects of life... especially in such cases." (Nastya Yeremenko). My cousins Pasha and Olya also tried, with the help of Dasha and Ramón.
Even their father, Sergei, was very enthusiastic and gave it a go. Although he was constantly hitting the cones, he kept trying. He said, "In ten years, I will be as cool as Ramón is now" (meaning, he will be riding as well as him).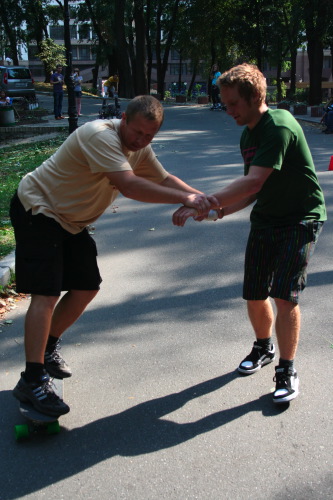 My cousin Olya was so happy to try it that she is now looking forward to having a board of her own. She was more careful than her brother, Pasha, who rode independently and managed to not to hit the cones. However, his innate expertise did not save him from a fall, when he had to avoid a woman with a stroller. At first it seemed that he only got a few scratches, but later, following an x-ray, it turned out that he got a hairline fracture in his shoulder and must wear a cast for 3-4 weeks. However, he made sure to tell us that this will not stop him from skateboarding again.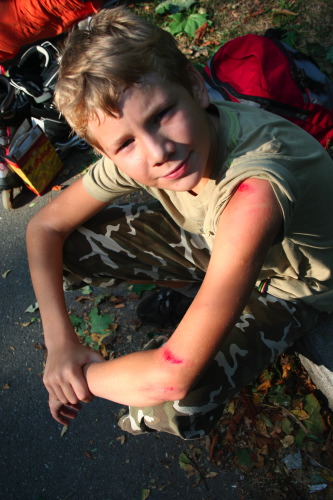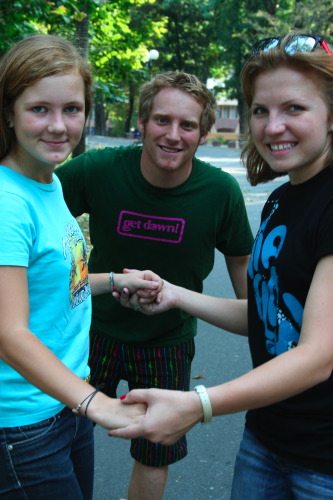 The first slalom session in Kiev was very successful for us and very surprising for the pedestrians that happened to pass by. Few people know that the first electric tram line in Europe (arguably, the first in the world) was established in Kiev in 1892. Thus, Kievans are not so behind in transport development. However, longboards are still unknown to us. This is why I think we should engage more people in riding longboards and slalom boards. I hope that the first slalom session was not the last and that Ramón's idea of holding a competition here will be brought to life.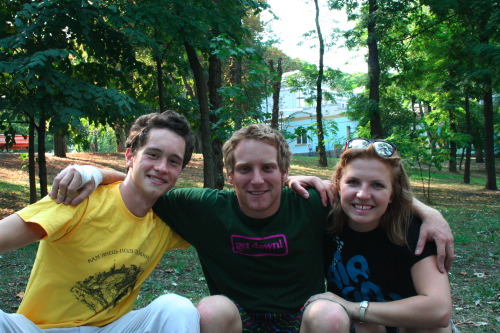 -----------------------------------------------------------------------------------
We hope you enjoyed this account of slalom in Ukraine. We think that Mariinskyi Park would truly be an ideal venue for a race. We would love to hear what you think of the possibility of holding an event Kiev in the future! Email us at: dasha@airflow-skateboards.com or ramon@airflow-skateboards.com.

Ramón gewinnt Flughafenderby
Am vergangenen Samstag fand am Radarhügel beim Zürcher Flughafen das 5. Flughafenderby statt.

Kozakov: Offizielles Video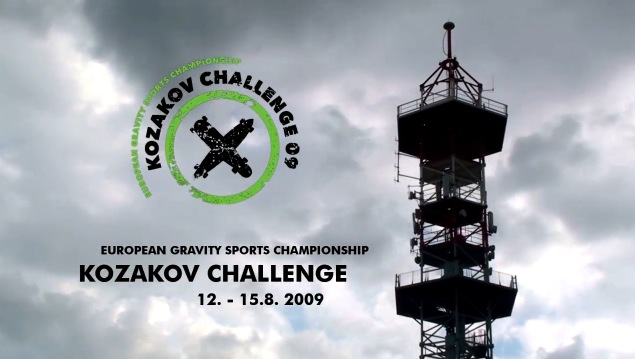 IGSA European Championship KOZAKOV CHALLENGE 2009 official video from VitHasek on Vimeo.

Kozakov: Video und Bilder
überzeugt Euch selbst

2. Platz für Chris Hart im BX
Chris Hart ist zurück! Nach einigen harten Heats (wie im Bild mit Teamrider Ramón Königshausen) traf Chris auf Lukas Axmann, den Favoriten aus Deutschland. Axmann machte das Rennen und konnte sich den Sieg sichern.
Teamrider Marco Henriquez belegte den 5. Platz, vor Ramón.

Europameister 2009: Martin Siegrist
Letztes Wochenende duellierten sich die Downhiller in Kosakov Tschechien um den Titel: Europameister 2009. Nach unzähligen Trainingsruns am Mittwoch und Donnerstag ging es dann am Freitag erst mal um eine gute Qualifikation.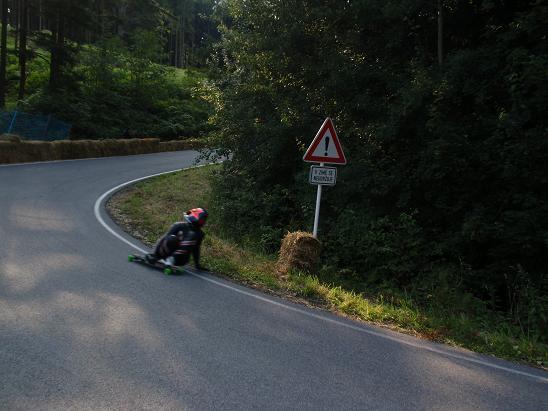 Christof Bat (SUI) setzte die Latte hoch. Als zweitschnellster fuhr Mische Erban (CAN) gefolgt von Louis Bigourdin (FR), Patrik Switzer (CAN), Sebastian Hertler (DE) und auf Position 5 Martin Siegrist (SUI) knapp vor seinem Team Kollegen Ramon Königshausen (SUI).
Grosses Finale am Samstag:
Samstags ging es dann wirklich zur Sache. Wer wird neuer Europameister 2009? Nach schon von Anfang an sehr harten Heats ist es dann zum grossen Finale zwischen Mischo, Bat, Sebastian und Martin gekommen. Einige Ueberholmanöver mit knapp Tempo 85 km/h, einem entscheidenden Fehler von Mischo Erban, liess dieses Finale zum Fotofinish zwischen Bat und Martin werden. Knappe 30 cm (bei immer noch 80 Sachen) lag Martin am Ende vorne. Neuer Europa Meister 2009 heisst also (zum x-ten mal) Martin Siegrist (SUI). Airflow gratuliert und ist riesig stolz!!!!! Teamfahrer Ramon zeigte im kleinen Finale, dass er nicht nur fähig ist Slalom zu fahren, sondern auch in der Disziplin Downhill durchaus ernst zu nehmen ist und schaffte es auf den 6. Platz!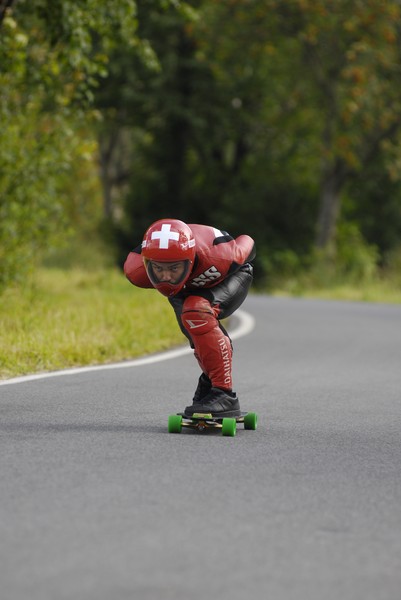 1.Martin Siegrist
2.Christof Bat
3.Sebastian Hertler
4.Mischo Erban
5.Patrik Switzer
6.Ramon Königshauen

Bei den Frauen ging es nicht minder spannend zu und her.
Teamfahrerin Dasha Kornienko (CAN) zeigte ihr Bestes und gewann vor Rebecca Gämperle (SUI) und Verena Voelkel (DE).

1. Place Martin / Dasha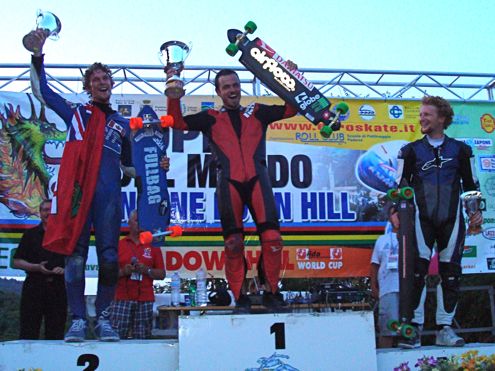 Ein weiterer Sieg in der Geschichte von Martin Siegrist und Airflow-Skateboards. Am vergangenen Wochenende traff sich die Welt Elite der Downhill Scene in Teolo Italien zu einem weiteren IGSA Rennen. Nach dem ersten von zwei Qualiläufen führte James Kelly (USA) vor Louis Pilloni USA) und Mischo Erban (CAN). Martin Siegrist belegte den 6. Platz. Kurze Zeit später (zweiter Quali Lauf) mischte sich alles noch etwas auf und Martin fuhr neue Bestzeit!!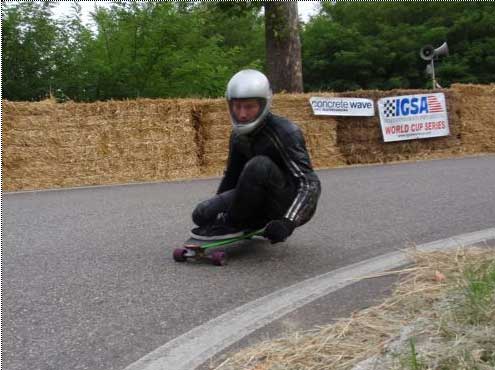 Ramon Königshausen belegte Platz 3. in der Quali und sicherte sich somit eine gute Start Position für den Final Tag. Sonntag: Nach unzähligen Runs (64 Fahrer)belegte Ramon den 7.Platz vor Mischo (CAN) und Bat (SUI).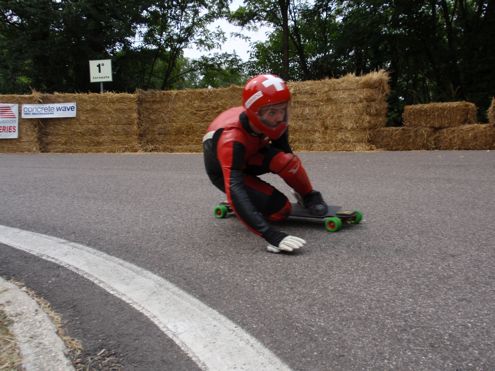 Martin dominierte auch im Finale und gewann dieses Rennen vor Patrick (CAN) und Schweizer Stefan Ruefli........
(vier Schweizer in den top 10!!!!!!!!!!)
Teamfahrerin Dasha dominierte bei den Frauen das ganze Wochenende und gewann mit grossem Abstand vor Karin Feldbaum und Uta Hang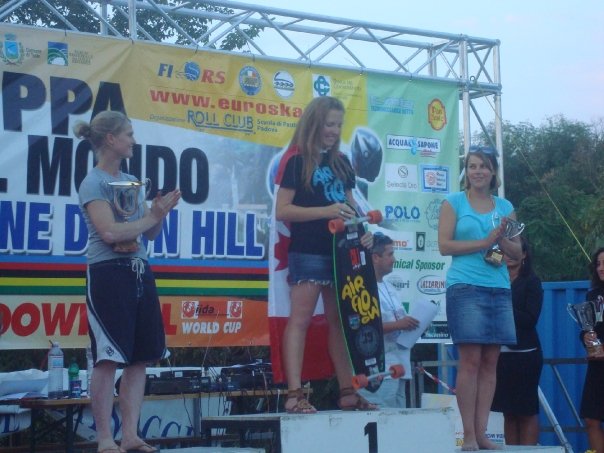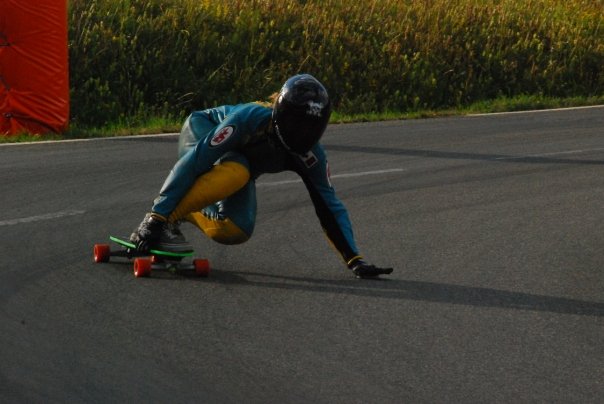 Padova Grand Prix

Downhill Skateboarding Top Ten

1. Martin Siegrist, Switzerland
2. Patrick Switzer, Canada
3. Stefan Ruefli, Switzerland
4. Erik Lundberg, Sweden
5. Scoot Smith, Canada
6. Louis Pilloni, United States
7. Ramon Konigshausen, Switzerland
8. Mischo Erban, Canada
9. Christoph Batt, Switzerland
10. Jackson Shapiera, Australia
SPEEDWING FOAM CORE
Nun endlich also da.....Speedwing 39 Foam core. Nach erfolgreichen Testes produzierte Airflow eine erste kleine Stückzahl an High-end decks aus Schaumstoff, Abs Seitenwangen, Fiberglas und Carbon. Gerade ferig gestellt sind sie nun also schon unterwegs zu den ersten IGSA Downhill Races in Europa. Team Fahrerin Dasha aus Canada, so wie Ramon Koenigshausen, werden Ihre ersten Rennerfahrungen schon bald mitteilen. Airflow drückt die Daumen!!
Bei interesse: Martin Siegrist hat diese schönen Teile im Auto mit dabei und zeigt sie jederzeit gerne....(Preis: 333Euro oder 500CHF)
oder directes mail an : chris@airflow-skateboards.com
Abmessungen:
Radstand:
72cm/28⅜"
Länge:
99cm/39"
Breite:
26cm/10¼"
Gewicht:
1200g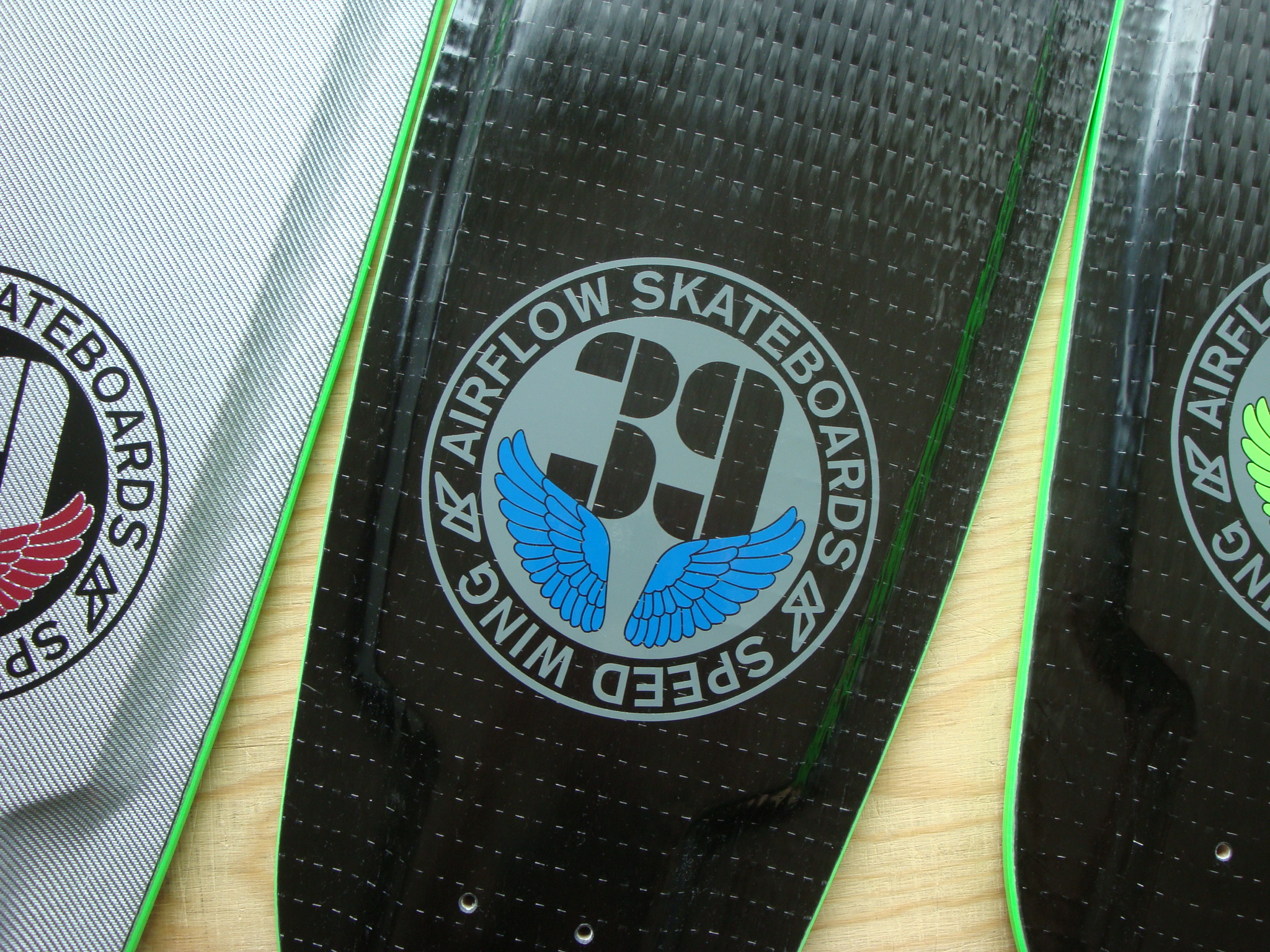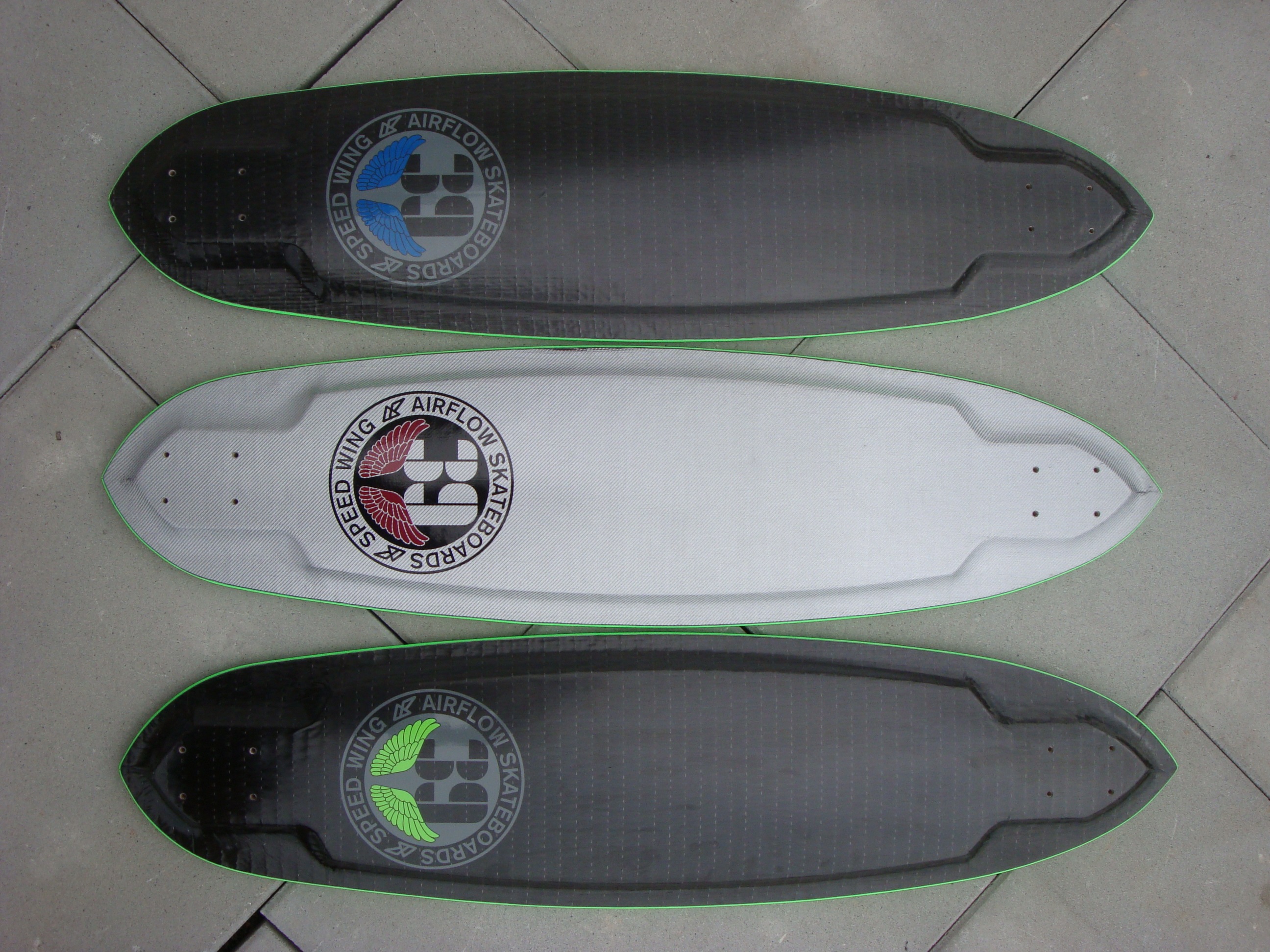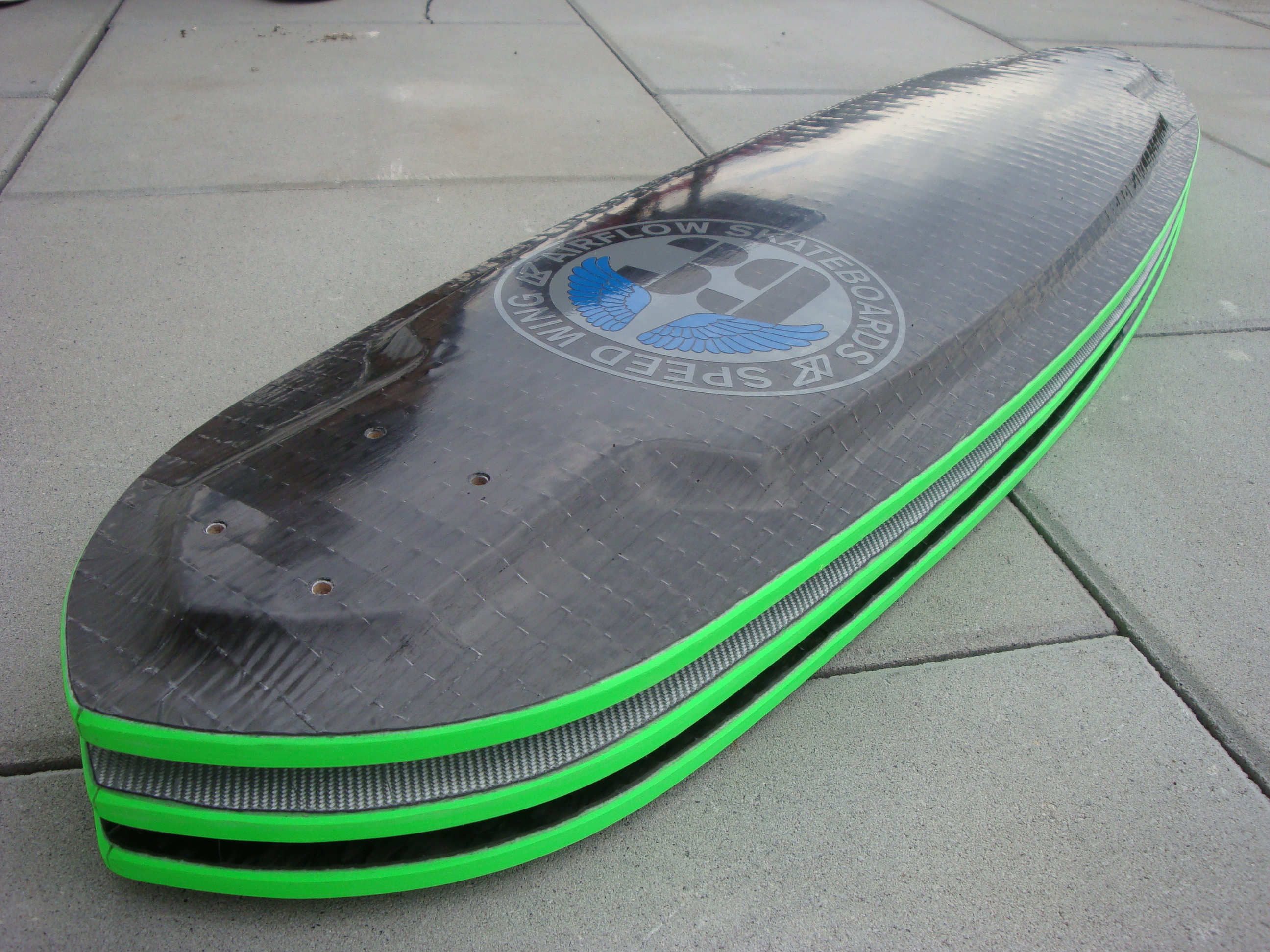 3.Place for Martin
Peyragudes France-
Die Downhill Welt-Elite traf sich dieses Wochenende in Payragudes mitten in den Pyreneen zum Kampf Giganten. Louis Pilloni (USA) gewinnt den ersten IGSA Welt Cup in der Saison 2009. Zweitschnellster war Erik Lundberg (SWE) vor Airflow Teamfahrer Martin Siegrist (SUI). Die Lederne Medalie holte sich Mischo Erban (CAN), welcher in der Qualifikation domierete. Teamrider Ramon Königshausen (SUI)(Slalom Weltmeister 2006) konnte seinen 10. Platz vom Vortag halten und verdiente sich somit mächtig respekt bei der Szene. Teamfahrerin Dasha Kornienko (CAN) holte sich silber bei den Damen...
Ein überaus erfolgreiches Wochenende für Airflow- Skateboards!!!!!!

Zwei Podestplätze am Désaxé Slalom World Cup
Ramón Königshausen places 2nd overall and Dasha Kornienko places 3rd in the womens category at the Désaxé World Cup of Slalom Skateboarding in Grenoble!

Foamcore Speedwing 39
Der erste Foamcore Speedwing 39 Prototyp wurde am vergangenen Wochenende am Houyet Freeride in Belgien erfolgreich getestet. Fazit: Das Foamcore Speedwing 39 ist ein superleichtes, verwindungssteifes und schnelles Speedboard. Das Brett lässt sich sehr kontrolliert driften, gleitet präzise durch Sweeper und ist auch bei Highspeed stabil.
Teamriders Ramón Königshausen und Dasha Kornienko werden das Board diesen Sommer an folgenden IGSA DH Worldcups fahren: Peyragudes 2Luxe, Graveyard Call, Kozakov Challenge, Teolo Grand Prix sowie dem Burning Wheels Tour Event "Gioasteka" am San Bernardino.
Wer seine Meinung darüber abgeben will kann das im Teamrider Blog von Ramón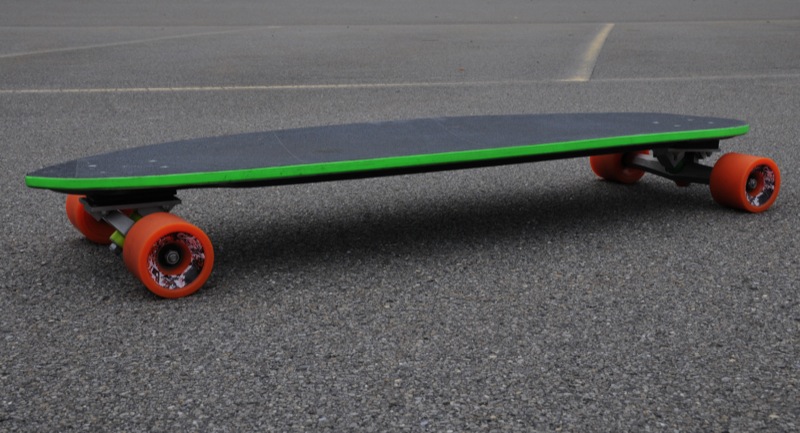 Material: Schaumstoffkern, Glasfaser, Karbonfaser, ABS-Wange
Abmessungen:
| | |
| --- | --- |
| Radstand: | 72cm/28⅜" |
| Länge: | 99cm/39" |
| Breite: | 26cm/10¼" |
| Gewicht: | 1300g |
Setup:

| | |
| --- | --- |
| Trucks: | G.O.G. Big Brother 200mm |
| Wheels: | CULT 72mm/80A |
| Bearings: | Airflow ABEC 7 |
| Bushings: | Venom barrel |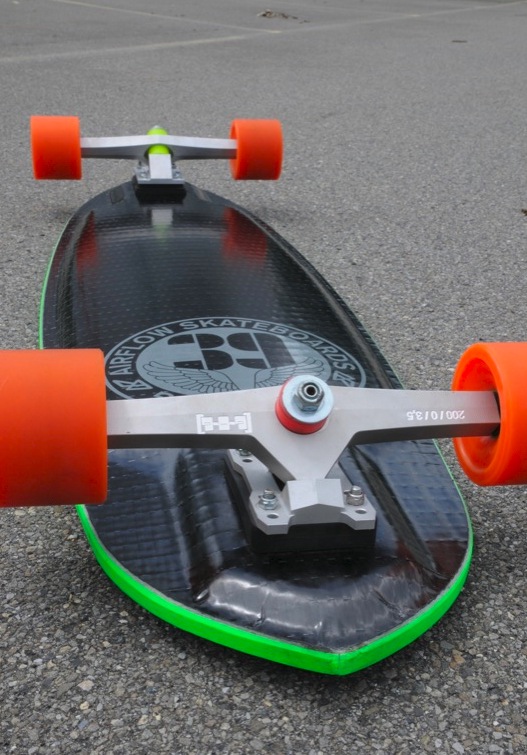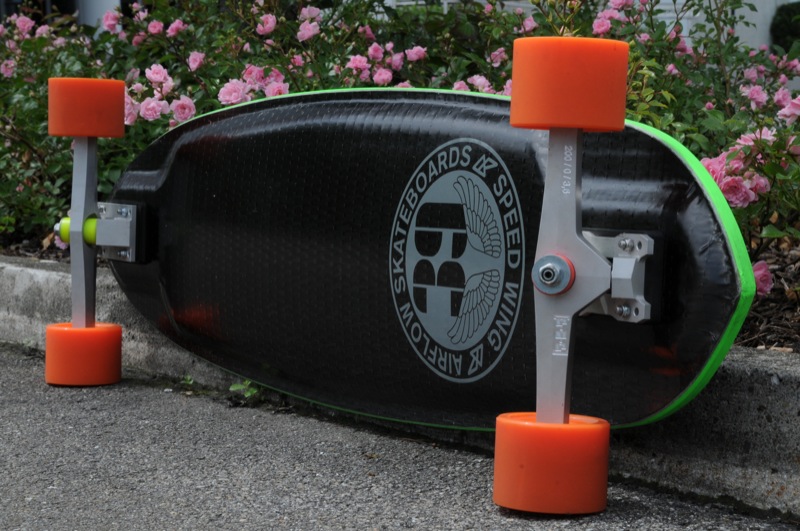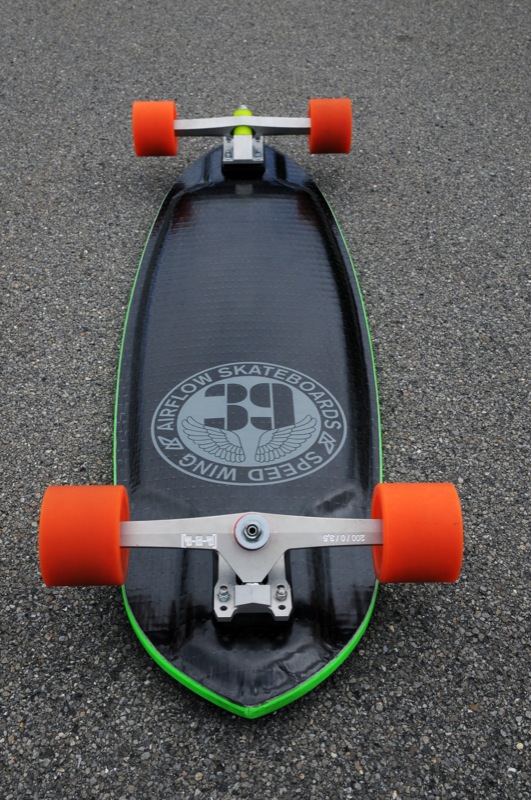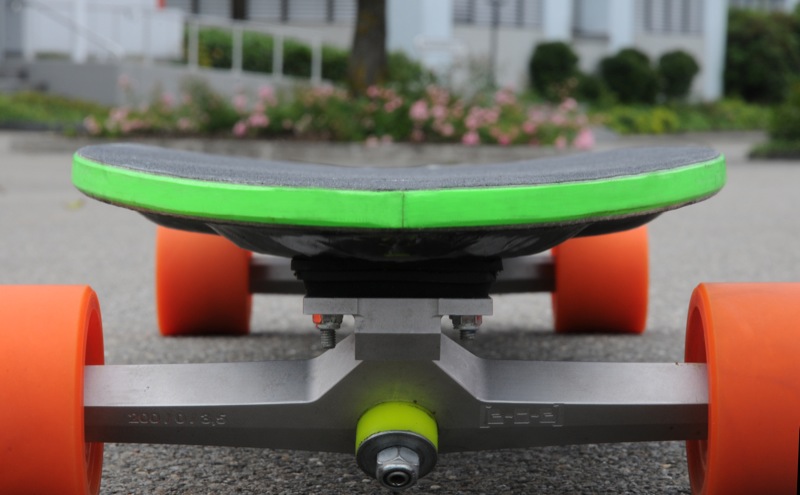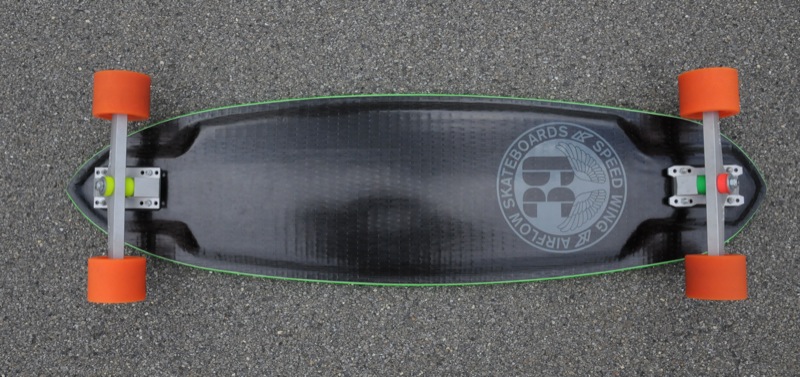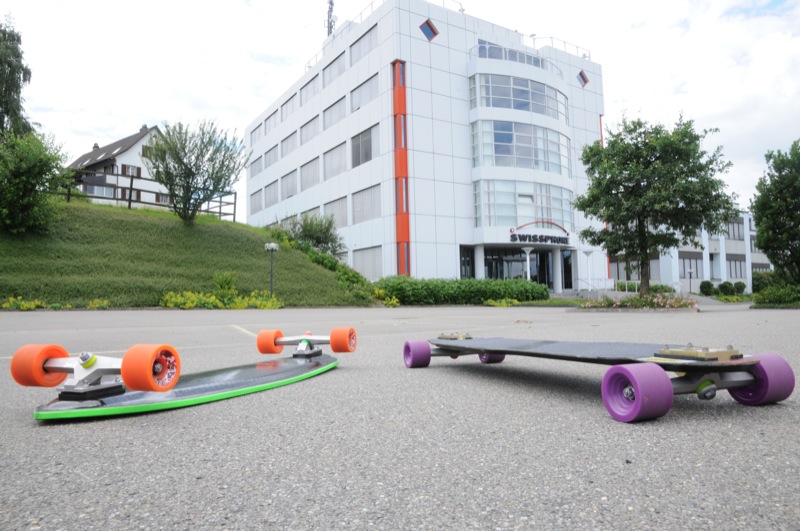 Slalomracing in Prag
Einmal Regen, einmal Sonne. Einmal Stadiondach, einmal TV Interview. - Ein Gewinner am 2. Tschechischen Cup: Ramón Königshausen. Bei den Damen gewann Dasha Kornienko.

Schweizer Doppelsieg am Tunnel Slalom
Ramón Königshausen gewinnt am Tunnel Slalom Skateboard World Cup sowohl im Hybrid Slalom wie auch in der Königsdisziplin Tight Slalom. Der Tunnel Slalom war der erste von insgesamt 9 Stopps der Burning Wheels Tour 2009

Ramón im Australischen Fernsehen
Ramón Königshausen und Jackson Shapiera wurden auf ihrem Skatetrip von Sydney zur Gold Coast von einem News Team gefilmt.

Hier gehts zum Fernseh Bericht!

Feeling the Downunder Ditch Flow
Am Conehead Cup in Kincumber (Australien) gewinnt Jackson Shapiera das Ditch-Race auf einem 39" Speedwing, gefolgt von Ramón auf einem C81 - Das Slalom Race am Sonntag konnte Ramón für sich entscheiden.


Ramón gewinnt Outlaw Race in Pennsylvania
Rund 50 Longboarder traffen sich bei milden Temparaturen und strahlendem Sonnenschein zum Oultaw Race "Sultans of Speed II" in West Conshohocken, PA, USA.

Dixie Cup 2008 in Statesville, USA
Ramón Königshausen belegt am Dixie Cup in den USA zwei dritte Plätze in den Kategorien Hybrid und Dual Giant Slalom. Overall Winner war Jason Mitchell, gefolgt von George Pappas und Joe McLaren.

Ramón bricht 50 Cone Weltrekord!
Ramón Königshausen fährt 50 Cones in sagenhaften 9.89 Sekunden und unterbietet den bisherigen Weltrekord des Schweden Marcus Seyffarth um vier Hundertstel Sekunden. Gratulation!

Overall Victory in Amsterdam
Und wie schon vor einer Woche, zeigt Ramon Königshausen wo der Hammer hängt und gewinnt in Amsterdam den Overall Titel. Herzliche Gratulation aber auch an Dominik Kowalski 2. Platz und Janis Kuzmins 3.Platz.
kuzer Bericht von RTL Holland

Flink wie ein Hase auf der Flucht

Over 80 Cones Zürich
Kurz vor der WM gewinnt Ramón Königshausen am Zürcher Rennweg vor Dominik Kowalski aus Deutschland. Beide werden sie nächste Woche für ihre Nation um den Titel kämpfen. - Chris Hart wird nach längerer Rennpause Dritter! - Gratulation!