Teamrider Pascal Weber 18.12.1990

Team
Place:
Job:
e-mail:
News

Results Slalombrunch
FULL RESULTS
Day 1 HS

A Group

1 Gustavs Gailitis
2 Chris Hart
3 Pascal Weber
4 Martin Siegrist (qualified first!)
5 Philipp Enzmann
6 Julian Coester
7 Andrea Just
8 Luca Jehle
9 Manuel Carusone
10 Lenz Oberle
11 Simon Feldmann
12 Marc Steinemann
13 Francesco Puligheddu
14 Igor Balzerini
15 Nils Ernst
16 Robin Birrer

B Group

1 Ross Baradoy
2 Mitch Enzmann
3 Linus Enzmann
4 Fabienne Schmid


Sunday Slalom

A Group

1 Gustavs Gailitis
2 Pascal Weber (best qualifier)
3 Chris Hart
4 Martin Siegrist
5 Michael Brönnimann
6 Andi Hofstetter
7 Jadranko Radovanovic
8 Simon Feldmann
9 Philipp Enzmann
10 Christian Schneebeli
11 Nastasja Wolfensberger
12 Marc Steinemann
13 Luca Jehle
14 Jan Lüscher
15 Andrea Just
16 Manuel Carusone

B Group

1 Julian Roth
2 Marcel Hug
3 Joy Spearing
4 Nils Ernst
5 Robin Birrer
6 Lenz Oberle
7 Igor Balzerini
8 Linus Enzmann
9 Mitch Enzmann
10 Fabienne Schmid


Greenskate
For Greenskate Zurich we did something out of the ordinary: Most people that attended expected us to go up and ride the local hill. Instead we followed a given route through the city and along the riverside, stopped at a shopping mall, and went to BBQ at the lake side. This is where people could see us with our longboards and green shirts, having fun on our "truely green means of transport".
Check out the photo gallery on Soulrider.com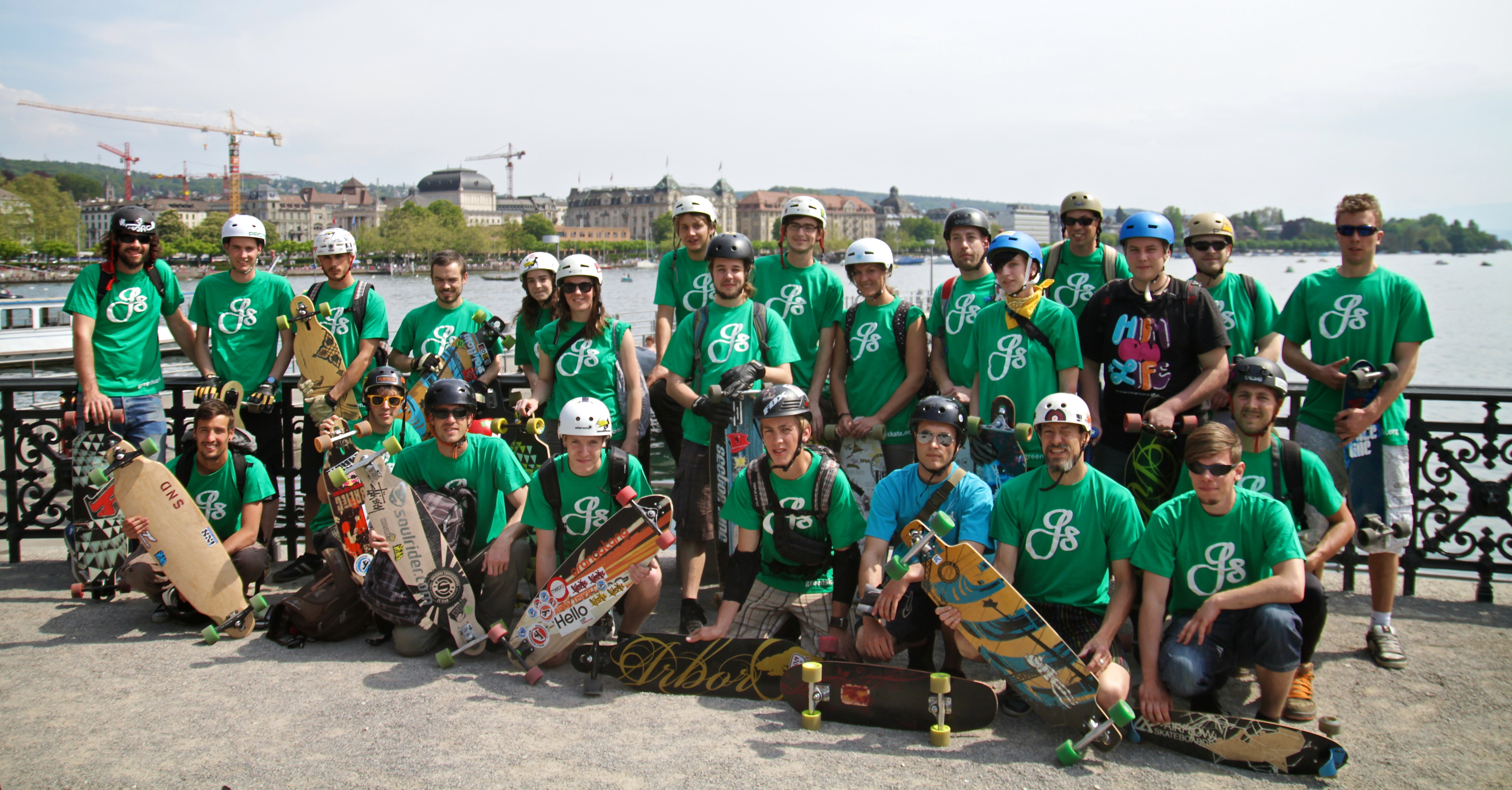 GRN SWTZRLND
Team riders Pascal, Martin, Christoph and Ramón are featured in the latest ABEC 11 video, check it out!

Pump Action
Ob als praktisches Fortbewegungsmittel in der Stadt, für den Einsatz bei urbanen Freeride-Sessions oder einfach um locker mal einen Trick auf Lager zu haben – Das Airflow Pump Action ist der perfekte Begleiter für den alltäglichen Gebrauch.

Das Board ist drop-through, ohne Vorspann und hat eine angenehme "lip-concave". Es wurde absichtlich auf Vorspann verzichtet um ein bessere Handling des Boards herauszuholen. Die "lip-concave" verleiht dem Deck einen natürlichen, surfigen Flex. Dank diesen Eigenschaften kann man auf dem Pump Action unbeschwert lange Distanzen zurücklegen. Zusätzlich haben wir die Nose und Tail verlängert, damit auch mal ein kleiner Trick oder das Überspringen kleiner Hindernisse kein Problem sein werden.

Das Pump Action ist in zwei Flexklassen erhältlich: Soft und Medium

High Rising Race Report
words by Pascal Weber / translation Ramón Königshausen

40 Years of passion
Am Sonntag 6. März 2011 wird Chris 40.
Wir treffen nicht wie auf dem Flyer ab 9Uhr sondern um 11 Uhr zum Birthday - Freeride am Rigiblick

Wer auch immer Lust hat dabei zu sein ist herzlich willkommen.

Dann hoffen wir doch auf trockene Strassen und Temperaturen wie wir sie Anfangs Februar hatten.

Gruss Puli




Facebook Event

Ramón double Euro Champion 2010
Ramón Königshausen dominated the European Championships of Slalom Skateboarding in his hometown Richterswil. Only Dominik Kowalski was able to keep up with him and was able to take the overall title to Germany.

Ramón wins again!
Once again, Ramón Königshausen dominated the Over 80 Cones Slalom at the Rennweg in Zürich.

Ramón wins Flughafenderby
The 5th Flughafenderby took place last Saturday on the radar hill close to Zurich Airport.

Season Closing-in Rigiblick
This year's Season Closing-in attended 25 Slalom- and Longboarders. It was a nice last freeride before the winterbreak. Even four kids from the sports camp Fiesch were riding down the hill....