Sultans of Speed II Pennsylvania ( USA)

| | |
| --- | --- |
| Datum: | 3.01.2009 |
| Disziplin: | Downhill |
| Veranstalter: | Mason Holden |
A Eventinfo:
words by Dasha Kornienko
Ramón railing the crash corner
The second semi-annual outlaw race in Pennsylvania was held the first weekend of 2009 in West Conshohocken. The race, put on by Mason Holden and Nick Harris, was the first of an East Coast Downhill Series. The organizers described the course as "short at half a mile with a few smaller corners and one large corner which will be one of the major determining factors of the race". Similar to Bonelli in California, this event was less about the actual race as it was about the freeriding.
We spent the day before riding some sweeeet roads in and around the area... we had perfectly dry conditions for a few hours, until the snow hit. This did not put an end to the skating, but instead moved our session to a more remote road where we spent hours shredding a very slippery corner. There was no traction whatsoever! Tons of bails and loads of laughs were had by all!!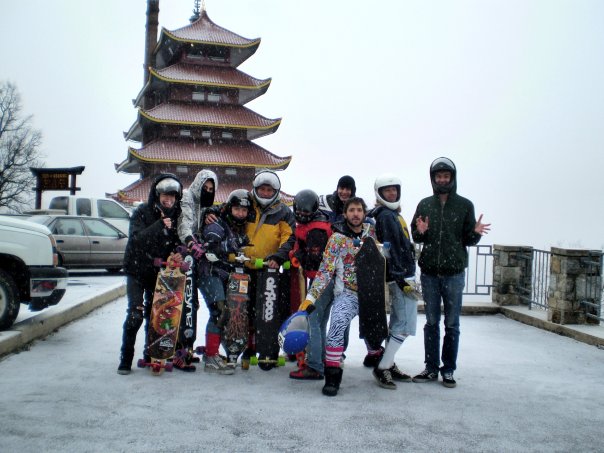 5 Pennsylvanians, 3 Canadians and a Swiss on top of a Mountain
AJ Powell and Nick Harris shredding at the snowy corner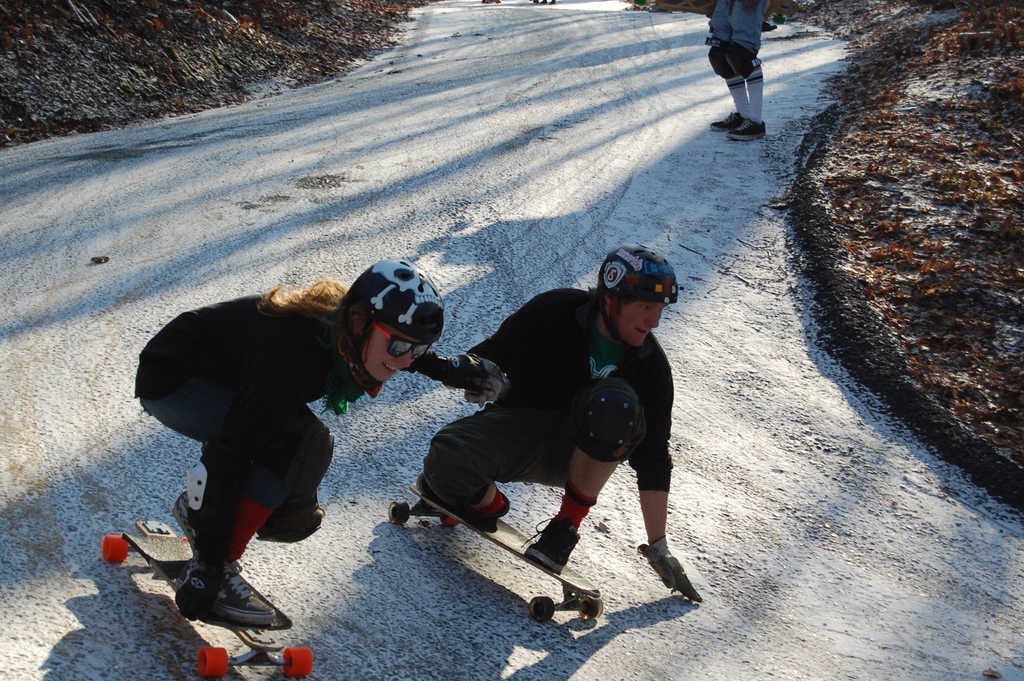 Dasha Kornienko and Ramón Königshausen hand in hand
The day of the race brought out about 50 races along with a huge crowd of friends, girlfriends, and parents to the hill that was in an industrial area of town. The stoke was high. At one point even the people working in the buildings on the road we were racing came out to cheer us on, "We're not getting any work done in here because our windows face the street!" said one of the friendly locals. As it was an outlaw race, there were some very worried riders when the law enforcement drove up. Luckily, the officer just wanted to see what was going on and only said "be careful" before driving off with a smile! The race was free of entry fees, since as organizers put it, "While still competitive it's in a friendly way and the race ends up being more like a giant session with prizes, who doesn't love that?" The final was close, with Ramón and Alex Newton going into crash corner neck-in-neck. Ramón pulled an awesome pass at the end of the corner and then it was clear that he was going to take it. The awards ceremony followed, with an impressive amount of prizes and sponsors for what wasn't a sanctioned event. After the racing, a large group of riders went on to an fun 8-level garage that is empty on weekends and had a super rad session there. Then, the locals took us to a nearby neighborhood with some very steep and hairpin-filled lines.
The semi-final
Ramón passing Alex Newton in the final heat
Top 5